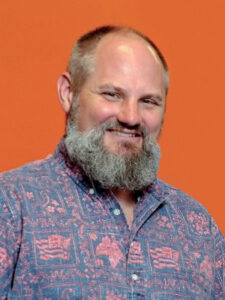 At RevoluSun, customers and employees with the enthusiasm for all things solar are called RevoluSunaries. "People will [go solar] because it makes their lives better," says Josh Powell, CEO of RevoluSun.
Powell has his dad to thank for his long-time inspiration to pursue the solar industry. "My dad was doing DIY solar thermal when I was a kid in the 1970s and that left a lingering interest in solar and technology in general," Powell says. He ended up studying architecture and worked at the Energy Studies in Buildings Laboratory at the University of Oregon in the 1990s, and that fueled his interest even more.
RevoluSunaries believe that Hawaii will be one of the first places in the world to be 100%-renewable. "We are the test bed for the future of the electrical grid. What we are doing will help the whole world adapt to and better manage climate change and build a sustainable future for energy," says Powell, who adds: "We should be very proud of where we are. At the same time, we need government leaders, particularly at the county level, to support the exceptionalism of this opportunity by reducing the time it takes to permit a viable project. We often spend 12 months permitting something that takes a month to build. That's not helping us in the race to 100%."
While there are constantly new products and developments in the solar industry, Powell says his staff is the main component of his arsenal when it comes to customer satisfaction. A commitment to apprenticeship programs is instrumental in developing skills and professionalism in RevoluSun's crew members. Powell says that the company has worked hard over the years to avoid slowdowns and layoffs. "Those things show our commitment to our workforce," Powell says. "That builds loyalty and makes RevoluSun a place where people want to commit to a career." 
RevoluSun was not immune from the effects of COVID-19 and in 2022 experienced what Powell says was its most painful year ever in terms of product changes and availability issues. Powell says RevoluSunaries developed an incredible sense of resourcefulness to deliver projects to its customers with as little disruption as possible. "We have some scale, and that has helped us pull in resources and adapt to shortages. I've personally carried products with me on flights from the Mainland several times in the last couple years to close gaps," says Powell.
Moss Hawaii Energy completed its first solar project on Oahu in 2017. By the end of 2022, Moss had completed five utility-scale solar projects with over 230 megawatts (MW) of DC power for the island of Oahu. "This includes the recently completed Clearway Mililani l, the first utility-scale solar and battery storage (156 MW DC) project in the state," says Josh Meyers, Moss's vice president of Hawaii energy.
Moss & Associates was founded in 2004 in Fort Lauderdale. Today it is one of the top national engineering-procurement-construction contractors collaborating with clients to customize the delivery of each project as required across the Mainland and in Hawaii.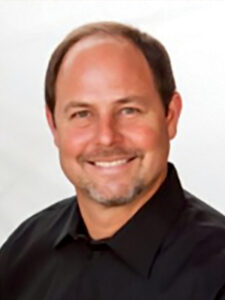 A milestone project for Moss in 2023 is its delivery of the first Hawaii-dedicated battery-energy-storage-system at Kapolei Energy Storage. Also in 2023, Moss is contracted to construct four additional utility-scale solar-plus-battery storage projects while supporting energy developers toward the award of several Hawaiian Electric Stage 3 utility-scale and storage projects on Hawaii Island, Maui and Oahu. "Moss is honored to be an integral part of the Hawaii community working toward the realization of Hawaii's 100% renewable energy goal by 2045," says Myers.
With a focus on single-family homes, Malama Solar aims to make the switch to solar "incredibly simple for the homeowner," says Chris Ah Sue, who owns Malama Solar with his wife, Rachel Ah Sue. "We take care of everything from system design to initial permits to final installation. We have a large team of project managers in Honolulu to navigate this process with homeowners."
Says Rachel: "We search for team members who embrace our local malama aina culture."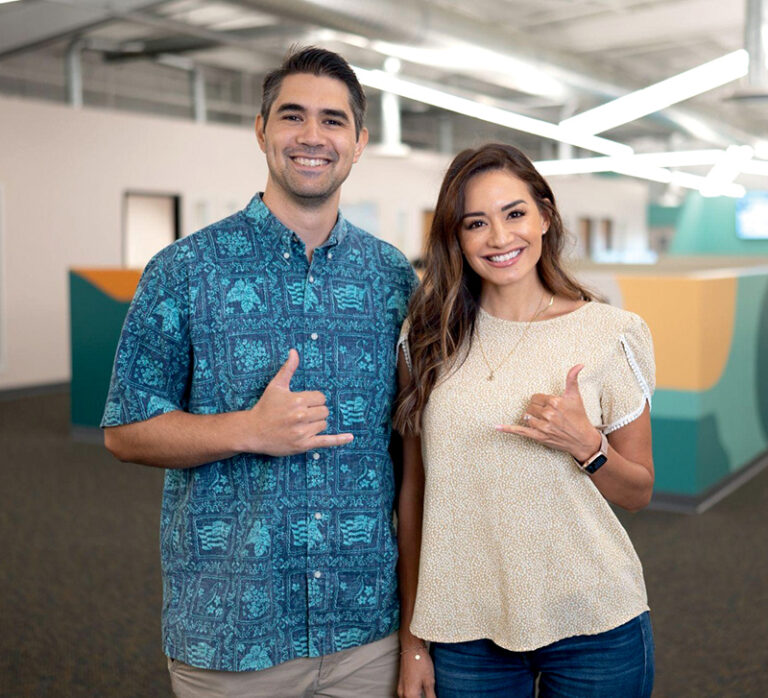 Customers learn that Malama Solar carries the industry's top equipment and that it offers warranties and financing to help as many homeowners as possible. As an aside, this is the sort of attention to care that catapulted Malama Solar as the fastest-growing company in Hawaii and one that is ranked No. 41 in the nation by Inc. magazine's Top 5000 companies in 2022.
"We have found success through focus," says Chris, "so we specialize in residential installations for single-family homes in Hawaii. We have had other opportunities pop up, but we don't want to be distracted from our main priority of helping homeowners."
Malama Solar has learned to pivot when supply chain issues arise. Long lead times, rising equipment costs and limited storage have challenged the company. "Today, we have a diversified list of suppliers, a large storage facility near the airport and a sophisticated inventory system to forecast what we need for our upcoming installations," Chris says.
Says Rachel: "We have customers who installed photovoltaic systems (PV) a few years ago who thank us for how much money we have saved them. We believe the customer who gets a new system installed today will say the same thing in the future. The sooner they switch, the more they save."
"Hawaii's renewable energy space is a great place to be right now," says Bob Johnston, president and CEO of Hawaii Pacific Solar LLC (HPS). "Policies favor the industry and there is a huge effort to get to that 100% energy goal. Hopefully, the Hawaii State Energy Office is successful with the Honolulu Department of Planning and Permitting to streamline the process."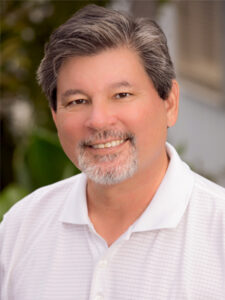 While Hawaii Pacific Solar has a general contractor's license, it is first and foremost an electrical contractor that has worked with developers, such as the Rockwell Group and Kairos Energy Capital. It has also done solar and PV work for the Hawaii Department of Education, the Hawaii Department of Defense, Hawaiian Telcom and commercial projects for Ala Moana Center. HPS partnered with Haleakala Energy Associates to develop Maui's first solar farms in Lahaina and Kihei. Kuia Solar in Lahaina is a 3.8 MW project near Lahainaluna High School. The Kihei project with South Maui Renewables Resources is a 3.8 MW project near the Maui Research and Technology Park.
According to HPS' website, "These projects are the first utility-scale solar projects on the Valley Isle. They supply nearly 6 MW of solar power to Hawaiian Electric's Maui grid at a price of 11.06 cents per kilowatt hour. HPS was instrumental in obtaining the land leases, negotiating the power purchase agreements with Hawaiian Electric and obtaining PUC approval for those agreements." HPS will soon begin work via a Noresco contract with the City & County of Honolulu Department of Parks and Recreation to install solar.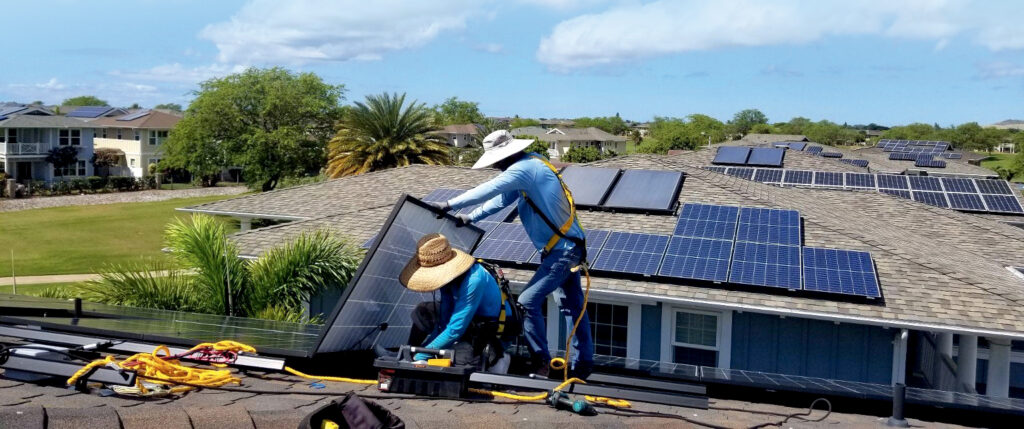 "We are also aggressively putting in electric charging stations at all of the schools," Johnston says. "We put solar in at probably 80 schools or so. With a new program called NEM Plus (net energy metering), we are circling back to the schools that need more PV and charging stations for electric vehicles."
According to the Hawaiian Electric website, existing NEM customers are eligible to participate in NEM Plus on Hawaii Island, Maui and Oahu. NEM customers have the option of adding non-export technology to their system without jeopardizing their participation in the program. In concept, NEM Plus is the equivalent of adding a customer self-supply system at the same location as an active NEM system without sending any energy to the grid.
Johnston says that he and his partner were real estate developers on Maui prior to their involvement in Hawaii's solar industry. During the recession of 2008, they were approached to assist with a utilities project. "That's when we learned about commercial and industrial solar. We learned about the process, financing, design and engineering," Johnston says. "For the interconnection agreement through Hawaiian Electric, we'd show them the design and the engineering, and they would comment and check the location for circuit availability. Land use issues could cause complications, for instance, if a system is too close to a roadway or a property line."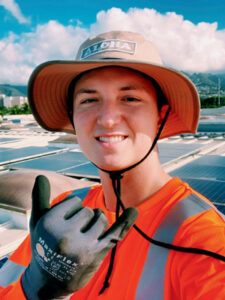 Desta Rudolph, president at Independent Energy Systems Hawaii LLC (IESH), says, "We believe in a greener, more sustainable and more stable future for Hawaii's energy needs. Helping Hawaii reach its goals is a huge motivating factor for our team. We have a motto: Solar Made Simple."
Rudolph says that IESH wants to make it as simple, straightforward and transparent as possible for homeowners and businesses to harness the power of the sun. IESH includes among its operation and maintenance clients the State of Hawaii, the Hawaii Department of Transportation, Target, Costco and others, including many residential accounts.
"Thanks to our forward-thinking suppliers in the state like Inter-Island Solar Supply, Greentech Renewables and R&R Solar Supply, we continued installing solar systems without any hiccup caused by a lack of supplies like solar panels or batteries," Rudolph says.
IESH's idea of sustainability isn't limited to catching rays. It includes building a legacy. IESH has a large focus on recruiting and training its own talent. "We cover the expense of trade school for all of our employees looking to become masters in their fields, and at IESH that field is becoming journeyman electricians," Rudolph says. "By promoting this further education for our employees, we increase the talent pool of our company and the state of Hawaii as a whole. The state needs more electricians if we are to hit our clean-energy goals. We do our best in filling this need and thinking about the future."
Fewer Dollar Signs for Shared Solar Shines
For its state-wide community-based renewable energy (CBRE) program, Hawaiian Electric announced through a news release dated Nov. 22, 2022, that it selected Nexamp Inc. of Boston to develop three shared solar projects on Hawaii Island, three on Maui and one on Oahu. This seven-site program is designed to help lower electricity costs for low- and moderate-income HECO subscribers who are unable to install rooftop solar. Nexamp was selected from a number of solar and solar storage developers in a competitive bidding process to exclusively build, own and operate this first round of projects. The seven solar farms will be the first under the CBRE program on each island and should be operational by the end of 2025. According to a Cision PR Newswire webpage dated Dec. 14, 2022, the seven solar farms and their capacities are:
Kalaoa Solar A, Hawaii Island, 4.3 MW DC (3 MW AC) solar + 13.7 Megawatt-hour storage

Kalaoa Solar B, Hawaii Island, 4.3 MW DC (3 MW AC) solar + 13.7 Megawatt-hour storage

Naalehu Solar, Hawaii Island, 4.2 MW DC (3 MW AC) solar + 13.7 Megawatt-hour storage

Lipoa Solar, Maui, 4.2 MW DC (3 MW AC) solar + 13.7 Megawatt-hour storage

Makawao Solar, Maui, 3.5 MW DC (2.5 MW AC) solar + 10.9 Megawatt-hour storage

Piiholo Road Solar, Maui, 3.5 MW DC (2.5 MW AC) solar + 10.9 Megawatt-hour storage

Kaukonahua Solar, Oahu, 7.8 MW DC (6 MW AC) solar (co-developed with Melink Solar)
Community solar, or shared solar, enables any resident to subscribe to a solar farm and receive credits on their monthly utility bill to help reduce their annual electric costs. This is a way to get renters and apartment dwellers without access to privately owned rooftop solar to participate in the shared-solar program. Hawaii gets an added bonus from HECO's CBRE projects: More federal funding to help the state reach its goal of zero-dependence on fossil fuels by 2045.
Related Images: