Maui Students Awarded
$32k Scholarships
Yuna Lee and Jaysen Akahi-Vida are named 2023 CIM Bob Poulson 
CIM Scholars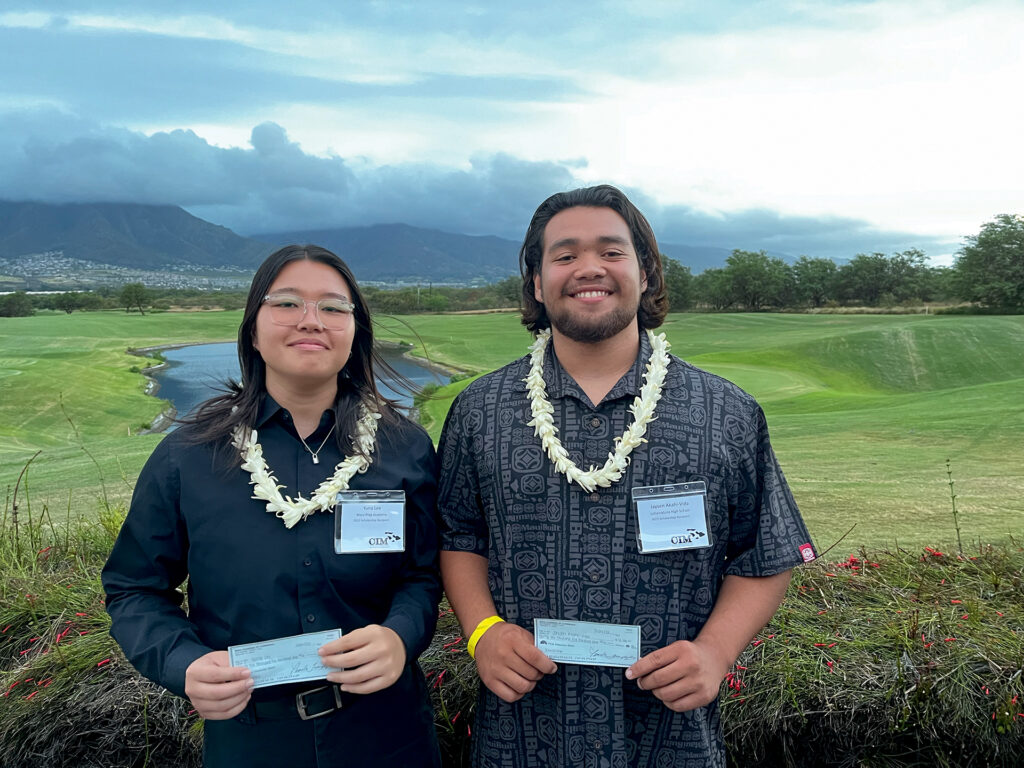 The Construction Industry of Maui has awarded two graduating Maui high school students Bob Poulson CIM Scholarships worth $32,500 each.
Akahi-Vida is pursuing a degree in Architecture and Civil Engineering from Whitworth University in Spokane, Washington. From his humble beginnings as a fourth-generation pig farmer, Akahi-Vida says, "My dream is to one day become the owner of a world-class Maui-based business. And I would like to build this dream alongside a strong crew of construction, planning and design industry professionals from my community."
When she was young, Lee developed a passion for building and inventing products or gadgets with Legos or other available materials. She plans to attend Gonzaga University in Spokane, Washington, where she will major in engineering and minor in construction management and business.
"My intent is to return to Maui after graduation and establish a business that constructs affordable, sustainable homes for our communities," Lee says. "My goal is to use my education, my love for Maui and work hard to improve my community and its future."
Bob Poulson, who cofounded Arita Poulson General Contracting LLC in 1986, was a steward of the Maui community and construction industry veteran. He's remembered as a leader who enjoyed working alongside his employees and teaching young people from diverse backgrounds about the construction industry.
The CIM scholarship is offered to students who are Maui County residents, seniors or graduates from a county high school, and enrolled or entering a two- or four-year degree program in construction or design. CIM's priority is to select students in pursuit of a degree in architecture, engineering, construction, landscaping or other applicable programs, who then bring the knowledge and skills they've acquired back to Maui to serve their communities.
– Paula Bender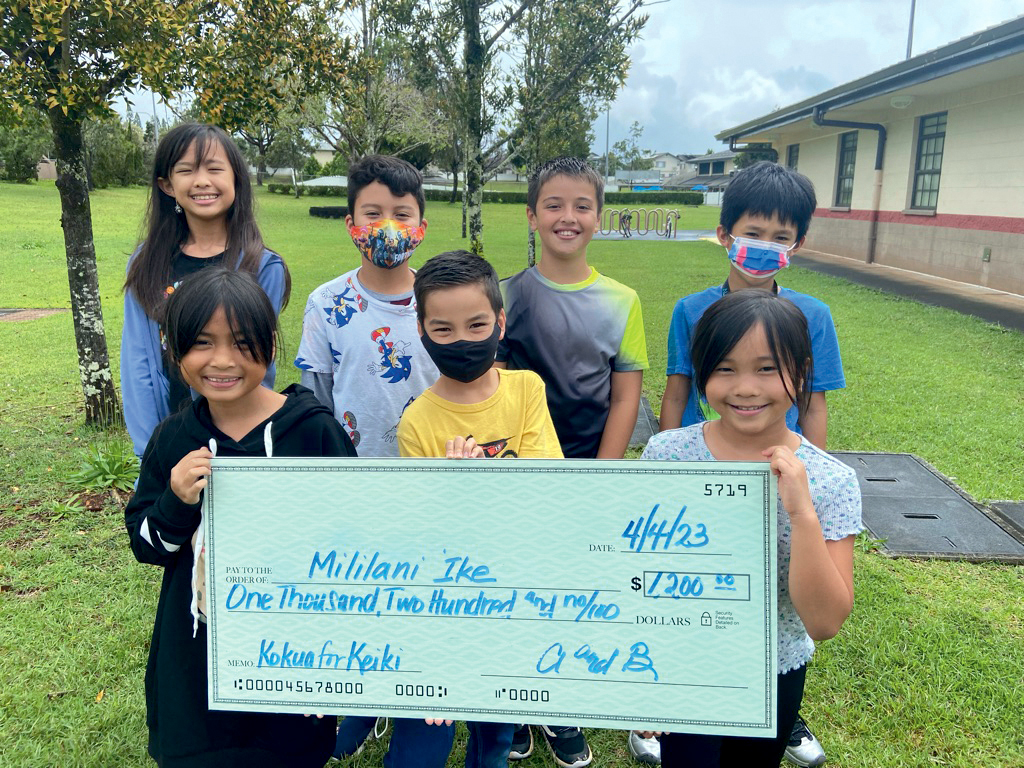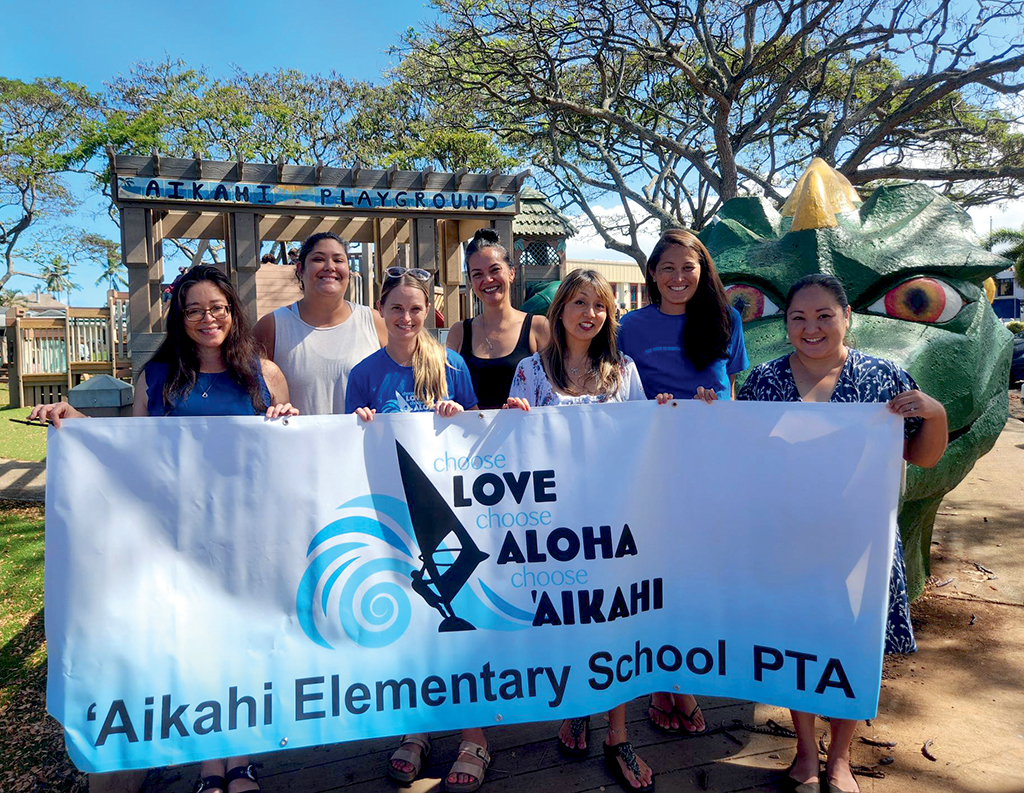 Kokua for Keiki Program Donates to Neighborhood DOE Schools
lexander & Baldwin announced it awarded $15,350 in cash grants to 13 local public schools that participated in its Kokua for Keiki program. The annual initiative helps raise money for schools in communities near A&B-owned shopping centers.
From December through January, Hawai'i Department of Education schools partnered with eight A&B shopping centers on O'ahu and Hawai'i island, according to a news release. Shoppers and diners were encouraged to support neighborhood schools by submitting holiday shopping receipts to the program.
"This year, nearly 1,400 receipts were collected and converted into monetary awards for our partner schools to fund their educational priorities and enrichment programs," said Kit Millan, senior vice president of asset management at A&B.
Kokua for Keiki grants augment those of another A&B charitable program, Kokua Giving, which supports non-profit organizations across Hawai'i.
– Paula Bender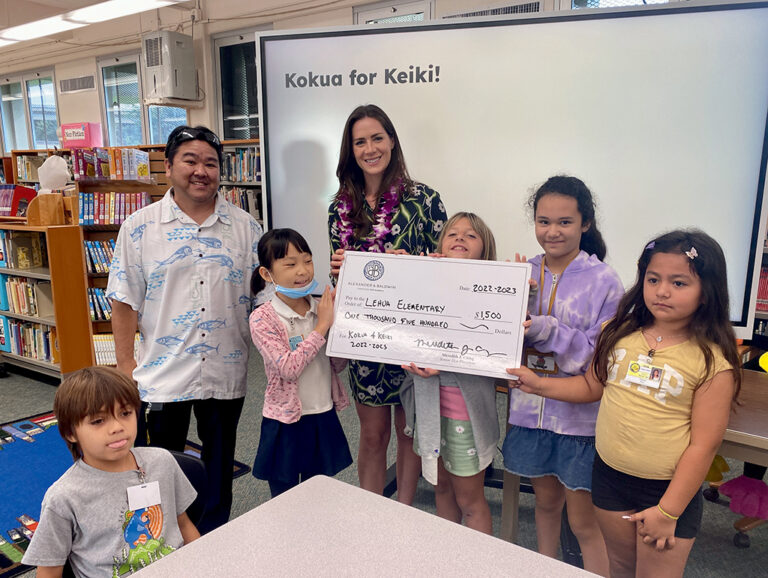 $250,000 to Kids and Kupuna
from Atlas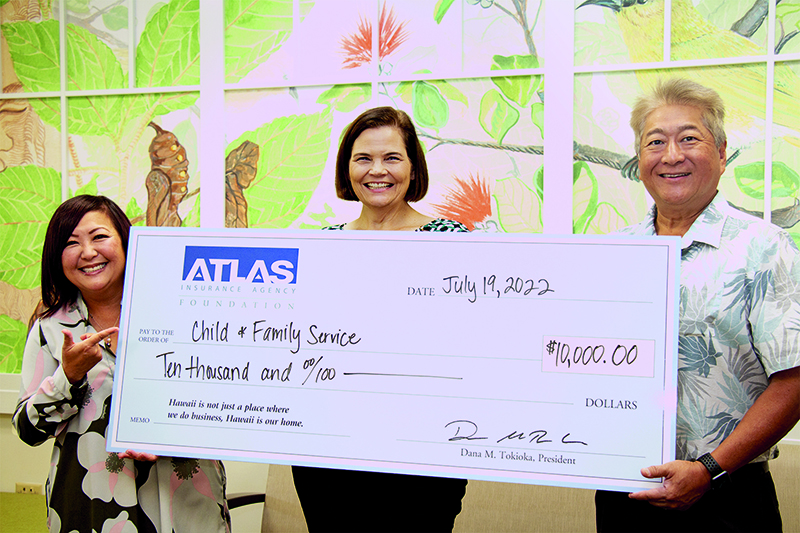 Atlas Insurance Agency Foundation donated a total of $250,477 to nearly 50 Hawaii community groups and nonprofit organizations last year.
Child & Family Service, Parents & Children Together, Hale Mahaolu (affordable family and senior housing), the Hawaii Theatre, Hale Makua (health services for the elderly and disabled) and PBS Hawaii received the foundation's largest 2022 contributions to Hawaii programs providing human services, education, research, and support for humanities, culture and the arts.
"A healthy local economy starts with healthy communities, and 2022 marks 20 years of Atlas Insurance giving back to underserved communities across the state through our foundation," says Chason Ishii, Atlas Insurance Agency Inc. president. "I'm so thankful to our [Atlas] ohana who graciously give their time and money to help others. Through their actions, they bring Atlas' mission and vision to life."
Ward Village Sows $30,000 at Farmers Market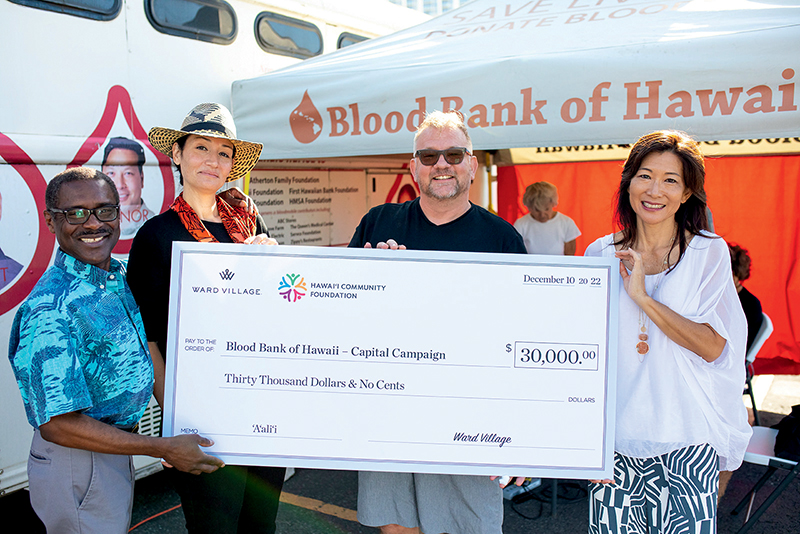 During a Dec. 5 blood drive at the Kakaako Farmer's Market, Ward Village/The Howard Hughes Corp. helped recruit new volunteer donors and gave $30,000 to the Blood Bank of Hawaii's (BBH) capital campaign.
Kaiulani Sodaro, Ward Village Planning & Development senior vice president, says the Kakaako developer is committed to "supporting and saving lives of community members through community blood drive(s), volunteer donor recruiting and fundraising for the Bank's new facility" in West Oahu.
"Our team at Blood Bank Hawaii is grateful for the generosity of Ward Village and the Hawaii Community Foundation," says BBH CEO Kim-Anh Nguyen. "This gift will help with funding for our new headquarters in Kapolei. It's an exciting time as we move closer to breaking ground on the facility that will not only help serve the needs of the West Side of Oahu, but also provide workforce development in the medical field."
Blood Bank Hawaii needs 200 donors per day to meet Hawaii's medical needs. For more donation information: bbh.org
Local Students Score Big at Ironworkers Tournament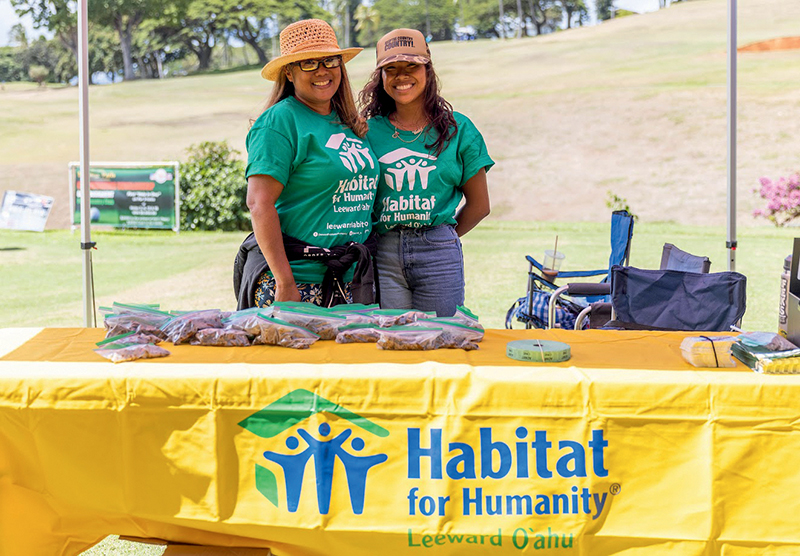 Hawaii's Ironworkers Union, Local 625, held its 37th Annual Scholarship Golf Tournament at Pearl Country Club in September. The event was also supported by the Building Trades Council and a majority of Hawaii's labor unions, Goeas Group, HWMG, general contractors and many others, says Bronson Paris, Local 625 business agent. Last year, Paris says, the tournament generated a substantial amount.
While the amount of this year's proceeds is yet to be disclosed, the union has donated well over a quarter-million dollars to Hawaii public and private schools since 1985. This includes individual scholarships to college-bound students whose parents are employed by the Ironworkers Union, which are available each year until the students complete their education.
The scholarship program was started by Local 625 President T. George Paris, who believes in the importance of education and in helping families with expensive and oftentimes unaffordable tuition.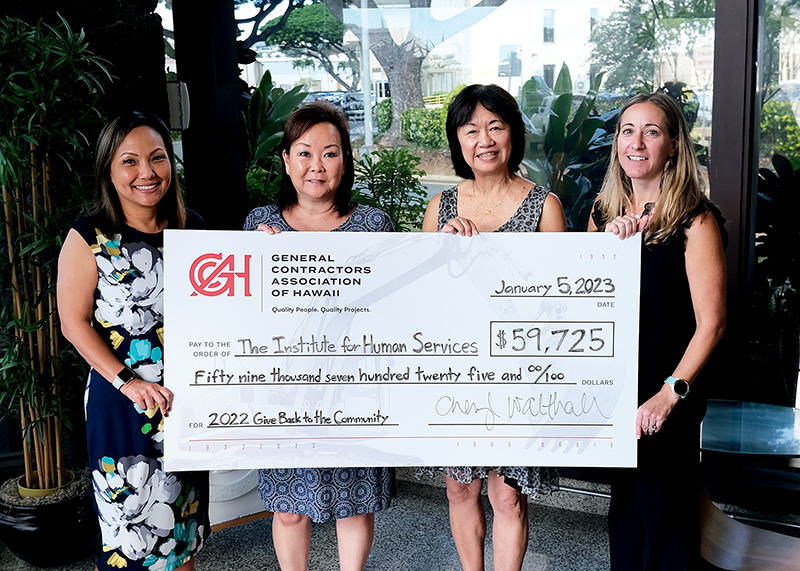 The General Contractors Association of Hawaii (GCA) in January raised nearly $60,000 for the Institute for Human Services (IHS) during its annual Give Back to the Community program. IHS provides essential aid to approximately 6,000 homeless Hawaii residents every year.
The donation was raised "when those in the construction industry are facing supply-chain and price escalation challenges," says Dale Sakamoto Yoneda, 2022 GCA president. "GCA members generously gave to support individuals and families without homes to ensure they receive the social and medical support they need and help with finding employment."
GCA is helping to build foundations "upon which households experiencing homelessness can grow and thrive," says Connie Mitchell, IHS executive director. "We are just blown away by the generosity of the General Contractors Association community."
Yoneda also has a message for all GCA members who gave: "Thank you from the bottom of my heart!"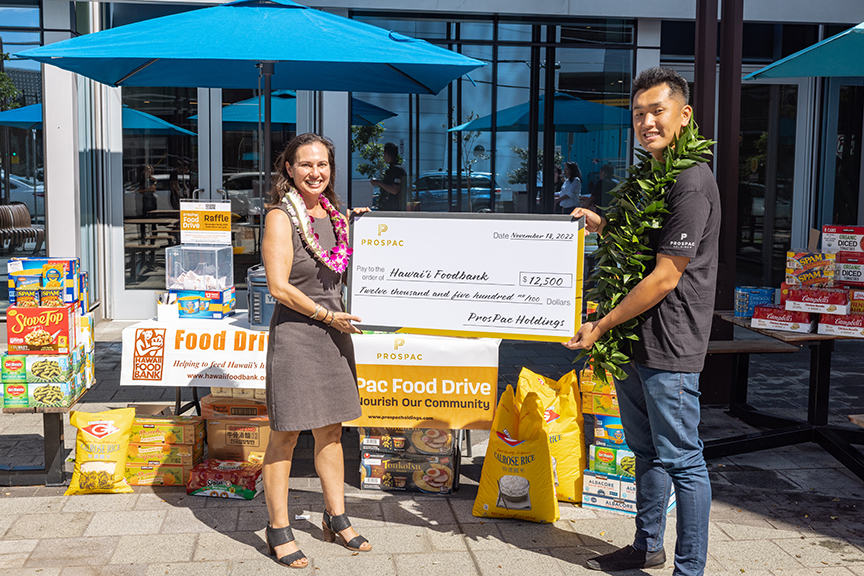 ProsPac Serves Up $19,000 With Sides
ProsPac Holdings, a local real estate development firm, and the Hawaii Foodbank raised $19,000 in donations during a November food and fund drive held at Azure Ala Moana. ProsPac donated $12,500, and the community donated more than $6,600 as well as 2,735 pounds of food. All told, these gifts will provide over 43,000 meals to Hawaii families in-need. To donate: hawaiifoodbank.org

For more information and to donate: koaanuenue.org/donate/womens-soccer
"How Come You Never
Ask Me for Money?"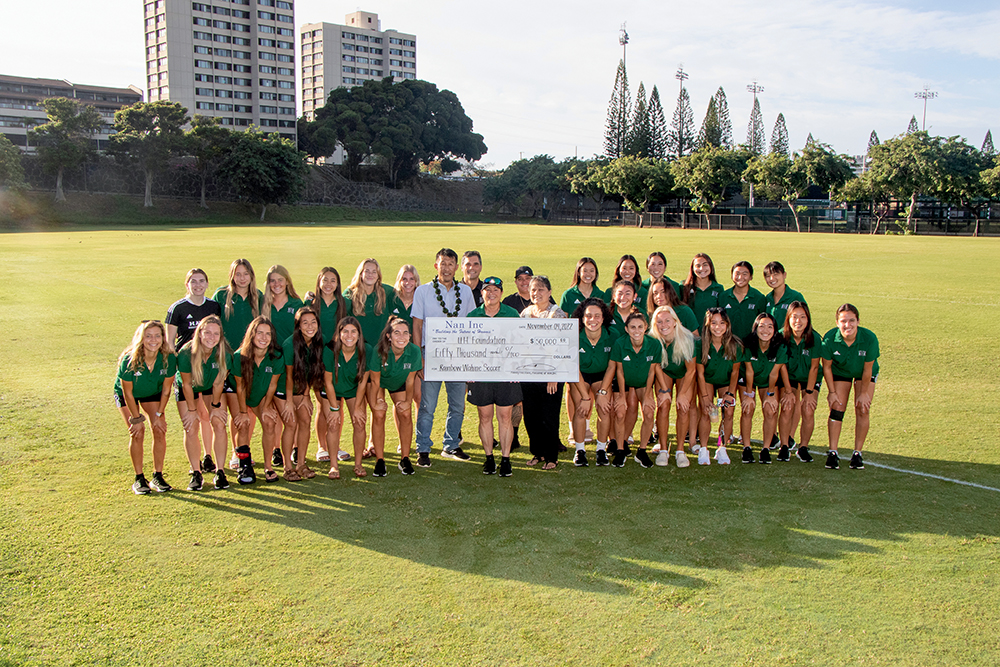 Nan Chul Shin, owner and founder of Hawaii general contractor Nan Inc., put the question to longtime soccer pal Michele Nagamine a few years ago. "I'm going to ask you when I have a really good story to tell," said Nagamine, head coach of the Rainbow Wahine soccer team.
Fast-forward to 2022—the 50th anniversary of Title IX prohibiting sex discrimination in federally funded education and the founding of Rainbow Wahine athletics at the University of Hawaii-Manoa. Suddenly, Nagamine had a question for Nan.
"Would you consider matching the donation if I were to raise $50,000?" she asked him. "If I don't raise the $50,000, you don't have to match." And he says, 'I'm going to help you. I'm happy to help you.'"
In November, Nan gave $50,000 to Rainbow Wahine soccer, matching the $50k raised by Nagamine with the largest gift in the team's history. "This is a man who has worked so hard for every single thing he has achieved," Nagamine says. "He doesn't want anything in return."
Nagamine will use the donations to fund the team's equipment, summer school classes, and to launch Rainbow Wahine mentorships for nine- to 10-year-old girls who play soccer. "What we'd like to do is get to the kids right before they start intermediate school so that they can start applying some of the advice that [our] student athletes are giving them: getting good grades, being outstanding members of the community." Nagamine plans to introduce Rainbow Wahine soccer mentorships this year. For more information and to donate: koaanuenue.org/donate/womens-soccer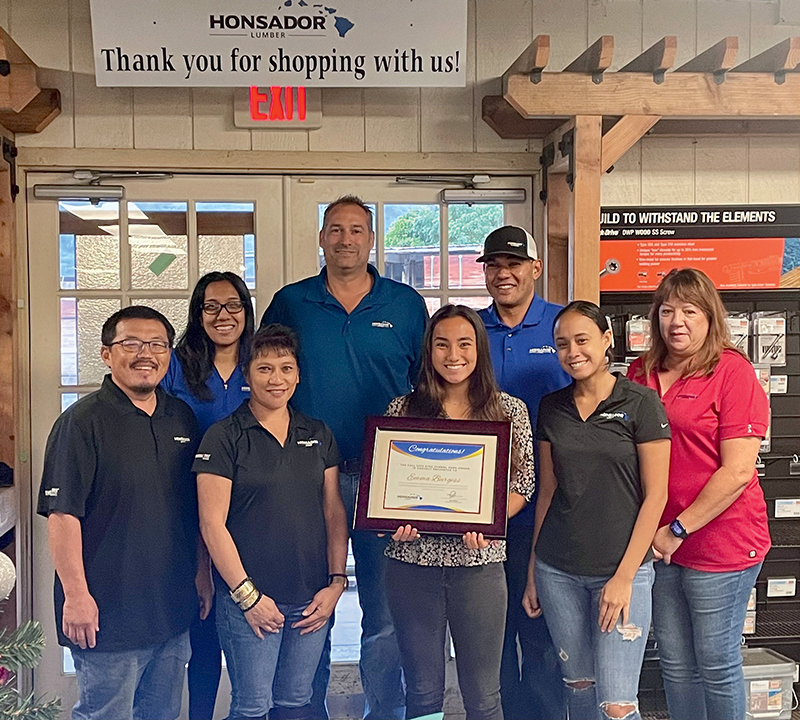 High School Heroes Take A Bow
Honsador Lumber in December honored the first four winners of its High School Hero Awards with certificates of achievement, $1,500 apiece and $250 donated in their name to a Hawaii academic department or non-profit of their choice.
Fall 2022 winners, along with their grade level, campus and beneficiaries are:
Emma Burgess, senior, Kauai High School, Keala Foundation

Nathan Maczka, senior, Island School (Kauai), Kauai Native Plant Society

Torrance Satta-Ellis, senior, Konawaena High School (Hawaii Island), Konawaena High School Sociology Department

Timothy James Heile, senior,

Lahaina High School, Westside Hoops
Honsador's Fall 2022 award program, which ran from Sept. 1 through Dec. 1, accepted online nominations submitted by community, faculty and family members and students. Winners are in good academic standing, show exceptional school spirit and serve their community as positive role models.
Honsador Spring High School Hero nominations will open in February 2023. Fall and spring award applicants will be considered for the first annual Honsador Lumber $5,000 Scholarship Award, which will be announced in May 2023.

To nominate: honsador.com/highschoolhero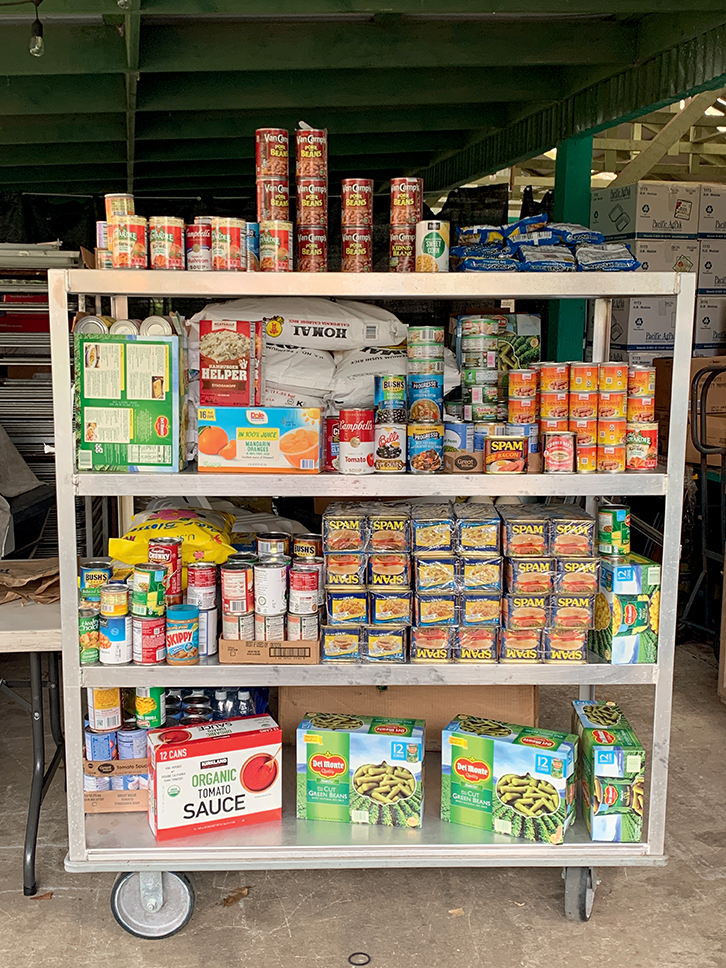 Goodfellow Bros. (GBI) food drives at two local offices collected more than 750 items for Hawaii's needy last year. "To help support our local food banks, two Goodfellow Bros. office locations collected non-perishable items and canned goods," says Samantha Crease, GBI executive assistant. GBI's donations went to the Hawaii Foodbank on Oahu and The Food Basket, a Foodbank partner, on the Big Island. "Oahu spearheaded these efforts with their End of Summer collection in July and August. Big Island's collection ran through the month of November," Crease reports. "We are grateful to our employees for their participation and support in this event."

To donate: hawaiifoodbank.org
hawaiifoodbasket.org
HPM Raises $10,000 in Cancer Hope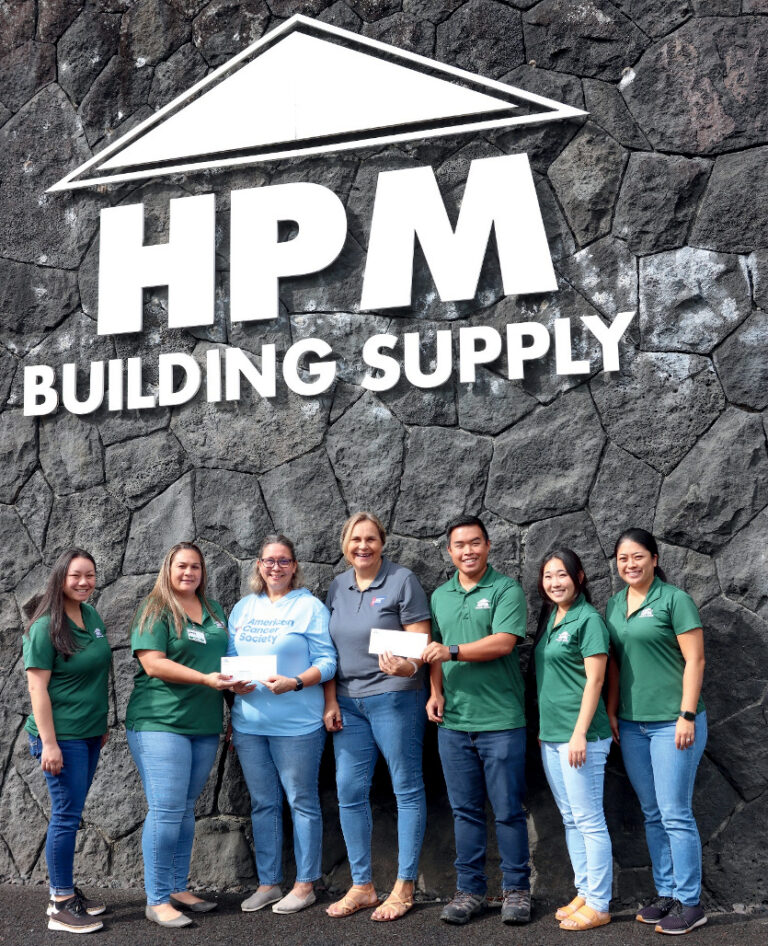 HPM Building Supply raised more than $10,000 for the American Cancer Society Clarence T.C. Ching Hope Lodge in Honolulu through a first-time point-of-sale fundraising campaign this past October. The HPM Foundation matched customer and owner-employee donations at HPM Big Island and Maui stores, where hundreds of mahalo flyers recognizing donors blanketed the walls.
"The Clarence T.C. Ching Hope Lodge creates an invaluable home-away-from-home for cancer patients and their loved ones during trying times," says Jason Fujimoto, HPM Building Supply president and CEO. "As a company that has helped to build homes for five generations, we understand how important a home setting is for personal stability, comfort and peace of mind. We hope that our contribution assists the American Cancer Society Hawaii with continuing their meaningful work in the community."

To donate: cancer.org/support-programs-and-services/patient-lodging/hope-lodge/  honolulu/about-our-facility.html
AHL Bakes In $42k
for AUW
AHL, a leading Hawaii design firm, raised $42,356 in pledges to Aloha United Way (AUW) during the firm's annual AUW fundraiser and bake sale on Aug. 31, 2022. To aid Aloha United Way and its related community services, "AHL puts together an annual event to raise money," says an AHL spokesperson. AHL staff donates through pledge forms and hot food items, baked goods, crafts and plants for the AUW bake sale. AHL management donates auction items ranging from cooking lessons and local activities to hotel stays and gift cards. In 2017, the firm also redesigned AUW's headquarters space pro-bono. AUW supports the Aloha United Way 2-1-1 statewide helpline, Safety Net, ALICE (Asset Limited, Income Constrained, Employed) and 324 other community agencies. To donate: auw.org/give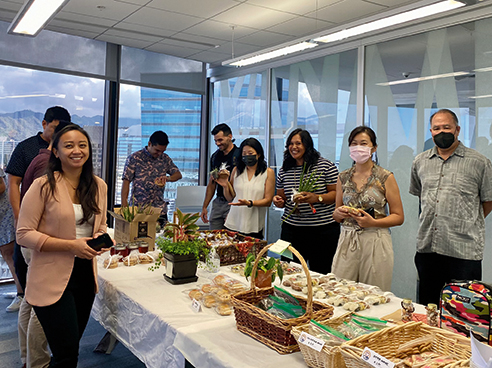 $3,500 Via Special Delivery
DHX-Dependable Hawaiian Express delivers cargo around the Pacific and the U.S. Mainland. In December, the Hawaii Foodbank received a special package from the carrier—$3,500 in donations for Hawaii's hungry. Says Kane McEwen, DHX-Dependable Hawaiian Express president: "DHX's donation contributed to Hawaii Foodbank's mission to help serve food in a variety of ways to ensure no one in the state of Hawaii goes hungry and to help end world hunger."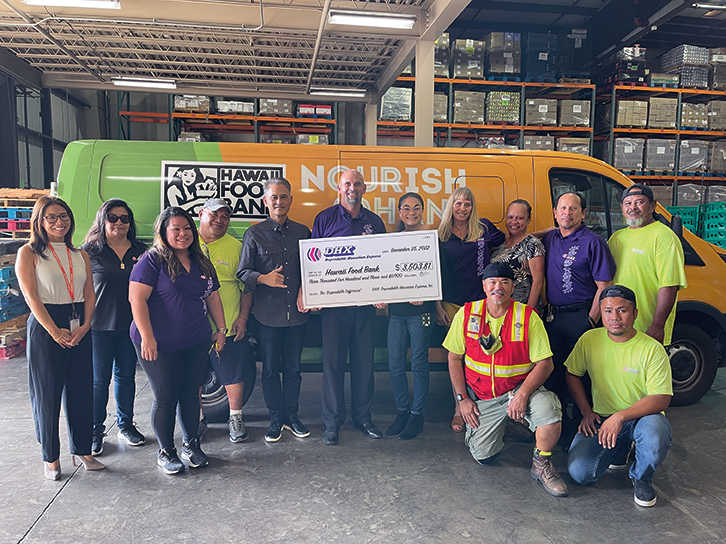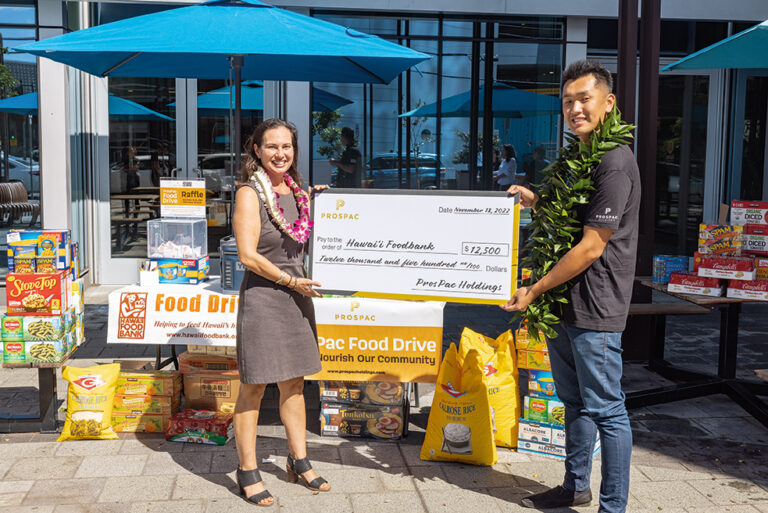 ProsPac Serves Up $19,000 With Sides
ProsPac Holdings, a local real estate development firm, and the Hawaii Foodbank raised $19,000 in donations during a November food and fund drive held at Azure Ala Moana. ProsPac donated $12,500, and the community donated more than $6,600 as well as 2,735 pounds of food. All told, these gifts will provide over 43,000 meals to Hawaii families in need. To donate: hawaiifoodbank.org
$3,500 Via Special Delivery
DHX-Dependable Hawaiian Express delivers cargo around the Pacific and the U.S. Mainland. In December, the Hawaii Foodbank received a special package from the carrier—$3,500 in donations for Hawaii's hungry. Says Kane McEwen, DHX-Dependable Hawaiian Express president: "DHX's donation contributed to Hawaii Foodbank's mission to help serve food in a variety of ways to ensure no one in the state of Hawaii goes hungry and to help end world hunger."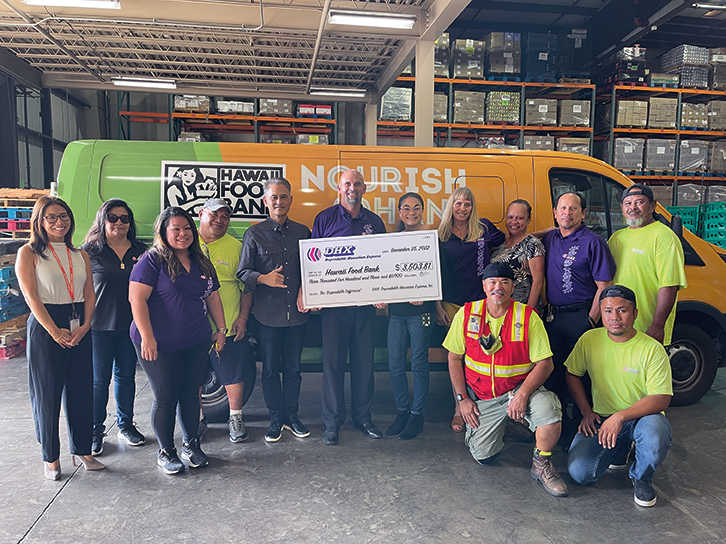 New $30,000 CIM Scholarships Open In February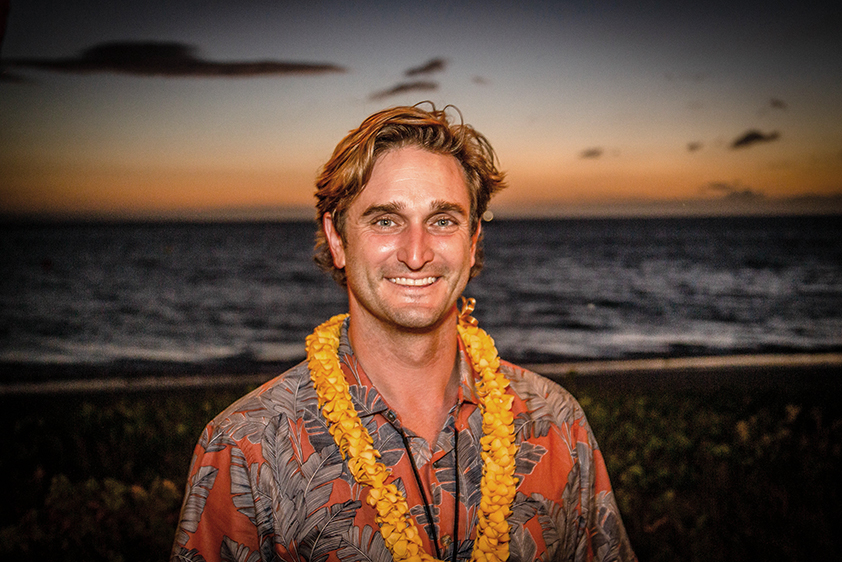 In February, the Construction Industry of Maui (CIM) will begin accepting applications for Bob Poulson CIM Scholarships for the year 2023. Two scholarships will be awarded, each totaling $30,000—$10,000 more than the $20,000 awarded previously.
Applicants must be graduating from a Maui high school and entering a two- or four-year construction-related degree program. Winners will receive the scholarship in May 2023.
The scholarship honors the co-founder of Arita Poulson General Contracting, the late Bob Poulson. "His legacy ensures that youth pursuing careers in programs such as architecture, engineering, construction management and design can thrive and give back to their own communities," says Joshua Berlien, CIM chair. CIM has awarded $140,000 in Poulson scholarships to date.
A total of $60,000 dollars for this year's scholarships was raised at CIM's holiday party Nov. 5 at the Fairmont Kea Lani. Donations were received from Fairmont Kea Lani, Four Seasons, Lahaina Fish Co., the Maui Chamber of Commerce, Maui Plumbing, PACE Supply, Poggenpohl Kitchens, Berlien Consulting, Lanakila Creations, Premier Restoration Hawaii, A Honu Space, Maui Plexiglass and Rachel An Hoon. To apply: cimmaui.com
$10,000 Puts Komen in the Pink
Alternate Energy, a Hawaii solar, HVAC and roofing services specialist, donated $10,000 to the Susan G. Komen Foundation in October as part of its annual effort supporting Breast Cancer Awareness Month. Alternate Energy crews also wore pink—the drive's signature color—at their October jobs to highlight breast cancer awareness. To donate: komen.org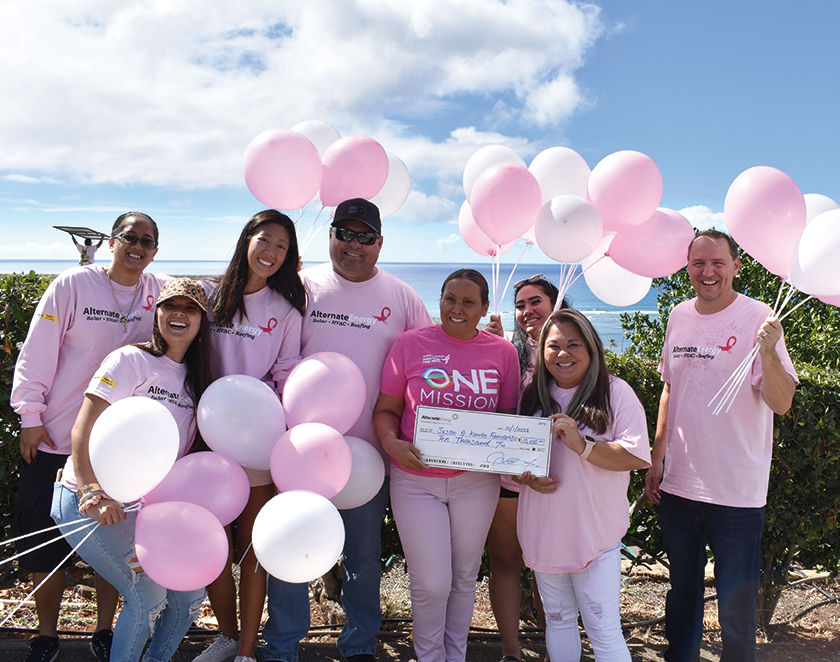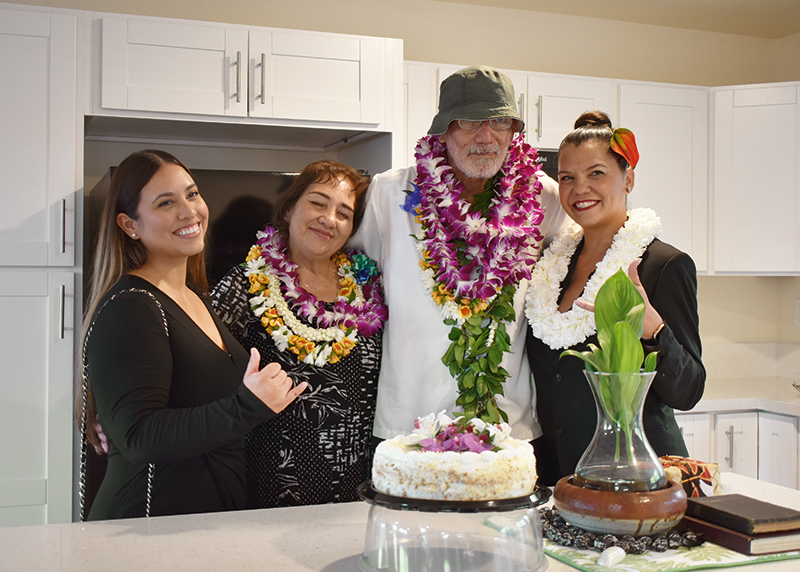 For more than 50 years, Cheryl and William "Uncle Wili" Gramberg have waited for the new home they needed. During an Oct. 20 ceremony, Honolulu Habitat for Humanity CEO TJ Joseph handed the couple the keys to their new two-bedroom Waimanalo home, built by Honolulu Habitat, Wahine Build and more than 220 volunteers.
The Gramberg home "is the first house constructed as part of Wahine Build–Honolulu Habitat's new annual initiative to mobilize, educate and empower women to build affordable homes," says Bri Littlefield, Honolulu Habitat director of philanthropy. The home was built in partnership with Hawaii's Department of Hawaiian Home Lands and the U.S. Department of Housing and Urban Development. Sponsors for this year's Wahine Build initiative include Servco, Hensel Phelps, Nordic PCL Construction Inc., Ward Village, the Swinerton Foundation and Bank of Hawaii. Wahine Build's next annual homebuilding initiative is planned for March and April 2023. To donate: wahinebuild.org
Calling All High School Heroes
On Dec. 16, Honsador's first High School Hero will be announced.
Honsador Lumber's new award program, launched in October, recognizes one hero in the fall and one in the spring. The awards honor high school students in good academic standing who demonstrate strong classroom attendance and school spirit and who go above and beyond in serving their community as a positive role model.
Spring award nominations will open February 2023. Award winners and all applicants are eligible for the first annual Honsador Lumber $5,000 Scholarship Award to be given in May 2023.
Honsador Lumber is also donating $250 in a winner's name to an academic department or nonprofit 501(c)(3) organization of the student's choosing. Winners also receive a $1,500 cash prize for themselves as well as press and media coverage by Honsador Lumber. To nominate: honsador.com/highschoolhero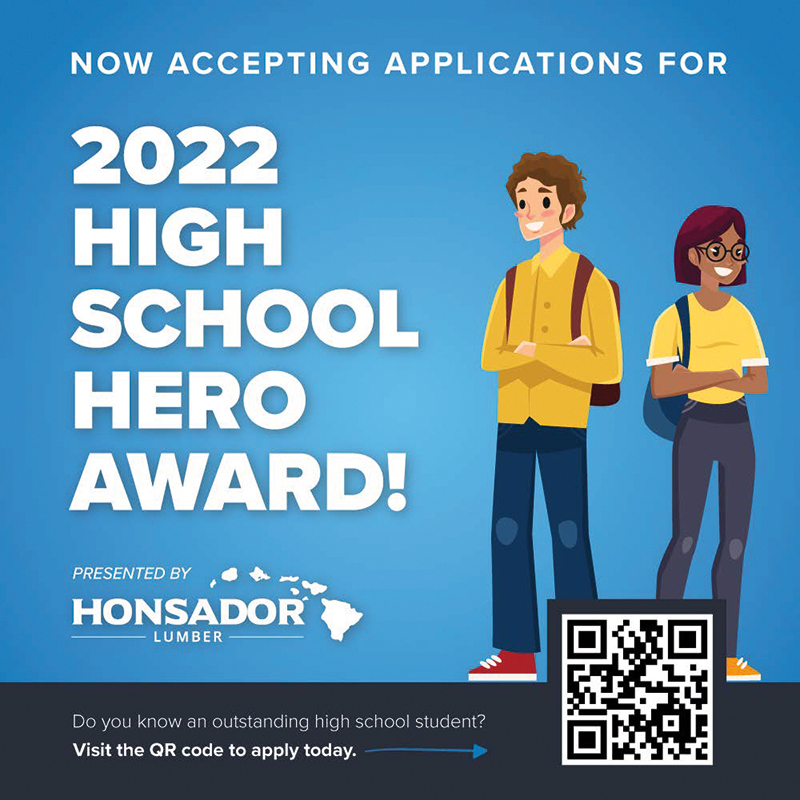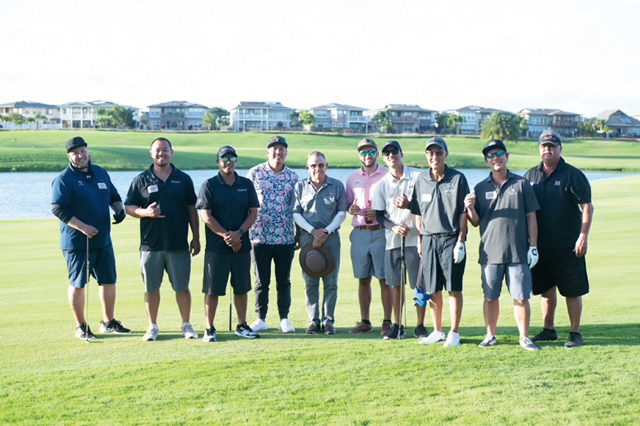 Unlimited Aces $70,000 for Homes and Hula
Unlimited Construction Services Inc. on Aug. 11 hosted its first annual Laulima Golf Tournament at the Hoakalei Country Club. Tourney proceeds totaling $70,000 will support two local nonprofits. 
"The shelter aims to help one of Hawaii's leading concerns, homelessness," says Kuuleialoha Gaisoa, Unlimited Construction executive vice president and one of the event's organizers. "Proceeds have helped to provide transitional housing for women and children in need." She says Halau Ka Lei Mokihana o Leinaala "strives to keep Hawaiian practices and stories alive by the art of hula … and seeks opportunity to give back." Other sponsors joining Unlimited include leading contractors, churches, local businesses and nonprofits.
Laulima Sponsors Donating $2,500 and Up: Gordon Mechanical LLC, First Hawaiian Bank, INPAC Wealth Solutions, Unlimited Construction Services Inc., Yama'z Painting LLC, Hawaii USA Federal Credit Union, Aloha Equipment Rentals, B F Tile Inc., Jayar Construction Inc., Kone Elevators, Consolidated Engineering Labs, McClone Construction Co., Layton Construction Co. LLC, Group Builders Inc., Leeward Roofing, Unitek Contracting Group, Wasa Electrical Services Inc., Island Flooring, Paling & Son's Trucking, Coffman Engineers, M. Watanabe Electrical Contracting, 808 Underground Utilities Inc., Penhall Co., Shimokawa+Nakamura, Blessed, Service Rentals & Supplies, Foundations Hawaii Inc., 5TZ Services, D. Suehiro Electric Inc., Dorvin D. Leis Co. Inc., Hi-Tech Plumbing Corp., EnviroQuest Inc., Island Comfort Air Conditioning, True Line Construction Services and Floor-Tech Group Hawaii LLC
Koula Sparks $150,000 Pledge to Nonprofits
Koula, Ward Village's sixth residential tower, maximizes sustainability. To celebrate the condomium's Sept. 14 opening, Ward Village and the Hawaii Community Foundation have pledged $150,000 to six Hawaii nonprofits with similar missions. Each received $25,000: Trees for Honolulu's Future, Surfrider Spirit Sessions, the Historic Hawaii Foundation, the Hawaii Home Ownership Center, the University of Hawaii Foundation and the Hawaii Youth Symphony.  
"We appreciate the opportunity to align the growth of Ward Village with our support of these impactful organizations," says Doug Johnstone, president, Hawaii at The Howard Hughes Corp. "Their positive contributions help to shape a thriving future for Honolulu." More than 180 Hawaii nonprofits have received over $3.8 million from Ward Village to date.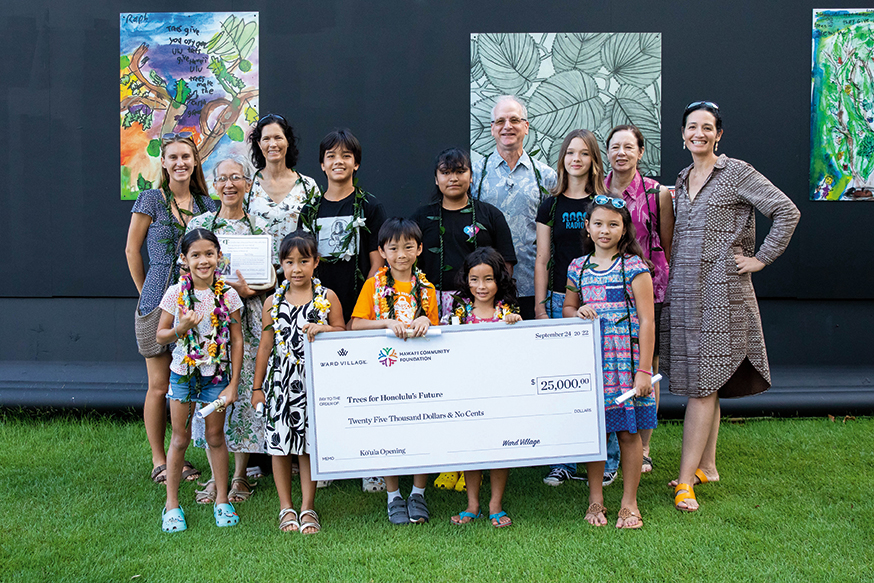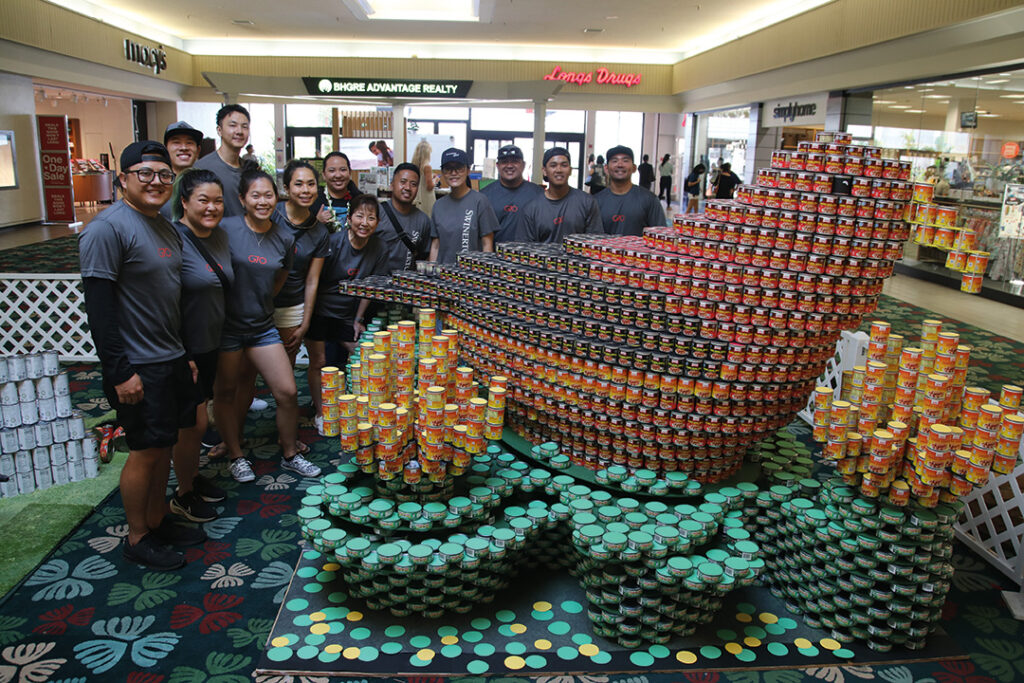 "A Garden of CANstructures," the American Institute of Architects Honolulu Chapter's 17th annual design competition held Sept. 17 through Sept. 24 at Kahala Mall, featured thousands of cans of food made into huge sculptures by teams of Hawaii builders—all to help feed the hungry.
Team members included: AHL, Coffman Engineers and HHF Planners; Bowers + Kubota Consulting Inc.; Ferraro Choi And Associates Ltd. and Nordic PCL Construction Inc.; G70 and Swinerton Builders; Next Design LLC, Constructors Hawaii and Alan Low Design; Okahara and Associates; RMA Architects Inc.; and Wiss Janney Elstner Associates Inc. Once CANstruction winners are chosen, the sculptures are torn down and the cans are donated to the Hawaii Foodbank. 
"The ability to create such innovative designs and structures through canned food items, then being able to donate those cans, is really special," says Summer Vaimaona, Swinerton business development representative.
Since its start in 2006, CANstruction has collected 670,028 pounds of canned goods—enough to make 527,581 meals.
DHX Clears Lanes for Special Olympians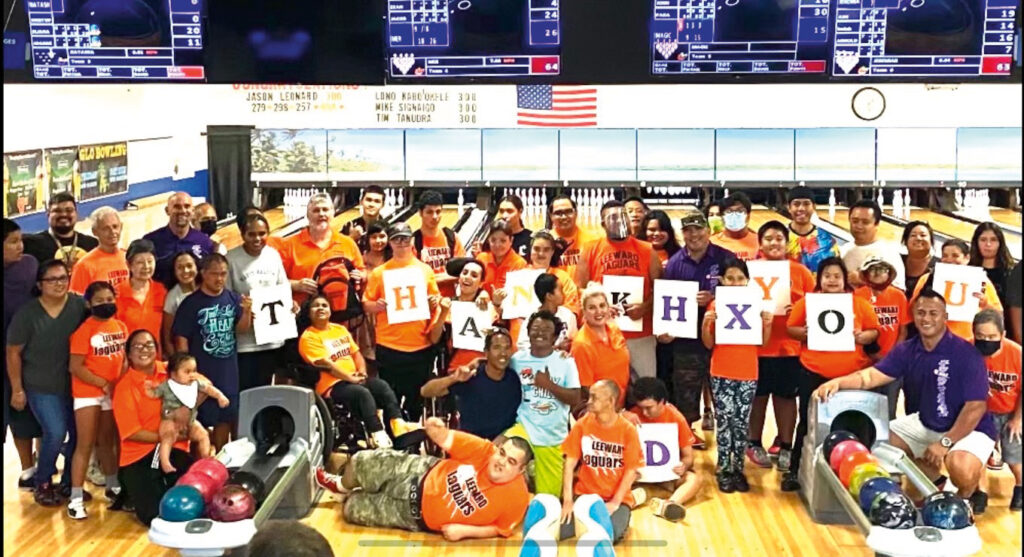 Every Saturday from Sept. 3 through Nov. 12, Special Olympics Hawaii and the Leeward Jaguars throng the lanes at Barber's Point Bowling Center, thanks to DHX-Dependable Hawaiian Express. 
Besides donating to both groups, DHX is sponsoring their backpacks and bowling alley practice rounds at the center for two months, says DHX/DGX President Kane McEwen, who joins DHX employees Gordon Furtado and Magic Atuaia in the effort. 
"DHX-Dependable Hawaiian Express annually sponsors Special Olympics Hawaii and the Leeward Jaguars to provide year-round sports training and athletic competition to children and adults with intellectual disabilities in the Leeward area," McEwen says. This gives them the opportunity "to develop physical fitness, demonstrate courage, experience joy and participate in a sharing of gifts, skills and friendship with their families, other Special Olympic athletes and community."  
2022 G70 Scholarship + Mentorship Awards Embrace Community
G70, a leading Hawaii design firm, in August granted two annual G70 Scholarship + Mentorship awards.
The winners are Oahu high school seniors Katherine Liu of President William McKinley High School and Jaelen Myrick of Castle High School. 
Each receives four years of financial support, a mentor, a summer internship and a secured position at G70 upon graduation from college should they choose to join the firm. 
Liu will attend Chaminade University and major in environmental and interior design. Myrick will attend Windward Community College and major in natural sciences – engineering.
G70 established its annual scholarship program in 2021 and has granted three four-year Scholarship + Mentorship awards to date.
"Our vision was to assist a Hawaii student in need to not only attend college, but to graduate," says Charles Y. Kaneshiro, G70 president and COO. "To this end, our program is committed to partnering with the recipients to provide both financial assistance and mentorship over a four-year period. It is our belief that this continuity is vital to the success of at-risk students' successful completion of a college degree.
"If we could get other businesses, like banking, insurance and construction to offer not just money, but also mentorship to help guide and raise that person, that could make a huge difference.
"If we can change the life of the student, we can change family and impact an entire community."
Captions:
Katherine Liu
Jaelen Myrick
Charles Y. Kaneshiro
Honsador's Got Kids' Backs
"Backpacks 4 Kids," Honsador Lumber's community assistance program, has donated at least 500 backpacks filled with school supplies to help students as they return to Hawaii school campuses this fall.
Honsador delivered backpacks to public schools in the following areas: 75 each to Kona, Hilo, Kauai and Maui; and 175 to Oahu during the first week of the 2022-2023 school year. Backpacks were provided based on student need. School administration and teachers distribute the backpacks to any student short on supplies. 
Honsador hopes to offer "Backpacks 4 Kids" every year. "The first week of school can be stressful for students and families," Honsador said in a statement. "But Honsador wants to help every kid start the school year with confidence!"
Caption 1: Staff members at Nanakuli Elementary School display Honsador's "Backpacks 4 Kids" donation.
Caption 2: Kahului Elementary School celebrates its share of the 100 backpacks Honsador donated on Maui. 
PHOTOS COURTESY HONSADOR LUMBER
A Dream Comes True With Goodfellow
Pierce is a healthy teenager. But for the past two-and-a-half years, he had received chemotherapy treatment for leukemia, which now is in remission.   
"Pierce's dream was to go sportfishing in Hawaii," says Edward Brown, Hawaii division president for Goodfellow Bros. 
On July 24, Pierce's wish was granted when Goodfellow partnered with Hawaii Petroleum and Dreams Come True, a nonprofit that fulfills the wishes of children with life-threatening illnesses.
 Goodfellow Bros. provided a sportfishing vessel and crew, and Hawaii Petroleum donated the fuel for the vessel. 
"Pierce, his father and mother, and his brother and sister all went out off the Kona Coast," Brown says. On the fishing trip, Pierce and his family caught an ahi and caught and released a marlin. "Goodfellow Bros. was honored to provide a day of chartered fishing for a Dreams Come True child," Brown says. "They all had an amazing day."
Caption:
Pierce and his father celebrate hooking an ahi off Kona aboard Goodfellow's sportfishing vessel.
PHOTO COURTESY GOODFELLOW BROS.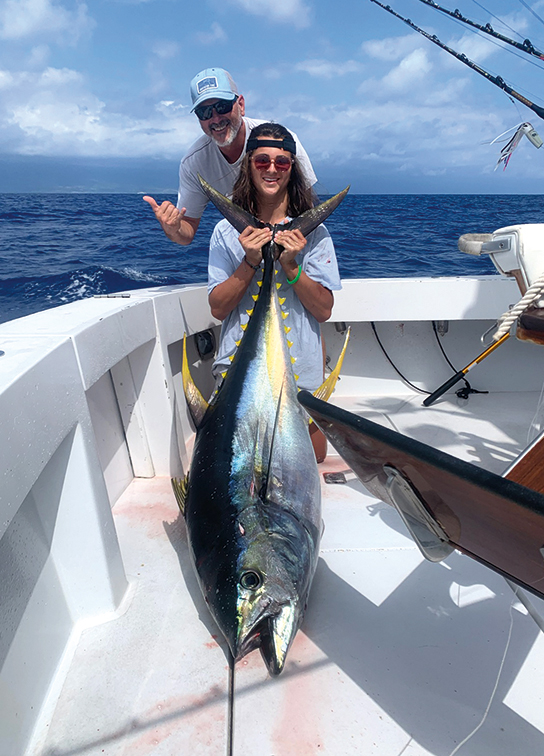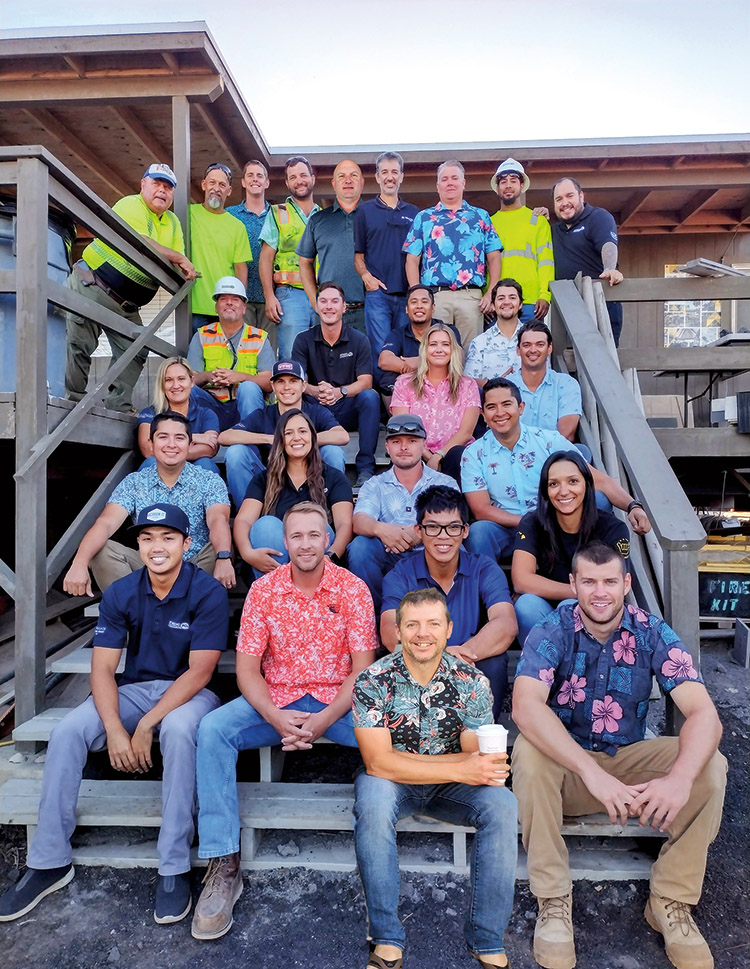 A Nordic PCL Army Rescues Kona's
When vital donations were stolen from The Salvation Army Kona Corps during a July break-in, Nordic PCL's Kona Village team "sprang into action," says Paul Garcia, NPCL health, safety and environmental supervisor. Nordic "immediately reached out to the Salvation Army to see what they could use."
Big Island keiki and kupuna needed about $5,000 in replacement supplies, says Corps Capt. Raghel Santiago—and the supplies had to be purchased immediately. 
Nordic's entire Kona Village construction team—along with project subcontractors Pan Pacific Mechanical, Beachside Roofing LLC, BMK Construction LLC and Goodfellow Bros.—"came together to donate over $3,000 [worth] of in-kind items, including back-to-school supplies for keiki and food pantry items," Garcia says.
Nordic delivered in five days.
"It's so amazing what this company has done," Santiago says. "To see the empathy we received from Nordic PCL has been wonderful. Because everything we do is for the community."
To donate: The Salvation Army Kona Corps, 75-223 Kalani St., Kailua-Kona; Monday to Friday, 9 a.m. to 3 p.m.; (808) 326-2330 ext. 0
Caption: 
The Nordic PCL Kona Village construction team with HSE Supervisor Paul Garcia, top row, far right
PHOTO COURTESY NORDIC PCL CONSTRUCTION INC.
10 Students Win 2022 HPM Foundation College Scholarships
The HPM Foundation in July awarded college scholarships to seven local high school graduates and three Hawaii Community College students to help with upcoming college expenses and to support the student's success. 
The seven graduates, who demonstrated high academic achievement and a strong record of community service, each received a $1,000 Barney S. Fujimoto Memorial Scholarship to further their studies at the University of Hawaii System campuses. The scholarships are awarded in memory of Barney S. Fujimoto, an HPM Building Supply second-generation leader who held very strong convictions regarding higher education and its merits.
Three select students enrolled in the Hawaii Community College Carpentry program each received a $750 HPM Building Future Builders Scholarship for their second program year.
"My great-grandfather, Barney Fujimoto, knew that education is life-changing," says Jason Fujimoto, HPM Building Supply president, and CEO. "For nearly 40 years, the HPM Foundation has assisted local students with their college aspirations in honor of his memory and our belief in helping the next generation to achieve their dreams. From all of us at HPM, we offer our heartfelt congratulations to our 2022 HPM Foundation scholarship recipients, and our encouragement to keep aiming high and striving for excellence." 
The Barney S. Fujimoto Memorial Scholarship was established by HPM in 1973, followed by the Future Builders scholarship in 2008. The HPM Foundation has awarded scholarships to approximately 30 Hawaii students to date.
Caption: Barney S. Fujimoto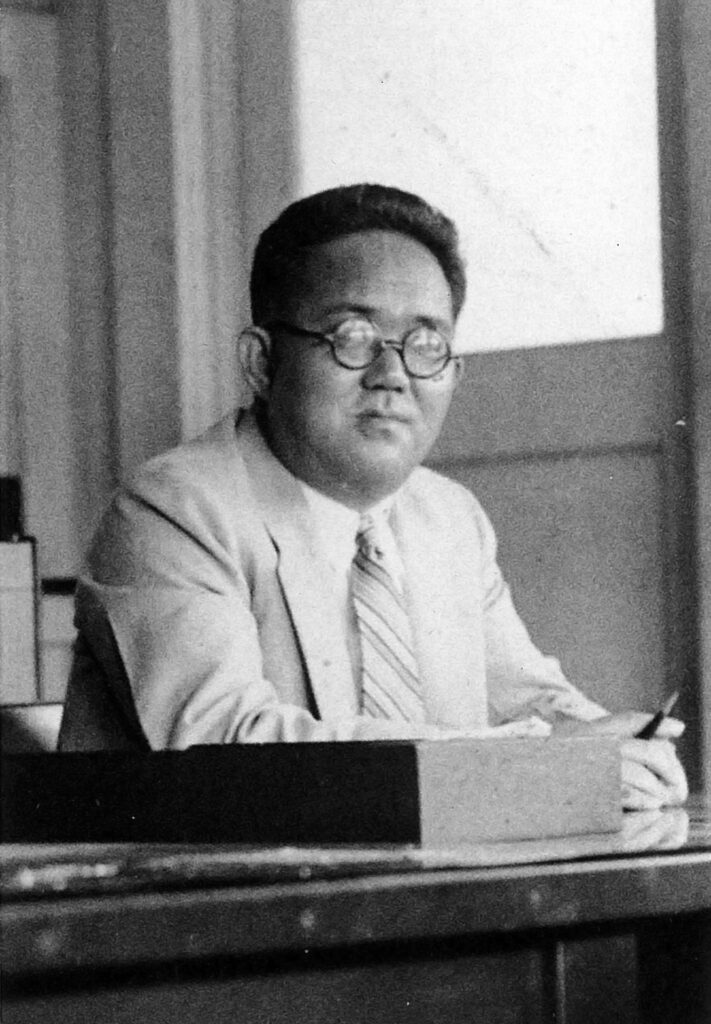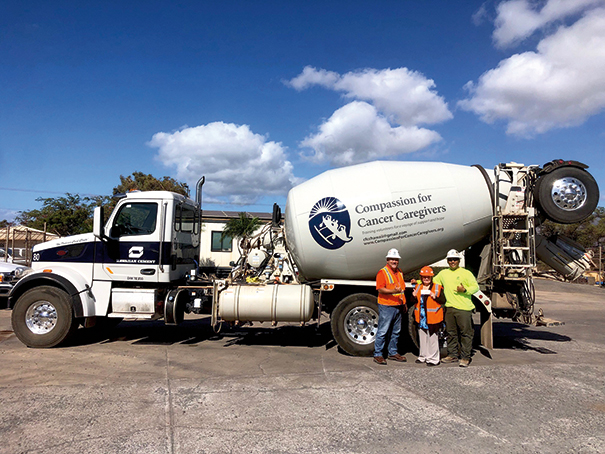 $3,000 for Cancer Care from Hawaiian Cement Maui
Hawaiian Cement Maui recently presented a check for $3,000 to Linda Puppolo of the Pacific Cancer Foundation on behalf of George and Jeannie Stewart, cofounders of Compassion for Cancer Caregivers, to help Maui's neediest patients travel to Oahu for cancer treatment. 
CAPTION: From left: Ed McCary, Hawaiian Cement Maui concrete and quality control manager; Linda Puppolo, Pacific Cancer Foundation executive director; and James Sciafani, ready-mix concrete driver
PHOTO COURTESY HAWAIIAN CEMENT
NAWIC Hawaii Raises $8,000 for Construction Trainees
Scholarship Night, launched April 21 by the National Association of Women in Construction (NAWIC) Hawaii Chapter 114, has raised more than $8,000 to date for Hawaii students seeking a career in construction. "Scholarship recipients include worthy applicants attending any institution who are interested in pursuing a career in construction, with an emphasis on construction field trades," says Danielle Ulmann, 2022 NAWIC Hawaii president and Atlas Insurance assistant vice president. NAWIC members and guests attended this public event—NAWIC Hawaii's first, Ulmann says. "Scholarship Night will be held every year in the spring."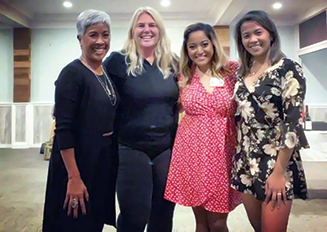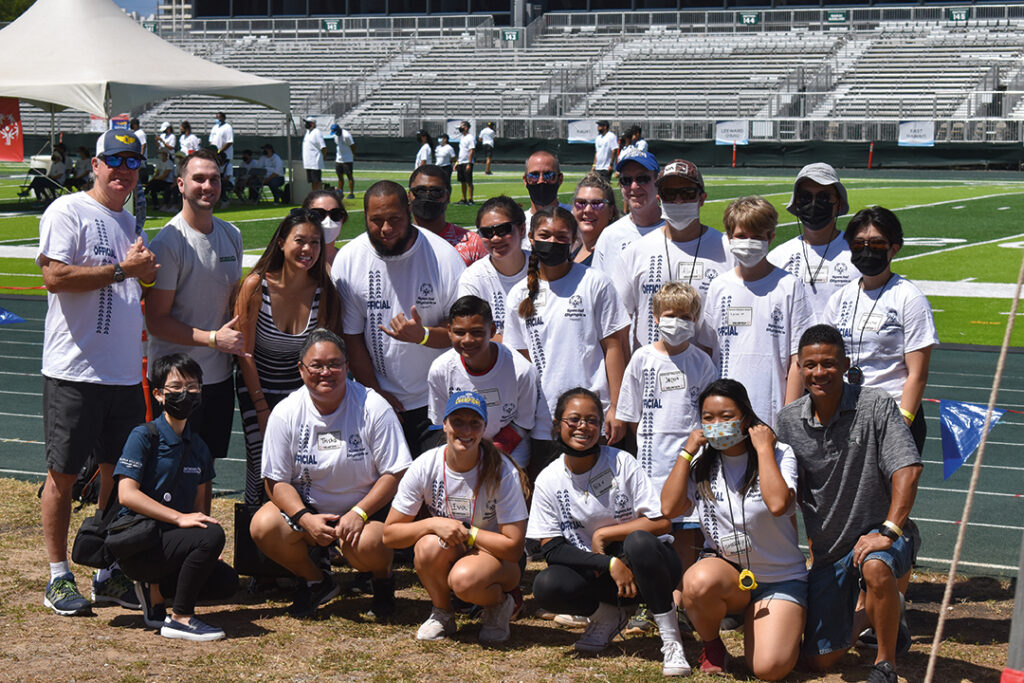 Nordic Aids Hawaii Olympians
On July 18, runners crossing the finish line during the Special Olympics Hawaii Summer Games were aided by Nordic PCL Construction Inc. "Nordic PCL volunteered at this year's Summer Games," says Glen Kaneshige, Nordic PCL president. "Our volunteers' role was to help clock the track athletes as they crossed the finish line." Special Olympics Hawaii's annual Summer Games were held June 18 and 19 at the University of Hawaii-Manoa campus. Besides track and field at the UH Clarence T.C. Ching Athletic Complex, the Games' competitive events included swimming and powerlifting.
CAPTION: Nordic PCL volunteers during the Special Olympics Summer Games track and field event held June 18 at the UH Manoa campus. NPCL volunteers included Gordon Scruton Jr., superintendent; Drew Kirkbright, buyer; Samantha Tsui, marketing manager; Trisha Faleafine, administrative supervisor; Casey Tollman, project manager; Michael Wilson, purchasing & equipment manager; Iva Icheva, project engineer; Alma Ohta, accountant; and Ken Spence, assistant manager, Finance & Commercial Risk. PHOTO COURTESY NORDIC PCL CONSTRUCTION INC.
Swinerton Digs Deep for Hawaii
Part of an ancient Hawaiian ahupuaa, Ulupo Heiau in Kailua provided Swinerton volunteers with hands-on sustainability training during Kauluakalana Loi Workday, June 25. "Swinerton Hawaii was able to spend a day getting dirty and supporting sustenance and preservation of Ulupo Heiau and loi," says Kaleo Wong, director of Kauluakalana, a community-based, non-profit 501(c)(3) organization. "We learned about the sustainability of these lands and the food that was provided to thousands of people through the conservation of the loi patches and fishponds. These lands have sustained our island for thousands of years and will continue to do so for many more."
CAPTION: Swinerton volunteers at Ulupo Heiau in Kailua
PHOTO COURTESY SWINERTON BUILDERS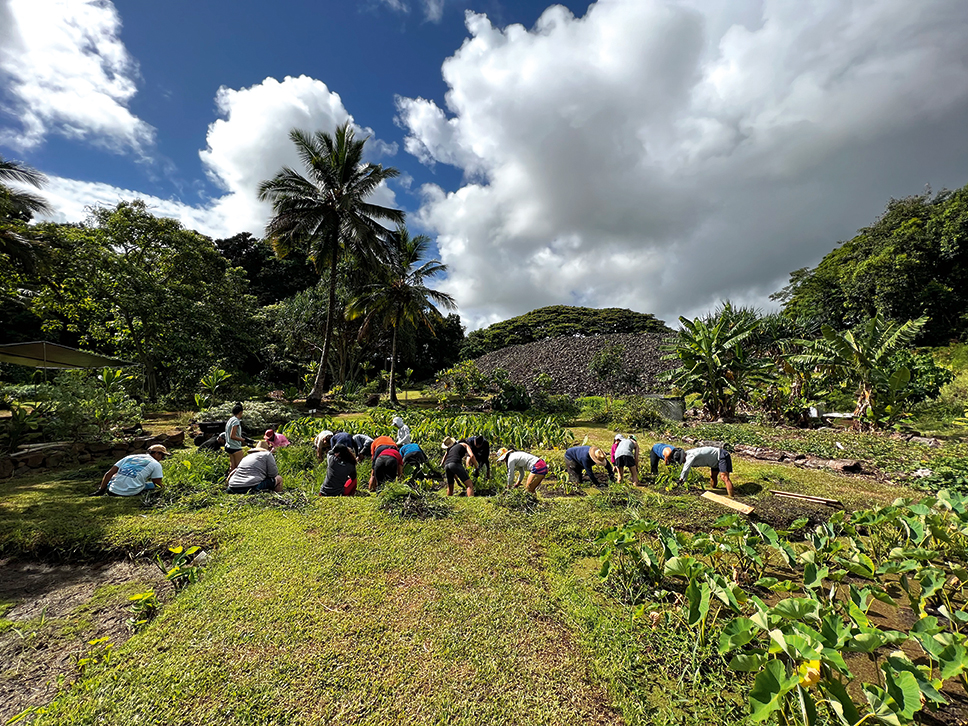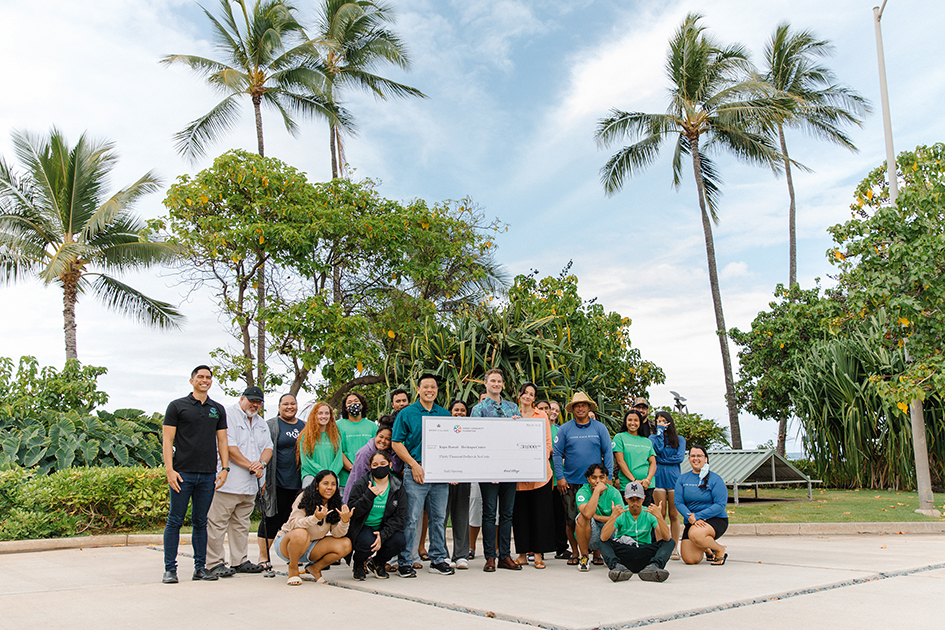 Ward Village Gives $30,000 to Youth Stewardship Program
Ward Village gave $30,000 to Kupu Hawaii in May "to support their youth programs at the Harry & Jeanette Weinberg Hookupu Center at Kewalo," says Kaiulani Sodaro, Ward Village Planning & Development senior vice president.
Kupu Hawaii, a Honolulu-based non-profit, mentors young adults through hands-on environmental programs, such as Kupu's Hawaii Youth Conservation Corps, which offers outdoor restoration training that can be combined with academic credit. "Ward Village's gift will support Kupu Hawaii's mission to provide local youth with the tools to become the next generation of environmental stewards and leaders," Sodaro says.
CAPTION: Ward Village presents a $30,000 check to Kupu Hawaii Hookupu Center students and staff on May 16. Far left: Kepa Barrett, Kupu Hawaii external affairs officer. Holding check, from left: John Leong, Kupu Hawaii CEO; Doug Johnstone, Ward Village Hawaii president; and Kaiulani Sodaro, Ward Village Planning & Development senior vice president.
CIM Awards Two $20,000 Scholarships
Construction Industry of Maui, an industry group, awarded two annual Bob Poulson Memorial Scholarships at a CIM ceremony on May 18.
Maui High School graduates Mari Yamamoto and Cayleb Fernandez each received $20,000 for their college education.
"This scholarship provides Maui graduates with a much-needed leg up in securing critical education in construction-related fields," says Anthony Nelson, CIM scholarship chair.
The first in her family to pursue a degree outside Hawaii, Yamamoto plans to concentrate in architecture or construction management at Oregon State University. Fernandez, who as a high school senior designed a "tiny home" to help alleviate homelessness, will focus on engineering at the University of Arizona.
"These candidates will return to Maui to help fix critical infrastructure issues such as homelessness, ecological impacts from development and many more," Nelson says.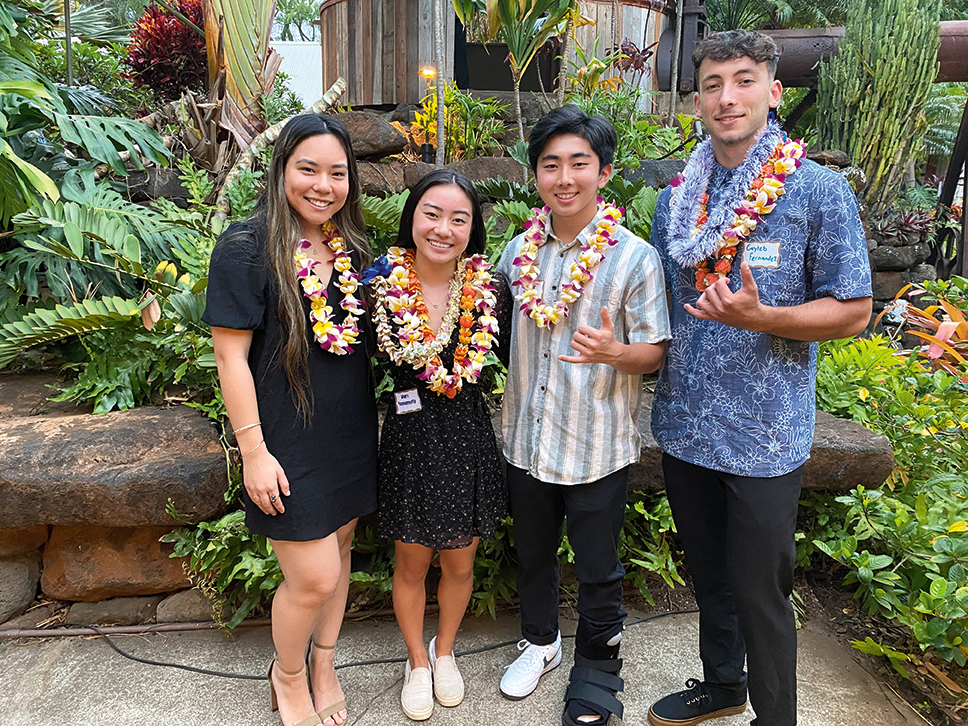 Goodfellow Gives $51,000 to Hawaii Nonprofits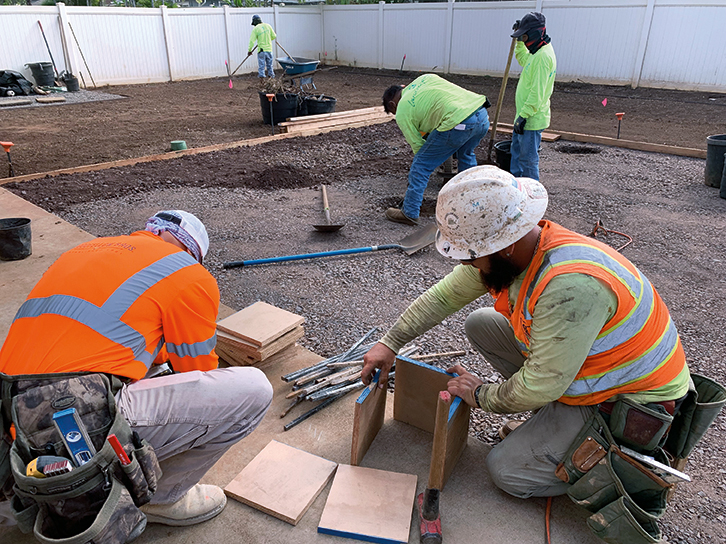 As part of its Centennial Grant, Goodfellow Bros. LLC and subsidiaries Blasting Technology and Beylik/Energetic A JV recently donated $51,000 to 13 Hawaii nonprofit organizations.
Recipients include Na Moku Aupuni O Ko Olau Hui, Maui Day Care Center For Senior Citizens And Disabled Inc., Friends of the Children's Justice Center, Maui Aids Foundation, Kona Crush Soccer Academy, Hoa Aina O Makaha, Hawaii Foodbank, Pulama Na Liko, Kauai Community Science Center, Waikoloa Dry Forest Initiative, Habitat for Humanity Hawaii, Island School of Kauai and The Pantry.
Jennine Sullivan, The Pantry executive director, says, "This generous grant from Goodfellow Bros. will help us continue to serve the growing number of Hawaii's community members who are facing food insecurity."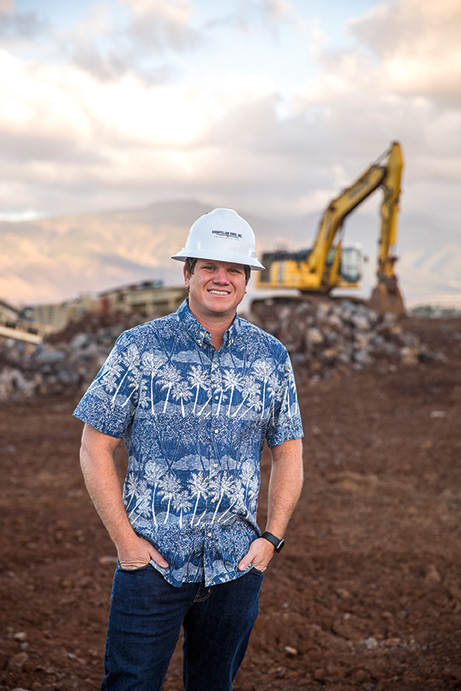 By the close of its centennial celebration earlier this year, Goodfellow Bros. had donated a total of $136,000 in support of 25 nonprofits in Washington, Hawaii, California and Oregon. "People are the core of our business, so this was a perfect way to mark our 100-year anniversary and give back to so many organizations and causes supporting the communities in which we live and work," says CEO Chad Goodfellow. Marcy Farrell, the firm's marketing director, says Goodfellow also donates throughout the year.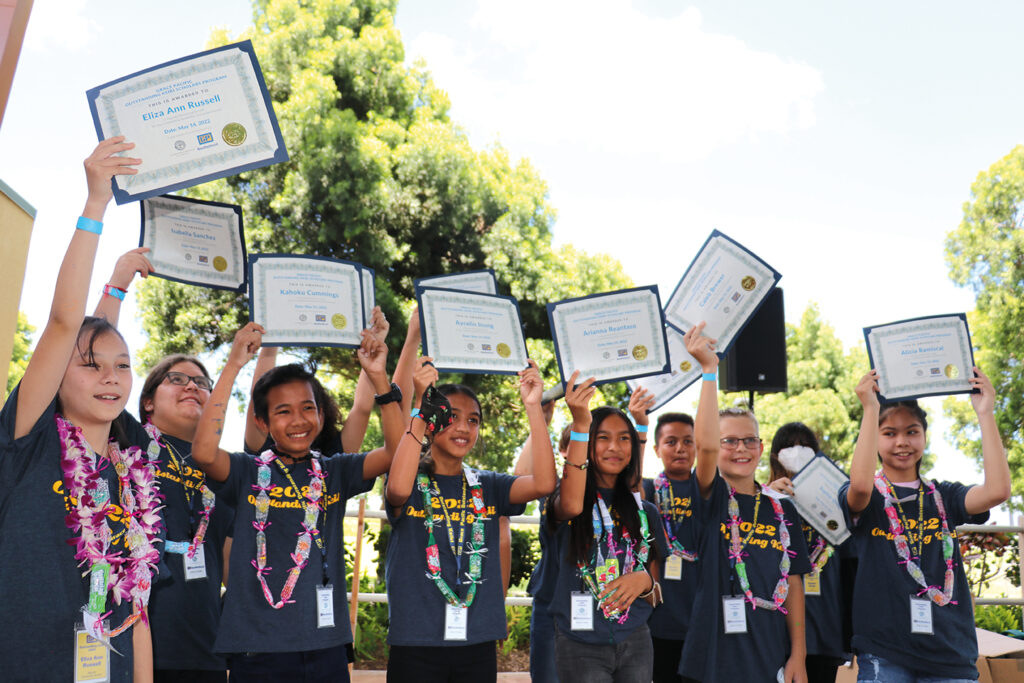 Grace Pacific Honors 60 "Outstanding Keiki"
On May 14, Grace Pacific honored fifth-grade students from Kapolei, Makakilo, Mauka Lani, Barbers Point and Ho'okele elementary schools during the 25th anniversary celebration of Grace Pacific's "Outstanding Keiki" program. Grace Pacific recognized 60 students, their families and teachers at the Salvation Army Kroc Center in Kapolei, where students participated in activities and received their award certificates.
The program, established in 1997, honors keiki who make a positive difference in their communities. Participating school administrators, counselors and teachers select fifth-grade students who have displayed the characteristics of good citizenship, academic excellence, leadership skills and community service.
"We believe in the unlimited potential of the youth in our West Oahu community," says Jerrod Schreck, Grace Pacific president. "As we recognize this milestone anniversary, we are recommitting ourselves to investing in their future and encouraging them to continue to learn, grow and thrive."
Upon high school graduation, awardees are eligible to apply for a Grace Pacific Outstanding Keiki Scholars Fund scholarship to pursue higher education. Grace Pacific's scholarship program has awarded $20,000 to eight students for the 2021-2022 school year.
Nareit Foundation $130,000 Grant Helps Build a New Lihue Home
The Nareit Foundation in March awarded a $130,000 grant to the nonprofit Kauai Housing Development Corp. to help build a new, affordable single-family home in Lihue.
Presented as part of the Foundation's Nareit Hawaii Community Giving Initiative, the grant was supported by donations to the Foundation, a section 501(c)(3) charity, from real estate investment trusts (REITS) in Hawaii.
The new four-bedroom, two-bathroom home will provide a family with 1,465 square feet of interior living space on a 3,414-square-foot lot.
"Supporting workforce housing for families is vital to the future of our communities," says Gladys Quinto Marrone, executive director of Nareit Hawaii. "We appreciate the tremendous effort put forth by the Kauai Housing Development Corp. to partner with Nareit and other entities to make this new home affordable for a family that will make the community stronger."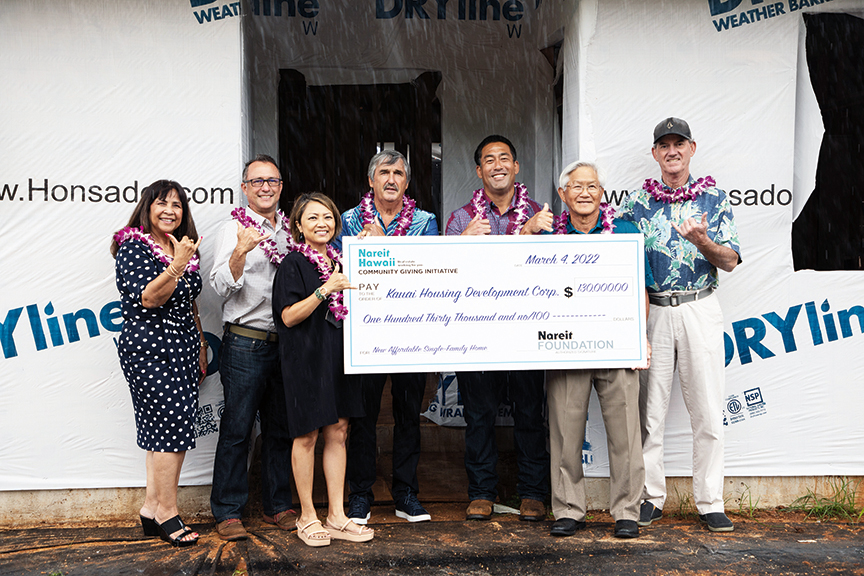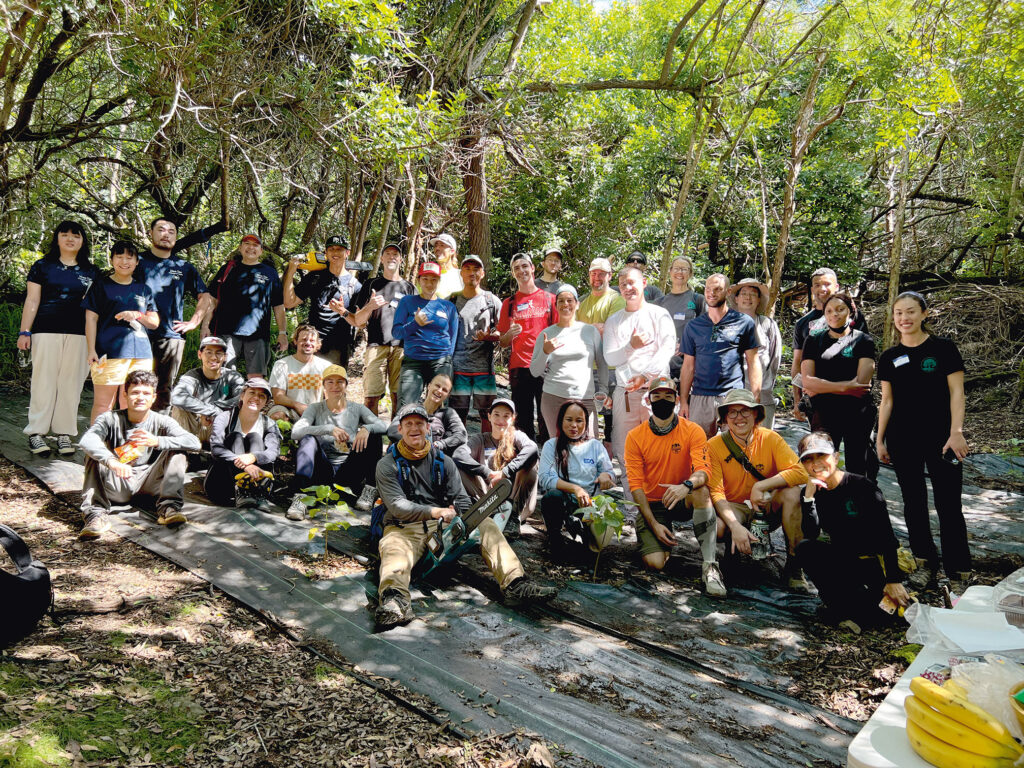 Nan Inc. Volunteers Aid Kuli'ou'ou Ridge Reforestation
Nan Inc.'s Volunteer Club joined the Aloha Tree Alliance in its reforestation efforts along Oahu's Kuli'ou'ou Ridge Trail on Feb. 19. The Alliance preps restoration areas and plants native trees, shrubs and grasses, removes invasive species and builds natural barriers to discourage trail cutting. Nan Inc. also donated, delivered and set up three water catchment systems to ensure survival of hundreds of the trail's recently planted native trees and shrubs. Work at this event also blocks runoff from the trail into Maunalua Bay. Nan Inc.'s Volunteer Club chooses a new community support activity each month.
Unlimited Builds New Charter School Playground
Unlimited Construction Services Inc. in December donated more than 40 hours' labor to build a new playground for the Kawaikini New Century Public Charter School in Lihue. The school's parent group had raised enough money to buy the playground equipment, but had not raised enough money to construct it. After a year of waiting, they reached out to Unlimited Construction and within a month the structure was up and completed.
New playground equipment at Kawaikini New Century Public Charter School in Lihue. PHOTO COURTESY UNLIMITED CONSTRUCTION SERVICES INC.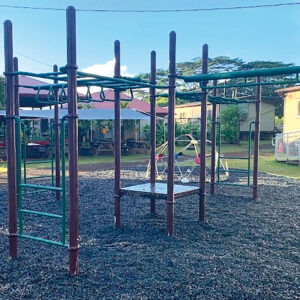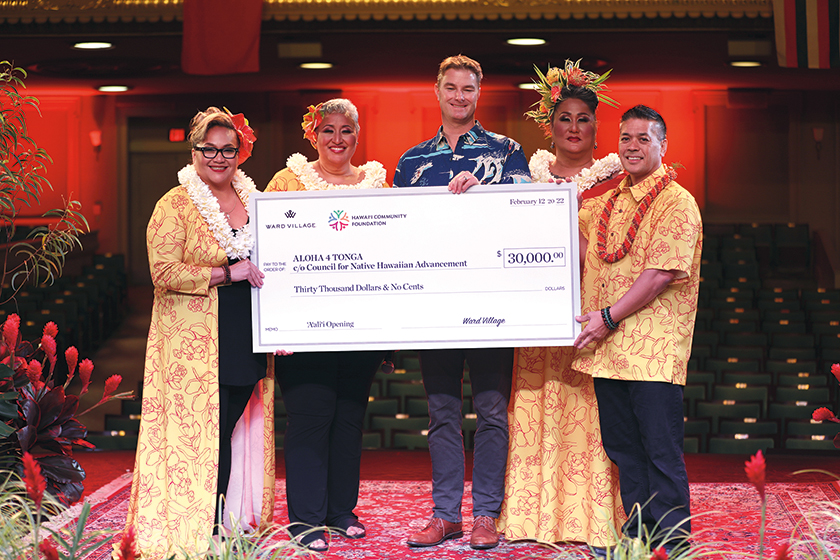 From left: Mele Apana, Lina Langi, Howard Hughes Corp. Hawaii President Doug Johnstone, Hinaleimoana Wong-Kalu and Shannon Scott at February donation ceremony
PHOTO COURTESY WARD VILLAGE
Ward Village Donates $30k to Tongan Relief
Ward Village in February donated $30,000 to Tonga relief efforts aiding communities impacted by January's devastating volcanic eruption. Ward Village also helped sponsor the "Aloha 4 Tonga" fundraising show on March 4 through its support of the Council for Native Hawaiian Advancement (CNHA). Donations are directed to Tonga relief through the Tonga Consular Agency in Hawaii and will assist in Tonga's recovery and rebuilding efforts, including providing much-needed supplies and assistance. Donations can be made at https://www.memberplanet.com/campaign/cnhamembers/aloha4tonga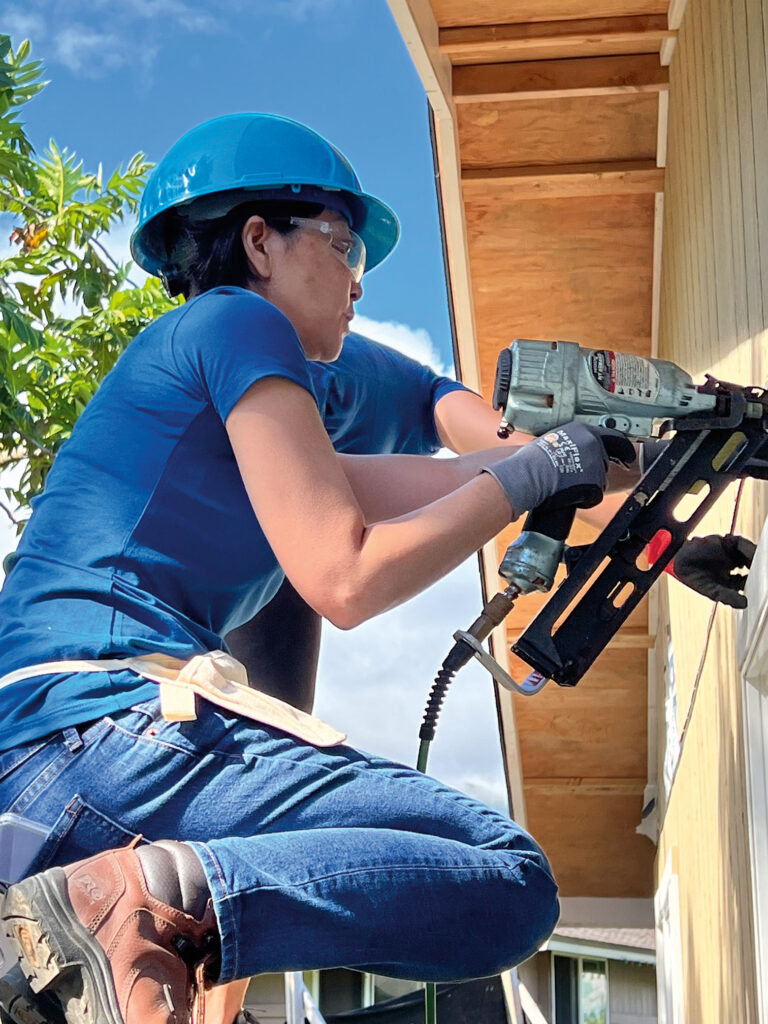 Habitat for Humanity/Wahine Build, another community effort supported by NPCL
PHOTO COURTESY NORDIC PCL CONSTRUCTION INC.
NPCL Raises $120k for AUW
Nordic PCL Construction Inc. has raised $120,000 for Aloha United Way. The amount includes donations by members of Hawaii's building industry raised during a tournament-style game night at NPCL headquarters last year.
Industry organizations that donated to the "All in for Aloha United Way Poker Tournament" include Beachside Roofing, Hawaiian Cement, In Line Flooring Inc., Island Flooring, Kennedy Wilson, Sperber Landscape companies, Wasa Electrical Services, WE Painting, A American Custom Flooring, Alcal Specialty Contracting, Anderson Pools, Bowman Connectivity Solutions, Coastal Construction Co., Delawie Architecture, Distinctive Wood Designs, Electricians Inc., Ferguson Enterprises, Foundations Hawaii, Goodfellow Bros., Group Builders, Hawaiian Crane & Rigging, Hayre McElroy & Associates, Jayar Construction, JJS Construction, Maui Plumbing, Morrow Equipment, Newport Pacific Cabinets, Pan Pacific Mechanical, Raynor Overhead Doors, True Line Construction, Zelinsky, American Standard Concrete Pumping, BEK, BMK Construction, Bothman Construction, Dorvin D. Leis, Ferraro Choi, Green Thumb,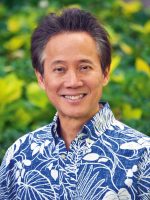 Haas Insulation, Hamill Creek Timber, Hardwoods Hawaii, Harris Rebar, HPM Building Supply, Island Pacific Distributors, Maui Disposal, Orness Design Group, Quality Cabinet & Fixture Co., R&L Ohana, Sunbelt Rentals, Universal Manufacturers, Jihee Kim, Quality General Inc., Reflections Glass, Buck Roofing Company Inc., Kirschner Contractors and PWC Hawaii.
"While the event itself was held at Nordic PCL district headquarters," says NPCL President Glen Kaneshige, "teams across the Islands also participated in the overall fundraising efforts. In addition to its support of Aloha United Way, Nordic PCL is committed to Hawaii and its people and the communities they are a part of."
NPCL Raises $120k for AUW
Hawaii Asphalt Paving Industry (HAPI) presented four scholarships, from $500 to $1,000, to Hawaii students in February at a Pearl Country Club luncheon.
Yvette Burdett attends Honolulu Community College; Logan Castro studies at the Georgia Institute of Technology; Amr Ghanem attends the University of Hawaii at Manoa; and Justin Kawamura is at Boise State University. Criteria was based on interest in various aspects of the building industry.
"HAPI is pleased that we provide financial assistance to college students pursing a degree in civil engineering, construction management, construction engineering and other degrees related to the design and construction infrastructure improvements," says HAPI Executive Director Jon Young.