Bower Creates 'A Transformed Experience' at Fairmont Kea Lani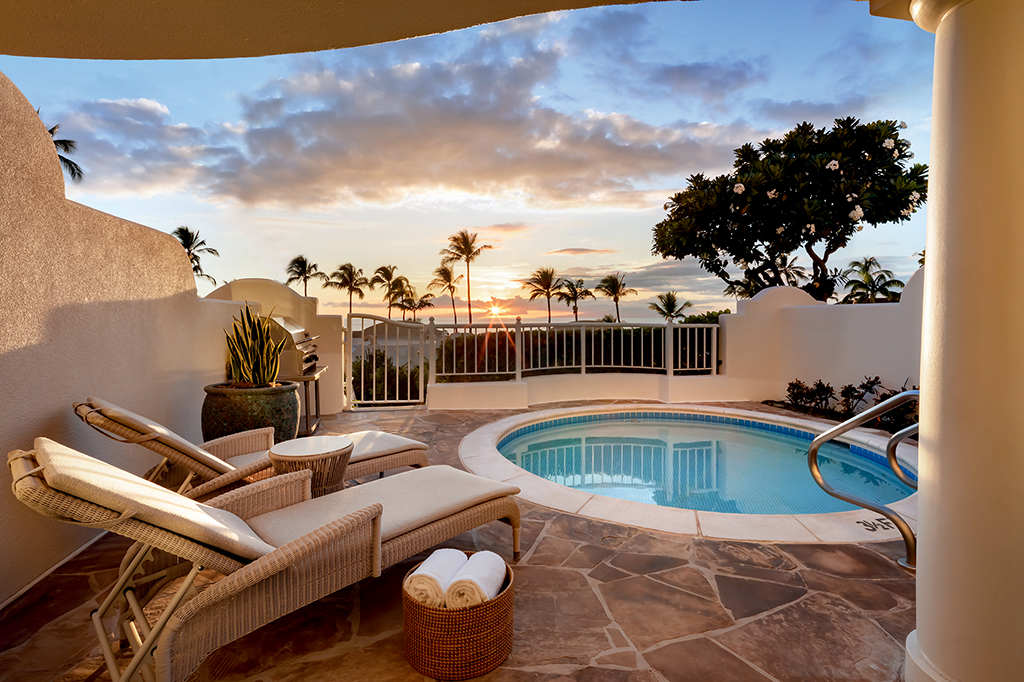 F
or visitors to the Aloha State planning to stay at Maui's Fairmont Kea Lani, "a transformed experience awaits," according to the resort's official website, with "newly reimagined suites and villas [that] have been elegantly redesigned to evoke stories of our island's cultural heritage and accentuate the natural beauty of Hawaii."
Sounds magical, right? We wanted to learn more about the transformation, which involved Host Hotel & Resorts launching an eye-popping $73 million renovation of suites, suites corridors and villas helmed by Bower Development LLC.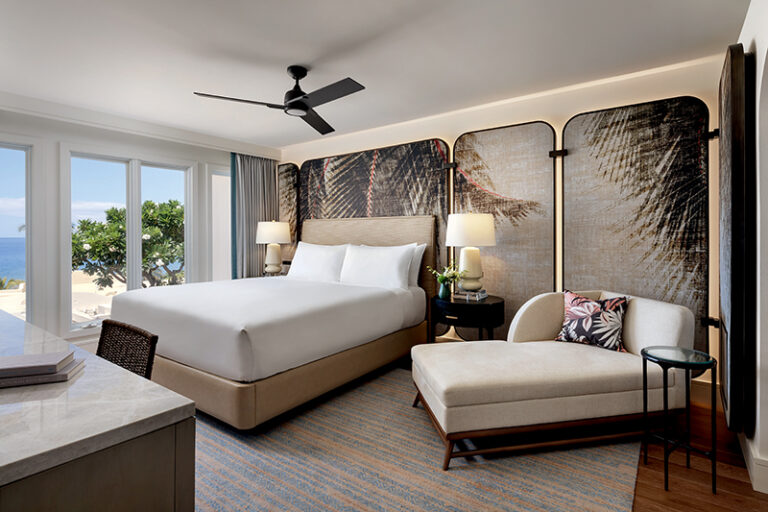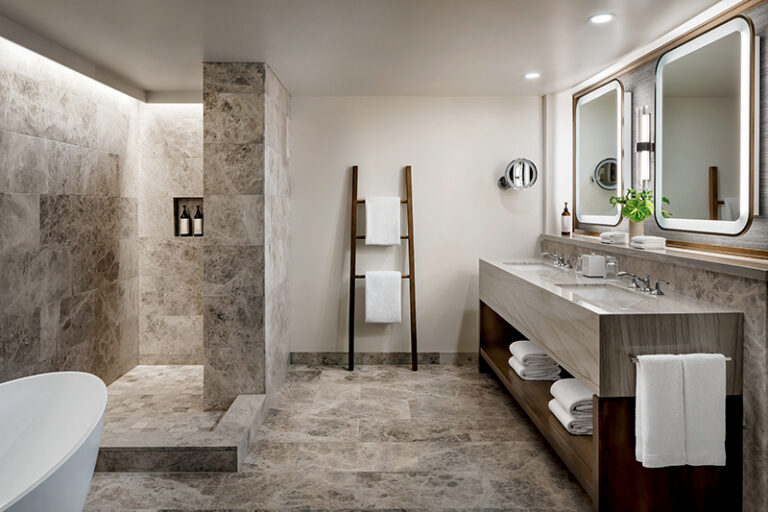 THE PROJECT
Fairmont Kea Lani's substantial renovations—led by Brower Senior Project Manager and Owner Adam Durante, alongside senior superintendents Sheldon Heck and Manuel Perez, and superintendents Brandon Mukaihata and Eric Carlson—broke ground in March 2022 and are projected to be completed in June.
The mission: completely transform 413 suites and 37 2- and 3-bedroom villas, which, according to Durante, was no small order. Demolition of previous finishes was just the beginning.
"The project enhanced suites and villas with luxury finishes—introducing pocket doors, new tile flooring throughout, wall paneling, all-new furniture, fixtures and equipment, and improved ADA suites and villas," explains Durante. "Additionally, the project included mechanical and electrical upgrades, replacement of all domestic piping, addition of hot water recirculation lines and replacement of chilled water insulation to improve efficiency and energy savings."
Also included were new LED fixtures throughout, and a fire alarm system meeting today's industry standards. The new mechanical and electrical enhancements not only provided energy efficiencies for the property, but also led to the project receiving LEED accreditations.
TEAMWORK MAKES THE DREAM WORK
Building Industry Hawaii asked Durante what steps he and his team took to ensure that everything stayed on-track through every stage of renovations.
According to Durante, the key to staying on target was "cohesive partnerships, regular meetings and joint coordination with the construction manager and client."
And when it all comes down to it, Durante credits the success of this impressive undertaking to "open and transparent communication," which allowed his team "to facilitate consistent flow between trades and maintain the schedule."
STATE-OF-THE-ART EQUIPMENT, STELLAR SOFTWARE AND ADVANCED TECHNOLOGY
Not only was communication vital to the project's success, but Durante also credits state-of-the-art equipment and advanced technology—particular stellar software—for allowing renovations and construction to stay the course.
He points to "collaborative team usage of Autodesk construction cloud-based software [for] concrete scanning necessary within a concrete post-tension building substrate" as a key component of the project.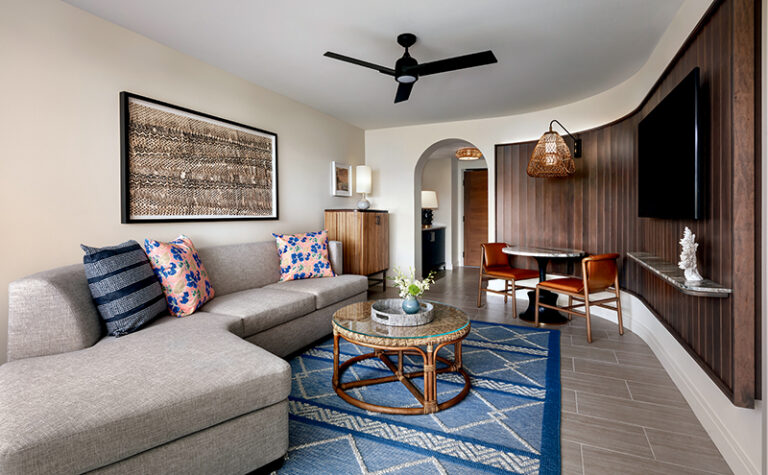 THE CHALLENGES: STILL OPEN FOR BUSINESS
Despite excellent communication and top-of-the-line software, Durante and his team's renovation journey was not without a few bumps in the road.
"The project faced significant challenges from the beginning till the end," he says. "The leadership team—from ownership to construction managers and the property team—all were supportive in providing collaborative solutions we faced as the general contractor." 
One particular challenge Durante shared is how "the hotel remained fully operational during the time of renovation." He explained how "areas under construction were phased as needed to accommodate hotel operations, while proper protection, noise and dust control for public and hotel staff [had to be carefully] maintained."
This entailed the need to barricade construction, and have finishes and locations coordinated with—and approved by—the property owner every step of the way.
To minimize disruption during the project, Durante says "an accelerated schedule [was] coordinated to minimize impact and noise to adjacent hotel functions." This included a "pre-scheduled site logistic plan [which] required continual adjustments to accommodate an operating resort."
TIMING IS EVERYTHING
Another challenge was the arrival of the COVID-19 pandemic in 2020. Durante says his company was able to stay on-track despite it all, thanks to a multi-faceted game plan which involved a virtual review of an initial model room during the lockdown.
More hiccups arose, including issues with project purchasing and procurement at a California warehouse last year, national inflation causing material pricing to skyrocket, and the war in Ukraine impacting material procurement crossing the Black Sea.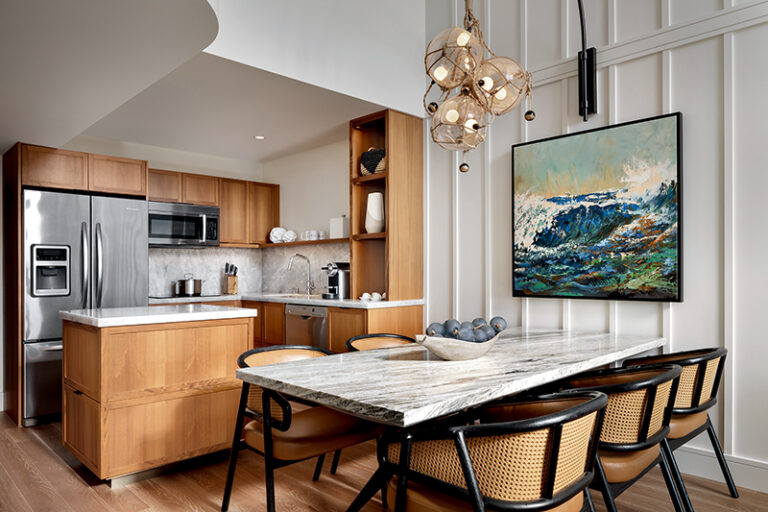 Additionally, repeated COVID outbreaks depleted the team´s workforce at times, along with pandemic fatigue sapping employees' overall willingness to put in the additional hours demanded by the project. But despite it all, Durante and his team were able to rally and prevail.
"With all the adversities, our leadership core never faltered and satisfied the ultimate goal of achieving the client's expectations," Durante says.
This success was especially sweet for him, adding with pride that "this was our first project as a company of this magnitude."
And as for whether the owners were pleased with the end result?
The answer came immediately: a resounding "yes", followed by Durante explaining, "the ownership group, design team and property are thrilled with the achievements.
"They are recommending us for future work on their other assets."
HONORABLE MENTIONS
Durante was quick to credit his co-collaborators: the leadership team, led by core superintendents Sheldon Heck and Manuel Perez, and superintendents Brandon Mukaihata and Eric Carlson; the project engineering teams, led by Senior Professional Engineer Eunny Cook and Professional Engineer Nathan Rousey; Professional Engineer Rachel Holden, who "complemented the team with her experience on large-scale projects"; all field leadership team members, who "continued to put in the can-do spirit and provided intelligent solutions to daily challenges"; and Senior Professional Engineer Renee Gallarde, who "single-handedly managed all contract administration, billings, change orders, HR duties, payroll and executive assistant duties—all of which were unmatched in comparison."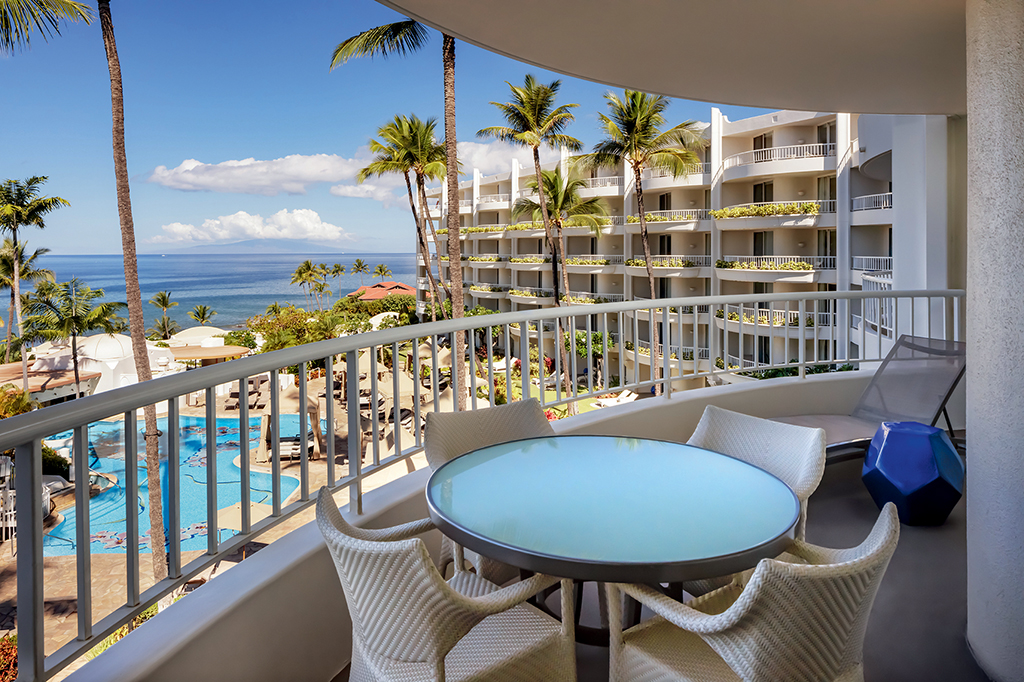 THE SUBCONTRACTORS
Durante also praised the subcontractors he relied heavily upon for the project's success, DuWatts Electric, Commercial Plumbing, Akamai Construction Services, ADX, Maui Metal Framers, Eurotech, Jurassic Stoneworks, Walk on Wood flooring, Innovative Installers, DaWarehouse and Exquisite Carpets.
JURASSIC STONEWORKS
Jurassic Stoneworks, a family-owned and -operated business serving Maui since 1992, was tasked with wearing many hats on this project—including fabrication and installation.
According to Jurassic Stoneworks owner Puddle Hartman: "We focus on supplying Maui with quality materials, custom fabrication and installation of natural stone, including granite, marble and quartzite for both residential and commercial projects."
Hartman adds that only the best natural stone was used for Fairmont Kea Lani: "Our many years of experience have enabled us to source the finest selection of slab materials, as well as the ability to assist customers in their projects. The natural stone used for this beautiful property was Cristallo Quartzite, quarried in Brazil."
Waikiki Market, Swinerton's new full-service grocery build-out, is where "aloha meets ono"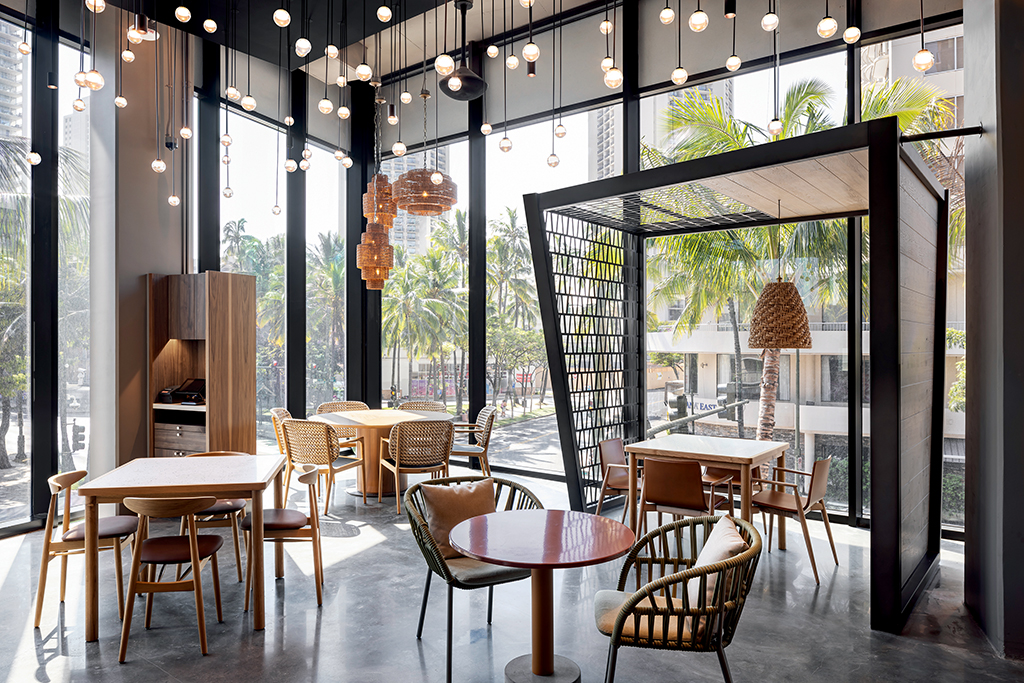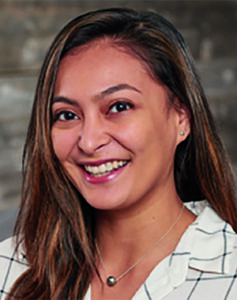 L
ilia Waikiki had recently topped off when Swinerton started an $11 million build-out in late 2021 on the tower's first and second floors.
"Swinerton served as the general contractor for this high-end retail market and restaurant project," says Ariana Felix, Swinerton senior project engineer. "We coordinated work between the subcontractors, owner, vendors and the design team to bring this project to life."
Expectations were high. The new 27,000-square-foot Waikiki Market on Kuhio Avenue was in the same location as the former Food Pantry, a neighborhood landmark since 1960. The client was the Sullivan Family of Companies, founded by local retail magnate Maurice J. "Sully" Sullivan.
The build-out was performed in tandem with work on the 28-story tower, Felix says, so "onsite coordination with the landlord and onsite GC [Nordic PCL Construction Inc.] was critical."
With limited parking and no nearby space to stage or store material, Felix says, "we needed to strategically place material onsite and sequence work so that we still had an efficient and clean work space.
"Construction was phased to start on Level 2 due to the larger space and square footage," she says, "while we completed underground utilities and earthwork on Level 1."
BIM and Lasers
Swinerton used building information modeling (BIM)  and coordination to identify conflicts in design and between construction drawings and site conditions. Using a Leica BLK laser scanner, Swinerton's virtual design and construction engineer created a base model showing the exact size and location of utilities, concrete slabs, structural columns and the site's remaining shell. Gordon Mechanical, "our mechanical, plumbing and fire sprinkler subcontractor," Felix says, "participated in our model coordination to help identity clashes and resolve potential issues."
Next came the heavy lifting: selective demolition, cold-formed metal framing, metal fabrications and structural steel for a new mezzanine and to support the mechanical units. Walls and partitions used plastic paneling, storefronts and glazing, gypsum board assemblies and acoustical panel ceilings. This included hollow metal doors and frames; wood, overhead coiling and impact traffic doors; automatic entrances; and wall and door protection.
A fire sprinkler system was installed. Plumbing included new restrooms, and water and drainage for kitchens and restaurants. New mechanical units for pollution control, air handling and outside air were put in, as well as fan coil units for air distribution and filter exhaust from the kitchens. New electrical transformers and panels for power distribution and data cabling were installed. Finishes included tiling and paint.
"Schweitzer Project, a European company, helped design and install many of the front-of-house features—decorative ceilings, wood siding, countertops and more in both restaurants, the bakery, produce, Poke All Day and It's All Rice [sections] and open kitchen areas," Felix says.
"One of our biggest challenges was getting the electrical equipment to fit in the electrical room in the mezzanine," she recalls. "Due to the size of the refrigeration units below the mezzanine and the 13-inch spray foam insulation overhead, our available clearances were limited. With our subcontractor Electricians Inc. and our design team, we were able to resolve the conflict by changing our electrical routing and type of equipment."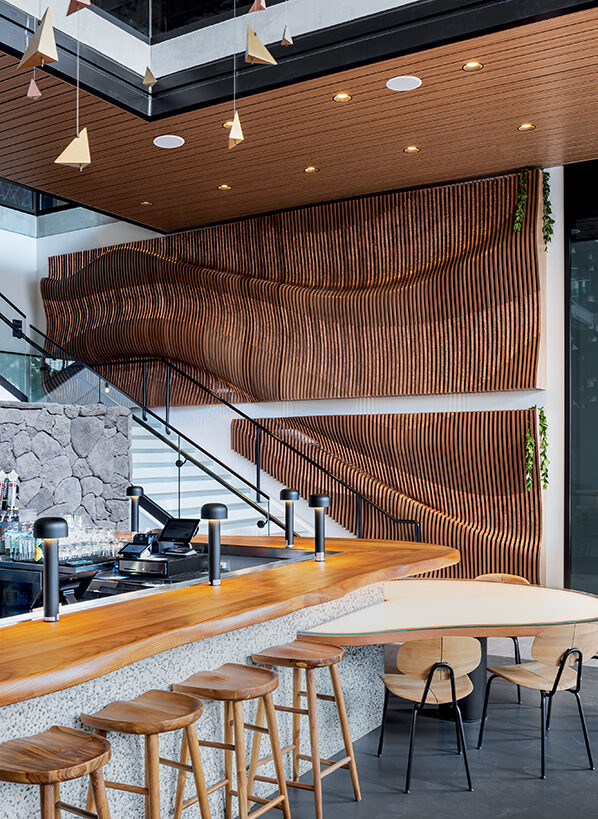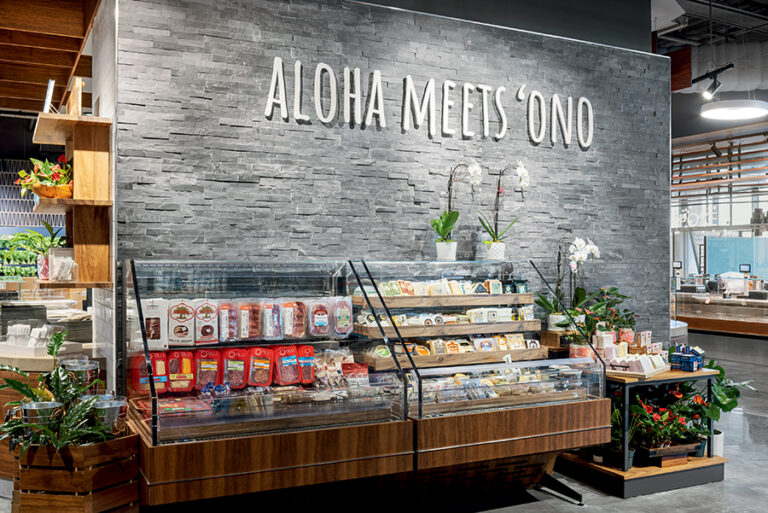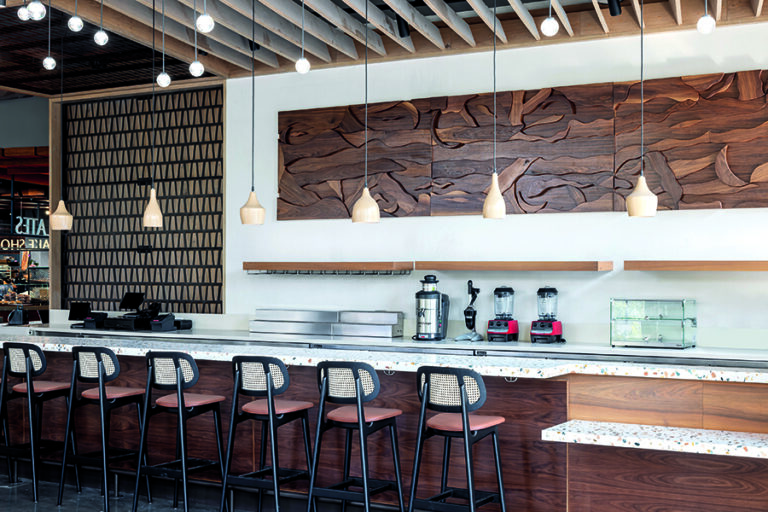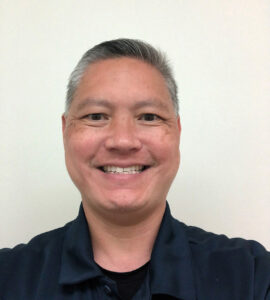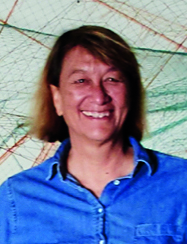 Interior coatings and wall coverings, however, went smoothly for Swinerton subcontractor JD Painting & Decorating Inc. "No challenges," reports Sheldon Ibara, the company's business development manager. "JD Painting worked with the general contractor and other trades onsite to ensure that the project reflected a positive outcome."
An Ahupuaa on Level 1
Waikiki Market is designed around Hawaii's freshest food—and art. "Kaili Chun designed a beautiful wavy wood piece at the Level 1 staircase," says Felix.
Chun's copper-and-wood "Muliwai Wall Sculpture" depicts wai (fresh water from the mountains) meeting kai (salt waters of the sea). "The undulations of the artwork highlight the ebb and flow of lunar and tidal connections, reflecting the brilliance of the ahupuaa, the gifts of the muliwai and how the ingenuity of our kanaka maoli fuses with the creative forces of our world, allowing all to flourish and bloom," Chun says.
Swinerton's forklift crew offloaded the 25-foot-wide by 16-foot-high sculpture from Kuhio Avenue at 4 a.m. New plywood backing and painted gypsum board were then installed on the staircase wall. Bello's Millwork Inc. helped readjust the mounting cleats.
"We worked together during all aspects of fabrication," Chun says of Bello's Millwork. "Certain design parameters needed to be met, and I worked very closely with Eric Bello to ensure the design was able to be constructed as planned."
Chun also designed the Market's second-floor suspended sculpture that can be seen from Kuhio Avenue.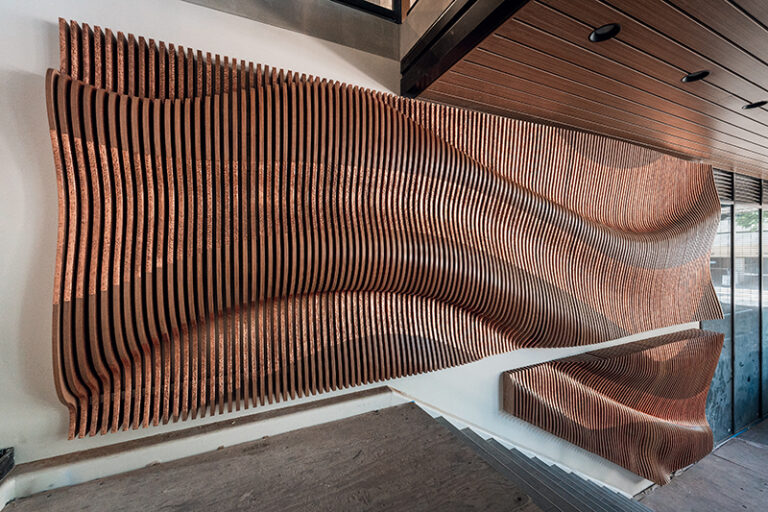 Opening Day
Swinerton completed Waikiki Market on Jan. 11, 2023.
"From installation of underground utilities, wall layouts, mechanical, engineering and plumbing layouts and coordination of various decorative finishes, Swinerton worked together with the construction manager (Jayson Okazaki, Rider Levett Bucknall project manager); architect (Arnel Danao, Lowney Architecture senior project manager); design team (Nao Yoneda, Looney & Associates senior designer and Matt Streitberger, Schweitzer Project project manager) and their subcontractors to complete this project. Swinerton went through multiple value-engineering exercises with the team to brainstorm different ways of saving the owner some costs, as new design changes needed to be implemented through the duration of the project.
"Every subcontractor participated in some way, shape or form to make this project possible," she says. "It was a collaborative effort all around, so credit should be given to everyone involved. Special mentions should go out to Gordon Mechanical and Electricians Inc. for their design-assist efforts and ability to pivot when needed due to the dynamic nature of this project."
Swinerton received high marks from the owner and construction manager, Felix says. "We believe the client's goals have been achieved."    
Waikiki Market also opened for business on Jan. 11. "We are excited, proud and grateful for the opportunity to return to Waikiki with a brand-new store to continue our company's legacy of serving this vibrant community," said Food Pantry Ltd. General Manager Brad Iwasaki in a statement. "We like to think of this as a store where 'aloha meets ono' as we honor the unique spirit of Hawaii, and share and celebrate the diverse food culture of this place we call home."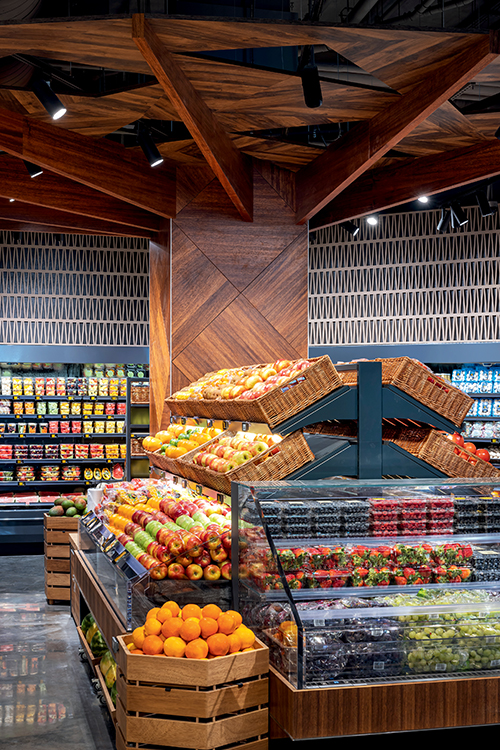 Wai Kai's water-centric entertainment facility is West Oahu's new wave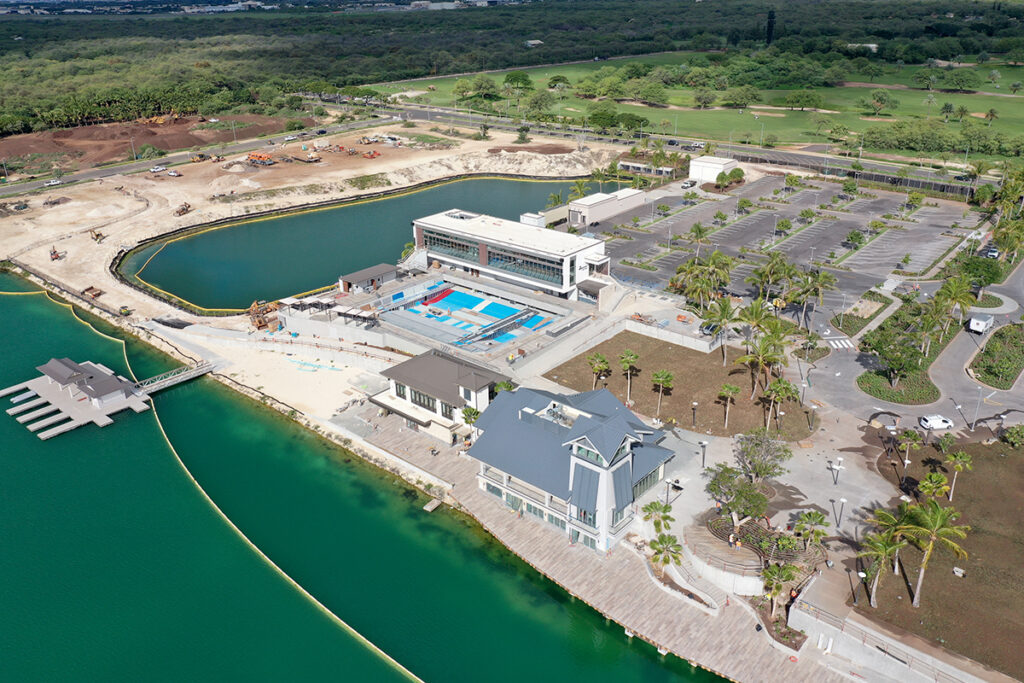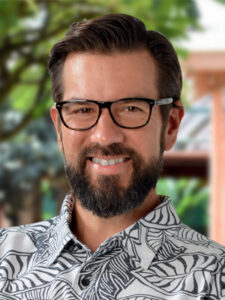 Imagine a 100-foot-wide surfing wave that can be adjusted to heights of between 2 feet and 6 feet, using German-made Citywave technology. Surfers are able to ride high above an adjacent 52-acre lagoon dotted with sunbathers, kayakers and stand-up paddleboarders. 
Imagine no more. This wave pool is the star attraction of the Wai Kai Waterfront Recreational Facility at Hoakalei, a 9-acre water-centric entertainment complex scheduled to open in the spring of 2023 in West Oahu's Ewa Beach neighborhood.
For the past three years, Layton Construction Co. LLC and its subcontractors quietly have been laying the groundwork for Haseko Development Inc.'s project, which includes a manmade wave and pool, Michelin-star dining venues, the lagoon and a boardwalk with entertainment.          
Built to serve both the local resident and off-island visitor, Wai Kai "combines a variety of architectural styles and amenities within an environment that welcomes visitors to experience the culture of Hawaii, dining, special events, holidays and hands-on water activities," says Vincent McCormack, a project manager for Layton Construction.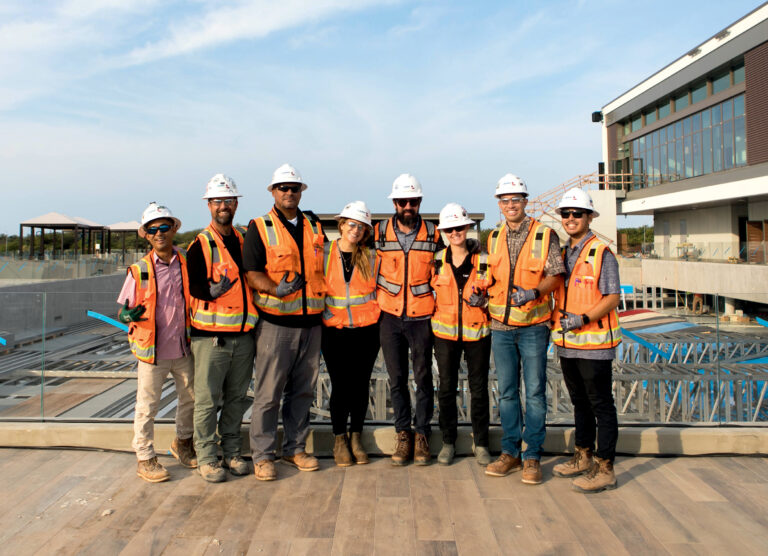 THE LAYOUT
Altogether, Wai Kai encompasses five buildings. The first three structures include the wave pool and deck, offices, a bar and restaurant, private club and retail. The remaining buildings house the main restaurant, more offices, the mechanical plant and trash compactors. Surrounding the buildings are two lawn event areas, 248 parking stalls and a beach with a floating platform on the water to launch marine sports equipment.   
What's also unique about Wai Kai is its neighbors—the suburbs of Ewa Beach. Cookie-cutter homes with immaculate lawns stretch beyond Hoakalei Resort's million-dollar residences, rolling into other master-planned neighborhoods by Gentry Homes, D.R. Horton and the Department of Hawaiian Home Lands.   
5 WAI KAI HOTSPOTS
Wai Kai features five main amenities, according to a press packet by Becker Communications Inc.
1 The LineUp at Wai Kai: The "social and recreational activity hub" includes the LookOut restaurant, Foam Coffee & Bar, Nalo Kai club's locker and lounge, and retail outlets for water sports.
2 Wai Kai Wave: The 100-foot-long, adjustable wave allows three surfers at a time, plus 30 more people in the barefoot zone. The wave concept was in partnership with Shane Beschen, a former No. 2-ranked surfer and an X Games Gold Medalist.
3 Wai Kai Lagoon: The 52-acre lagoon provides water sports equipment, lessons, waterman competitions and an optional monthly membership for regulars.
4 Plaza Grill and Boardwalk Café: A dual-concept restaurant by Michelin-ranked Chef Todd Humphries showcases The Plaza Grill's global-inspired menu, complemented by the Boardwalk Café's counter-service restaurant.
5 Special Events: Activities on the lawn include live entertainment, a farmer's market and craft fairs.
THE ROADBLOCKS
When Layton Construction and its client, Haseko, broke ground in October 2020, the project faced numerous challenges due to COVID-19-related restrictions, which "put a strain on our procurement and our ability to level resources and manpower," McCormack recalls.
Technology—including a drone program to survey and observe the site—greatly improved the efficiency of all parties involved and quickly became the norm. "I rarely used Zoom or Microsoft Teams prior to this project, but now it seems like my schedule is filled with those types of meetings," McCormack says.
"We've really gotten away from larger in-person meetings, hard-copy printouts and facsimiles" and have shifted toward emails, text messages and virtual conference calls, he says.
THE SUBCONTRACTORS
More than a hundred subcontractors were involved with the construction of Wai Kai since the groundbreaking. Here are comments from two companies that have been in business in Hawaii for at least three decades: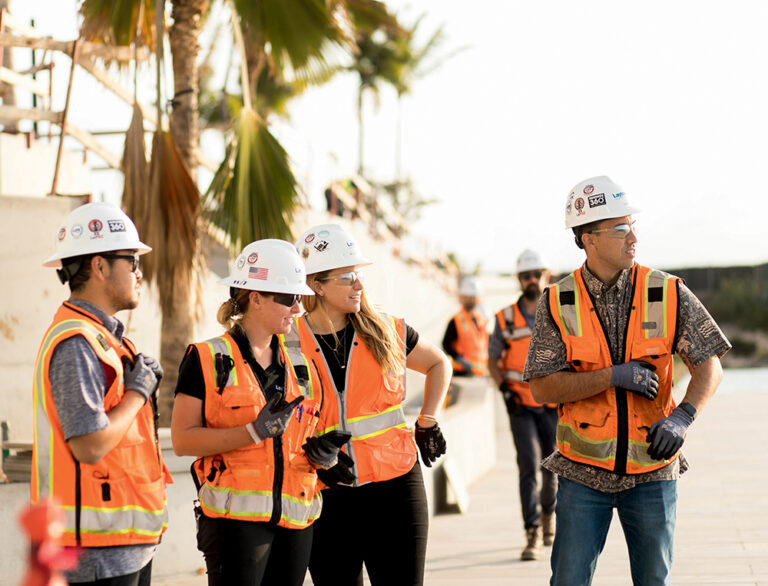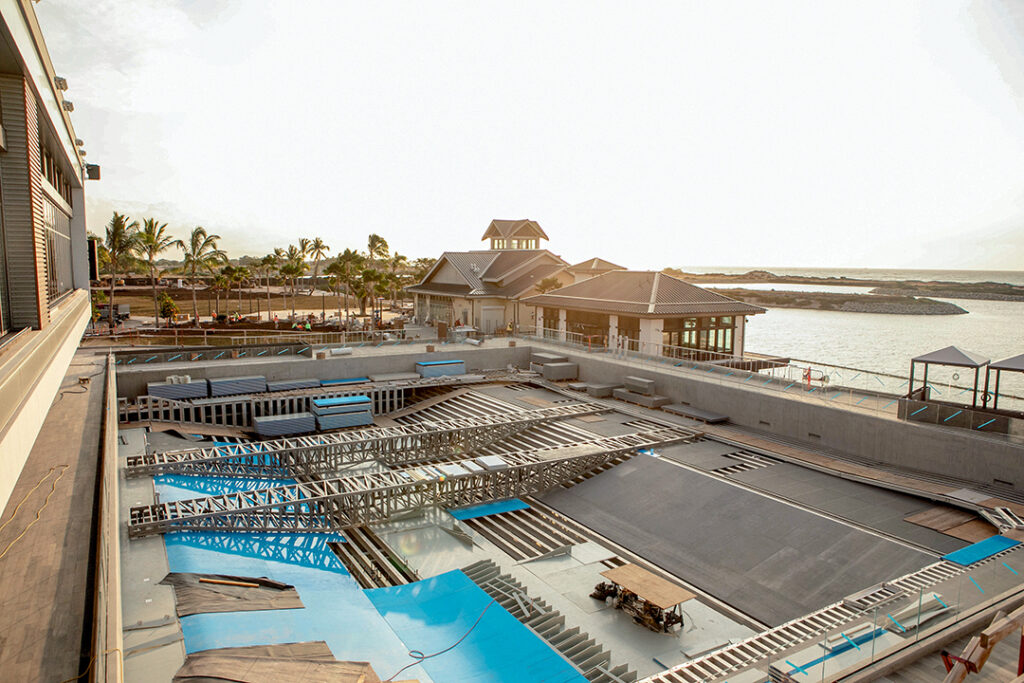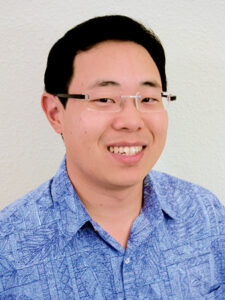 The AV CO.
Audio-visual features are essential to Wai Kai's entertainment. The three main buildings are connected to distributed video and audio systems. Around the wave pool and on the deck is an integrated video-mixing system. And above the deck, an upstairs bar displays a 20-monitor LCD video wall.
"The distributed audio systems are all interconnected to provide a seamless background music experience from one building to another," says Cody Navarro, principal owner of the Audio-Visual Co., which installed the technology. "Each location will provide a customized audio playlist to match the designated ambience." Renkus Heinz Iconyx Live transparent technology controls the sound, while the centralized control system from Crestron controls the music, video mixing and display.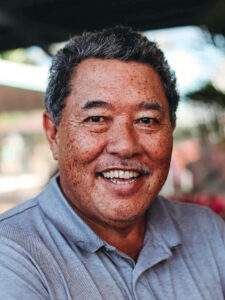 FRED LAU LANDSCAPING INC. Another highlight of Wai Kai is the landscaping on the lawn and in the Hoakalei Resort and country club. The company responsible for installation and upkeep is Fred Lau Landscaping Inc., which has served Haseko Hawaii Inc. (parent of Wai Kai Commercial Development) since 1997.
"In our experience, Haseko has been a conscientious developer, and they do things very, very well," Lau says. "The people from our communities are going to benefit and enjoy Wai Kai and the area."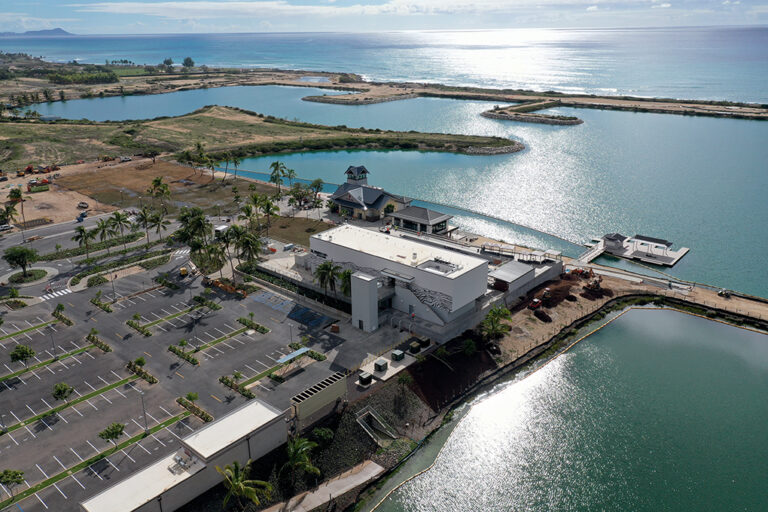 Life at Hale Makana O Moiliili is steps away from small-kid-time days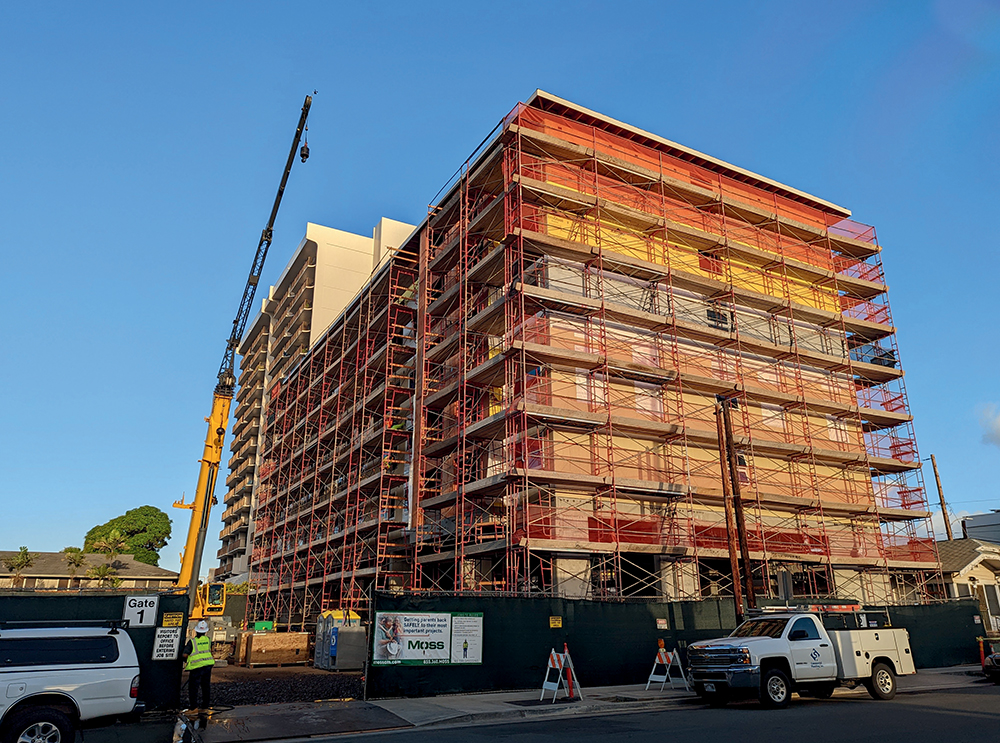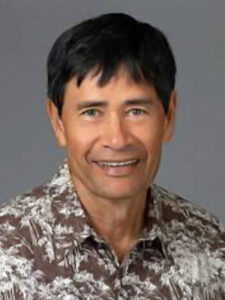 Under construction since mid-July 2021, Hale Makana O Moiliili is scheduled to open its doors to kupuna this month with 100% affordable studio and one-bedroom rental units where Makahiki Way and Algaroba Street meet in Moiliili. The target tenant will top out at 60% area median income to qualify.
"Hale Makana O Moiliili is about taking care of the kupuna, or elderly, in our community," says Kali Watson, president of the Hawaii Community Development Board (HCDB). "Providing a safe and high-quality place to live with all the necessary and extra amenities is the least we can do for them. Their wisdom and guidance have given us so much to be thankful for and this facility is our makana, or gift to them."
Ikenaka Development is the umbrella organization for 3 Leaf Holdings and HCDB, which develop affordable housing across the state of Hawaii. Partners include: Pupukahi Development that built the Nanakuli Village Center; Laulima Development that built Hale Makana O Maili; and Hookuhua Development, responsible for the construction of Hale Makana O Moiliili.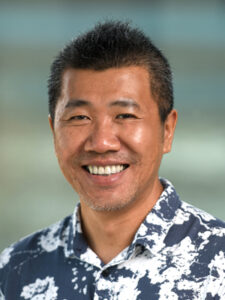 AFFORDABILITY GOALS
The wood-framed building in Moiliili is an atypical midrise with a mix of concrete podium with two-hour fire-resistant structural framing and a stringent fire sprinkler system, allowing for more floors to be added to the structure. It is also on track to receive LEED Gold certification, according to Lester Ng of Architects Hawaii Ltd. (AHL). The HCDB and AHL have been working together on projects for about eight years. They had first worked together on a shopping mall in Nanakuli. At the time, HCDB also had an affordable housing complex behind the mall, which was designed by a different architect.
"We knew they were looking for properties to develop more affordable housing," Ng says. "One of our other clients that owned land in Maili in a trust was looking for a partner and developer to help them make something out of that property. A lightbulb went off in my head. We put them together and that became the affordable housing project Hale Makana O Maili."
The 55-unit Waianae-side project spawned the development of Halawa View Apartments with development investment partner Pacific Group. "That's how we got to [Moiliili]. We're still looking for more property in town."
A TOUGH SELL TO DPP
Ng says that while wood-framed structures are commonplace on the Mainland for their efficiency and economy, it was very difficult to get it approved by the City & County of Honolulu Department of Planning and Permitting (DPP). "We had to bring in a number of lumber and timber experts to help us prove our case that it should be approved here to build [this] first six-story wood-frame structure."
Why wood?
"Cost," Ng says. "With a conventional steel frame, the project was priced out of our developer's budget. Then when we consulted with a concrete contractor it turned out to be even more expensive than steel. Our next option turned out to be the most economical and sustainable."
But the DPP had to be convinced about the safety of wood. Pressure-treated wood has been infused with chemicals while under pressure for termite- and moisture-proofing. Surface-coated wood means the preservative chemical is applied by dipping, brushing or spraying it without pressure. That procedure is more commonly used when wood already installed has yet to be treated.
"What we were trying to prove to DPP is that all of the timber to be used is treated at the factory and the drywall enclosing the lumber has a fire-resistance rating of 90 to 120 minutes," Ng said. "That's enough time for people to escape a burning building."
Another challenge lumber poses, according to Ng, is that shippers are not enthusiastic about bringing it to Hawaii because of insects and because DPP approval has been hard to nail down. "Wood is so much cheaper than steel. The stud walls are renewable; we reuse the steel," says Ng. "My team is looking at this to develop more affordable housing."
REMINISCING ABOUT SMALL-KID TIMES
What really rings well for the kupuna who call Hale Makana O Moiliili home is its proximity to Old Stadium Park. Ng mentioned that Watson and Patti Barbee, senior vice president of HCDB, were cognizant of the proximity of Hale Makana O Moiliili to Honolulu Stadium or Old Stadium Park.
Says Ng: "Since this is a project that is age-restricted to kupuna, there is a painting and graphics of lei created to remind them of the long-ago baseball game days, the lei stands, and remembering small-kid-time and all the excitement."
Ng indicated that Watson and Barbee are also very committed to sustainability, specifically to Hawaii and the Hawaiian community. "This project is committed to LEED Gold. All projects are affordable rentals for those on fixed incomes. They don't want tenants to shell out a lot of money each month to pay for utilities. We didn't just do the minimum for code standards that are required for water and electricity. We worked with our engineers to make sure the hot water is taken care of by photovoltaics and with a big water catchment system on the roof."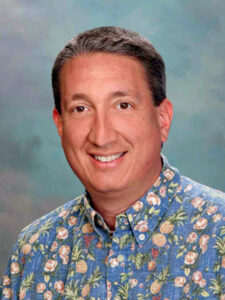 GLARE-FREE CLEAR VIEWS
Bob Barrett, president of Coastal Windows Inc., founded the company with his partner Clint Tirpak who serves as CEO. The leadership team is complete with their wives, Pam Barrett and Anita Tirpak, marketing and accounting managers, respectively. Barrett and Tirpak have been friends since they were 12 and both followed their fathers' footsteps into construction. In the 1980s, the pair decided to go into business to start a window-replacement business.
For its contract with general contractor Moss & Associates, Coastal Windows manufactured and delivered about 148 windows, and Barrett couldn't be more pleased. "The windows look great, and this is really a great project for the kupuna," Bob Barrett says.
The building's windows were created at Coastal Windows' 30,000-square-foot Waipahu facility and incorporate 340 solar- and glare-control glass from Cardinal Glass Industries. Called LoE–³-340 glass, "it greatly reduces oppressive solar heat gain and glare," according to Cardinal. It's created without tint, which absorbs sunlight and heats the glass. Cardinal adds that LoE–³-340 also has a very high light-to-solar gain ratio and allows for light to pass through the glass.
According to Barrett, "The Low-E glass rejects the heat so the units hit by the sun during the day are cooler than windows made with tinting. We add a sputter layer of titanium [nitride] on the outer side of the glass to make it very smooth so nothing sticks to it." He says that rubber particles from the highway, debris blown by the wind and rain can add dirty film onto windows that can be stubborn to remove. Barrett says that properties with glass already installed can get a similar treatment, as Coastal Windows distributes a visible shield spray that can be easily applied by a homeowner, the contractor or by Coastal Windows employees.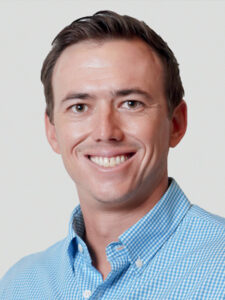 COLLABORATION THROUGH SUPPLY-CHAIN ISSUES
Moss & Associates' Anthony Musielak, project executive, says Moss continued to see supply chain issues and longer than normal lead times through the Moiliili construction. Thanks to the project team and the design team from AHL, Moss received approvals within an expedited review time frame that did not impact the schedule negatively. It was during those times that "the design team was more than willing to assist because they understood the reasoning and urgency of our requests," Musielak says.
According to Musielak, the six-story project has 105 apartments, two elevators, ground-level storage and parking, a community resource center, service facilities and a community center featuring a lobby, reception area, two support offices, a multi-purpose room, pantry and laundry areas. Resident kupuna will get to participate in recreational activities, such as shuffleboard and hula, consult with on-site supportive services for home health care management and nutrition, and for mental health counseling.
In these days of artificial intelligence, drone topography and construction apps and software, Musielak says one noteworthy aspect of the Moiliili project is the use of observation-based safety software called Intelex. "It allows our team to communicate and track incidents, as well as prevent any near-misses on the project," he says. "For Hale Makana O Moiliili it has created an extremely safe and enjoyable workplace for all workers."
Kulanihakoi High keeps the keiki in Kihei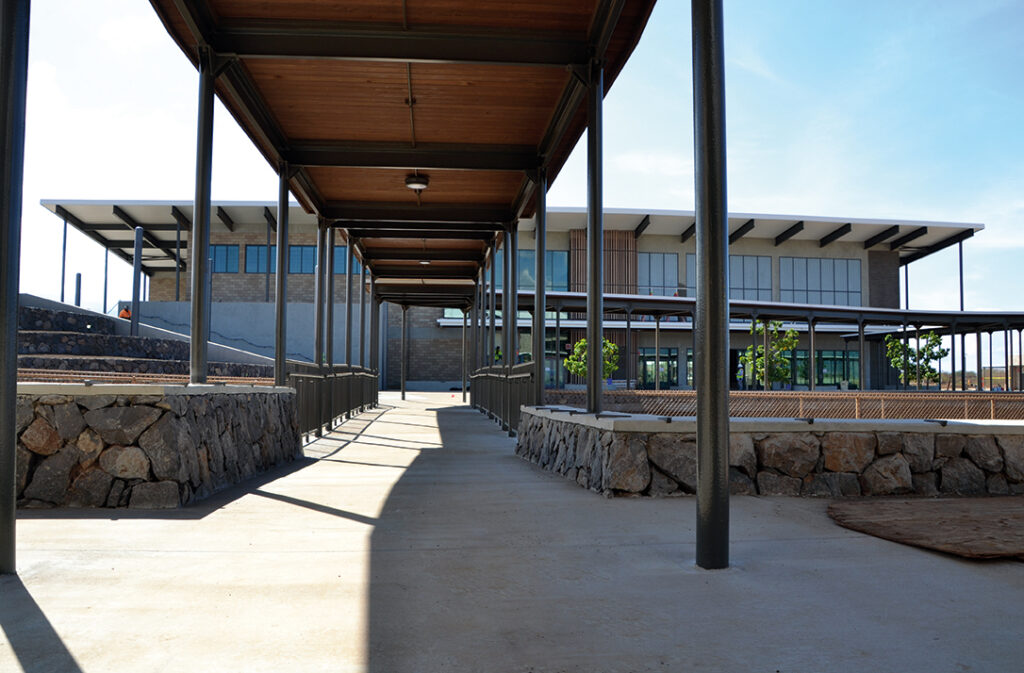 For close to 20 years in Kihei on Maui's west side, ninth- through 12th-grade students were bused northward 11 miles to Baldwin High School or 10 miles to Maui High School. King Kekaulike High is in Upcountry Maui and twice as far. The students' commute got an end date when in October 2020 the Hawaii Department of Education (HIDOE) broke ground for a new high school to keep the area keiki in Kihei. Kulanihakoi High School, temporarily called Kihei High School until the name was decided upon, is a $116 million project led by general contractor Nordic PCL Construction Inc. (NPCL), and the high-tech facility is designed to serve generations of Kihei students.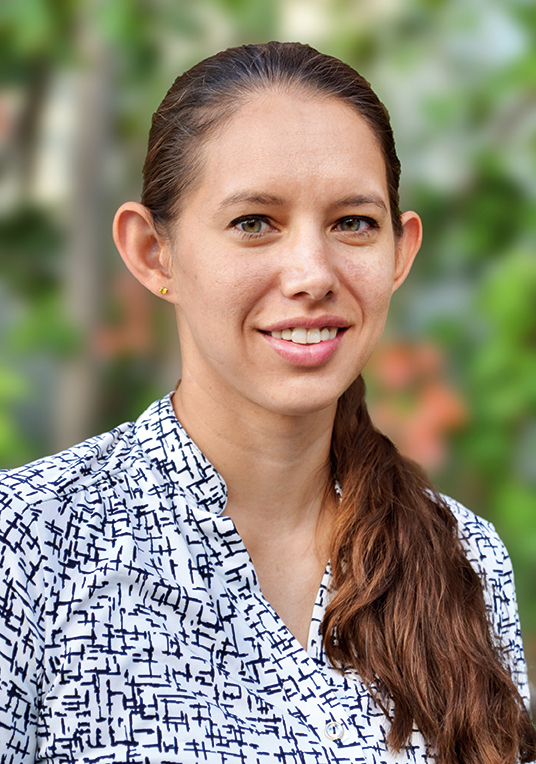 A wrap on Phase 2: Time to accommodate students
The class of 2026 started its 2022-2023 school year at Lokelani Intermediate School. As scheduled, those students took possession of their spanking-new campus this month, January 2023. Until Phase II was completed, which involved construction of the upper campus including administration, classroom, library and cafeteria buildings, the freshmen continued their studies at Lokelani Intermediate. By the end of 2022, Phase II wound down with the completion of physical education locker rooms, a playcourt, a temporary playfield and open spaces. According to the HIDOE, as funding is available, future phases of construction will continue.
"This was a project that required every sub trade to be working in multiple buildings, simultaneously. At peak, the site had 225 workers with 15 NPCL staff," says Claire Thompson, NPCL's project manager. "The NPCL team was a mix of Oahu and Maui workers, and some NPCL mainland staff to assist with the quick schedule," she says.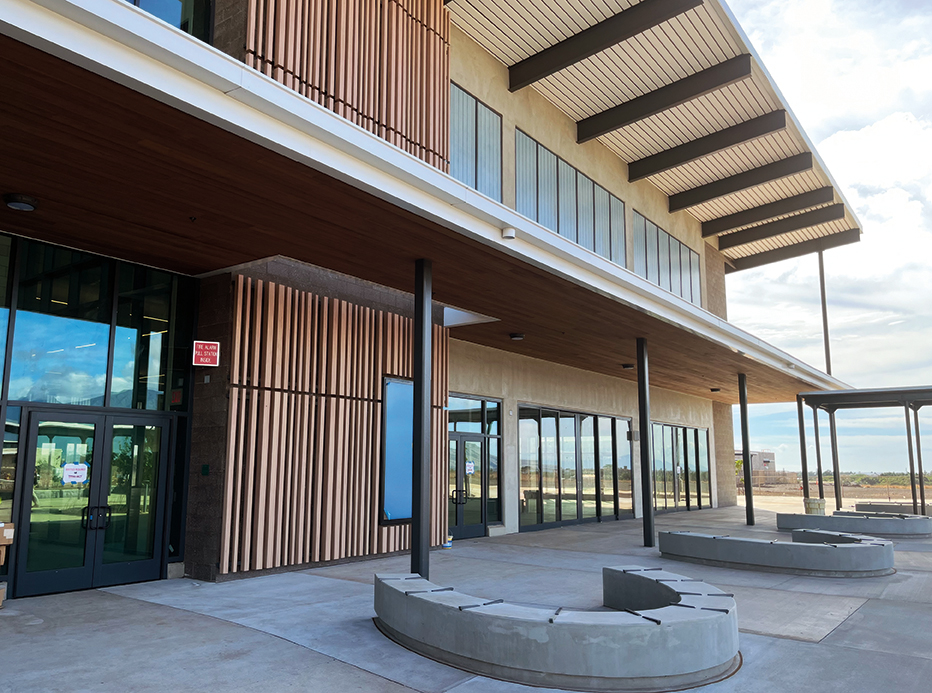 Building pads to standing seams
From the ground up, NPCL managed all facets of building the home of the Manta Rays: from underground utilities to roughly constructed building pads, down the punchlist and all the way to commissioning the new facility. Materials used for the construction include concrete masonry units (CMU) and steel with concrete slabs. The grounds are concrete, with concrete rock masonry walks and landscaping. The CMU is burnished block in a random pattern for a unique finish surface. Because of the curved standing-seam roofs on two of the classroom buildings that required unique installation, recycled rubber in the form of Thermoplastic Polyolefin (TPO) was used.
"Installation of the standing seam at the cafeteria building consisted of the longest panels installed by our roofing subcontractor to date. The 160-foot panels had to be lifted in one piece using a custom-made basket," says Thompson. "A unique design feature was the installation of six thermal chimneys coordinated with the building management system to provide overnight flushing of the classrooms."

Waltz Engineering Inc. furnished and installed operable panel partitions that provide for flexibility in controlling the size of a space and to also modify acoustics and restrict noise from bleeding to the other side. Matthew Rigdon, project manager at Waltz says, "The operable panel partitions can be easily retracted into a storage pocket and expanded to meet the desired space utilization of the classroom. When the partition is expanded, it also provides sound separation between the divided classroom."
Supply chain logistics
NPCL scheduled the subcontractors strategically when pandemic-related supply chain issues arose. The TPO insulation material took more than a year to obtain. The wait for a walk-in freezer was more than 18 months. With deadlines in mind, the construction management team considered substitutions as necessary, coordinated subcontractors and resequenced workflow to save time.
"Utility coordination was completed to limit in-field impacts of utility conflicts,"  Thompson says. "Site logistics were carefully coordinated to allow access and work to occur in multiple buildings at once. Coordination meetings were held weekly with the sub trades to understand the schedule and changing site logistics."
Waltz's Rigdon says the engineering firm has had its share of supply chain issues due to extended lead times. "Fortunately for this project, we were able to deliver the equipment slightly earlier," Rigdon says.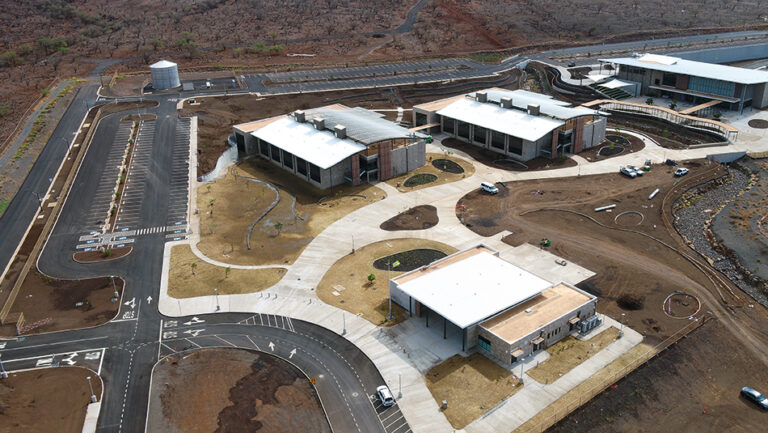 Ingenuity, invention & artificial intelligence
Civil subcontractor Goodfellow Bros. brought its electric dozer to the project. A channel runs through the project site, so an off-label, innovative and modified leaf blower was used to pound t-posts in to set up a barricade along the channel. Extensive use of drone imagery was used for basic leveling analysis of subbase and slabs.
"The project team has done a great job getting a complex project built in a short period of time. Our subcontractors have been essential in completing this project, as well as our design team, G70, Shigemura Lau Sakanishi Higuchi & Associates, Ronald NS Ho & Associates, Inatsuka Engineering and Shellry McKelvey & Associates," Thompson says.
Adds Rigdon: "Waltz Engineering is proud to partner with Nordic PCL for almost 20 years in Hawaii. We've had the opportunity to work with them on several federal, state and commercial projects over the years."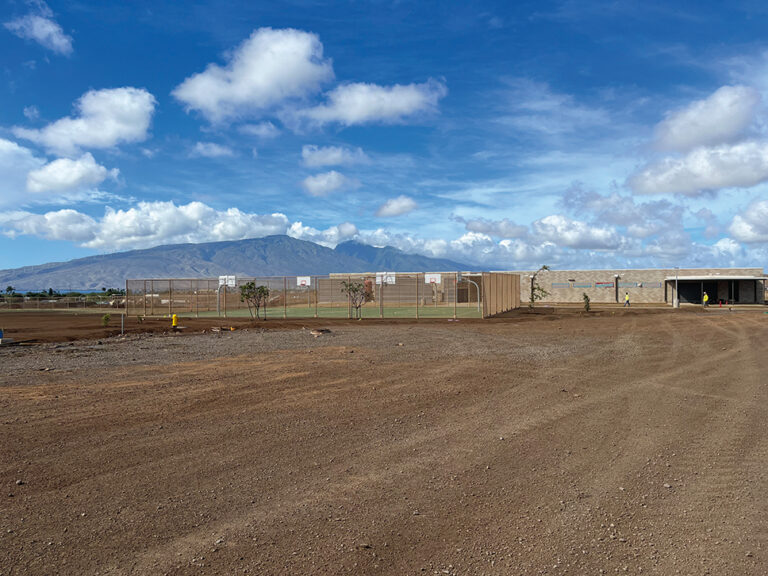 Mandy Mokeiha

Outside pau, inside now

Toward the end of a construction project, finishing subcontractors arrive on the scene. The walls, pipes and wiring are in place, and most of the concrete has been poured and cured. For Kulanihakoi High, NPCL hired subcontractors to take it from there to install flooring, cabinetry, roofing, windows, HVAC, fire suppressors and the partitions by Waltz.
Mandy Moikeha, Neighbor Islands operations manager of Dorvin D. Leis Co. Inc. (DDL), explains that the scope of work for DDL was the installation of fire-suppression and HVAC systems in all of the campus buildings. "The CMU finished walls required a lot of pre-planning for the fire sprinkler sleeves and HVAC blockouts. Thousands of activities that needed to be performed after the walls [went up] posed a big challenge for the [sub]contractors," Moikeha says. "This project's challenge was its constructability sequencing."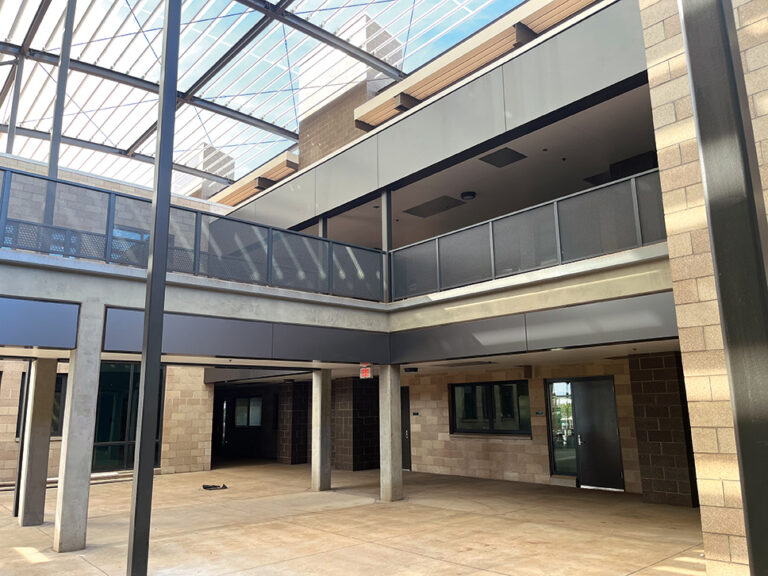 DDL was also affected by supply chain issues, but it wasn't for lack of creativity or materials. "The quickly escalating price of material and equipment was our biggest challenge," Moikeha says. Civil subcontractor Goodfellow Bros. brought its electric dozer to the project. A channel runs through the project site, so an off-label, innovative and modified leaf blower was used to pound t-posts in to set up a barricade along the channel. Extensive use of drone imagery was used for basic leveling analysis of subbase and slabs.
"The project team has done a great job getting a complex project built in a short period of time. Our subcontractors have been essential in completing this project, as well as our design team, G70, Shigemura Lau Sakanishi Higuchi & Associates, Ronald NS Ho & Associates, Inatsuka Engineering and Shellry McKelvey & Associates," Thompson says.
Adds Rigdon: "Waltz Engineering is proud to partner with Nordic PCL for almost 20 years in Hawaii. We've had the opportunity to work with them on several federal, state and commercial projects over the years."
Finishing up
"We did the countertop surfaces," says Tiffanie Gardner, operations manager at Top Priority Inc. "[For Kulanihakoi High School] we've placed them in offices, the administration building, science labs and the bathrooms."
Understanding the primary user of the countertops as the Kulanihakoi High student, Top Priority installed acrylic counters that can be refinished if gouged. Black epoxy counters were installed in the science department's labs and classrooms. Other counter colors throughout the high school included Willis Corian Countertops in the gentle hues of natural concrete, serene sage and cameo white.
"Things went fairly smoothly for us," Gardner says regarding supply chain issues. "We preordered the materials a year in advance."
Throughout its 30 years of business in Hawaii, Top Priority, located in Waipahu, has been involved in quite a few projects throughout the state, including government work and jobs for Kamehameha Schools. "We're just always excited to see how Hawaii continues to evolve and that educational opportunities are improving here," Gardner says. "And of course, we always enjoy working with Nordic PCL."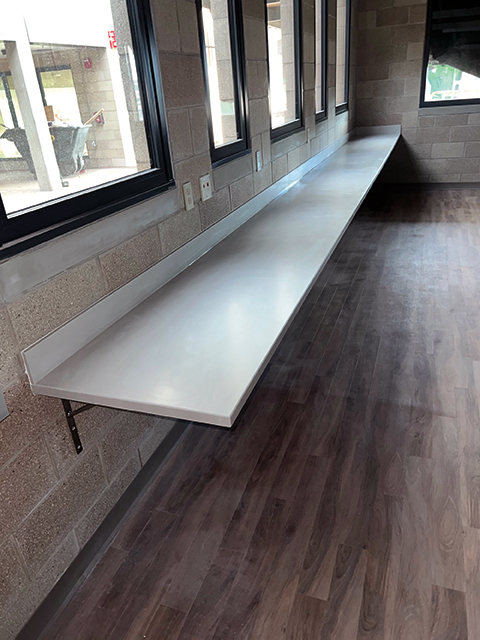 Turtle Bay Resort's $100 million renovation makes a splash on the North Shore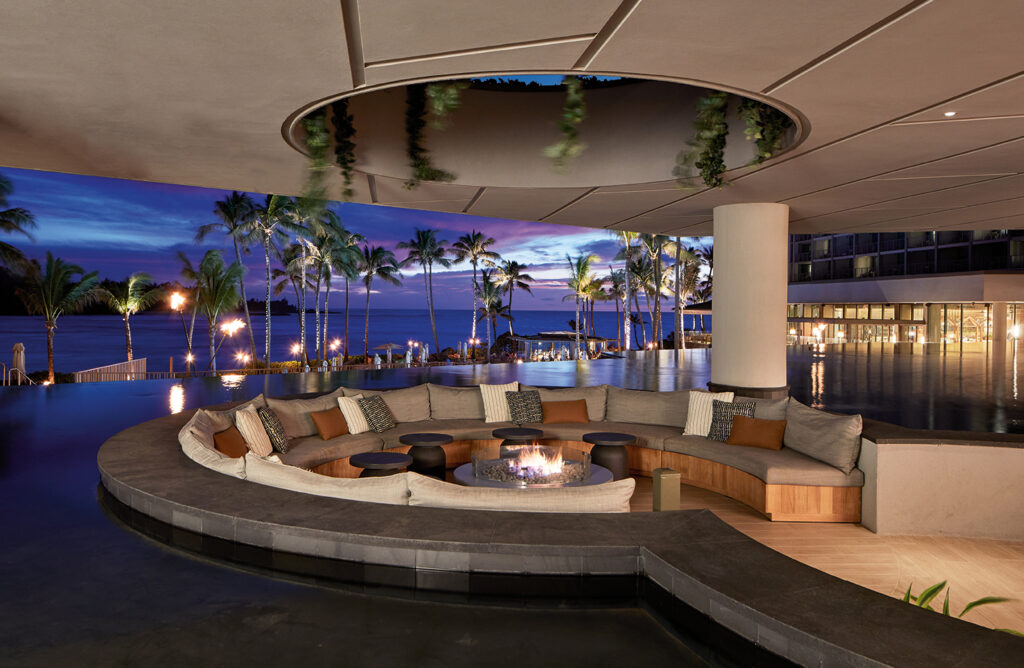 There's a fire on the North Shore of Oahu. It burns inside a fire pit, located in the newly renovated lobby of Turtle Bay Resort. Wrapped around the lobby are brand-new, ceiling-to-floor windows and a reflecting pond with an infinity edge overlooking the Pacific Ocean.
These are among the many new features unveiled at the resort, which completed a two-year, $100 million demolition and renovation that began in October 2020. The owner and the general contractor—BRE Turtle Bay Resort LLC and Albert C. Kobayashi Inc. (ACK)—planned the renovation in four phases, starting with the lobby, guest rooms and pool. The spa, still in the design phase, is next.  
The hotel itself is the crown jewel of the sprawling resort, which encompasses 5 miles of North Shore coastline, two championship golf courses, hiking trails and horse stables across 1,400 acres of land. The property since the 1970s has driven the economy of North Shore's Kahuku town, famous for shrimp trucks and farms. 
"Turtle Bay Resort is the premier hotel on the North Shore, and the changes made to the resort are just stunning," says Brian Niitani, vice president of ACK.
Timing of construction was critical. From October 2020 to July 2021, hotel operations shut down while contractors demolished the lobby's porte-cochere, installed a new bar and seating area and built a grand entry and driveway. The lobby was the brainchild of Los Angeles-based interior designer Dianna Wong and Hawaii-based WCIT Architecture, led by founder Robert Iopa. 
After the lobby's completion, 408 guest rooms received new sliding doors, railing, flooring and new interior furnishings, while new lighting systems and custom-made chandeliers were added to the ballrooms, which kept their original layouts. Renovations to banquet areas wrapped in October 2022.   
High-quality materials from across the globe are evident throughout the resort, with porcelain tile from Spain and Italy, Ipe wood from Brazil, and marble and basalt from Italy. Monkeypod wood from Hawaii was used for countertops and for decorative surfboards and wooden structures throughout the property. 
Water features, found throughout the resort, made the biggest splash. Subcontractor Pacific Aquascapes Inc. installed three new pools after a complete demolition of the former amenities. Closest to the ocean is a sunning area and a 3,000-square-foot pool for families. Adjacent to that is a keiki pool with leaping waterspouts and two slide options, one at 60 feet long and the other at over 100 feet. Elevated above the family grounds is the 1,600-square-foot pool for adults only, a hot tub, tension-edge perimeter and an infinity-edge pool with ocean views. 
At the highest point, the lobby level, is the (aforementioned) reflecting pond, which is "an impressive 5,500 square feet and offers a 175-linear-foot infinity edge with breathtaking ocean views and sunsets," says Frank Fontana, president of Pacific AquaScapes Inc. 
 Guests who use wheelchairs and scooters can travel from the lobby to the pool level, using a commercial platform lift by subcontractor Access Lifts of Hawaii Inc. The contraption has fire-rated doors and an emergency-landing system, plus it can carry up to six people, or a maximum of 1,200 pounds. 
"If a family comes to Turtle Bay and wants to ride to the poolside safely together with a grandma who is in a wheelchair, this lift makes it possible," says Geno Godinet, president and CEO of Access Lifts of Hawaii Inc.     
Everyone who visits the resort will be wowed by the changes—not only to the pools, but also to the lobby, guest rooms and banquet hall, says Niitani. "Local businesses should also see an increase [in traffic] as this project will attract more visitors to the North Shore," he adds. 
Swinerton and Mitsunaga & Associates demolish an HIDOE campus to build the new high-tech Solomon Elementary School
AS TOLD TO BRETT ALEXANDER-ESTES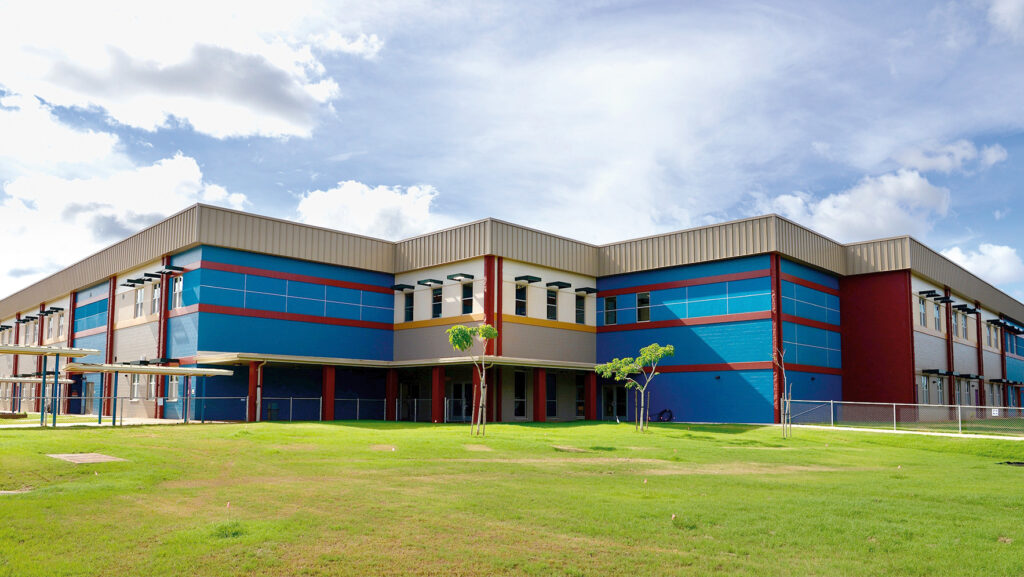 Elementary school renovations are tricky affairs: noise, dust, little kids, big machines. If classes are in session, add slo-mo construction and relentless cost escalation.
These were some of the challenges at the Solomon Elementary School renovation on Schofield Barracks.
Subbu Venkataraman, Swinerton Builders project executive, and Steven D. Wong, Mitsunaga & Associates project architect, led the renovation. Funded by the Hawaii Department of Education (HIDOE) and the Department of Defense Office of Economic Adjustment, the project had a clear mission. And so did the school's namesake—a Hawaii war hero.
What was HIDOE's goal?
Wong: Provide a new school to replace the dilapidated school, which did not meet the current needs of the community it was serving.
What was the project mission? 
Thomas Swan, 1SG Samuel K. Solomon Elementary School Principal: [The school] was named to honor the heroism of First Sergeant Samuel K. Solomon during the Vietnam War and was approaching its 50th anniversary. 
Not only was the school in need of facilities that looked into the future to support new learning, but the community also knew that learning, curriculum and opportunity needed to be given to our military dependents and students. These are the future of our military service, our country, and are even valuable for the future of education. 
What was the project scope?
Venkataraman: Demolition of the existing building. Construction of a new school campus including an administration building, classroom building, student dining, covered play court, parking lots, concrete walkways and playfields. 
What was the project value?
Venkataraman: $80,174,969.
Did you need to install infrastructure?
Wong: New infrastructure for all civil work, telecom, CATV and electrical systems had to be brought in for the new school.  
Who were the members of the project team?
Venkataraman: Swinerton, general contractor; Rider Levett Bucknall, construction manager; and Mitsunaga & Associates and HIDOE.
Wong: The design team included Mitsunaga & Associates Inc., architect, civil and structural engineer; PBR Hawaii & Associates Inc., landscape architect; MCE International Inc., mechanical engineer; H & O-III Inc./Bowers + Kubota, electrical engineer; D.L. Adams Associates Ltd., acoustical engineer and audio-visual; and Engineering Technology Hawaii Inc., telecommunications.
When did you start?
Wong: Mitsunaga & Associates was engaged to start the initial design discussions with the school in January 2015. A series of charette and planning discussions were initiated to allow the community to discuss their big ideas for their new school. Design took about two years.
Venkataraman: Groundbreaking ceremony, July 6, 2017.
What was your main challenge?
Venkataraman: Phasing and construction on a military base and within an active school campus.
Wong: An option was to renovate the existing school. But it would severely impact and extend the construction time and completion—estimated to be about seven years. To solve this problem, portions of the new school were constructed on the school's existing playground.
Did the kids use temporary classrooms?
Venkataraman: Phase 1 consisted of portable relocations, temporary fencing and demo of playground equipment.
What buildings went up in Phase 2?
Wong: The administration and classroom building. The existing cafeteria had to remain operational to service the new school. After the two new buildings were completed, the students, teachers and staff moved in.
Venkataraman: Buildings were mainly constructed of concrete, steel and masonry. 
What happened in Phase 3?
Venkataraman: Demolition of the existing school buildings, construction of Building D, parking lots and playfield.
Wong: The new student dining facility and the covered play court could be built. Then the existing cafeteria could be demolished. The last phase constructed a new playfield in the existing school's site. These four phases of construction lasted four years.
Did you target LEED?
Wong: The project had to be designed to a minimum of LEED Silver. Sustainable features include:
• Energy-efficient and innovative mechanical systems, including a displacement type air-conditioning system.
• Natural lighting, daylighting, shading devices and views
• Energy-efficient and controllable light fixtures
• Water-efficient plumbing fixtures
• Controllable systems
• Radiant barrier in the roof assembly
• Higher R-value roof insulation   
• Low-E insulated windows 
• Low-emitting materials
• Ventilation effectiveness
• Construction indoor air quality management plan
• Recycled materials
• Fire suppression systems without HCFCs or halon
• Locally manufactured materials
• Recycling of construction waste materials
• Use of non-potable water for irrigation
What's the best example of collaboration on this project?
Wong: Excellent communication with the entire project team, owners, contractor and the Solomon Elementary staff and community was done. The architect attended all weekly OAC meetings on-site for the duration of the project. All other parties also attended. If a problem was encountered, everyone collaborated and found the solution quickly to meet the schedule.
Venkataraman: During Phase 4, Swinerton and Rider Levett Bucknall worked with the school to prioritize much-needed parking lot sections and driveways to turn over certain areas to the school ahead of schedule to alleviate the rush-hour traffic and limited teacher parking. 
Which team members really made a difference?
Venkataraman: All subcontractors—a collective team effort. HIDOE and school staff—for cooperating and working together with the construction team.
Wong: Thomas Swan, principal of Solomon Elementary School, his staff, students and teachers. Ms. Brenda Lowrey and Mr. Benjamin Miura of HIDOE should be especially commended since they provided valuable input and knowledge of "lessons learned" from all the other projects they have worked on for HIDOE. 
All team members played and collaborated to make this a successful project.  
What do you think is the project's standout feature?
Venkataraman: The architectural color plan of the exterior buildings and polished concrete hallways. 
When the project wrapped in 2021, how was it received?
Venkataraman: It won a 2022 NAIOP Kukulu Hale Awards – Public/Government Project Award.
Wong: The project was completed on time and within budget. The completed school met all the design goals envisioned by the community, staff, HIDOE and students to provide a unique learning venue.
Swan: This design has removed barriers for the students and staff to transform the way we engage with learning. This new school now has unleashed unprecedented opportunities for creativity and innovation.
IBEW Pension Fund Building Rises in Kalihi Kai
Hawaii's first Chick-fil-A restaurant hatches on the Valley Isle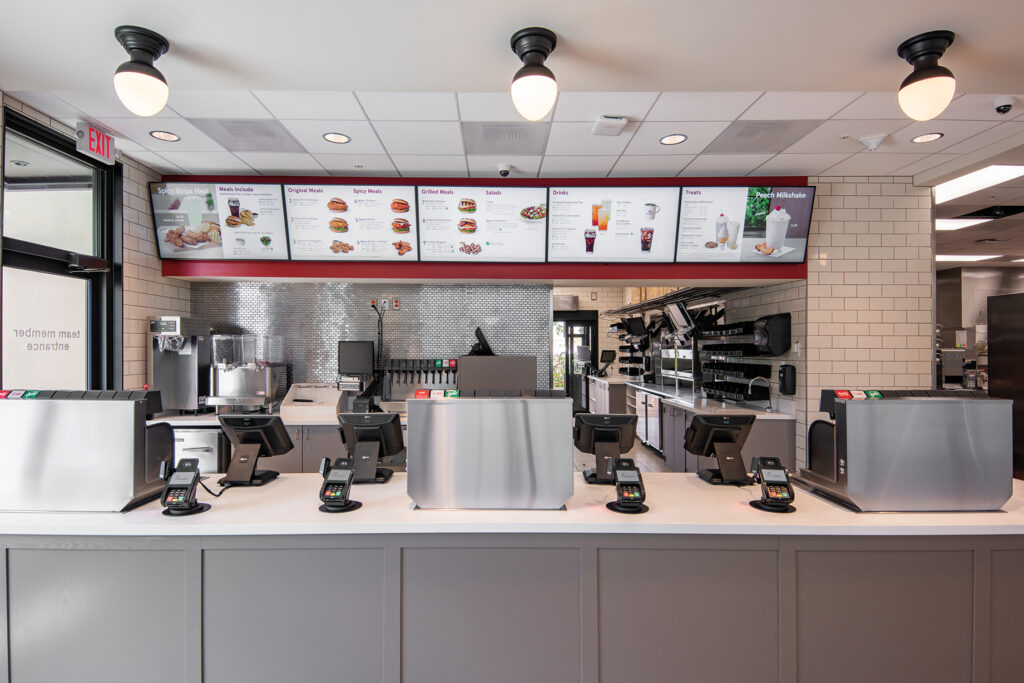 Chick-fil-A, the fast-food brand known for juicy chicken sandwiches and employees who chirp, "My Pleasure!" opened its doors in August, nine months after Arita Poulson General Contracting LLC broke ground last November. Located in the Puunene Shopping Center in a densely populated neighborhood of Kahului, the restaurant is the first in Hawaii, setting the bar high for future franchises in the state.  
"Chick-fil-A has stringent guidelines on how they want every inch of the building to look, feel and operate, and it was our pleasure to make this happen," says Darin Davis, Arita Poulson's senior project manager who led the $4.4 million construction. "We felt it was our responsibility to coordinate everything with Chick-fil-A, all data documentation, scheduling and allotted tasks."   
Construction from the ground up included the 5,013-square-foot building and full-service dining room, double drive-thru and a 900-square-foot outdoor patio. Overall, the restaurant's design is traditional with a touch of contemporary and state-of-the-art technology.
The exterior of the building features local landscaping, natural stone, free-standing canopies and energy-efficient glass. All finish materials were sourced from across the United States and include custom facing, plastering, woodworking, flooring, painting, wallpapering and glazing.
Nearly 300 people collaborated on the project—from inspectors and architects to subcontractors and administrators—with strong support from Chick-fil-A's Restaurant Construction and Development Team, which is the brand's construction professionals and consultants who "guide the road to success and teach you the Chick-fil-A way," Davis says. 
One of the subcontractors, Maui-based Aloha Sheet Metal, installed the restaurant's HVAC system in a little over a month. "Chick-fil-A paid the most attention to an HVAC system that I've ever seen for a restaurant," recalls Lance James, owner of Aloha Sheet Metal LLC, which purchased HVAC equipment from Tom Barrow Co., a supplier for Chick-fil-A. "The restaurant's plans were spelled out and easy to deal with," James says, adding that Arita Poulson has partnered with Aloha Sheet Metal on projects for 25 years. 
Another subcontractor, John Bordignon, agrees. He is president of East & West Aluminum Craft Ltd., which enclosed the restaurant's 900-square-foot outdoor patio with aluminum railing sourced from Canada and California. 
"Our scope in the Chick-fil-A project was relatively small in relation to our other projects," he says. "However, no project is too large or too small, especially with the great working relationship between Arita Poulson General Contracting and East & West Aluminum." Bordignon's family, originally from Vancouver, founded East & West Aluminum 30 years ago on Maui. 
Trusted partnerships aside, what also strengthened the working relationship between Arita Poulson and its subcontractors was the technology used—namely, Plan Grid Software "that set the appropriate tone for smoother sailing down the road," Davis says. The software enabled all parties to log daily and weekly logs, manage submittals and RFIs, and share photos. And "when the architect made changes, they appeared on all of our iPads instantaneously," Davis says. "We had up-to-the-minute plans at all times." 
The project received strong support from architectural and engineering firm Bowers + Kubota and Puunene Shopping Center's landowner, Alexander & Baldwin.  
The nine-month build-out wasn't without challenges, however. Global supply shortages caused shipping delays to Maui, and a handful of team members needed to isolate after contracting COVID-19. Fortunately, there were no workplace accidents, "and we also passed a HIOSH inspection as well, all thanks and credit to our amazing team for sticking together," Davis says.
Now that the Kahului location is open, Arita Poulson is completing construction on Hawaii's second Chick-fil-A restaurant on Beretania Street in Honolulu—in a building where a burger chain once reigned.
CAPTION: Chick-fil-A's restaurant in Kahului is expected to generate 150 jobs.
PHOTO COURTESY ARITA POULSON GENERAL CONTRACTING LLC 
THE PECKING ORDER  
"Collectively, we formed the perfect combination of industry experts and professionals, ultimately uniting as one massively powerful, amazing and awesome team, one ohana." – Darin Davis, senior project manager, Arita Poulson General Contracting LLC
CHICK-FIL-A's TEAM
Kurt Ebner 
Rob Jenkins
Don Ickler
Angelique Hollenbeck
Sean Whaley 
ARITA POULSON GENERAL CONTRACTING LLC
Ariel Alonzo 
Tim "Rabbit" Spellicy 
John Evarts
Marlayna Gomes 
Timothy DeMichele
THE SUBCONTRACTORS 
ALCAL Roofing (Sam Araneta)
Aloha Sheet Metal (Lance James)
Bowman Termite (Angie Villarimo)
East and West Aluminum Craft Ltd. (John Bordignon)
ELCCO Inc. (Kili DeNisi and Christina Wark)
Hawaii Plastering and Drywall (David Kamai)
Hilltop Contractors (Dimitri Matveev)
Island Plant Co. (Casey Foster)
JD Painting & Decorating Inc. (Dennis Lijewski)
Maui Plumbing Inc. (Robert Vincent)
Reflections Glass Maui (Jason Chavez)
Cavalier Construction (Stephen Whitehead)
West Maui Construction (Tam Kim)
IBEW Pension Fund Building Rises in Kalihi Kai

There's something new rising on the west end of Hau Street in Kalihi. It's the International Brotherhood of Electrical Workers (IBEW) Pension Fund building. Expect the wiring to be flawless. 
Set to open in April 2023, the four-story, post-tensioned reinforced-concrete parking structure is topped with two stories of structural steel office space and a large solar array on the roof. Construction began in December 2020.
Sparks Joy
According to Damien Kim, IBEW 1186 business manager and financial secretary, the new building is for administration, training and membership. It will feature more than 500 solar panels, a 100KW generator and battery backup. "The building was designed with state-of-the-art electrical designing. Wireless light fixtures, control relays to turn the lights on and off automatically, energy management for air conditioning and, for incorporating security and alarm systems, building automation," says Kim. 
That's a plan for LEED certification!
Plans Designed for 2 Phases of Construction
General contractor Nordic PCL Construction Inc. was at the helm of the project that was being completed in two phases. "During phase one, office spaces were created on the top two floors with parking on the lower [four] floors of the new six-story building," says Casey Tollman, Nordic's project manager for the site. "An outdoor roof terrace on the fourth floor provides a gathering space for members to congregate. 
"Much care was taken to mitigate noise and vibration generated by the work. Over-communicating among our team and with the client was key to keeping everyone safe," Tollman says.
Tollman adds that the 4-foot distance between the existing building and the new structure meant that construction had to be coordinated to minimize disruption for the employees in the offices. Care was taken to avoid disruptions, such as utility outages during work hours. The work with the subcontractors was coordinated in the field through weekly and sometimes in-person meetings. And because of COVID-19, most of the weekly meetings with the design professionals were virtual.
Building with Technology
Once IBEW employees moved up to the shiny new digs with a view, Nordic began phase two to renovate the existing office spaces and completely gut them. A new HVAC system was installed, as was new lighting and upgraded finishes. As Kim noted, the exterior features new security fencing and gates, and a rooftop solar system.
Construction projects don't progress well these days without software. Nordic PCL used BIM 360 Field Management for its punch list process during phase one. "Being web-based made it easy to share the subcontractors' punch lists in real time. The program allows the team to tag the location of the issue on a plain view or by attaching pictures. The subcontractors could go into the program and mark their items as completed with notes. Zero paper wasted," Tollman says. 
Subcontractors are Vital to a Project's Success 
"We've been very fortunate to have a project team whose members were selfless and kept the success of the project at the forefront," Tollman says. "The management of IBEW 1186 did not need to go through an education of the process as the project progressed. Their staff and members were very understanding and tolerant of any inconveniences created during construction, from the dust and noise to concrete trucks queuing up in front of the property for pours." Subcontractors of note included:
• Mike Bradshaw and Loren Knappenberger of WASA Electrical Services for their intimate involvement at mechanical, electrical and plumbing (MEP) coordination meetings, always verifying their electrical work with the work of other trades. 
• Travis Inay of Harris Rebar South Pacific Inc. ensured his crew had no errors and also worked with the other trades so that the schedule went smoothly. 
• Alan Suzuki and Jack Guerrero of Continental Mechanical of the Pacific (CMOP), whose scope was to coordinate the project's mechanical, plumbing and fire sprinklers. Their overall buy-in, collaboration with the designers and suggestions to modify the design of the mechanical systems to accommodate existing conditions during phase two minimized costly delays. 
• Ray Okamoto, an associate and chief construction administrator at AHL (Architects of Hawaii Ltd.), for his field experience to expeditiously resolve conflicts with the design as they arose.
CAPTION: Outside of the fourth- and fifth-floor offices lie the IBEW's fourth-floor lanai with tables, chairs for lunches or outdoor meetings, connected by a series of benches and planters. 
Photo Courtesy Nordic PCL
Learning continued during Constructors Hawaii's renovations to Kamehameha Schools building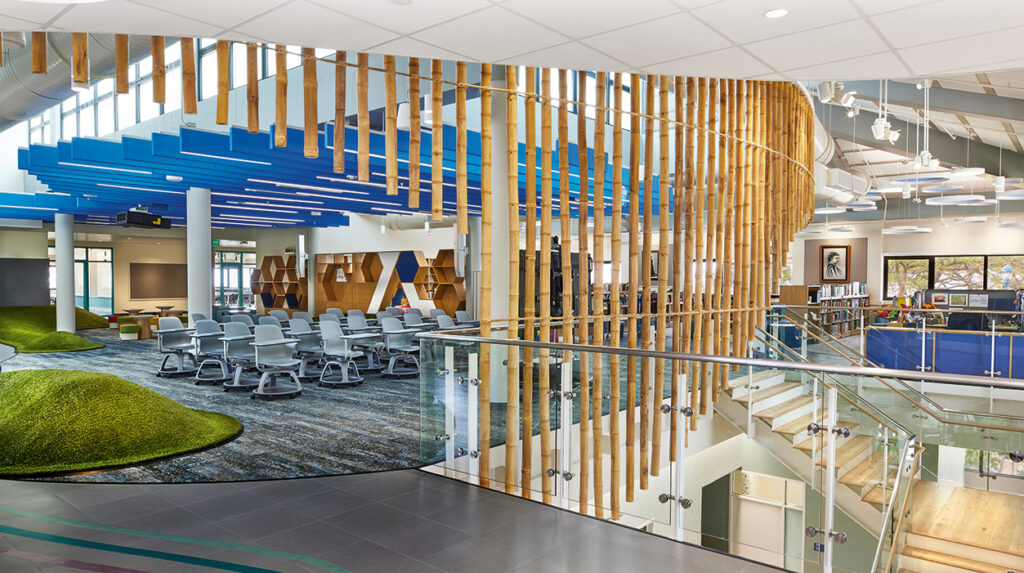 Kamehameha Schools' project management team understood that the first-time renovation of the Kekelaokalani building on Kapalama campus could be fraught with fits and starts. The project, which ran from February 2021 to December 2021, faced several challenges: students in session, staff in offices and the relocation of a perpetually humming IT hub.
The $5.9-million project involved full gutting and renovation of the second and third floors (22,200 square feet). Included in the plans were a new media library center; science, technology, engineering and math (STEM) classrooms; and staff offices with audio-visual equipped conference rooms. The heavy lifting included removing a section of the third-floor suspended concrete slab for a new steel and glass staircase, featuring a wave of bamboo suspended from the third-floor ceiling to the second floor.
"The renovated Kekelaokalani building connects the contemporary innovation of the educational spaces to the traditional innovations of the fishpond," says Project Manager Travis Higa of Constructors Hawaii Inc. "The space provides students a connection to the past, grounds them in their daily kuleana, inspires them to gather and sustain in the present and guides the students on their way into the future."
Ferraro Choi and Associates Ltd.'s Bill Brooks, Jason Takeuchi and Kapua Pimentel are credited with designing the beautiful and unique space. Of the many subcontractors brought onboard by Ferraro Choi, it's worth noting that Whispering Winds Bamboo Cooperative of the Kipahulu district of Maui was contracted to create the suspended bamboo wave that connects the second and third floors. The organic bamboo farm is an offshoot of the Ola Honua restoration and sustainability project. Its website describes the farmers as sharing the purpose of cultivating a deep respect and commitment to the care and regeneration of the land.
"Whispering Winds Bamboo is an employee-owned cooperative on Maui that was consulted with by the architectural firm that did the design work for the renovation," says Ryan Zucco, president and a founding member of the co-op. "I think that got our foot in the door to provide the bamboo, and our expertise with bamboo got us the job. We have a 20-acre timber bamboo plantation that we harvest bamboo poles from and then pressure-treat with a borate solution. [For this project] we manufactured each piece with mounting hardware here on our farm and then shipped them over to do the installation. [Co-op member] Rich von Wellsheim and I did the installation in December, which took about four days for us to complete."
The beautiful results feature stress-reducing rolling hills of turf conducive to both naps and study groups. A natural flow exists through the classrooms, gathering and seating areas, and onto the offices. Suspended from the open ceiling are acoustic baffles to isolate the sound in the different areas. Furniture is mid-century modern sleek and spare, and areas of built-in seating appear indestructible.
"All our subcontractors did an outstanding job on this project and were receptive to our schedule and coordination," Higa says. "The attention to detail, planning and teamwork truly created a beautiful space for Kamehameha School's elementary campus. Ferraro Choi was always responsive and collaborative throughout the project."
Constructors Hawaii team members are credited with attention to detail and diligence in providing cost-effective solutions for potential problems early in the process. They rose to the challenge through constant professional communication with KS Project Management, KS Campus Operations and the design team.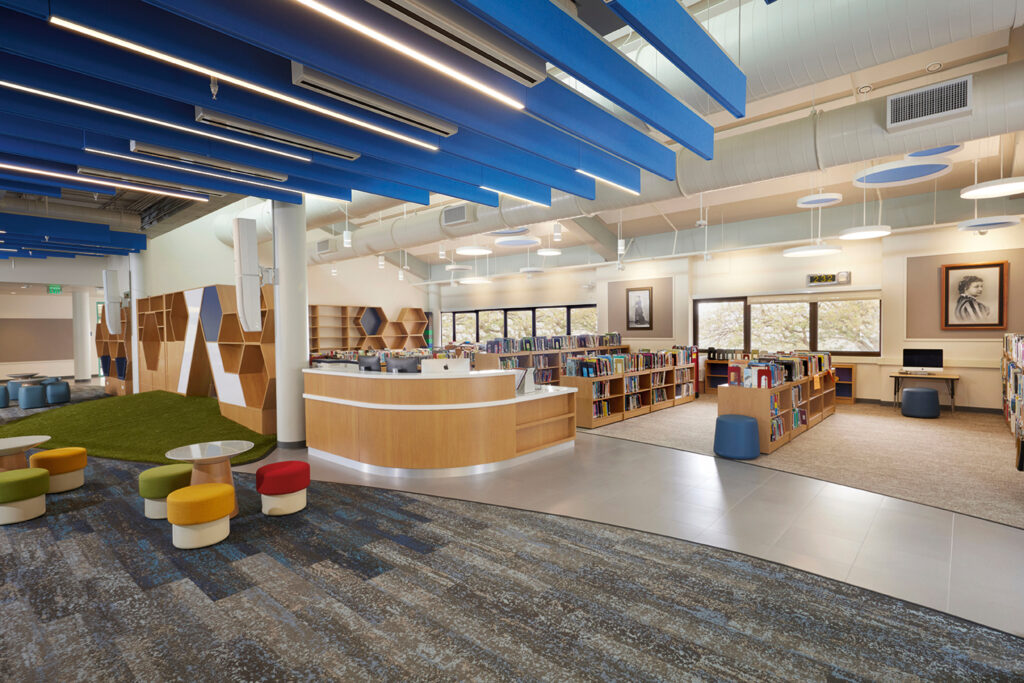 Subcontractors For Kamehameha Schools Kekelaokalani Improvements
• Unitec Insulation
• Mutual Welding Co. Ltd.
• Whispering Winds Bamboo Cooperative
• Oahu Metal & Glazing LLC
• Eagle Interiors Inc.
• Tile Craft Inc.
• Honolulu Premier Flooring
• We Paint Inc.
• Waltz Engineering Inc.
• ForeverLawn Oahu
• Honolulu Fire Protection
• Skippy's Plumbing and Repair Inc.
• Heide & Cook LLC
• Electricians Inc.
• JJS Construction Inc.
Suppliers and Vendors for Kamehameha Schools Kekelaokalani Improvements
• Waihona Builders Ltd.
• Island Pacific Distributors Inc.
• T&T Tinting Specialists
• Division X
• Contract Specialties in Hawaii
• Tactile/Braille Signs LLC
• Window World Inc.
CAPTIONS:
Kekelaokalani – 06 – Gathering Space 2.jpg
A bamboo wave (subcontractor Whispering Winds Bamboo on Maui) begins on the third floor and reaches the second floor via the glass and steel stairway in Kekelaokalani elementary school building.
Kekelaokalani – 05 – Media Center.jpg
The media center in Kekelaokalani has rolling greens, small gathering areas, and audio baffles suspended from the ceiling to maintain calm and limit sounds to the areas directly below.
Travis Higa.jpg
Travis Higa
Ryan Zucco.jpg
Ryan Zucco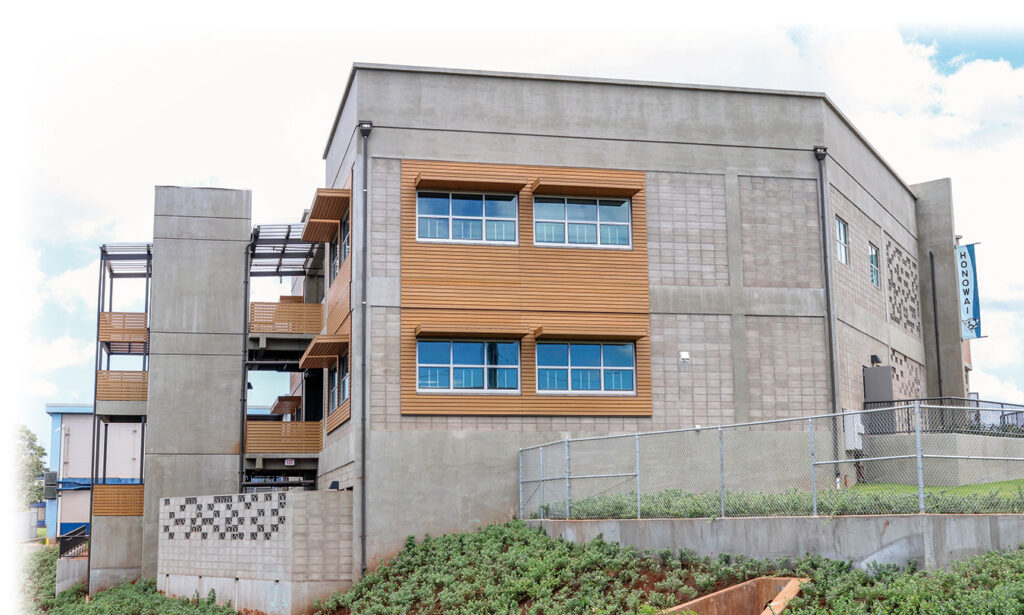 A Waipahu school's transformation by S&M Sakamoto brings new tech labs and sun-lit rooms
When Honowai Elementary School's 700 students return from summer break on Aug. 1, their half-century-old campus will include a newly built, $14.4 million structure completed in July by general contractor S&M Sakamoto.
Honowai's principal, Stacy Kawamura, is thrilled about the addition. "Our new building will provide dynamic and flexible spaces that will help our students to engage with lessons through greater activity and interaction," she says.
BRIGHT AND BREEZY
The 18,117-square-foot structure has three floors. Level two houses classrooms for special-needs and medically fragile students. The first and third levels are for programs in art, music and STEAM (Science, Technology, Engineering, Art and Math).
What's also unique about the building is the open-air design. All three floors have lanai structures that allow classrooms to embrace natural light and mauka-to-makai breezes.
The music and art rooms also are adjacent to a patio, separated by stackable glass doors. "This extended learning space allows students to sketch and paint and play music outdoors, while still being supervised from the interior classroom," explains Laura Knauss, principal of Lionakis, the architecture firm for the project.
"Many of the strategies for outdoor learning that were employed during the COVID-19 pandemic will be available to students and teachers in the new building," she says.
Hybrid learning environments not only decrease potential spread of the coronavirus but also improve well-being and mental health of the children and teachers. "We cannot thank our legislators, leadership and facility staff enough for their support in making this project a reality for our students and our school community," Kawamura says.
ROADBLOCKS TO COMPLETION 
Support aside, Honowai's new construction faced myriad challenges over the past three years.
The project lost five subcontractors, resulting from company closures, retirements, lackluster performance and bankruptcy. In addition, the "existing underground soil conditions required structural revision, which extended the project for a significant amount of time," recalls Dale Sakamoto Yoneda, president of S&M Sakamoto.
To work through COVID-19 restrictions, daily communication was essential between field workers and Honowai School's administrative team, Yoneda says. Construction crews also had to work around the school's daily operations to ensure student safety.
It wasn't the first time that construction crews were on campus for extended periods. In 2015, Honowai underwent energy-efficient upgrades, including 400 new photovoltaic modules and LED lighting, which cut the school's electric bill by nearly 50 percent.
The retrofits, plus student programs to reduce its carbon footprint, earned the school a prestigious Green Ribbon School designation in 2018 by the U.S. Department of Education. Only a select number of schools nationwide receive the Green Ribbon title each year.
Today, Honowai's new building lies on a slope on the northernmost corner of the campus, overlooking Honowai Street and neighboring Waipahu. Its completion is a testament to the partnership between private businesses and government entities.
"It took a community with grit and determination to see this project through to completion," Yoneda says. "The support received from the DOE, Honowai's administration, Lionakis and their consultants, our quality subcontractors, suppliers and especially our SMSI field crew was paramount in our success."
CAPTION:
4 side view.jpg
Windows and lanais at Honowai Elementary School are made of Resysta, a weather-resistant material that resembles wood.
PHOTO COURTESY S&M SAKAMOTO
How Central Pacific Bank and Nordic PCL built the hottest meeting spot in downtown Honolulu
AS TOLD TO BRETT ALEXANDER-ESTES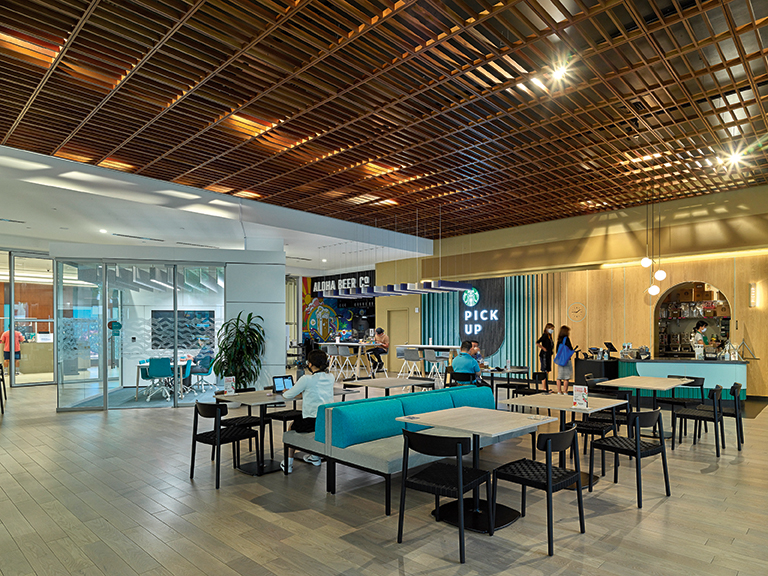 n 2019, Central Pacific Bank (CPB) decided to go beyond banking.
CPB is "committed to being continually relevant to our customers and our community" and the rapid evolution of customer preferences, says Paul Yonamine, chairman and CEO of Central Pacific Financial Corp., the holding company for CPB. 
Matt Gilbertson, MGA Architecture LLC president and director of design, says Yonamine felt CPB's downtown Honolulu flagship branch needed "a full physical transformation to bring out the best of the new CPB customer experience, and to signify to the community CPB's renewed commitment."
In February 2020, Yonamine and Gilbertson put their heads together, and the $30 million renovation of CPB's main branch took off.
What happened when you met Paul Yonamine?
   Gilbertson: From that single meeting, Mr. Yonamine engaged MGA as his architect for the project. I returned a few weeks later and presented my vision of how the flagship property could achieve a transformation worthy of such inspirational goals. Our vision was an instant hit with Paul and the CPB board, immediately launching the project and the relationship. Within days, the challenging schedule to complete the project materialized.
Was the project part of CPB's RISE2020 initiative?
   David R. Jones, CPB Senior Vice President–Properties Division: CPB unveiled the RISE2020 project in July 2019. It was a visionary innovation project designed to renovate our flagship downtown headquarters and main branch, upgrade our ATMs to the most technologically advanced banking machines in the state, invest in digital banking and implement an overall refresh on the brand and feel of the bank. We reimagined the traditional banking space (to create) a vibrant area with community workspaces, a Starbucks Pickup and Aloha Beer Co.
   Gilbertson: Creating a seamless indoor-outdoor flow and making the bank environment more visible, accessible and friendly fit perfectly with RISE2020's rebranding and goals to become the most friendly and approachable bank in Hawaii.
   Lance Wilhelm, President, The Wilhelm Group: They had a vision for this becoming a gathering place where people and ideas would come together and build a more vibrant downtown. 
Who was on the project team?
   Jones: CPB, Nordic PCL Construction Inc. and MGA Architecture were essential partners from start to finish.
   Wilhelm: We joined the team after the architect and contractor had already been engaged. We were asked to oversee the project from a construction management perspective, but given the complexity of the project and the many stakeholders involved, we took on more of an overall project management role.
What was the project scope?
   Pamela Nitta, Nordic PCL Special Projects Division Manager: Converting the existing 13,000-square-foot flagship main branch into a multi-functional facility—a complete interior renovation of the ground floor, construction of a spacious indoor/outdoor community lanai with a vaulted ceiling created by removal of the second-floor structure, new spaces for community collaboration, tenant spaces for Aloha Beer and Starbucks, decorative canopies, a community showcase art wall, and a seven-story metal and glazing facade.
What were the challenges?
   Wilhelm: The schedule was aggressive, the budget was tight and the expectations were high. This project was built within a relatively small footprint and had to be completed while the branch and the building continued to operate. Careful planning was required to maintain access for all of the building occupants as well as the bank's customers throughout the work.
   Nitta: The renovation was a planning exercise with Rubik's Cube complexities. Work that would be disruptive was performed overnight.
Did CPB help resolve these challenges?
   Jones: Yes, our core CPB Project Management team took active daily participation with construction scheduling and resolving issues. Many from CPB contributed to the success of the project including senior leadership, our properties division, customer experience and branch banking teams.
What did you do before breaking ground on March 2, 2020?
   Nitta: The seven-story-high metal facade and integrated metal canopy that would straddle the plaza on South King and Alakea streets were not typical in Hawaii and would prove to be a procurement and installation challenge. During preconstruction, Oahu Metal & Glazing (OMG) was selected with a product that would be manufactured in Singapore.
Did you demo the interior?
   Nitta: The team scanned the building's interior to identify existing structural members prior to demolition of a section of the second floor that would become the atrium.
How did you build the facade?
   Nitta: Nordic PCL's team utilized digital construction software and a 3D laser scanner to confirm measurements of the building's exterior prior to product fabrication. The team also used a drone to inspect the quality of the metal and glass facade work installed by OMG.
How did you phase construction?
   Nitta: Phase 1 was the completion of the temporary branch on the Alakea Street side of the property. 
Phase 2 completed all interior work and the open exterior plaza, which included the hardscapes, landscaping, metal facade and glazing, and metal canopy on the King Street side of the property. The exterior plaza and sidewalks were completely redone with an architectural concrete and landscaping.
Phase 3 consisted of completing the elevator lobby, Alakea Street plaza and entry, including hardscapes, landscaping, metal facade and glazing, and metal canopy.
How did you deal with COVID-19?
   Jones: COVID-19 brought numerous challenges of changing the situation every week, labor shortages, material delays and work stoppages. The team faced the difficult decision to stop construction, cancel it altogether or keep going. We ultimately decided to keep moving forward and double down on our vision and commitment to RISE2020.
   Wilhelm: The project had to develop and implement safe work guidelines to ensure that we could keep moving the project forward without putting workers in harm's way.
What new banking technology did you introduce?
   Jones: Upgrading our ATMs to be the most technologically advanced banking machines in the state. In addition, our customers today have full access to their account features from any connected device, have access to the state's top-rated banking apps and Hawaii's first online live chat feature.
How did members of the project team coordinate with each other?
   Nitta: There was very open and transparent communication at all times to the highest executive levels of CPB so everyone was apprised of the project status.
   Jones: CPB took an active role during the project, including participating in all OAC meetings and inspections. CPB input was crucial at multiple levels of the project because of the specialty nature of banking.
   Wilhelm: While TWG, NPCL, MGA and CPB also employed skilled and talented staff members to execute the project on a day-to-day basis, each firm had their president, chief executive or principal participate in regular update meetings. These were as infrequently as once a month, but during the most critical moments, they could and did occur daily. 
What's the best example of
collaboration on this project?
   Gilbertson: All the team members rallied around an accelerated design-build review process where the product vendors and installers played an integral role in the design and early pricing process. This hands-on process allowed for real-time evaluation of concerns with every stakeholder in the room.
   Nitta: Nordic PCL, MGA Architecture and The Wilhelm Group collaborated as "One Team" to successfully deliver CPB's vision.
   Jones: The expertise, creativity, trust and tenacity to complete our vision on time and on budget.
What do you think is the project's standout feature?
   Jones: Our "Kai Wall" is a magnificent piece of kinetic art featured in our lobby atrium. Local artists and craftsmen connected each rain stick to move according to the live data feed that is connected to buoys located around the Hawaiian Islands. It is a high-tech, yet artistic surf report located in the heart of downtown Honolulu.
   Nitta: The metal canopy and facade provide a very distinctive "pop" against the concrete exterior of the original construction.
   Gilbertson: The new vaulted atrium space connecting seamlessly to the plaza. A second standout is the co-working environment seamlessly connecting to the bank branch.
When the project wrapped, had CPB's goals been achieved?
   Jones: Phase 1 was completed and opened on Jan. 25, 2021, when the City & County's pandemic restrictions were still in full effect. Yet the opening was an exciting event and a glimmer of hope for better things to come. Nearly a year and a half after opening, the CPB Main Branch and Tidepools have been an enormous success, with a vibrant community of people coming to CPB to talk-story and do business.
We have received feedback from numerous people about how much they love our bank and spending time in our main branch. Some of the sentiments we've heard include the statement that we have "the sexiest bank in the state." We have also been able to host events in a classy and sophisticated fashion and enjoy hearing how much people love the renovation. We feel that it is breathing new life into downtown Honolulu.
   Wilhelm: The old space was a branch with a lot of darker shades of grey and brown. Now there is life there. People are talking, laughing and making memories. People are enjoying a coffee or a beer. But people are also talking about business, politics, life. It's become a place to make connections, and connections are what Hawaii is all about.
CPB Main Branch Renovation Team
Leadership – Central Pacific Bank
MGA Architecture LLC
Matt Gilbertson, Design Principal, Architect of Record
Jeff Morrison, Sr. Project Architect
Ron Barber, Sr. Project Manager
Allen Garduque, Construction Administration
Nordic PCL Construction Inc.
Pamela Nitta, Special Projects Division Manager
Eric Ballew, Project Manager
Nathan Ramler, Project Manager
Charles Uyehara, Superintendent
Kathy Cruz, Project Engineer
Benjamin Le'i, Project Engineer
Anderson Nguyen, Project Engineer
Jason Chun, General Foreman
The Wilhelm Group
Lance Wilhelm, President
Jesse Dowsett, Vice President
Rod Nagao, Project Manager
CAPTION:
25_CPB-MainBranch_Cafe_pcCPB.jpg
Small talk and big ideas flow easily in CPB's new cafe and Tidepool workstations.
PHOTO COURTESY CENTRAL PACIFIC BANK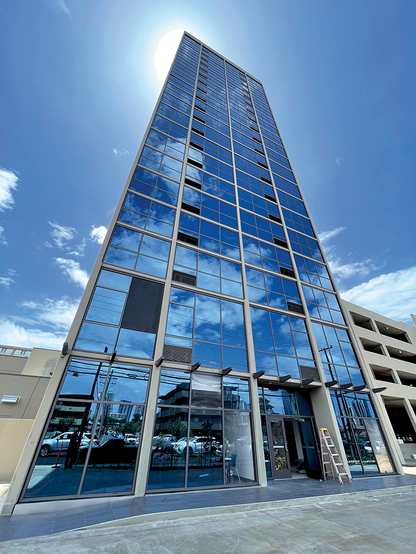 A new tower in urban Honolulu serves working families and troubled youth
By Cathy Cruz-George. ALL PHOTOS COURTESY ALBERT C. KOBAYASHI INC.
Hale Kālele Residences—the new 20-story tower bound by Piikoi, Alder and Elm streets and a Texaco service station on King—meets the needs of most moderate- to lower-income residents in urban Honolulu.
Amenities include: An adjacent parking garage with 213 stalls. Bike storage. Proximity to The Bus, H-1 on-ramps and the future Ala Moana Rail Transit Station. Laundry and recreation rooms. And 200 affordable rental units for families earning at or below 60 percent of the Area Median Income.  
What's unique about the $90 million project is the addition of Hale Hilinaʻi Juvenile Service Center on the first and second floors, serving low-end law violators younger than age 17. The juvenile center has a medical lab, interview rooms, temporary sleeping quarters and a counseling center. Its Alder Street entrance is separate from the residential apartment's Piikoi Street main lobby.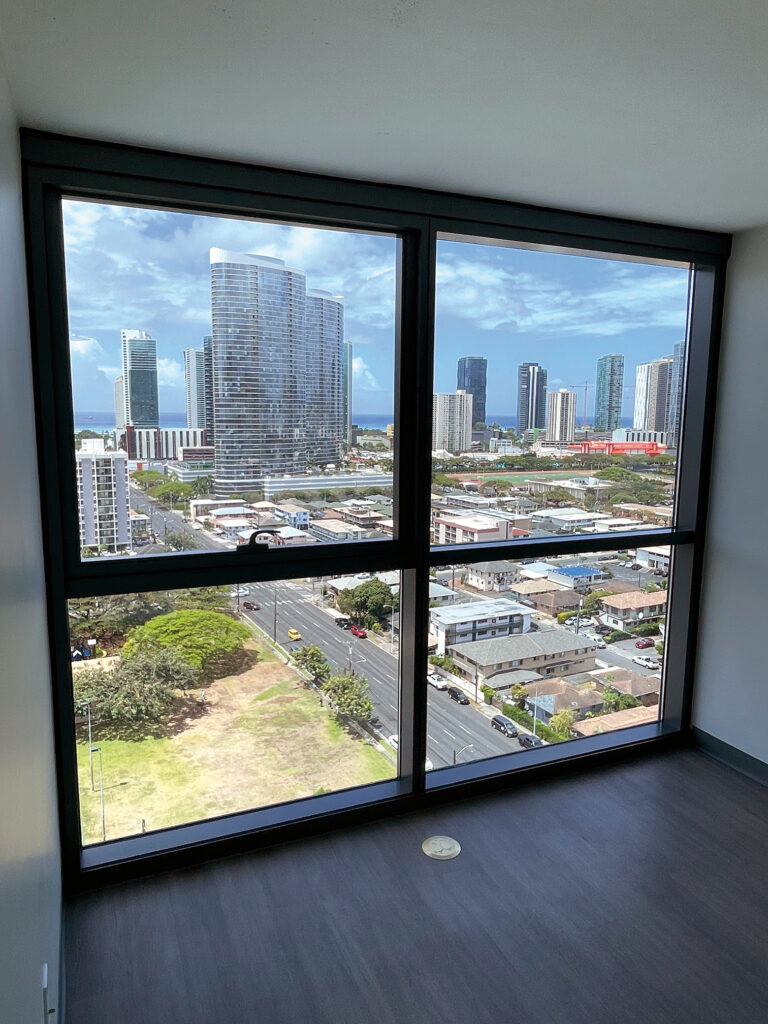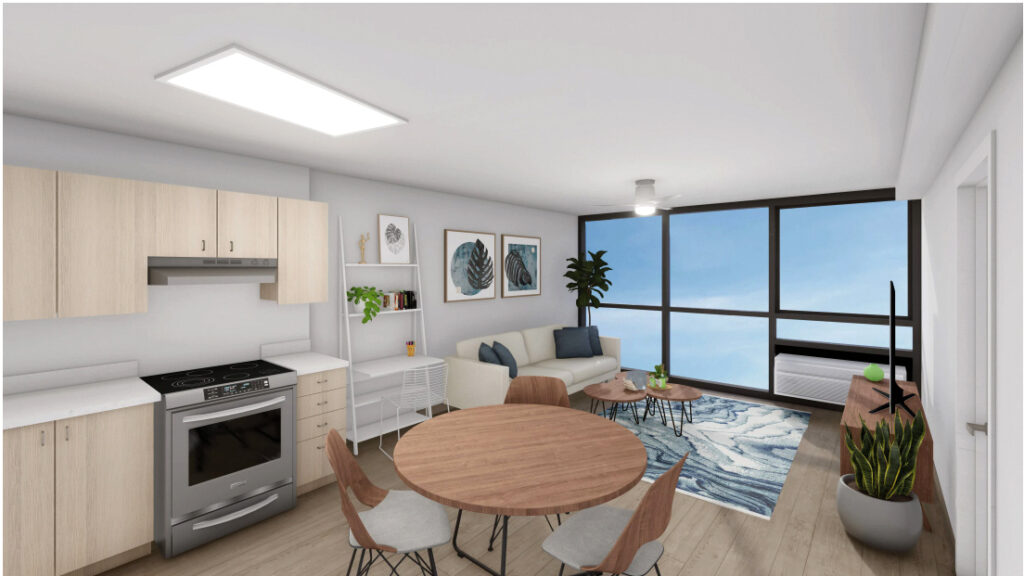 The duo project was the first affordable development for Kobayashi Group and MacNaughton Holdings and the first inter-agency partnership between the Hawaii State Judiciary and the Hawaii Housing Finance and Development Corp. Since 1949, the Judiciary had occupied the 1.45-acre, prime property.
The partnership provides "much-needed affordable housing in the redevelopment of the underutilized property," says Alana Kobayashi Pakkala, chief operating officer and partner of Kobayashi Group. "Hale Kālele and Hale Hilina'i serve two needs vital for Hawaii to thrive."
That desire to help local families inspired the construction and design teams to build as efficiently and safely as possible during the peak of the COVID-19 pandemic.
"Giving local people a place to call home is a significant, life-changing event," says Ryde Azama, project engineer for general contractor Albert C. Kobayashi Inc., which held a groundbreaking ceremony in September 2020. "Completing the project ahead of schedule had been a top concern for the team as the housing crisis has plagued Hawaii for years." May 2022 is the targeted finish date. 
 Azama says "tools to make the job a success" were daily sanitation, sequencing, temperature screening and contract tracing programs. Virtual meetings between owners and sub-contractors were the norm.   
Sustainability was another goal for the building. The units have Energy Star appliances, photovoltaic panels and batteries that provide 60 percent of energy needs, electric vehicle car sharing and charging stations, and electric bike and scooters available for residents. (See page 16, "Carbon Infusion and Tunnel Forms.") 
What sets Hale Kālele apart from other affordable dwellings, too, are the large, floor-to-ceiling glass windows typical of higher-end properties. Residents—after a hard day's work—can soak in views of Honolulu's skyline. "The increased natural light exposure improves the well-being and happiness of the occupants," says Steve Teves, principal of Design Partners Inc., architect for the project.