A
two-story building owned by the City & County of Honolulu on the mauka end of River Street was razed to create the Halewai'olu Senior Residences, with kūpuna moving in since September.
The project's approval in 2021 occurred within the first 100 days of Mayor Rick Blangiardi's administration, which declares it "a brand-new rental property with plenty of space to exercise, meet and enjoy life.
"This represents an opportunity for our kūpuna to live in Chinatown, a priority area that is being transformed and revitalized by the City," Blangiardi says.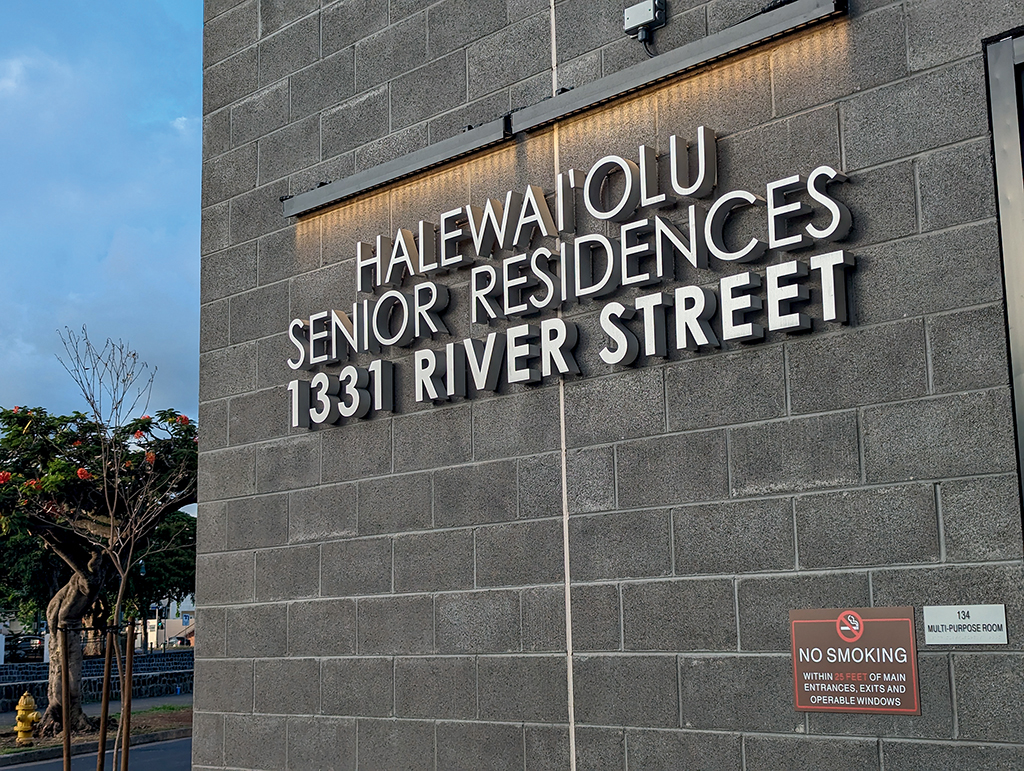 THE MICHAELS ORGANIZATION
The Michaels Organization (TMO) was selected by the City to build and manage the 17-story building, comprised of 156 one- and two-bedroom affordable rental units on a 26,925-square-foot parcel at 1331 River St.
TMO manages 74,000 units in 39 states, Washington, D.C., and the U.S. Virgin Islands, with assets worth $11 billion. While TMO has another $4.9 billion in projects underway, Halewai'olu is the company's first venture in Hawai'i.
According to TMO's website, "the $93.3 million project was funded with $48 million in Hula Mae multifamily tax-exempt bonds (HMMF) and $21.3 million in Rental Housing Revolving Funds (RHRF), a $10 million traditional construction loan and equity from the sale of low-income housing tax credits.
"First Hawaiian Bank took the lead as construction lender with American Savings Bank. The Hawaii Housing Finance and Development Corp. administers both HMMF and RHRF funds."
For Honolulu Community Services Director Anton Krucky, Halewai'olu is a great example of what the City wishes to achieve with more affordable housing.
"Our kūpuna have given us so much, it's only fitting that we give back when they are in need," he says. "It is so wonderful to be working with The Michaels Organization, which knows that our kūpuna deserve to have quality affordable housing. New buildings such as Halewai'olu are a wonderful way to breathe new life into Chinatown.
"Mayor Rick Blangiardi's administration has made Chinatown a priority focus, with several ongoing initiatives to improve safety, while preserving and promoting the art, culture and history of this truly unique place."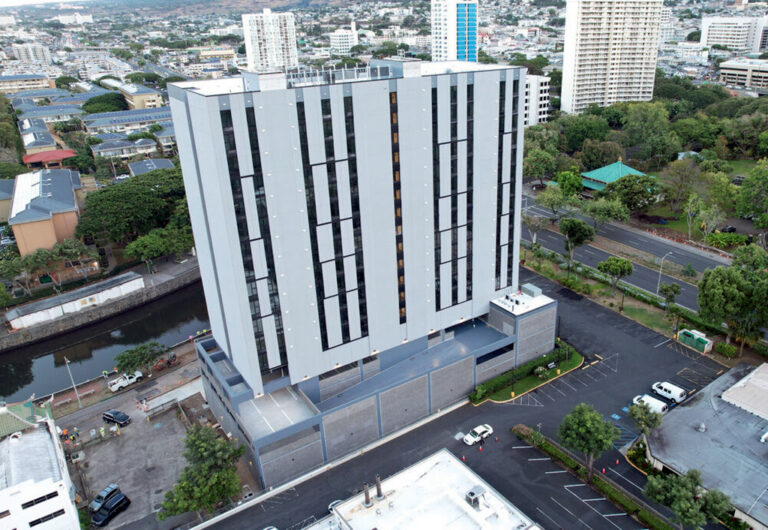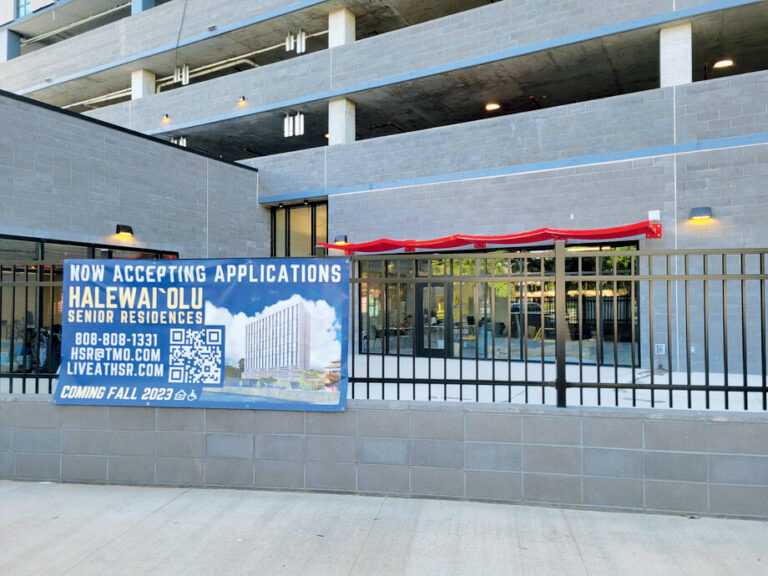 THE PROJECT TEAM
The general contractor for Halewai'olu was Unlimited Construction Services Inc., which has added affordable housing construction and renovations projects to its portfolio as demand increases.
According to Mike Acoba, Unlimited Construction's project manager for the build, the biggest challenge at the beginning of 2023 was a supply chain issue with concrete. However, he said the problem resolved itself and the project was finished on time and under budget.
"We met all of the marks," he says. "There were some challenges — like there are for every project."
The project architect was WRNS Studio of Honolulu. WRNS had the goal to create a setting reflecting the "diverse and energetic soul of Honolulu's Chinatown," including a large, ground-floor community center designed for the residents, which would also serve as a place for people in the neighborhood to visit. According to staff, a favorite amenity is a collection of raised planter beds for growing food and flowers just above the complex's community center, which is reserved for residents.
"This landscaped, elevated place of repose will offer residents a place to connect with one another, relax alone, practice Tai Chi or take in the views of Nu'uanu Stream and the Riverwalk," explains the WRNS website. "While separate from the public amenities below, it will feel connected and protected."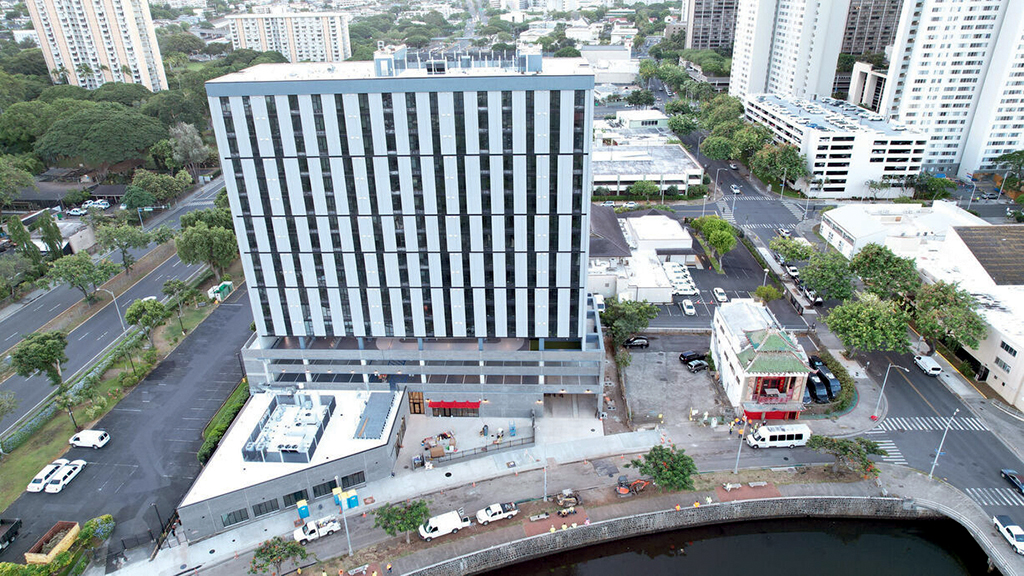 A HOLISTIC APPROACH TO DESIGN
WRNS took a holistic approach with its Halewai'olu design, with the project team taking advantage of every opportunity to provide fresh air, comfort, lovely views and convenience for residents.
Sustainability and conservation are emphasized with insulated glass window walls in each apartment, reducing the need for artificial lighting. Photovoltaic panels also help reduce energy use. An onsite storm-water management system means there are no demands placed on city infrastructure.
For the non-profit Chinatown Community Center Association (CCCA), the completion of this facility is a dream come true after years of back-and-forth with the City about the property. Fifteen years ago, there was a chance it could have been developed for a different use.
In a March 2 editorial in the Honolulu Star-Advertiser, CCCA President Wesley Fong said it was 2008 when the City & County sought to establish a Housing First building for homeless people with mental and drug problems at the end of River Street.
"When members of the Chinatown community heard about the project at a city town meeting, they were enraged," Fong wrote. "Although the Housing First concept was a good one, the project was at the wrong location."
The CCCA was later formed by area residents and businesses with the objective to rally proponents in favor of building affordable senior housing at 1331 River St.
They were ultimately successful.
Related Images: