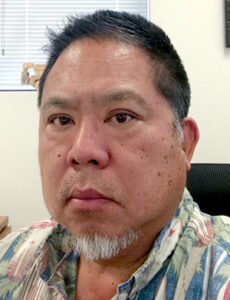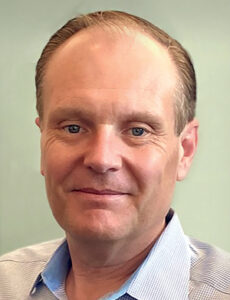 Kerwin Chong, Hawaiian Crane & Rigging Ltd. (HCR) vice president, isn't shy about his company's success in 2023.
"This has been a banner year for tower crane work for HCR," Chong says, adding that HCR's 300-ton to 400-ton Liebherr and 350-ton Grove machines have been "very much in demand." HCR tower work has included Hawai'i high-rises such as  Victoria Place, Ulana and The Park Ward Village, and Sky Ala Moana.
Projects are getting more complex, so HCR and other Hawai'i contractors are demanding that machines also be equipped with smart technology like telematics. HCR's Liebherr 300-ton and 400-ton cranes are "packed to the gills with smart features," Chong notes.
And, says Bacon Universal Co. President and CEO Matthew Elvin, "we are seeing increased adoption of [telematics] technology with our customer base."
With so much impressive equipment available now and into 2024, Hawai'i dealers have made their top picks for Building Industry Hawaii — and much of the equipment they've chosen to highlight is packed to the gills with strength and smarts.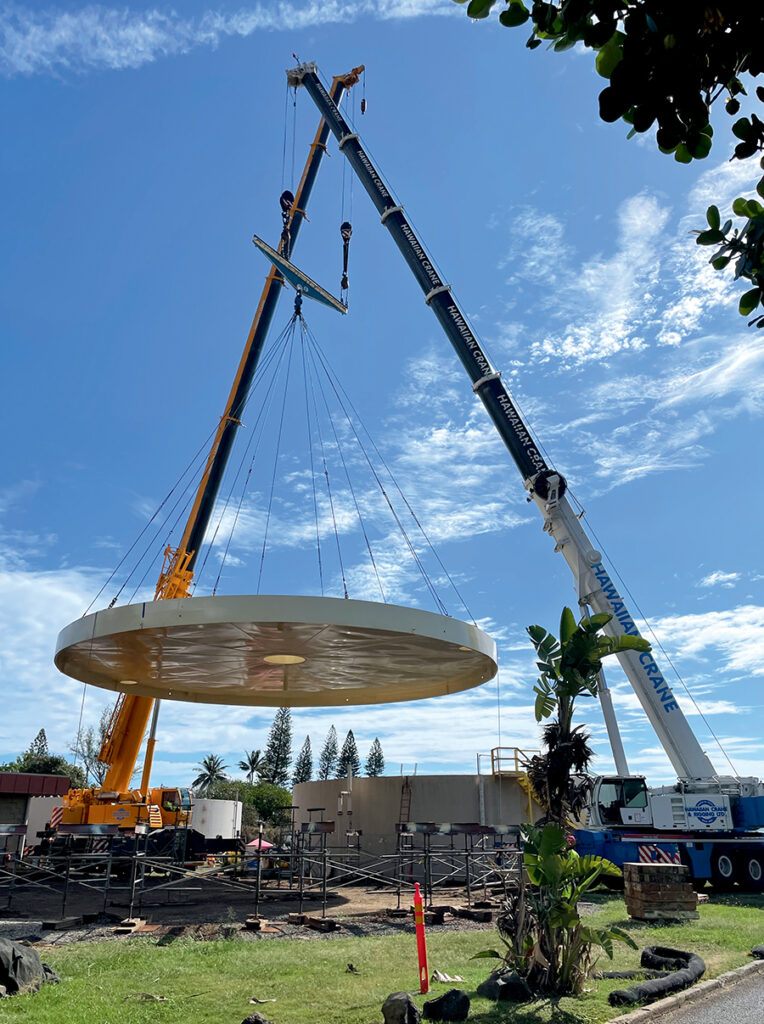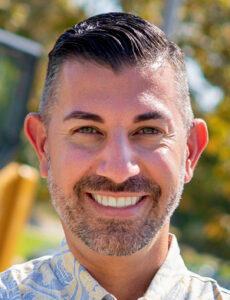 HAWTHORNE CAT
"We see high demand for compact construction equipment such as mini hydraulic excavators, skid steers and compact track loaders," says Chris Giannaris, Hawthorne Cat Marketing & Digital general manager. "We are preparing for the release of the new Next Generation line of compact track loaders, which will feature significant product enhancements like those seen in the Next Generation mini hydraulic excavators."
Giannaris reports rentals are experiencing high demand this year, too.
"We are on track to maintain that momentum into the fourth quarter," he says. "Dirt-moving gear, specifically dozers, rollers and loaders, are hard to keep in the yard. We have several large projects we are supporting throughout the state along with our usual customer base and their ongoing projects." 
Giannaris also sees growing demand for rental machines primed with GPS technology.
"We continue to work with Sitech Hawai'i to have key dirt-moving pieces Trimble-ready," he says. "Many of our newer Next Gen dozers are outfitted with this feature to help projects run smoothly and gain efficiencies."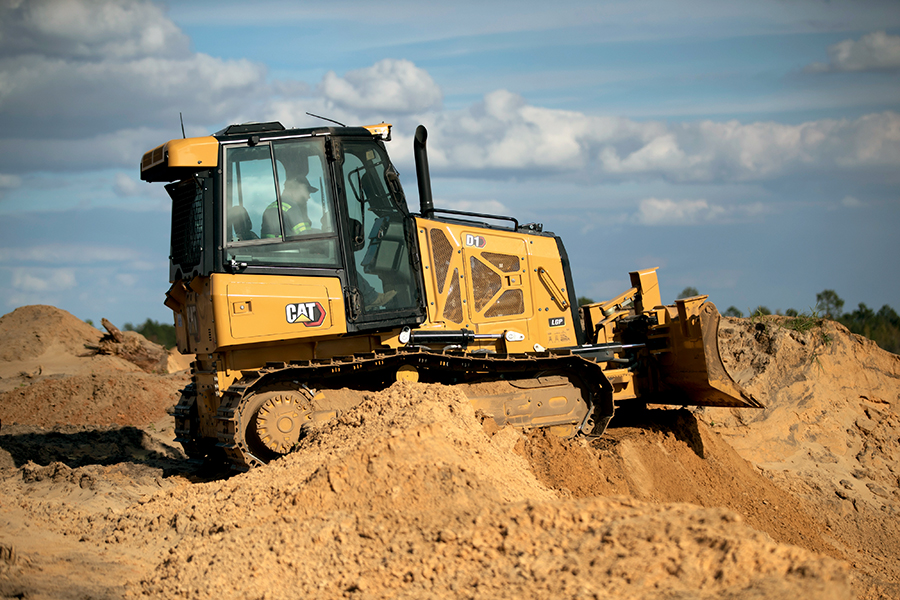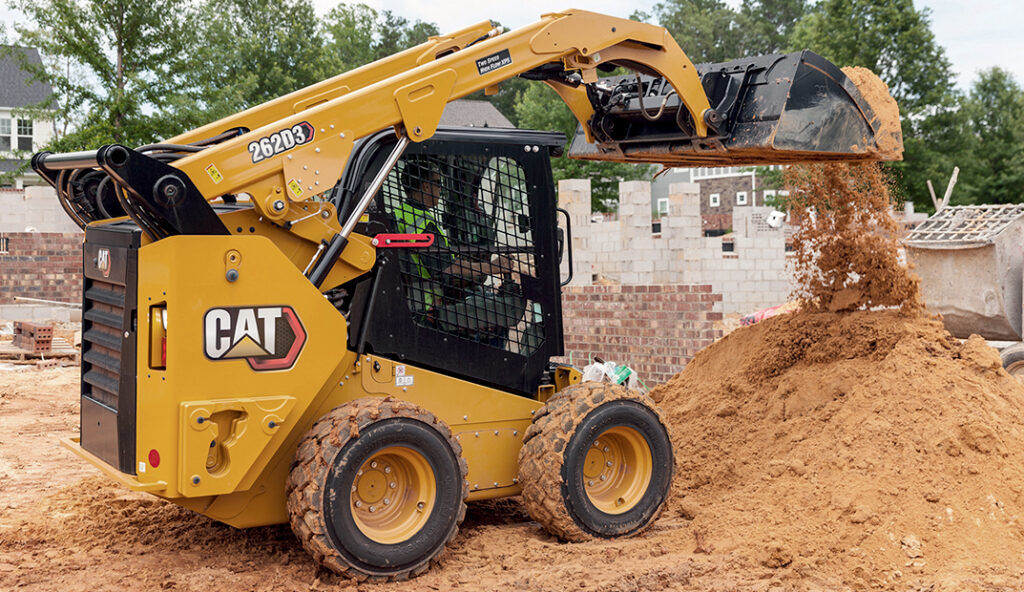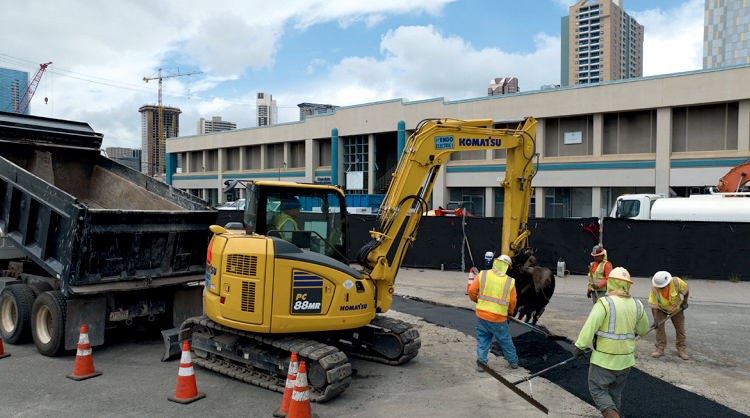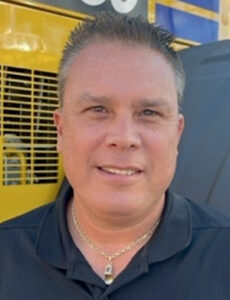 BACON UNIVERSAL CO.
"2024 will be a year when we are expecting machine availability for all our main brands, especially Komatsu and Kubota, to return to pre-COVID availability levels," says company president Elvin. "This will result in improved support for all the major projects underway or starting in 2024."
Anthony Sproat, Bacon Universal senior sales representative, says excavators most in demand for sale or rental in Hawai'i this year include Kubota's U35 and U55 models, and Komatsu models PC88MR, PC138USLC-11 and PC238USLC-11.
One outstanding feature of the Kubota U35, Sproat says, is the four-way blade with its float system used for grading. And the Komatsu PC88, he says, offers two elite benefits: the highest hydraulic pressure for running multiple function attachments, and its round tail which creates a tight turning radius.
Komatsu WA320 and WA380 wheel loaders are also moving quickly this year, Sproat says.
"The Komatsu WA380 has the fastest cycle time in its class, and the remote control [smoothly operates] the hydraulic function."
Machines slated for delivery next year include 2024 versions of the Kubota and Komatsu machines detailed above, as well as Kubota U17 excavators. Sproat says 2024 technology and services include Kubota Telematics, Komatsu Komtrax Equipment Monitoring and Komatsu Care.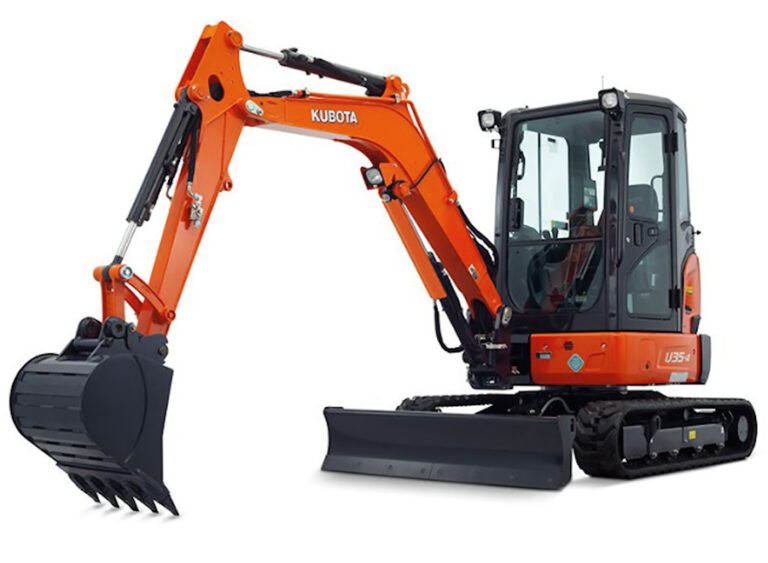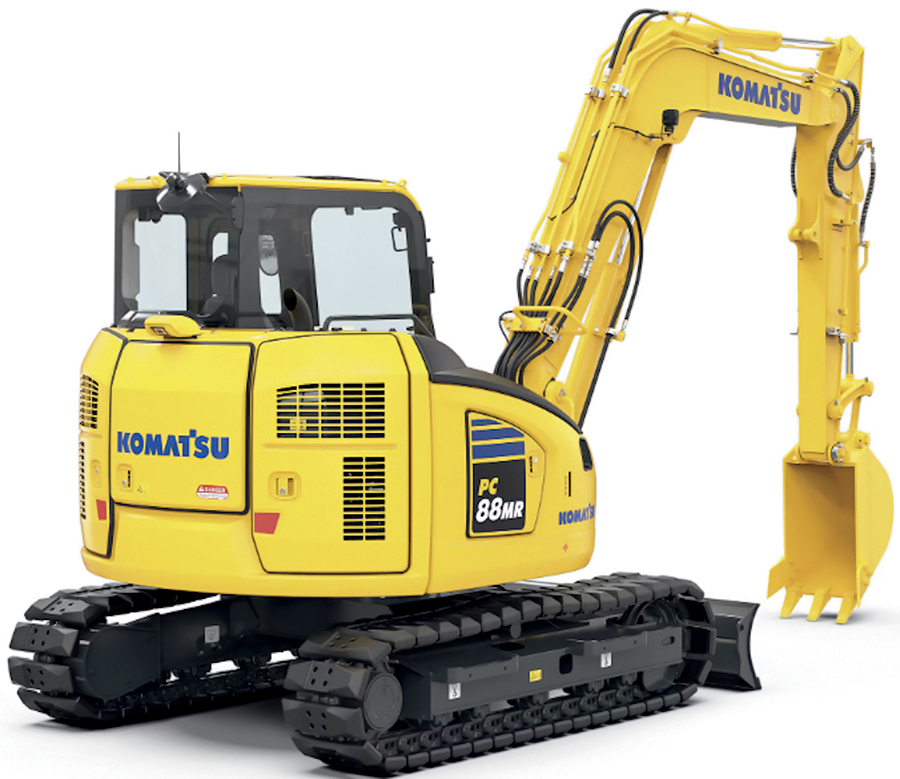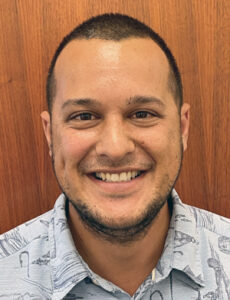 PAPÉ MACHINERY
Papé Machinery is Hawai'i's dealer for the John Deere brand of construction equipment.
"Compact construction equipment such as mini excavators and skid steers have been in high demand these past years," says David Serai, Papé Machinery rental manager. "As construction picks up and work spaces get tighter, 'big power in a little package' seems to be a contractor's preference when choosing the compact equipment that [we offer]."
In 2024, Papé will feature premium lines of road-building equipment from John Deere, Wirtgen, Vogele, Kleemann and Hamm.
Solutions coming next year from John Deere and Topcon will enhance equipment precision during daily operations and with the proactive care of entire fleets. John Deere's WorkSight suite and Topcon 3D grade control innovations will "keep your job moving in the right direction," Serai says.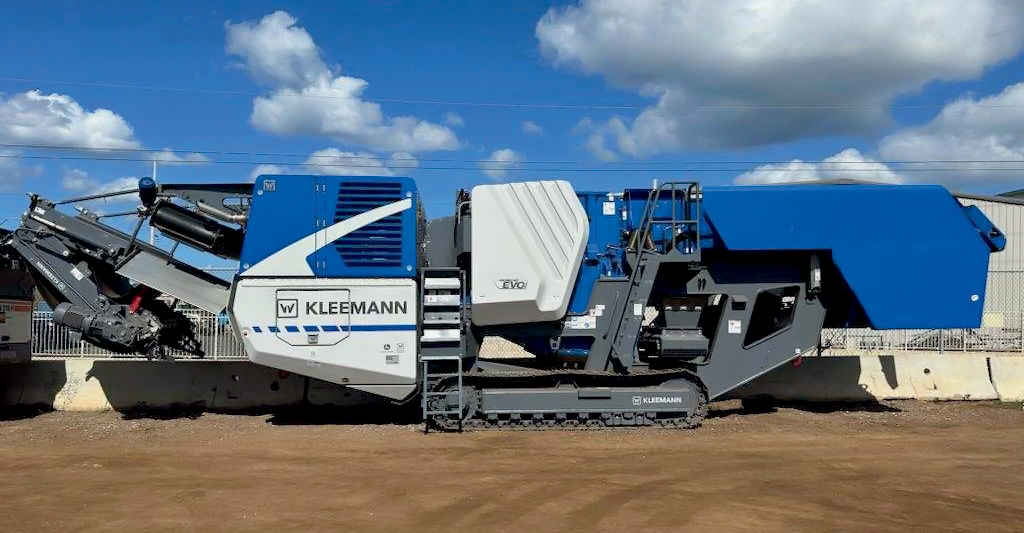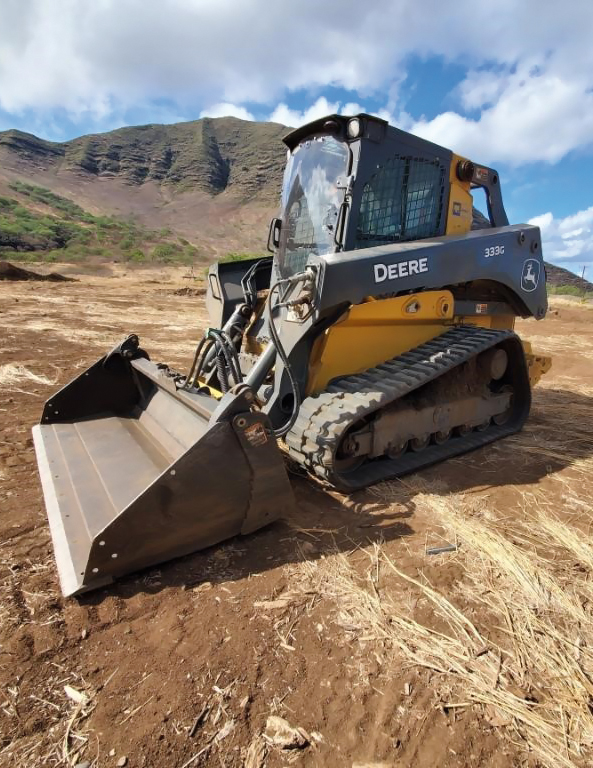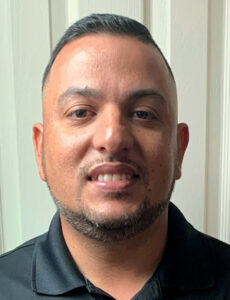 SUNBELT RENTALS INC.

We've just opened a new [rental] facility in Kapolei," says James Allison, Sunbelt Rentals Hawaii district manager.
Hawaii Power & HVAC stocks large generators which can produce over two megawatts of power. Rental cooling equipment includes large chillers offering as much as 230 tons of cooling capability. (One chiller is currently cooling the 25-story commercial tower at Ali'i Place.)
Sunbelt Rentals has also significantly expanded its extensive fleet of light equipment in 2023.
"One of our most in-demand rental units has been our Ultra-Boom manlifts … these are aerial work platforms which elevate higher than 100 feet," Allison says.
"[And] for 2024, Sunbelt Rentals has largely invested in our Contractor Tool Fleet. This will allow us to better serve the trades, such as plumbing, electrical, concrete, lawn and garden and even DIY homeowners."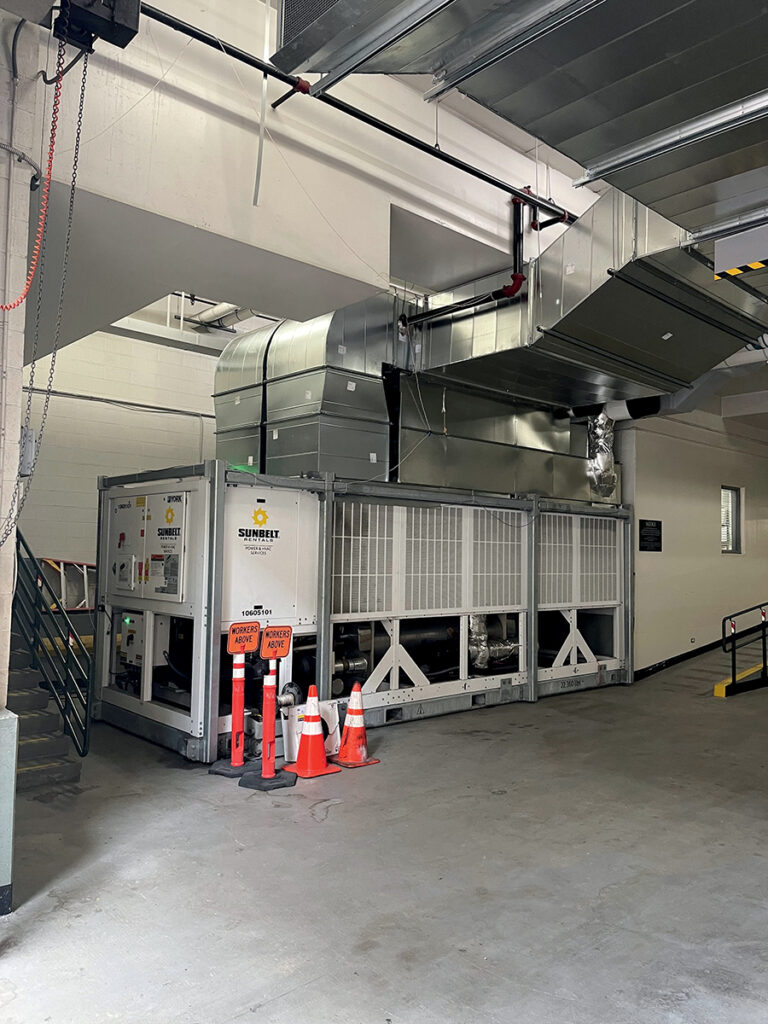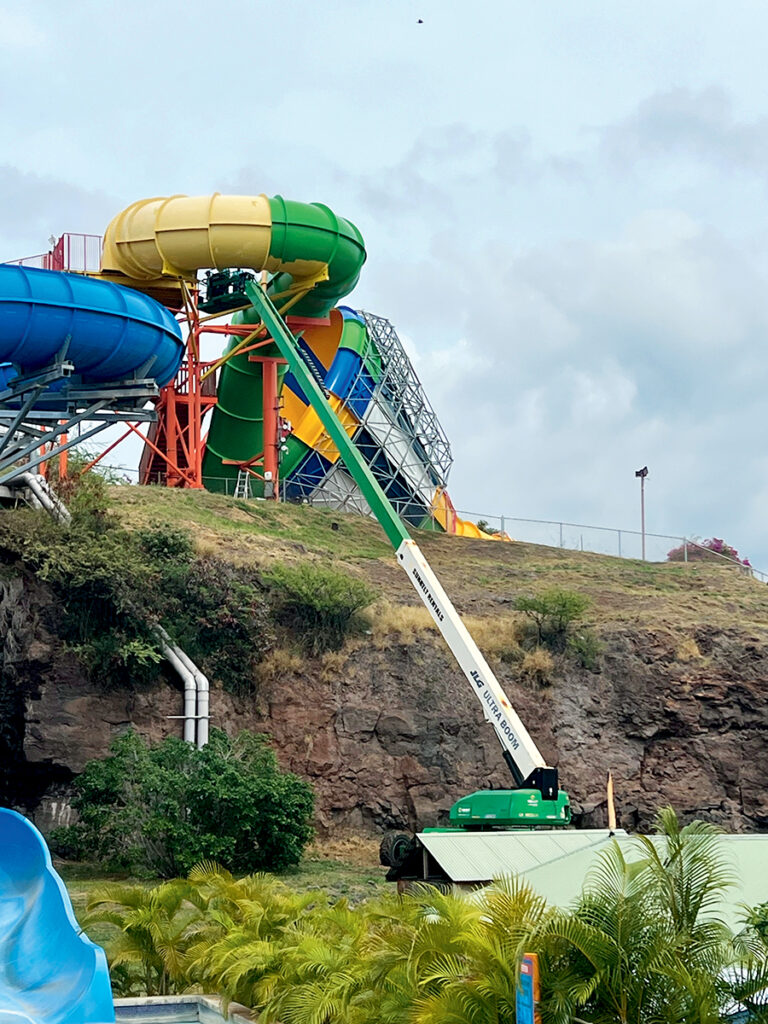 PACIFIC PUMP AND POWER

"2023 has been a great year," says Paul Leonard, general manager at Pacific Pump and Power, which rents and sells pumps, generators and air compressors. "We have sold a record number of Godwin Dri-Prime pumps this year."
For 2024, he says, the company has been investing in more equipment with the latest tier engines as well as pushing into electric-powered industrial equipment.
Company suppliers, Leonard reports, are moving into greater-efficiency diesel engines as well as more electric options.
"We have yet to bring in any battery packs, but as the technology has been improving, it is getting more promising for us," he notes. "For example, Atlas Copco has come out with a 185 CFM air compressor that is battery-powered — something the industry would not have thought possible not very long ago."
LOOKING AHEAD TO 2024
"As far as equipment electrification, Ford Motor Co. lost $4.5 billion in the EV market this year," notes HCR's Chong. "It does not appear that the infrastructure in Hawai'i is prepared for the power requirement of 100 percent equipment electrification by 2045."
Hawai'i may have to adapt anyway.
"Without a doubt, there is increased interest in electrification of construction machinery," says Elvin of Bacon Universal. "Initially in the lighter and small products, due to their duty cycles and lighter machine weight.
"We at Bacon Universal will be introducing the electric models from our original equipment manufacturers as they become commercially available and of the size demanded by the local contractors."
Related Images: