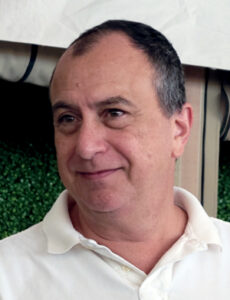 Located in the heart of Pleasure Island in the tourist district of Tumon, SandCastle Guam is well-known for its Las Vegas-style productions and five-star dining dinner shows featuring magicians and circus-style performances.
It was one of Guam's busiest tourist attractions since its grand opening in 1990—until the COVID-19 pandemic turned Tumon into a ghost town.
But while others saw COVID-19 as the demise of the island's tourism industry, Mark Baldyga, CEO of the Baldyga Group (which operates SandCastle), viewed the pandemic as a path to a rebirth of sorts.
"Given that we were already closed for COVID, with hundreds of employees on furlough and no customers, it seemed a good time to overhaul the building," he explains.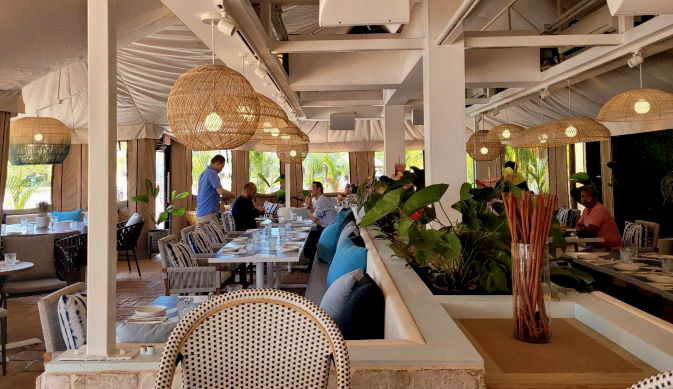 A $20 MILLION DOLLAR MAKEOVER
In 2021, SandCastle launched a $20-million renovation with four contractors—Smithbridge Construction, Jeida Guam Construction, Tech Rite Builders Inc. and Guam Zen Electricals—all signing on for the project alongside Baldyga's own in-house construction team.
The Baldyga Group built the property's original 500-seat theater with Black Construction, "but this renovation is far more complex."
"We are actively project-managing the project ourselves," says Baldyga. "We gutted all public spaces and many of the back-of-house areas down to the concrete."
"There are [also] dozens of theater and show consultants who each supervise their own systems installations."
SandCastle is now a 70,000-square-foot facility sitting on nearly four and half acres of land. Work included demolition of the theater's original ceiling and walls, construction of a mezzanine area and installation of state-of-the-art audio, video and lighting systems along with stage lifts.
New catwalks were installed, and dressing rooms increased to accommodate a cast of up to 50 performers—up from the old limit of just nine people. The stage was expanded as well, with a basement added beneath all the new construction.
"We completely rebuilt the kitchen with all new equipment, walk-ins and systems. We replaced many of the mechanical and HVAC systems, and updated the plumbing, sprinkler, fire and life safety systems as well as security and access control systems," says Baldyga. "In the theater alone, there are over a dozen low-voltage systems including DMX, lighting control, video, paging, stage communications, CCTV, 0-10V [low voltage dimming] systems, lift controls and so forth.
"It is effectively a new building at this point, especially in terms of systems and finishes."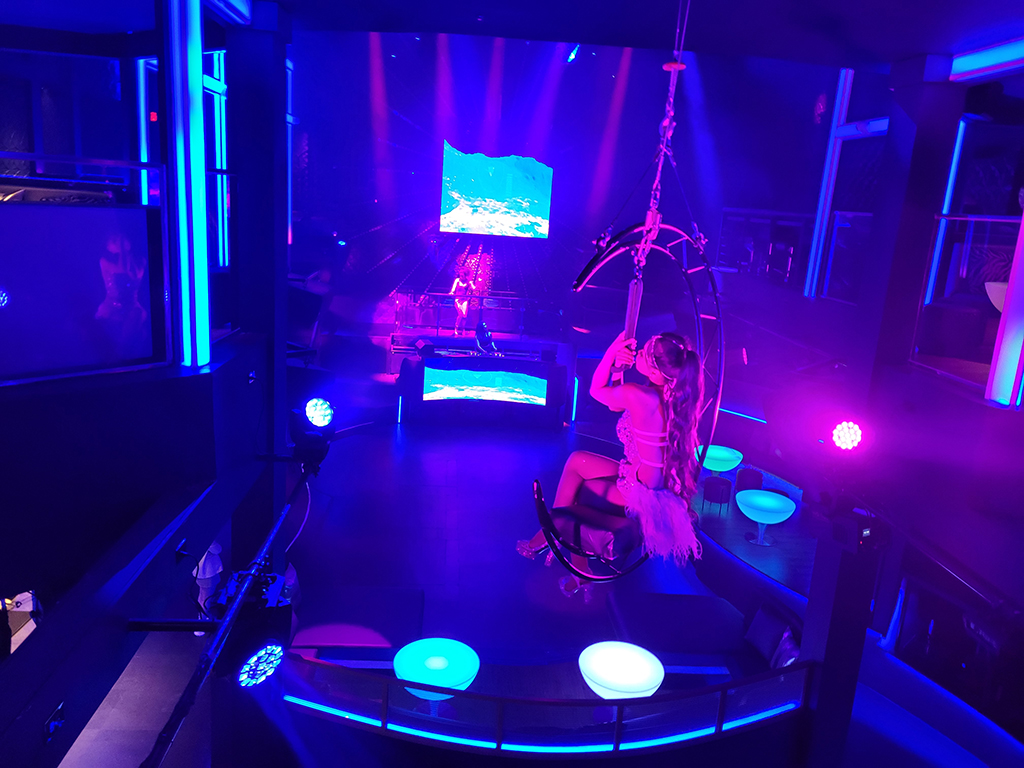 NEW CONSTRUCTION, NEW AMENITIES
SandCastle celebrated the completion of its first phase of renovations in December with the opening of Zoh Club, which replaces the old Globe Dance Club—dubbed "King of Guam Nightlife" from 1990 until its closure in 2020.
Zoh Club is a multi-level facility that holds up to 800 people, and Baldyga describes it as "comparable to the top clubs in Las Vegas and Mykonos, Greece."
"During the two-and-a-half years of closure from 2020 to 2022, the space was gutted, redeveloped and reimagined in the style of the world's best clubs, featuring high-end finishes, private booths and state-of-the-art lighting, sound and video," he says.
A final expansion will add a private wine bar by the end of the year.
"The biggest challenge is lack of manpower."
—Mark Baldyga
In March, the Baldyga Group opened Anemos, a Mediterranean restaurant built in the front yard of the SandCastle complex. The 80-seat fine casual dining operation is an exciting, new component of the facility, says Baldyga.
Even SandCastle's employees stand to benefit from the renovations.
"We added a 2,000-square-foot employee break room using the space beneath the mezzanine, complete with exercise mats, a kitchenette, computer workstations, sofas, board games, a reading area and relocation area with a massage chair," Baldyga says.
MILITARY PROJECTS A CONCERN FOR SOME
Guam's military construction industry was among the sectors hardly affected by COVID-19. Dirt was turned, hammers kept banging and construction cranes dotted the skyline—at least on military bases.
Private sector developers, however, continue to deal with recurring challenges.
"The biggest challenge is lack of manpower," says Baldyga. "The military buildup has gutted manpower availability and increased the labor costs by 200 to 300 percent."
In December 2015, the United States removed Guam's exemption from an annual limit on participants in the H-2B visa program, which "permits employers to temporarily hire nonimmigrants to perform nonagricultural labor or services," according to the U.S. Department of Labor. Some restrictions were apparently eased, however, to accommodate Department of Defense demands for workers to complete projects at Naval Base Guam and Andersen Air Force Base.
"It is extremely difficult for the private sector now," says Baldyga. "I reached out to all 42 electrical contractors on this island and was told 42 times, 'I'm sorry, all of my men are on base.'
"We ended up having to hobble together a team of 30 electricians using night crew, shipyards and closed hotels. It has been just incredibly difficult."
The manpower issue is compounded by supply-chain snags and consequent inflation due to the effects of COVID-19.
"Lead times, equipment costs and freight costs are also exorbitant," laments Baldyga.
Some of the stumbling blocks have since been eliminated, however. The U.S. has since lifted H-2B limits for Guam, paving the way for the arrival of more foreign workers to assist the private sector—and allowed the Baldyga Group's renovations to pick up speed.
'KAREKA' COMPLETES MONUMENTAL MAKEOVER
SandCastle's pièce de resistance is 'Kareka'—a multimillion-dollar production scheduled to open May 26 in the newly renovated, 600-seat theater—which will cap the renovation project.
"We will present an original, island-themed show with heavy multimedia [components], including a screen as large as IMAX and nearly 50 speakers from L Acoustics France surrounding the audience," Baldyga says.
The brand new show will feature a cast of 50 performers, including about 20 from Guam and another 20 from neighboring islands, such as Samoa and Saipan. Performers include aerialists and acrobats, musicians, singers, dancers—and even a clown.
"We hope that the redevelopment of Guam's premiere entertainment complex and the opening of the most spectacular multimedia-driven island theme show in the world will help to spark [new growth]," Baldyga says.
Related Images: