A
ny time a new construction project begins in Hawai'i, there are people ready to get down and dirty—and start digging.
While the public typically focuses on aesthetic features of
newly built structures, most overlook those who work behind the scenes—or in this case, underground—providing manpower from Day One.
Before a single nail is hammered or a glossy coat of paint makes a structure shine, the real work is done from the ground up via dredging, drilling and piling.
To shed further light on this topic—as well as highlight recent projects and current trends in Hawai'i—we spoke with construction experts Rick A. Heltzel, president of Healy Tibbitts Builders Inc. (HTBI), Teri Moritomo, senior project manager at Hawaiian Dredging Construction Company Inc. and Damien Enright, President of Structural Systems Inc. and Kelikai Inc. to "dig into" the process, and why dredging, drilling and piling are vital to ensuring a project's success.
Dredging is integral to waterway projects like bridges, docks and piers by allowing ample space for construction to proceed via efficient removal of sediment that can impede progress.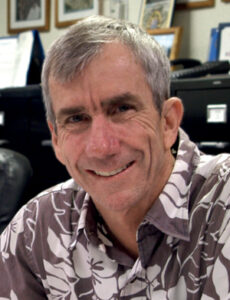 "Dredging and deep foundations using drilled shafts and pilings are critical to supporting commerce and protecting lives in Hawai'i," Heltzel says. "Dredging projects provide several functions and benefits, including deepening and maintenance of navigable waterways to allow vessels to safety transit into and out of Hawai'i's commercial and small boat harbors; maintaining flood control waterways to provide adequate depth to manage stormwater runoff; and environmental sediment remediation to remove contaminated materials from protected waters."   
As for drilling and piling, the two go hand-in-hand in Hawai'i—both set the stage for a solid foundation to take shape.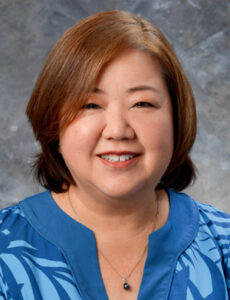 "Deep foundations, such as driven piles, drilled shafts, auger cast-in-place piles and micropiles may not be the most noticeable and glamorous aspect of construction," Moritomo admits, but also points out foundations are "a vital component of any large project, supporting all the structural components of a building structure."
Heltzel agrees that drilling and piling are especially important in our state, "due to the highly variable geology of the Hawaiian Islands."
"Many structures depend on drilled shafts and pilings to provide foundation support to resist the large vertical loads and potential wind and seismic loads. In most urban areas, the ground strength alone is not sufficient to support multi-story structures, and adequate foundation support can only be achieved through deeper foundation elements like drilled shafts and piling," he explains.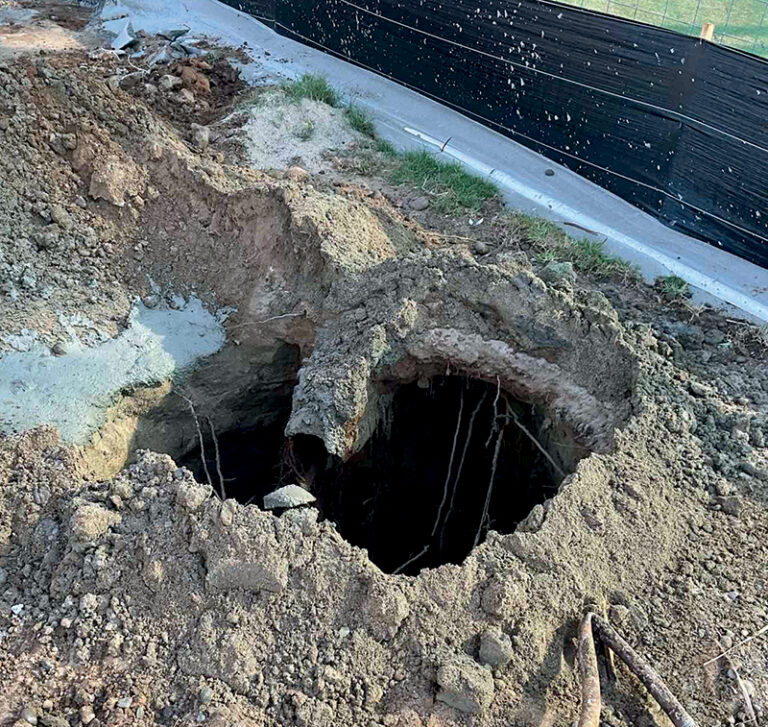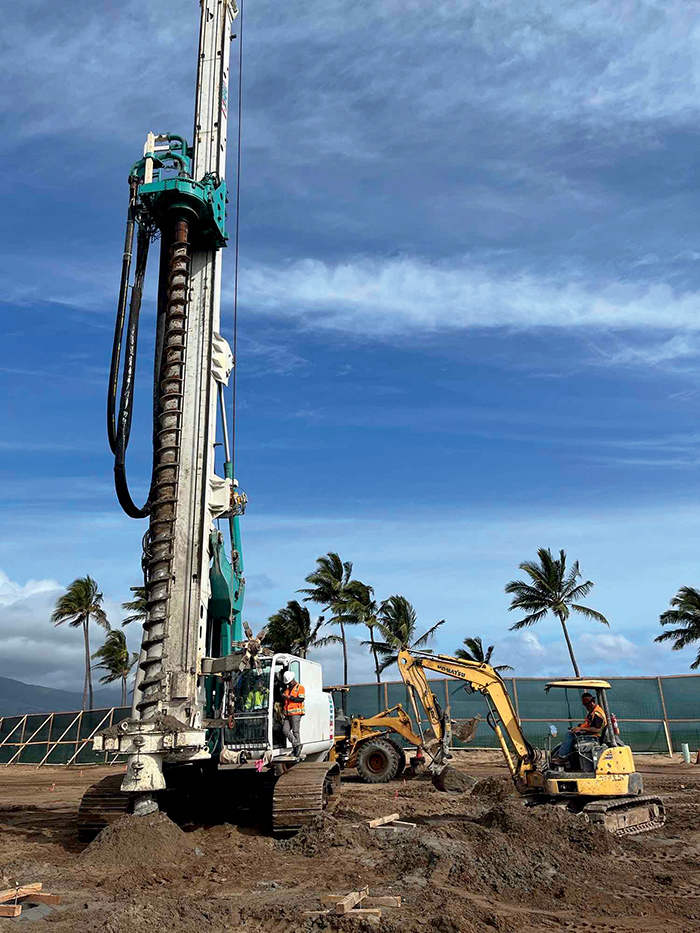 Poor soil conditions can also signal the need for ramped-up foundational support. Heltzel points to softer soil quality as a common culprit.
"Pilings are also an essential tool for supporting deep excavations in softer soil conditions," he says. "The piles prevent dangerous collapse of the surrounding ground and allow water to be efficiently removed from the excavations."
CONSIDERATIONS AND RECENT PROJECTS
Tackling this trifecta is clearly not for the faint of heart. And even when construction professionals are armed with the highest quality, best-performing equipment, kinks in the drilling system inevitably arise.
Among the top issues are drill pipe sticking, lost circulation caused by a malfunctioning motor rotation, drill string failures, hole deviation, mud contamination, formation damage and borehole instability.
We asked the pros about challenges they have faced on recent Hawai'i projects,  and how they overcame them. "Healy Tibbitts recently completed a sediment remediation dredging project in Pearl Harbor," Heltzel says. "The challenge for this project was the potential to encounter munitions of explosive concern (MEC) in the dredge material. All dredging operations had to follow very strict requirements to ensure safety to workers and facility personnel. HTBI developed a proprietary dredge material screening system to remove potential MEC objects from the dredge material, and special dredge equipment armoring was designed and installed to protect workers."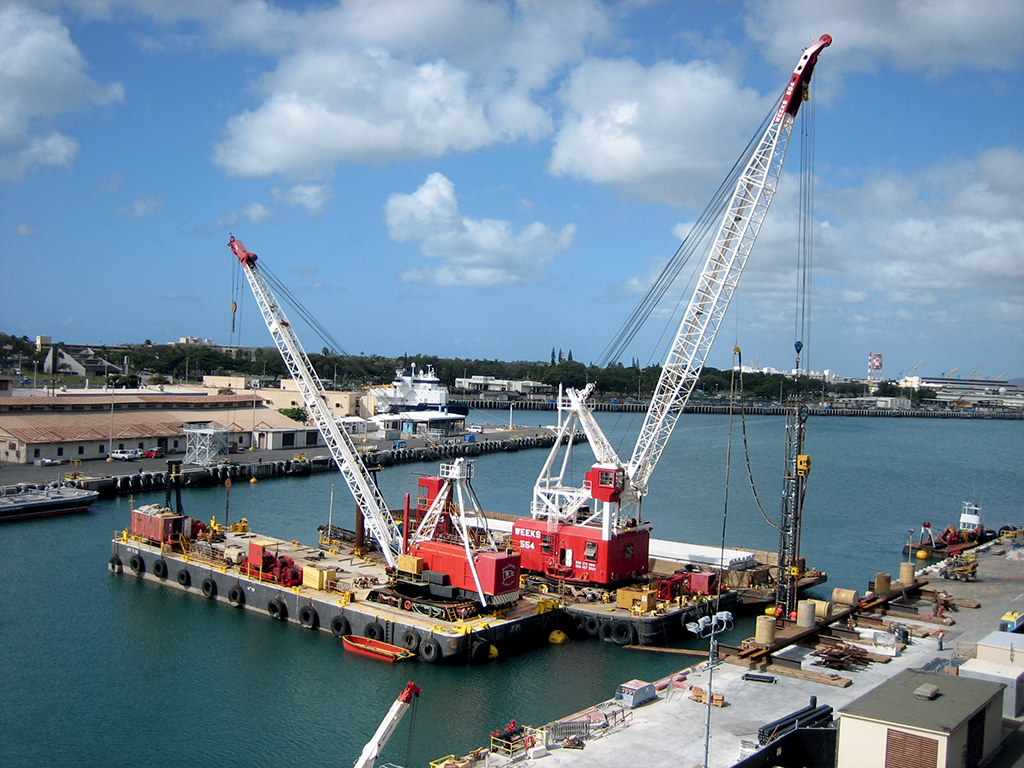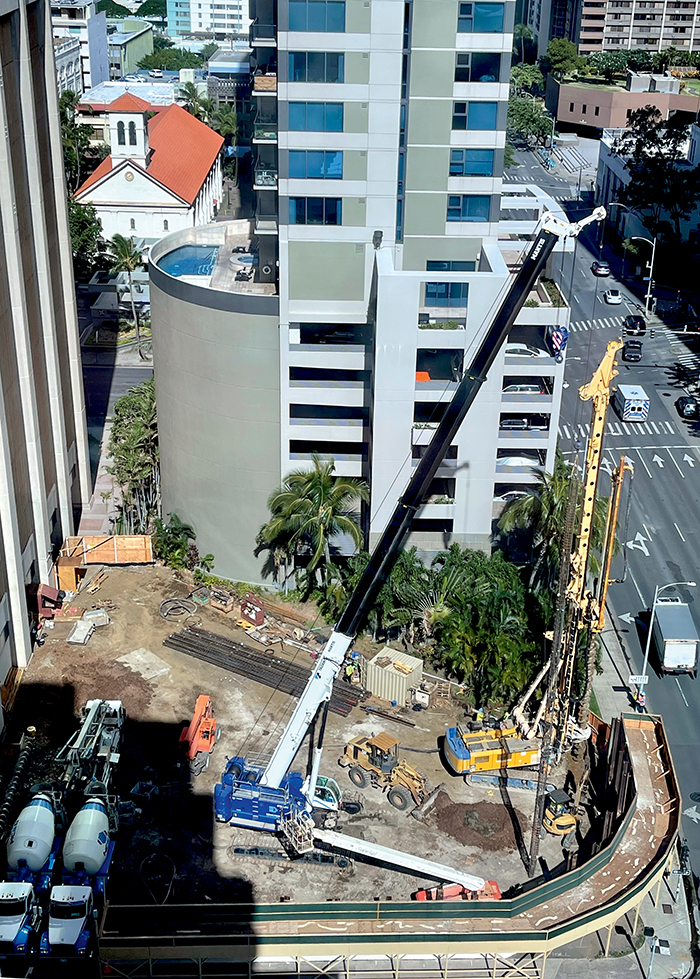 WORKING WITH THE BEST
Moritomo notes that this is all par for the course, and comes as no surprise considering the intricate logistics and far-reaching scope of these types of projects. That said, this makes it all the more imperative to only enlist experts well-versed in the ins and outs, and underneaths of it all. "Working in conditions that are hidden below-grade and may vary across a job site requires a specialized contractor with an experienced and knowledgeable crew," she says.
For instance, according to Moritomo, "During installation, it is essential to work closely with the geotechnical engineer and the concrete/grout supplier to ensure quality foundations that can be relied upon."
Heltzel points to the highest-quality equipment as also a deciding factor in the success of any dredging project: "Dredging and deep foundation work requires experience and highly specialized equipment. Since dredging and deep foundation work are usually among the first activities for a project, general contractors want a subcontractor with proven capabilities and past performance on similar projects to dredge or install drill shafts or piles to ensure the critical path schedules are maintained."
NEW TRENDS AND MODERN ADVANCEMENTS
Luckily, advances in dredging and drilling systems are always evolving, thanks to creative and modern innovation in the fields of microelectronics, computer science, miniaturization technology and more.
According to Heltzel, "Technological advancements to dredge positioning and monitoring equipment and software, along with bathymetric multi-beam survey systems, have provided the biggest impact to dredging accuracy and efficiency. Today's high-tech systems allow for precise control of dredging depths and location of the dredging tools (clamshell buckets, suction dredge cutterheads). The survey systems provide rapid feedback of dredge production, minimizing rework for missed high spots."
State-of-the-art drilling equipment and tooling, which Heltzel explains "allow for installation of much larger diameter and deeper drilled shafts for infrastructure and building foundations" is never going out of style. Heltzel gave an example of what such equipment can accomplish: "Recently, a world record was set in Hawai'i for the largest and deepest drilled shaft as part of the HART Airport Guideway project. Contractor Shimmick/Traylor/Granite Joint Venture installed a 10-foot diameter by 340-foot deep drilled shaft in the Moanalua Stream to support one of the guideway columns. This was accomplished through the use of specialized drilling and casing equipment."
Lastly, for pile driving, Heltzel explains how "use of modern hydraulic hammers has replaced the older diesel impact hammers. The new hydraulic hammers allow for very accurate control over the energy output. This allows prestressed concrete piles to be driven safely without damage through the highly variable geotechnical conditions prevalent throughout the Hawaiian Islands."
BOTTOM LINE
The real key to smooth flow throughout the process is ensuring adoption of an integrated systems approach where all processes and components are functioning at peak performance levels, while side-stepping redundancies and overloading.
The good news is that Hawai'i is clearly in good hands, with expert teams like Hawaiian Dredging and Healy Tibbitts Builders having the expertise and experience necessary to deliver high-quality solutions to Aloha State clients.
Related Images: