Hawaii's equipment rental companies are bracing themselves for the mandatory shift to electric vehicles by 2035. As is the nature of this construction industry niche, these companies take the long view when it comes to filling the gaps in their inventory to meet present and future local needs. Some are in no hurry, while others have the support of big earth-moving manufacturers.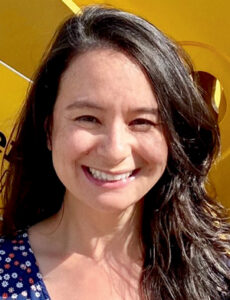 BIG COMPANIES PLUG IN
At Hawthorne CAT Rentals in Waipahu, Rentals Operation Manager Michelle Muranaka leads a business positioned so the requisites of future environmental compliance can be readily met. Hawthorne CAT in Hawaii has engaged SiTech Hawaii, which installed Trimble Inc. technology into some of its equipment, providing customers with options to improve efficiency and to increase productivity.
That's why Muranaka's team keeps technicians, rental reps and rental coordinators up-to-speed to provide knowledgeable customer service.
Muranaka says, "Our technicians repair and maintain our inventory and support the coordinators by providing insight to customers. Our technicians continue to train on newer innovations to stay up-to-date on product knowledge."
Lately at the Waipahu Hawthorne CAT, Muranaka says that earth-moving equipment is consistently in demand and a lot of non-CAT inventory is as well. Many projects around Oahu are building vertically and nightwork is back because traffic is at pre-pandemic levels, resulting in a growing demand for aerial lifts and light towers. Muranaka says her inventory channels are slowly improving since the pandemic with a rental fleet that now includes new Next Gen CAT dozers, excavators and backhoes.
"These machines are more efficient, operator-friendly and offer technologies to increase productivity," Muranaka says. "We've also expanded our fleet with more aerial lifts, water trucks, dump trucks and track-out mats to help provide a one-stop shop for our customers from project start to completion."
SUSTAINABILITY TARGETS
John Deere and the Wirtgen group of products are available at Papé Material Handling, and those two companies have been building toward sustainability in their products for years, according to Dan Christensen, sales manager, construction and forestry, of Hawaii's Papé equipment rentals. In 2013, John Deere introduced its hybrid loaders, and has since developed a plan to deliver 20-plus electric and hybrid-electric models with Wirtgen by 2026.
Christensen says, "We are now super-excited to offer road-building equipment to rent such as Wirtgen milling machines, Vogele pavers and Kleeman crushers—a game-changer for the construction industry in Hawaii. We've also added portable water towers and 2,000- to 4,500-gallon water trucks to our fleet."
Says Christensen, "Electric machines bring benefits to the communities, the crews operating them and fulfill future environmental sustainability goals."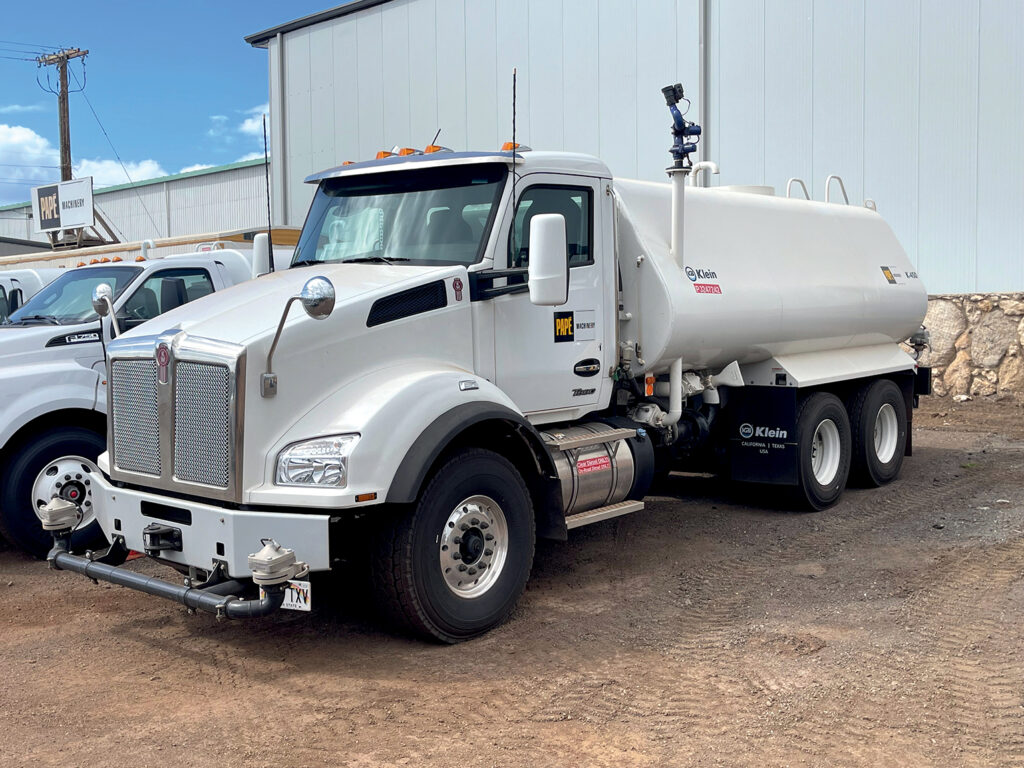 A DIESEL-CENTRIC INDUSTRY
Paul Leonard, general manager of Pacific Pump & Power (PPP), says it's impossible for his company to fully wean off diesel. But in order to comply with the approaching requirement for environmentally friendly electric pumps, PPP has been upgrading its fleet to final-tier (FT4) engines to reduce particulates and nitrogen oxides. PPP has expanded its fleet to generators, air compressors and HDPE fusion equipment, but pumps rule the rental realm, specifically its 6-inch Godwin CD150S CS Dri-Prime pumps.
Dewatering and sewage bypass lines in construction areas is a large part of PPP's business. "It's the type of work that requires PPP equipment to work 100% of the time as the fluid levels start to rise as soon as our pumps go down," says Leonard. "With that in mind we do utilize electric Dri-Prime pumps powered by the grid. We always like to have diesel-powered backup pumps set up, ready to automatically turn on in the event of a power failure."
Leonard says there is a certain place for electric equipment … "But the reality is diesel-powered equipment is still dominant, especially because clean energy is typically not available to power our high horsepower electrics anyway," says Leonard. "The FT4 equipment we have been updating our fleet with reduces [diesel particulate matter] by 95%, which is better than most electric power plants.
"We are upgrading the rental fleet and support equipment to the latest tiers of environmental regulations," Leonard says. "We do also have some electric-powered pumps in the fleet, but in most of our work the equipment is being run remotely off the grid anyway so even our electrics end up running on a diesel-powered generator, so our approach is the cleaner four-tier engine."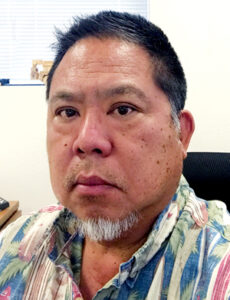 AES SHUTTERING A MISTAKE

Hawaiian Crane & Rigging Ltd. (HCR) Human Resources Manager Kerwin Chong says that the new green policies the construction industry is being forced to embrace have sound and reasonable counter arguments. Chong says HCR's 400-ton diesel-powered crane is the most popular choice for HCR customers. HCR has been in business 58 years, since1965.
"HCR would like to push back on these insane policies. The public needs to know the counter opinions many leading intellectuals hold," Chong says, referring to an interview by Kelii Akana of Panos Prevedouros on "Hawaii Together" that ran June 22, 2022. Titled "Why Panos Prevedouros Left Hawaii," Prevedouros said that Hawaii is at risk of a major natural catastrophe and that it is suicidal to go to 100% renewable energy.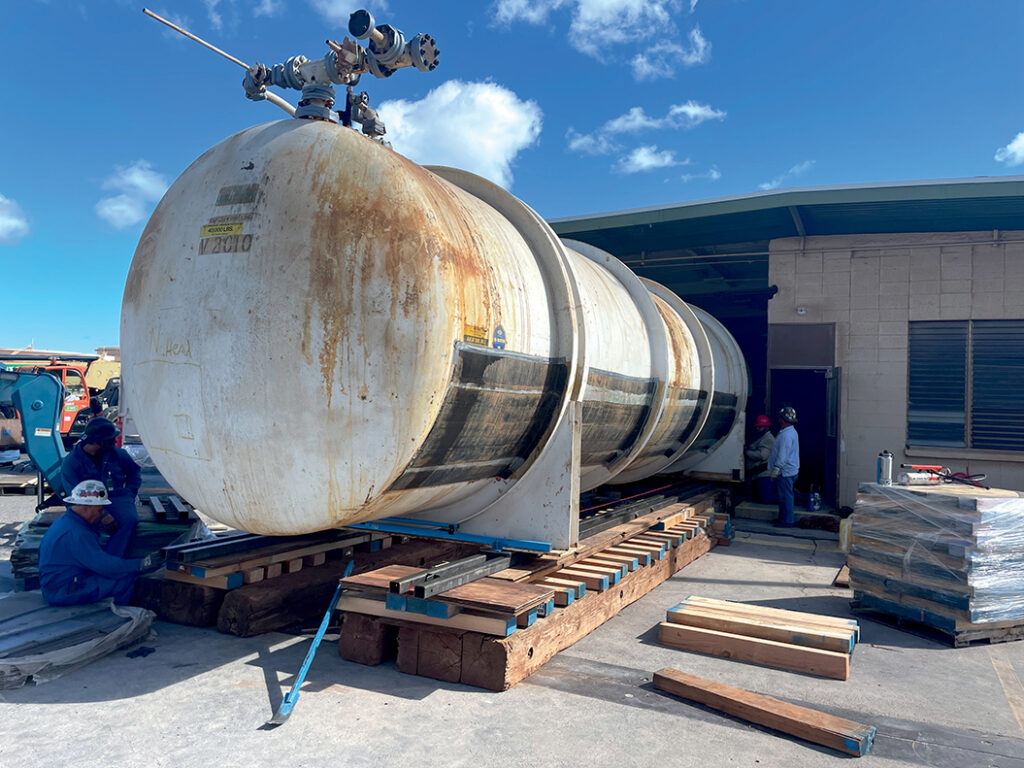 "Hawaii should be making reliability its top priority, even if that means using coal," said Prevedouros in the June interview, referring to the AES incinerator.
Chong says that HCR is on the short list of disaster responders. "If HCR, et al, are 100% electric at that time and the power grid is destroyed, this will render our assets useless. People will die. HCR would be rendered helpless due to this insane 100% electric compliance policy," says Chong.
HCR prefers to be on the better side of disasters, as it was in September 2022 when it was contracted to remove one of the last tetraethyl lead (TEL) vessels in the world at Island Energy Services LLC in Kapolei. The 30-ton tank was 12 feet in diameter and 70 feet long with the deadly remnants of TEL inside. HCR was able to move it using its hydraulic sliding system with special skates for a controlled application of force to move the tank horizontally.
"It took two hours to get it safely outside the building where we could rig onto its supports with our 155-ton Liebherr hydraulic crane," says Chong. "The job went well and the world is once again saved by HCR."