Casting a line for halalu requires cooperation amongst tightly grouped trawlers united in a fishing mission. Elsewise, lines tangle and the atmosphere can spark from relaxed to tense in a matter of seconds. That can scare the juvenile akule, too.
It was while fishing for halalu that Francis Pascual first encountered Kekoa Kamuela Namohala, a young man with laser-like focus on his line. Pascual says that Namohala "displayed a humble soul and had a great deal of old-school respect for others." The two became friends that season, connecting each day in the shallows, determined to net the fish at the end of their lines while getting to know each other. 
Pascual says that Namohala inquired about openings at his company, Affiliated Construction LLC, in Waipahu, "but I did not think he was serious. All the while, if he did get serious about working, I would give him a shot," Pascual says. "Long story short, he asked one of my working foremen if he could get in, and he sent Kekoa to interview with me. There, I told him if he can give me a clean [urinalysis] I would give him a shot." 
Namohala delivered. 
"Struggling definitely lit a fire under my a__s and gave me that edge to be aggressive and go out and get whatever I needed," Namohala says. "I wasn't satisfied with where I was, and I wasn't about to settle for what I had, especially with my daughter approaching the age to start school."
When he first met Pascual, Namohala says he was having a tough time as a single father with a young daughter; the relationship with her mother wasn't working out, but the parents did their best for their toddler. Namohala's hustling, which impressed Pascual, was an indomitable force in the young family. "I had this work, work, work, mentality and I think that played a big part in ending my relationship with the mother of my child," Namohala says. "If I wasn't working, I'd take my family with me to the ocean so I could fish and make a few bucks. They would come with me when I had side jobs on the weekends. They were being dragged around while I tried to hustle. I took them everywhere with me." 
Pascual says Namohala's natural hustle is a lot like his own: "Almost innocent, how natural it seemed to me. At the same time, he was homeless and was not crying or playing victim as many do in his situation," says Pascual. "His natural hustle and zero-victim stance were a key ingredient to have gotten to the status he is now and growing daily." 
Namohala says that meeting Pascual was one of the best things that has ever happened to him, "besides having a healthy and happy baby girl! [Pascual] gave me an ultimatum and told me if I get my act together and quit smoking and come clean, he'd give me what I needed to become part of his company," Namohala says. "After months of staying clean, I met him at his office, and he kept his word."
For a while when he first got on the Affiliated Construction payroll, Namohala says he was still living out of his truck, and it was OK with him: "I didn't really look at it as a 'struggle' because I had a job, I had a camper on my truck with a futon mattress, and I had money to feed myself and my daughter when her mother would work," Namohala says. "It was almost as if we were camping every night wherever we wanted to camp. We had our toiletries, clean clothes and camping necessities to cook and clean." 
Pascual wrote an indenture letter to the Hawaii Masons Union, letting them know that he hired Namohala to join Affiliated Construction as a mason apprentice. "The rest is history," says Namohala. "I have no idea what the man saw in me. All I know is over the years of knowing him, he has extended this very same aloha he had shown me to tons of different workers that have applied to Affiliated Construction."
According to Pascual, in a matter of months of learning his trade, Namohala trained for and developed chart-topping bricklaying skills—as the lone 'Hawaiian Boy' entered in the Western States Apprentice Competition in Lavern, California. "Being here in Hawaii, we don't ever use bricks," Namohala says. "My coordinator, Ikaika Castillo, helped me get familiar with it by practicing at the Sand Island training center with these bricks and learning the technicalities of it all." 
Namohala says he definitely was intimidated by the competition, especially because he only had a history of working with CMU blocks and never worked on the field with bricks. "My foreman and father figure, Tyran Tanele, instilled in my head that I need to make sure my measurements were on-point and my work ethics were clean in order to make my work stand out over others." 
Namohala didn't expect to win. In fact, after he heard the second and third places awarded, he texted Tanele: I thought I would've been top three, but I gave it all I had. 
"A few seconds later, the host who had been announcing the contestants was about to name the first-place winner, and when I heard him say 'Kekoa Namohala,' I was blown away," he says. "After receiving the first-place plaque, I went straight back to my hotel room to celebrate via FaceTime [with Tanele]. I didn't stay to listen to the other categories. I took my trophy, and I was out." 
And just like that, Namohala automatically was entered in the triennial International Union of Bricklayers and Allied Craftworkers Apprentice Contest set for Sept. 23-24 at The John B. Hynes Veterans Memorial Convention Center in Boston. 
From his experience in California, Namohala says that from watching the other craft workers from around the world, "speed isn't always on your side. You can be blazing fast and maybe forget to do something like tooling a bed joint or a head joint. You have to take pride in your work, and the less motion you waste, the faster you will be without even knowing it," Namohala says.
Tough love solidly cemented Namohala into a masonry career: "You gotta want it. Bite down, shut your mouth and give it your all. No matter where you work, if it's in the construction industry, you're gonna have foremen who will be aggressive toward you and occasionally yell," he says. "But if they ain't talking to you, they don't care about you—they could be teaching someone else or giving someone else their time and energy. If you notice they are focusing on you, then they believe in you and know you are capable of doing good and being a vital part of their company."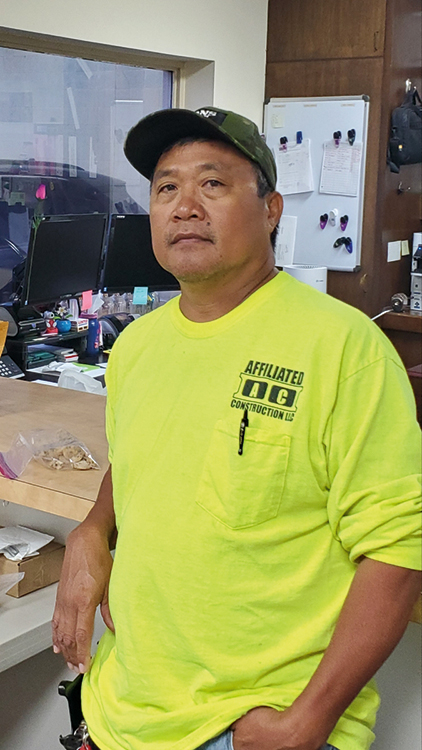 Related Images: