The expansive 46,000-square-foot training center of the Hawaii Carpenters Apprenticeship & Training Fund (HCATF) in Kapolei, which opened its doors in 2021, is largely empty on a recent Tuesday morning, but that doesn't mean it's quiet.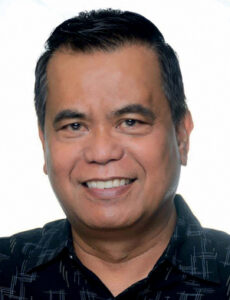 Metal saw blades shriek and sparks fly behind protective mesh curtains as a half-dozen candidates hope to qualify for certification as welders and metal workers. If successful, they're likely to join the workforce as a union member in Hawai'i's building industry.
"We want them here," says Edmund Aczon, executive director of the HCATF, which is the largest construction trade program in Hawai'i.
Participants typically already have jobs to support their families and are keen to develop additional skills that will help them excel in an industry poised to see exceptional growth both in the near future and over the long term.
Make no mistake: labor unions will undoubtedly play a vital role in that growth.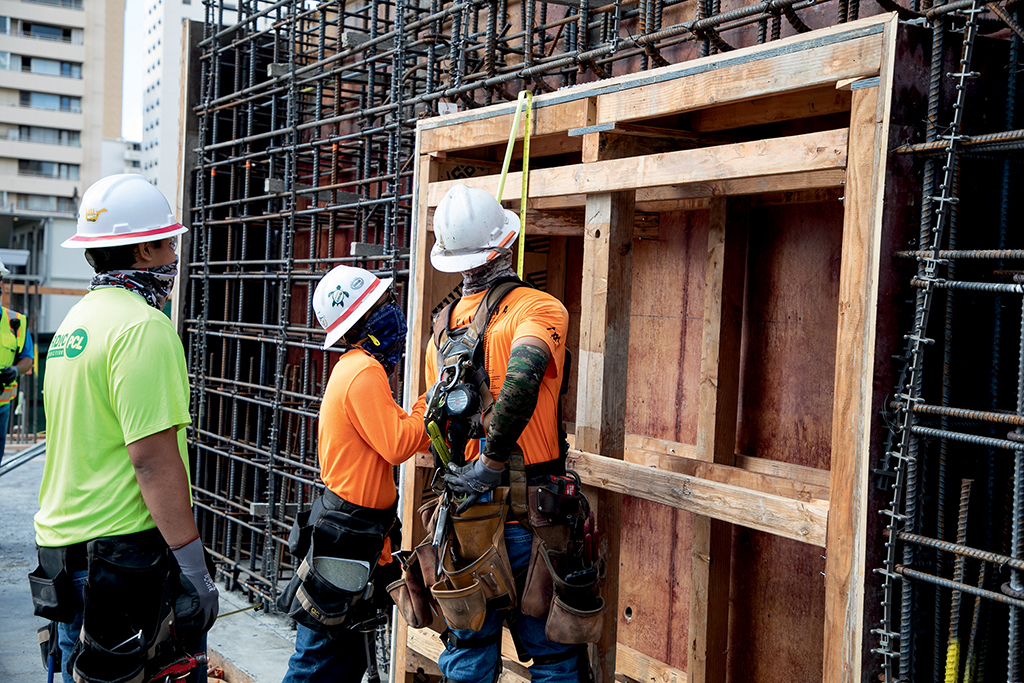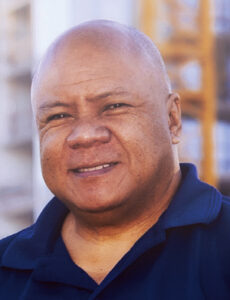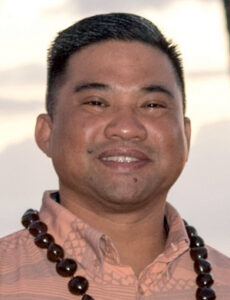 THE UNION LANDSCAPE IN HAWAI'I
In 2022, Hawai'i had the highest workforce density of labor union members. Construction industry unions for carpenters, electricians, plumbers, ironworkers and laborers make up a significant portion of union membership, although the Hawaii Government Employees Association remains Hawai'i's largest.
There are currently multiple large-scale building projects planned or already underway throughout the state, many of which by law require union workers. Among them are the shipyard expansion at Joint Base Pearl Harbor-HIckam, the expansion of the Sand Island Wastewater Treatment Plant and the Honolulu Skyline rail project.
Add to those endeavors a desperate need for affordable housing throughout the state and the daunting task of rebuilding Lāhainā and West Maui following the devastation of August's deadly and tragic wildfires there, and the need for skilled laborers and the unions that represent them is clear — and it's urgent.
Gino Soquena, executive director of the Hawaii Building & Construction Trades Council, recognizes the labor demand and notes other projects that add to it.
"There is the redevelopment of Aloha Stadium, the continued development of areas like Kaka'ako, Kapalama Kai, Mayor Wright [Homes], Ho'opili and Waipahu," he says. "Not to mention all the infrastructure improvements, Department of Transportation projects, transit-oriented development along the rail corridor, construction on military bases and the rehabilitation of Red Hill."
Leyton Torda of the International Brotherhood of Electrical Workers Local 1186 (IBEW) agrees.
"With all of these projects, I see an increase in membership," he says, acknowledging the considerable gap between Hawai'i's need for skilled workers and its homegrown supply. "We will not be able to 'apprentice' our way out of the demand for workers."
Nonetheless, IBEW's five-point plan to increase membership in 2024 and beyond includes a focus on education and training as well as recruiting non-union electrical workers.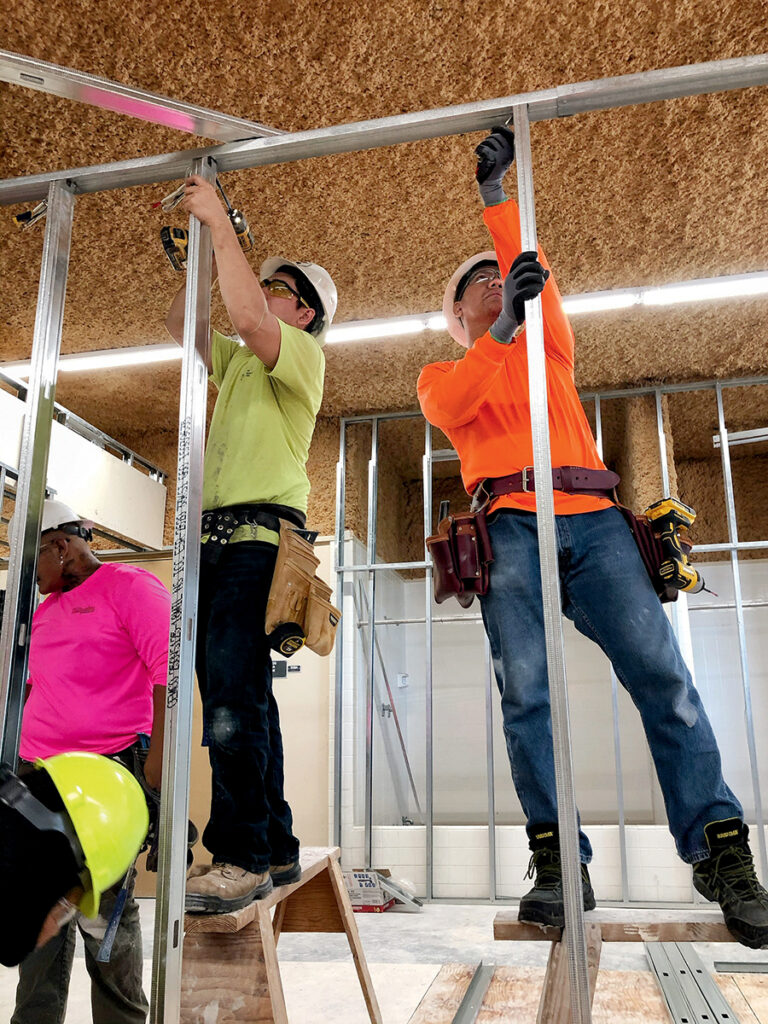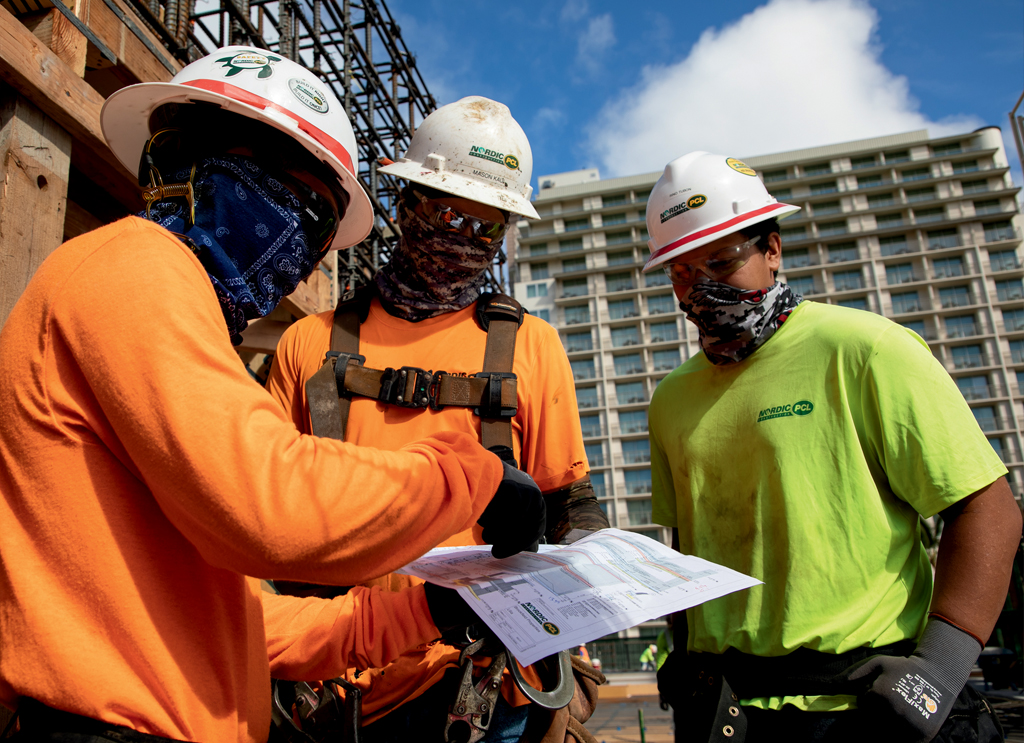 BUCKING THE TREND
Other industries, such as tourism, hospitality, dining, entertainment and education, all saw massive increases in unemployment as a result of the global COVID-19 pandemic.
Hawai'i's construction industry managed to avoid the trend, however, even as restrictions throttled the state's main economic driver.
"I think labor union membership numbers remain the same as evidenced by all of the tower cranes that you see erected between downtown Honolulu and Ala Moana," Soquena says. "The construction industry was not adversely affected by the pandemic and remained stable while other industries struggled."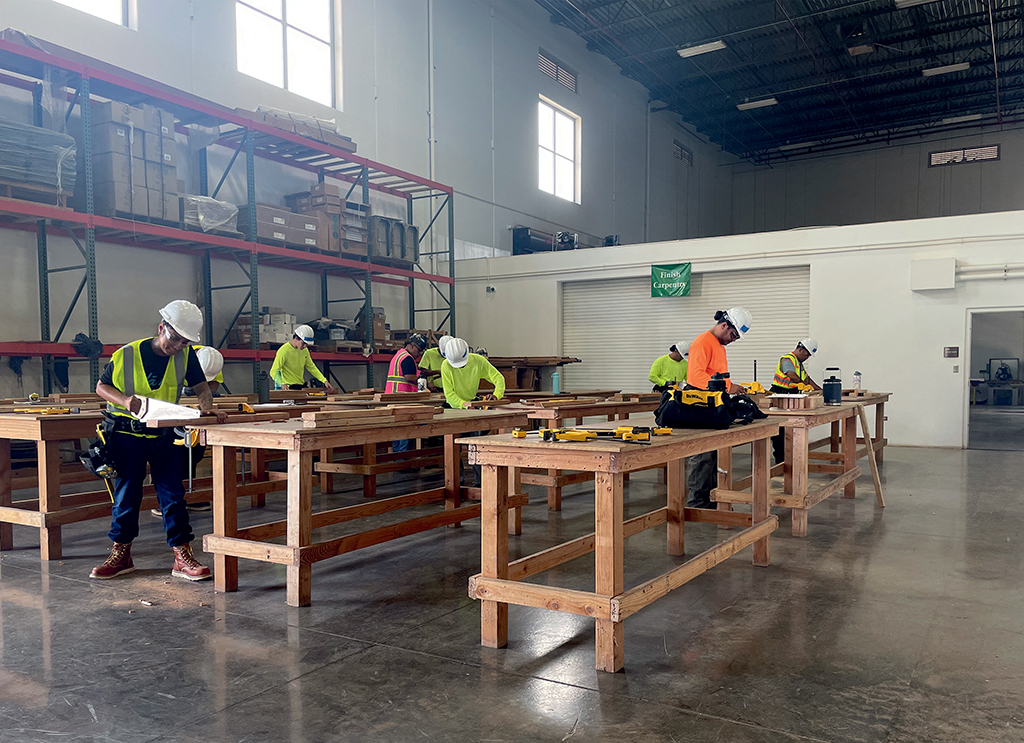 According to a September 2021 report by the State of Hawai'i's Department of Labor, "the only industry that was resilient amid the pandemic was natural resources, mining, and construction."
While it may be true that [Hawai'i] cannot "apprentice" [its] way out of a critical skilled construction labor shortage, as Torda noted, developing a well-trained, union workforce at home in Hawai'i remains vitally important.
A half-block west of the new HCATF facility is the program's original home at Leeward Community College, which remains in operation at full capacity. A new addition is LCC's Infectious Disease Control and Risk Assessment Training Center, a direct result of the need to adapt to pandemic demands.
There, apprentices are trained to be certified in safety protocols required of all contracted workers at healthcare providers statewide.
Local unions are focusing on education and training — as well as recruiting non-union workers.

ESTABLISHING A PIPELINE
Efforts to develop a skilled workforce are ongoing in many of Hawai'i's construction unions. The HCATF is currently working with 33 Hawai'i Department of Education schools to recruit trade industry workers.
A mock-up of the materials presented to those highschoolers stands in the lobby of the facility, which opened in 2009.
That outreach program for students is designed "for kids that might not be academically motivated," according to Donalyn Dela Cruz of DDC Consulting LLC, which handles media and public relations for HCATF.
The program is meant to show Hawai'i's young people that a fulfilling career and opportunities for advancement do not require a traditional, four-year college degree. But it does take core competencies, training, certification and ongoing education, as well as commitment. More likely than not, participants will join a labor union after the completion of their training.
The federal Good Jobs program, made possible by the American Rescue Plan Act passed by Congress in September 2021, is available through the University of Hawai'i's system of community colleges. It makes enrollment easy for qualified high school graduates in a variety of vocational curriculums.
The Good Jobs program stands to be a major boon for Hawai'i's construction industry, as it requires the commitment of employers to guarantee a job for every participant that meets its standards.
"It's really about 'skilling them up' and making sure they have jobs," says Dela Cruz.
HCATF apprentices, pictured above, complete some of their training at a new facility in Kapolei, below. 
PHOTOS COURTESY HAWAII CARPENTERS APPRENTICESHIP & TRAINING FUND

BOOTS ON THE GROUND
Back in Kapolei at the HCATF, about 20 program participants are hard at work with handsaws inside a large, open loading dock.
After accumulating enough hours, they'll move on to ultra-modern machinery housed in a nearby warehouse. And each one is likely to become a construction union member at some point soon — if they're not one already.
Hawai'i's construction unions offer all-important job security and opportunities for advancement. In fact, aspiring welders and metal workers at the HCATF facility who complete the program will be qualified to work anywhere in the United States and Canada.
That's an attractive prospect for apprentices in all industry specialties — but the fact remains Hawai'i's construction unions need them to stay home. And they're working hard to do just that.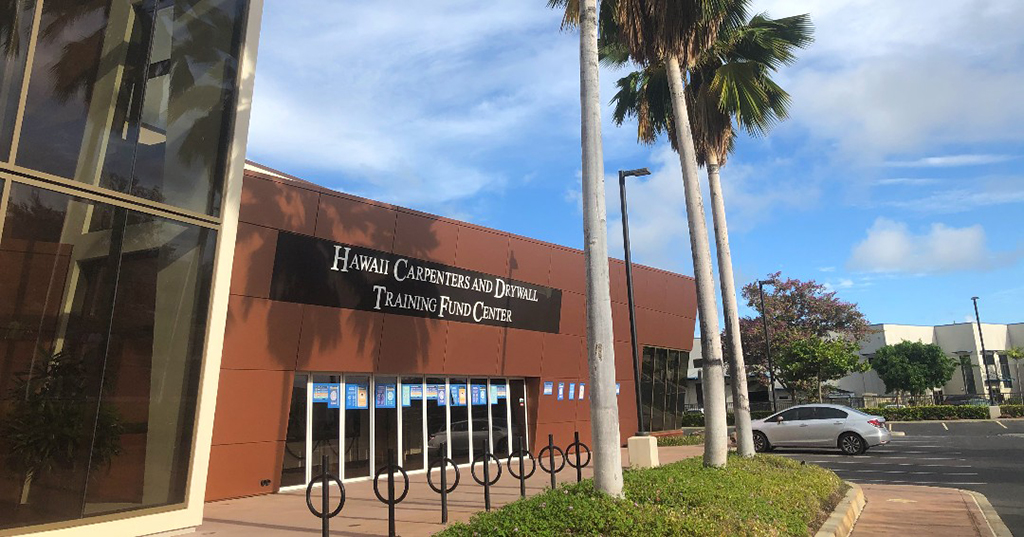 Related Images: