When Pohoiki Boat Ramp's access to the Pacific Ocean was cut off by a lava flow from nearby Kilauea Volcano in 2018, fishermen and other recreational users were devastated.
While the 18-foot-wide, single-lane roadway and 90-foot breakwater at the ramp were spared, Pohoiki Bay now sports a black sand beach and rocky outcropping that, while picturesque, has made it impossible for sailors to launch their vessels.
The bay has become a calm enclave after being separated from the sea by Pele, a sacred Native Hawaiian deity who is believed to control when and where volcanic eruptions occur around the islands.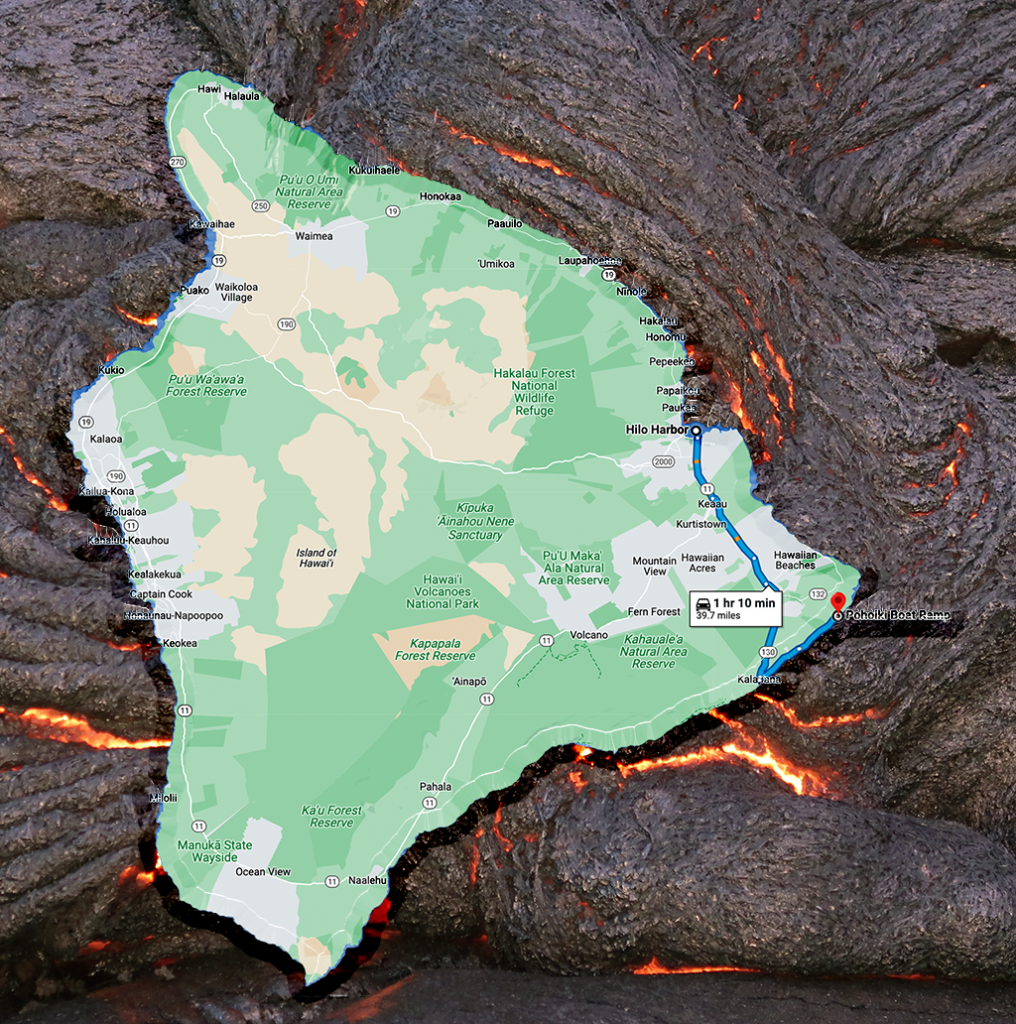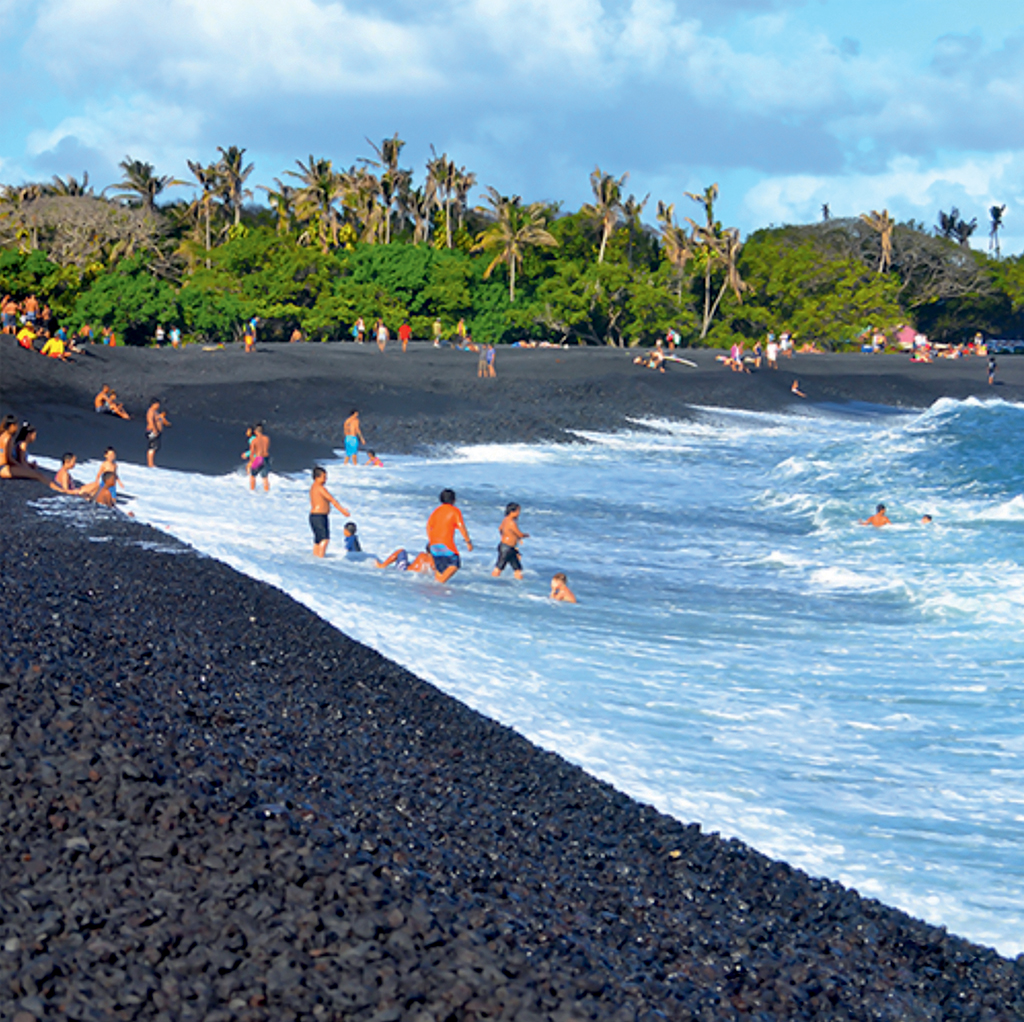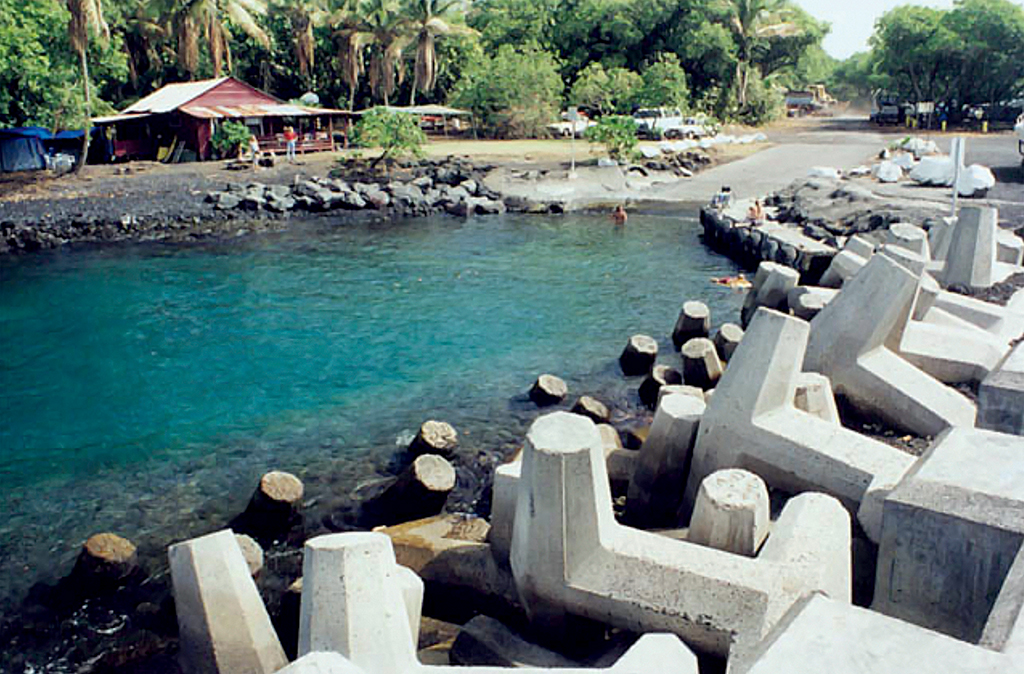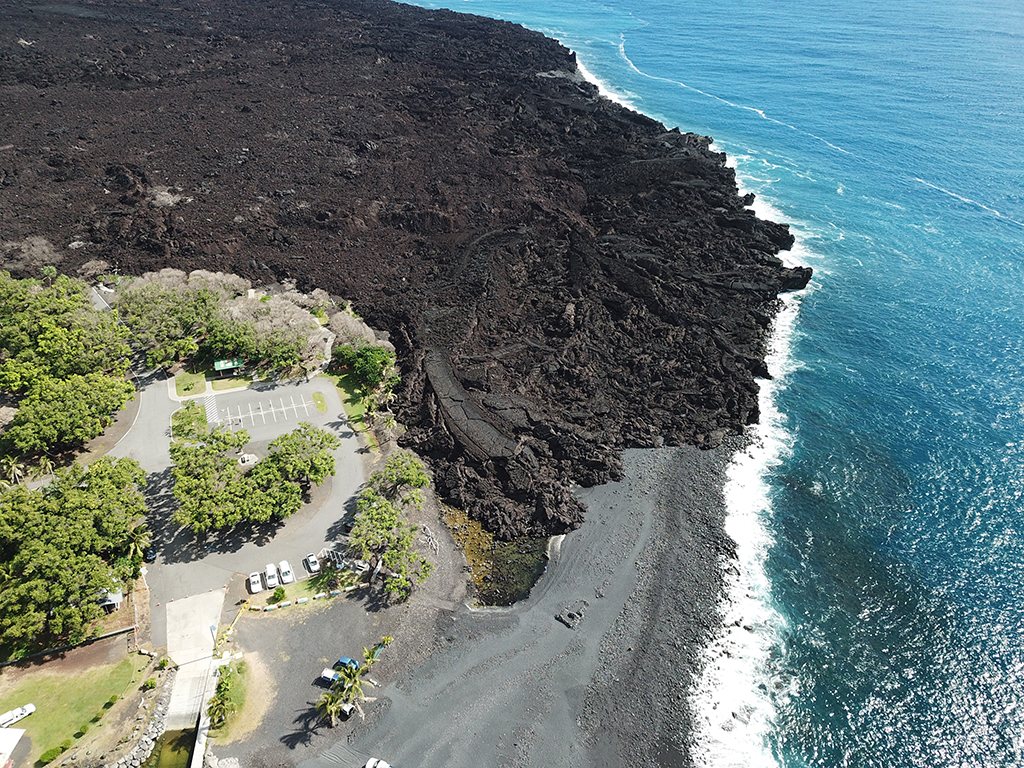 REPAIRING THE BAY
Some people on the southeastern side of Hawai'i island enjoy the novel black sand that formed after lava cooled and shattered as it met with seawater while flowing into the bay.
However, State Rep. Greggor Ilagan, who represents the Puna district that includes Pohoiki, said in a July 29 online post that the boat ramp at Isaac Hale Pohoiki Beach Park is highly valued by the community and was a tremendous benefit to Hawai'i island's economy before the 2018 eruption cut off access for commercial fishermen, air and ocean tour operations, as well as local residents seeking to engage in traditional cultural practices.
"Removing the volcanic debris and reopening the Pohoiki Boat Ramp is vital to the health and well-being of the Puna community," Ilagan wrote.
In the 2022-2023 legislative session, Ilagan secured $5.4 million in state
funding to dredge the bay and once again provide ocean access in the area. He remains hopeful Federal Emergency Management Agency will allocate federal funds in the near future to assist with the project.
The Hawai'i State Department of Land and Natural Resources' (DLNR) Division of Boating and Ocean Recreation (DOBOR) owns and maintains the boat ramp facility and the ramp itself, while the U.S. Army Corps
of Engineers maintains the 90-foot breakwater section of the bay.
On July 10, a public meeting was held virtually by Project Engineer Trevor Fagay of The Limtiaco Consulting Group to discuss the project's draft environmental assessment. In 2020, Limtiaco was awarded a $500,000 contract for professional services, including public outreach services; obtaining necessary permits; preparing plans, specifications and bidding documents; and providing bidding and construction services in regard to the Pohoiki Boat Ramp maintenance and dredging project.
Attending the virtual meeting was Finn McCall, chief engineer for DOBOR.
"The first thing we actually did was we tried to look at alternative boat ramp sites along the Puna Coastline in the vicinity of Pohoiki because the lava was continuing to fill [Pohoiki Bay] and it didn't look like there was any end in sight," says McCall. "It is very difficult to find a good suitable boat ramp site because of the high sea cliff nature of the Puna coastline and the rough ocean conditions there."
CONFLICTING CONCERNS
While some meeting attendees were more interested in protecting nearby thermal ponds when dredging begins, it was a fishmonger's wife who underscored just how tragic the last five years have been for the livelihood of the community.
"I have been a wife of a commercial fisherman for over 25 years, and this has changed my life dramatically," Bunny Harrington told the group during the meeting. "I'm sitting at a traffic light getting food for my husband, who's gonna go fishing tomorrow morning.
"His journey will be three nights and four days on the ocean because Pohoiki is no longer available."
Harrington spoke of her husband fearing for his life during a recent storm at sea and hunkering down because it was too many nautical miles from Hilo or any other boat ramp.
"The studies have been done. The ramp needs to be put back," she said during the virtual meeting. "Does anybody realize the Hilo ramp is the only ramp all the way to South Point? That's more coastal area than the [entirety of] Honolulu.
"My husband's life is in jeopardy to feed the Big Island, and you know he absolutely would never give up the job he is so proud of," Harrington said. "His passion is out on the ocean and giving back."
Aside from Harrington, there were fishermen on the call who spoke about how much simpler it was to launch their boats from Pohoiki in order to get to their favorite fishing spots. For generations, offshore fishing grounds near Pohoiki were incredibly convenient and easily accessible for boat ramp users living in the area.
Now, fishermen from Pohoiki must fill up the gas tanks of large trucks and haul their boats nearly 40 miles to Hilo, and then spend more on additional fuel in order to sail from Hilo to Pohoiki — and back — before transporting their boats by highway once again at the end of their voyages.
LOOKING AHEAD
DLNR plans to dredge a wide channel through existing lava to facilitate reopening the boat ramp and bay entrance. The black sand beach there now will eventually disappear, and no promises are being made about keeping newly formed thermal pools in place, either.
"The County of Hawai'i is working on roadway, water system and park improvement projects that will support the Pohoiki Boat Ramp," says McCall.
Limtiaco has until Dec. 31, 2024, to fulfill its contract with the state and put the project up for bid.