Alot is riding on Hawaii's first hot mix asphalt plastics project on Fort Weaver Road — both literally and figuratively.
Thousands of vehicles traverse the West Oahu roadway every day, and starting last October, they began rolling on a portion of pavement made with plastic pellets equivalent to 195,000 plastic bottles mixed into 1,950 tons of asphalt.
While the resulting modified asphalt product is just one tenth of one percent plastic, the pilot project is still being closely monitored by the Hawaii Department of Transportation (HDOT), the University of Hawaii at Mānoa (UHM) and Hawaii Pacific University (HPU) as they study ways to provide the state with a local solution to dealing with plastic waste.
Under the direction of general contractor Grace Pacific LLC, three different mixes of asphalt and plastic were poured along Fort Weaver Road in order to help the state, UHM and HPU answer the following questions:
How do the mixes compare to pure asphalt?
What percentages of plastics and asphalt work best in Hawai'i?
Does testing of runoff water indicate leachate of microplastics into the soil?

Does the mix trap any microplastics?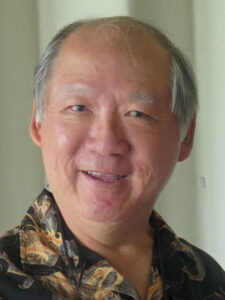 COLLABORATION MATTERS
Jon Young, executive director of Hawaii Asphalt Paving Industry (HAPI) says the collaboration by HDOT and Grace Pacific with HAPI is groundbreaking.
"[This] is the first time that [we've] truly [worked] together, trying to figure out problems," Young told the American Association of State Highway and Transportation Officials (AASHTO) during a four-part podcast about the project. "I try to tell people that I might work for the industry, but I'm trying to think if it's good for the community. I truly just want to see the project go well and so I really try to listen to what HDOT is trying to do and help them implement it."


HITTING THE ROAD
HDOT set up the experiment focusing on three sections of Fort Weaver Road that were each paved with a different formula of asphalt mixed with plastic.
First, a control section of traditional asphalt containing a styrene-butadiene-styrene (SBS) binder modified with polymer was poured in order to monitor it for microplastic leaching. Most roads in Hawaii already contain polymers, which have been used for decades across the United States without concern for leaching.
A second section is also polymer-modified with SBS, but also includes a top coat of recycled plastic, while the third section poured contains recycled plastic without any additional modified binder added to the mix.
SBS is a synthetic rubber that serves as a thermoplastic elastomer with excellent abrasion resistance and aging stability when blended with the tar-like bitumen. This makes it the perfect modifier to achieve cold flexibility and a high degree of elasticity.


A RESEARCH AND RECYCLE FACILITY FOR OʻAHU
There is optimism about putting plastic rubbish to work in Hawaii after the Federal Highway Administration awarded HDOT $312,000 in competitive grant funding as part of the FHA's Climate Challenge Initiative.
HDOT will combine the grant with other funding sources to help raise $6 million for a plastic recycling research facility in the state. The initiative serves as motivation for other state DOTs around the country to reduce carbon and increase the use of sustainable construction materials.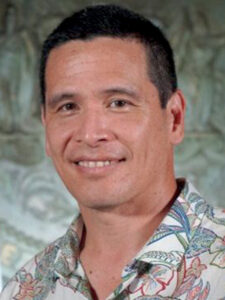 The Climate Challenge has identified more than 35 eligible projects from 27 agencies (including two in Hawaii), awarding $7.1 million to 25 states and technical assistance to all agencies that applied. 
HDOT Director Ed Sniffen is optimistic about the project and future research facility.
"We pull tons of trash and plastic waste out of our oceans annually. A lot of fishing nets come through and we started looking at those materials," Sniffen told Brian Jonson, AASHTO accreditation program manager, and Kim Swanson, communications manager of AASHTO re:source, during his own appearance on the AASHTO podcast. "We wanted to see how we could repurpose them rather than burn them or bury them at our landfills.
"How [could] we repurpose them to make our pavements better?"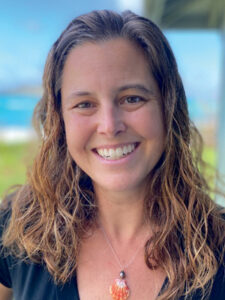 PROTECTING THE ʻĀINA
The test on Fort Weaver Road reached its halfway point in July. For Jennifer Lynch, Ph.D, research biologist, Chemical Sciences Division, National Institute of Standards and Technology and co-director of the Center for Marine Debris Research at HPU, the project's biggest concern is determining if any of the test mixes indicate evidence of microplastics leaching into the ground.
"In June, HPU Center for Marine Debris Research sampled simulated rainfall from the three pavement sections for microplastic and plastic additive leaching," Lynch says, adding that samples of the pavement were sent to Dr. Adrian Ricardo Archilla's lab at the UH School of Engineering shortly after pouring for testing.
After Archilla's tests, the HPU marine debris research team collected water from machines that held and tested the asphalt. Results are forthcoming.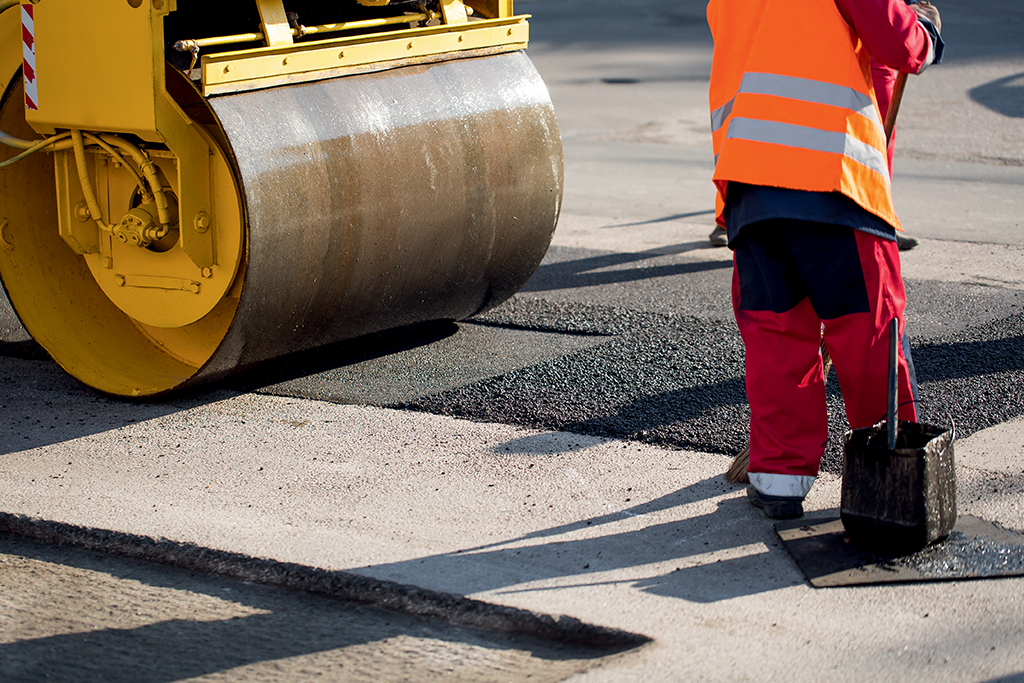 COMING UP
During a news conference last October at the test site on Fort Weaver Road, Lynch said mechanical recycling — taking a plastic product and turning it into something else — is the lowest greenhouse gas emission option for plastics disposal.
For the next two years, UH and HPU researchers will monitor how pavement samples hold up to the elements and their effects on the environment, if any. Real-world traffic and weather events will help HDOT and its partners determine which pavement produces the best results.
If all goes well, Oahu residents could finally see construction take place to create a recycling and research facility that will become the primary destination for all of Oahu's plastic waste for generations to come.