S
tep into a mosaic kingdom at Bella Pietra Design, where mother-daughter duo LaWanna and Meagan Jensen command a vast realm of ceramic, marble and porcelain on display in their vibrant showroom at the Nā Lama Kukui Lifestyle and Design Center on Nimitz Highway.
Their loyal subjects — Honolulu's hard-working interior designers, architects, contractors and discerning homeowners — are all bound by a shared devotion into transforming ordinary spaces into extraordinary ones.
With every product they offer, the Jensens deliver epic tales told through intricate tiles that shape the visionary designs of their clients.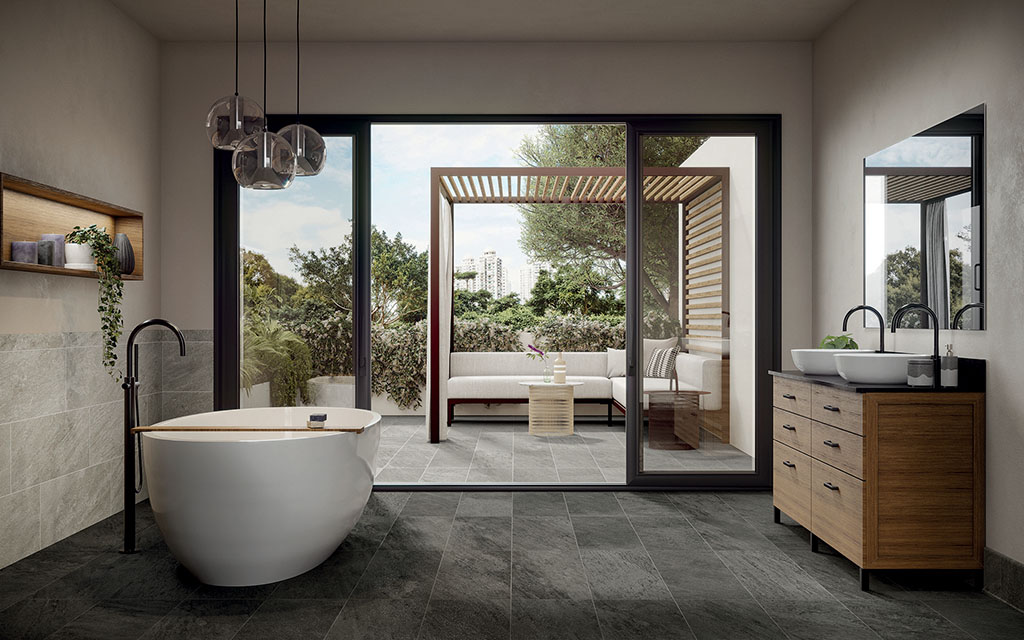 NOT JUST EMPLOYEES ANYMORE
Bella Pietra originally opened in 2001, with Meagan Jensen eventually joining the company about 10 years later and becoming sales manager. LaWanna Jensen worked in accounting at sister company Geobunga until 2020, when former Bella Pietra owner Layla Dedrick agreed to sell the business to the pair.
"I am so glad that Meagan accepted my offer to purchase Bella Pietra Design, rather than selling it on the open market," Dedrick said in a statement that year announcing the sale. "She has proven to be a successful and loyal sales manager … so it is a natural fit for her to take Bella to its next level of growth and success."
Then the COVID-19 pandemic hit.
"I remember saying, 'Mom, what the hell did we just do?' and freaking out," says Meagan.
But tile, like so many other construction materials, remained in demand as families were forced to stay home and reevaluate their current living situations — and contractors kept busy with both residential and commercial projects.
"We did a lot of chef's kitchens and master bathroom remodels during COVID," LaWanna says. "Business dipped at first, but then it came up. We ended up doing tons of swimming pools."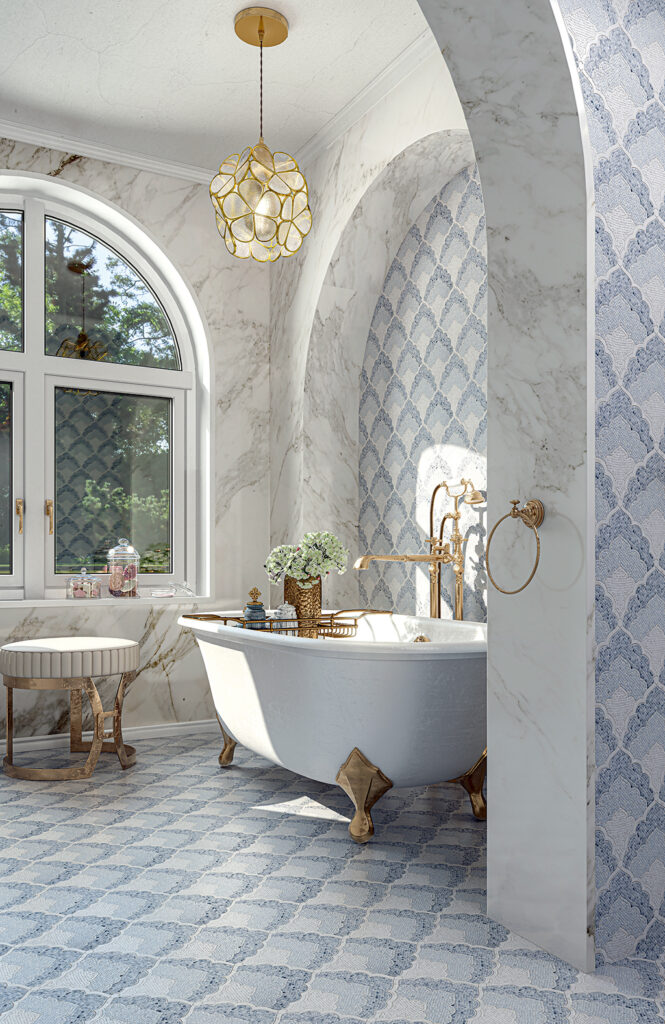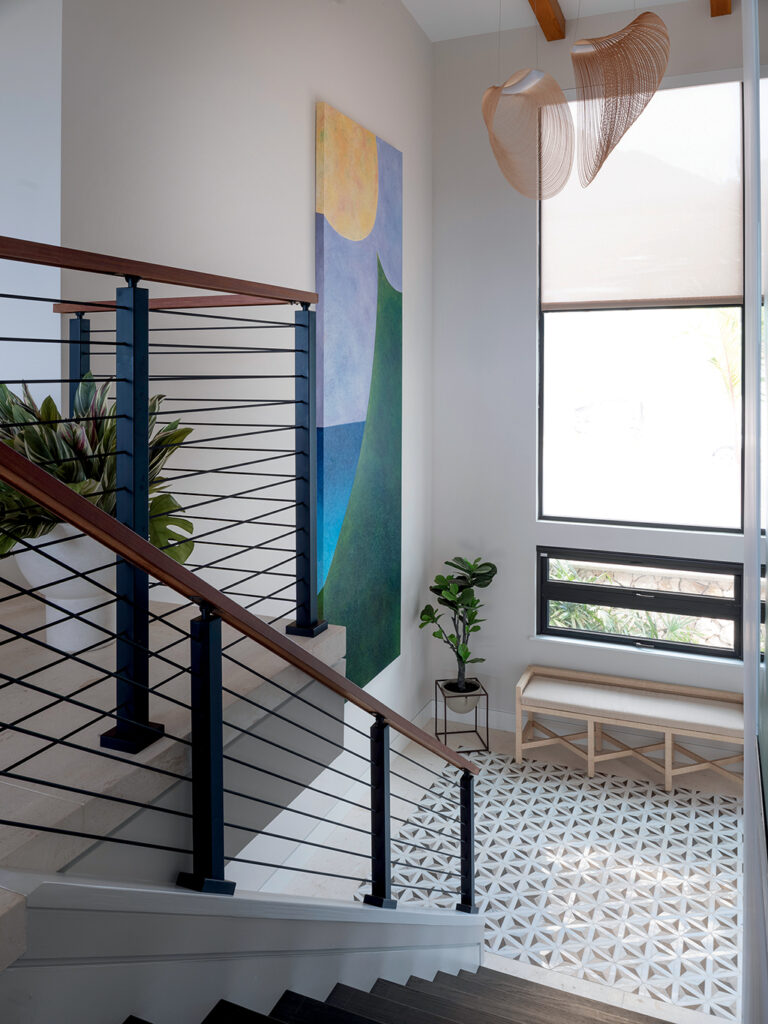 A growing trend during remodeling projects is to replace floor tiles with designs normally reserved for room walls. PHOTOS COURTESY BELLA PIETRA DESIGNS
MAKING THE SWITCH TO TILE
One of the initial recommendations the Jensens make to clients is to consider using porcelain as their material of choice when it comes to flooring.
"Porcelain is significantly denser, the way it's made," explains Meagan. "It's much denser than any natural stone, vinyl, or wood wood could be.
"We're very particular about where we get our porcelain from, because there's porcelain all over that our clients can get for two bucks. Especially with the wood- and marble-look ones, the cheap ones … will have like the same two patterns repeated over and over and over again.
"That's versus good quality tile like the ones we sell, which have approximately 20 different patterns incorporated within, so it actually looks like wood and you're not seeing the exact same pattern over and over."
For clients seeking to replace natural hardwood floors, Meagan suggests wood-look options from Bois, which feature a slightly rippled surface to reproduce the look of floors beautifully worn by centuries of use. It's an excellent choice for residential playrooms, basements, garages, and varied commercial spaces.
Exclusively offered in Hawai'i by Bella Pietra in 10" x "60" planks and 4-5/16" x 21-1/4" chevrons, Meagan says the tile is a fantastic choice for both residential and commercial spaces.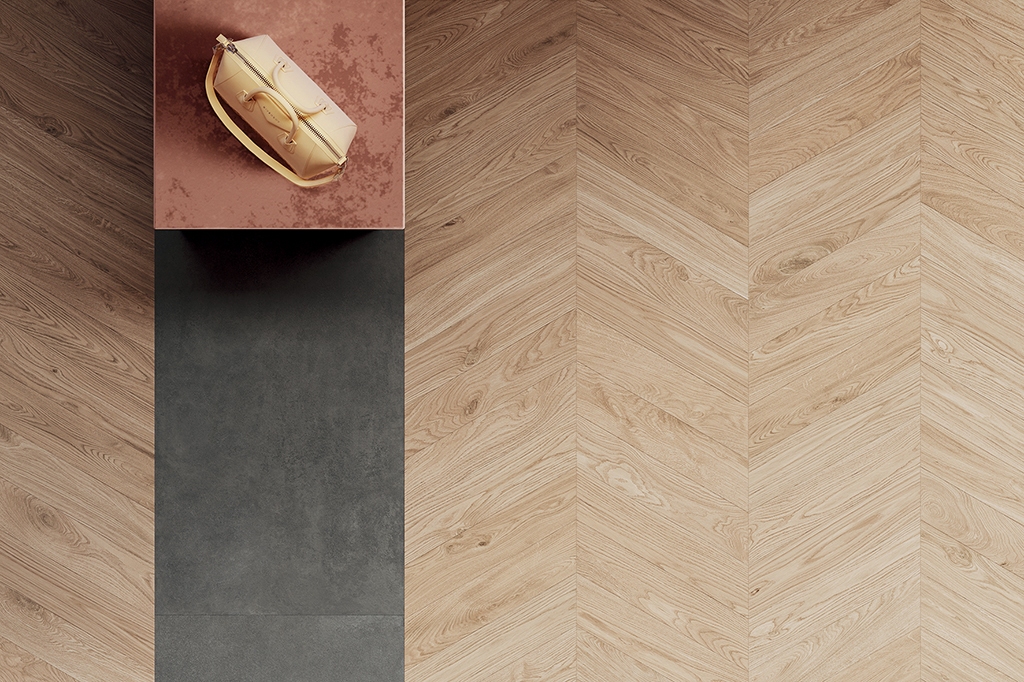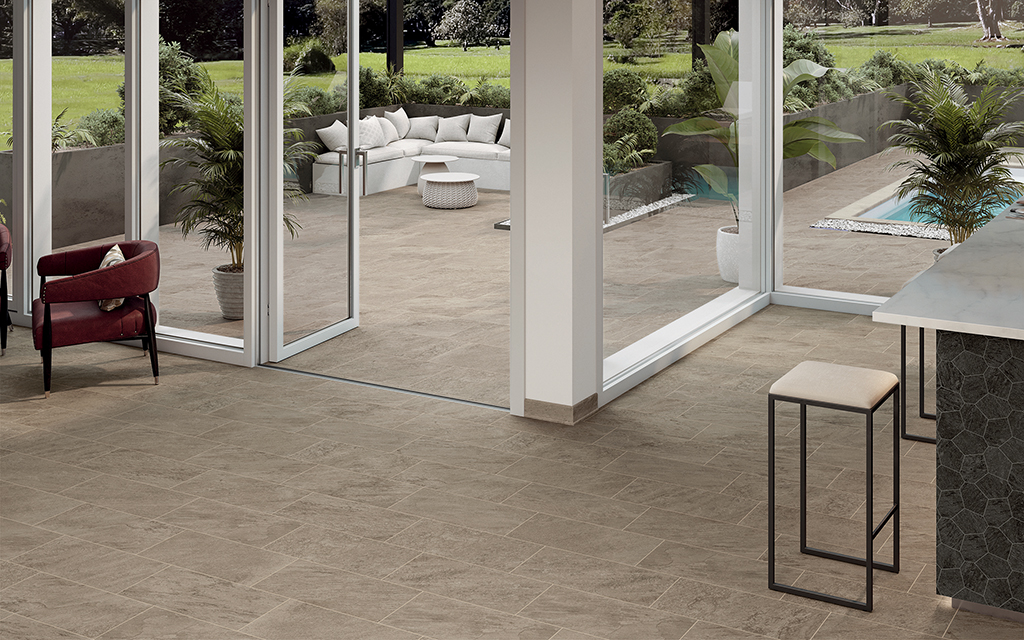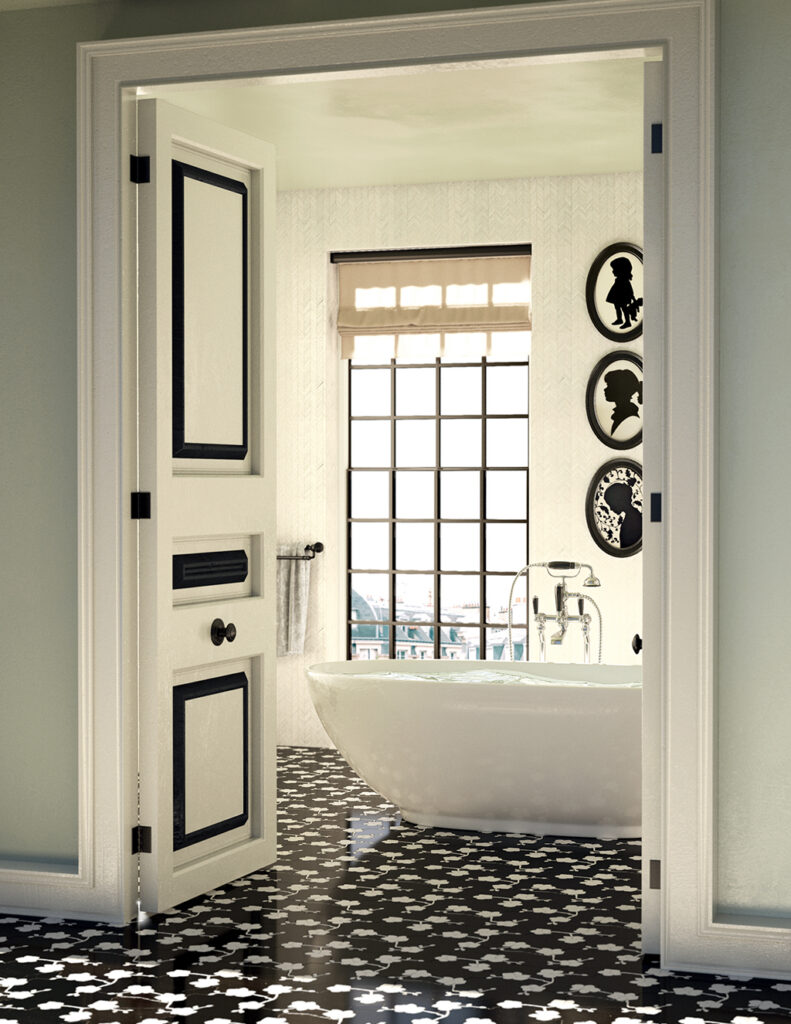 BRINGING THE OUTDOORS IN
A common goal for many businesses and homeowners in Hawai'i is to bring the outdoors inside, blending elements of interior and exterior design to create a seamless experience for residents and guests.
Element by Atlas Concorde USA offers tiles inspired by natural quartzite stone that can be placed both indoors and outdoors, with different finishes to satisfy local building requirements.
"In Hawai'i everybody wants living space [with] that seamless look where you can have indoor-outdoor living and … you don't even really notice going from one room to another," says LaWanna.
"This Atlas tile is thin enough where it can go on top of a concrete slab. A lot of people already have lanais, so there are weight restrictions. With this particular brand, it's the same as a regular tile at three eighths of an inch thick, so … it can go onto someone's lanai and not be overweight.
"You can make some nice transitions from indoor to outdoor … where the interior is smooth and the exterior has a little bit of a roughness to it so that it's not slick."
FLIPPING THE SCRIPT
Another trend the Jensens have taken note of since taking over Bella Pietra is the focus their clients have on the floors of their project sites.
"There have apparently been studies done that say now more people are putting decorative tile on the ground because everybody's on their phones," says Meagan. "And so people aren't looking up, they're looking down."
"But the good thing about that is putting mosaic tile on a floor, like a bathroom, it gives slip resistance as well. So when clients get into their shower, they don't have to worry about the floor being too slippery, even if it's polished tile, because their grout joints give them slip resistance as well."
For clients looking to use decorative tile on floors, the Jensens recommend Adena by Lori Weitzner, which features an Adelaide embroidery pattern in micro-mosaic stone with three different colorways.
Projects seeking a decidedly tropical flair will want to explore the current Orchid offerings from Michael Aram, winner of Interior Design's 2017 Best of Year Award and Hospitality Design Magazine's 2018 HD Award for Surfaces. Featuring an original carved dimensional style, the tile can be used on floors and other surfaces.
Bella Pietra also offers Duomo, a proprietary waterjet pattern from Artistic Tile styled after the floors of Italy's majestic cathedrals.
"A lot of people are doing curbless showers now, so they just want the whole bathroom floor to be the same," says Meagan. "And a lot of times people want to do big tile, but you can't do big tile on the shower floor because of drainage and because you'll slip, so if you do a mosaic on the floor, you can do the entire bathroom all on one tile."