When the Kapalama Container Terminal (KCT) enters into service at Honolulu Harbor, it will be a milestone in the history of the state's infrastructure.
The ambitious effort to construct the largest marine terminal designed in the history of Hawai'i will complete a crucial transformation to improve cargo handling operations on O'ahu, while also taking significant steps towards environmental sustainability.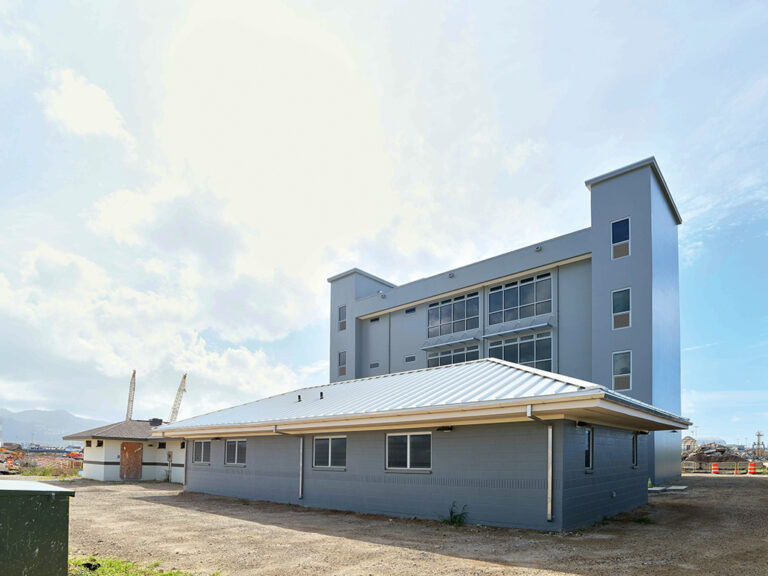 KCT: A CLOSER LOOK
The project, with an estimated overall cost of $555 million, broke ground in 2018 on approximately 85 acres at the former Kapalama Military Reservation, which was originally constructed for logistical support during World War II and transferred to the state in the 1990s.
The first phase of construction wrapped in 2020, and included a 65.9-acre container yard along with support buildings, entry and exit gates, security fencing, parking, gantry cranes and container handling equipment.
KCT Phase 2, which the Hawaii State Department of Transportation (HIDOT) says is expected to be completed in summer 2025, involves creating more than 1,800 linear feet of additional berthing capacity at Honolulu Harbor to help address congestion issues and allow for larger, wider inter-island vessels to access the harbor.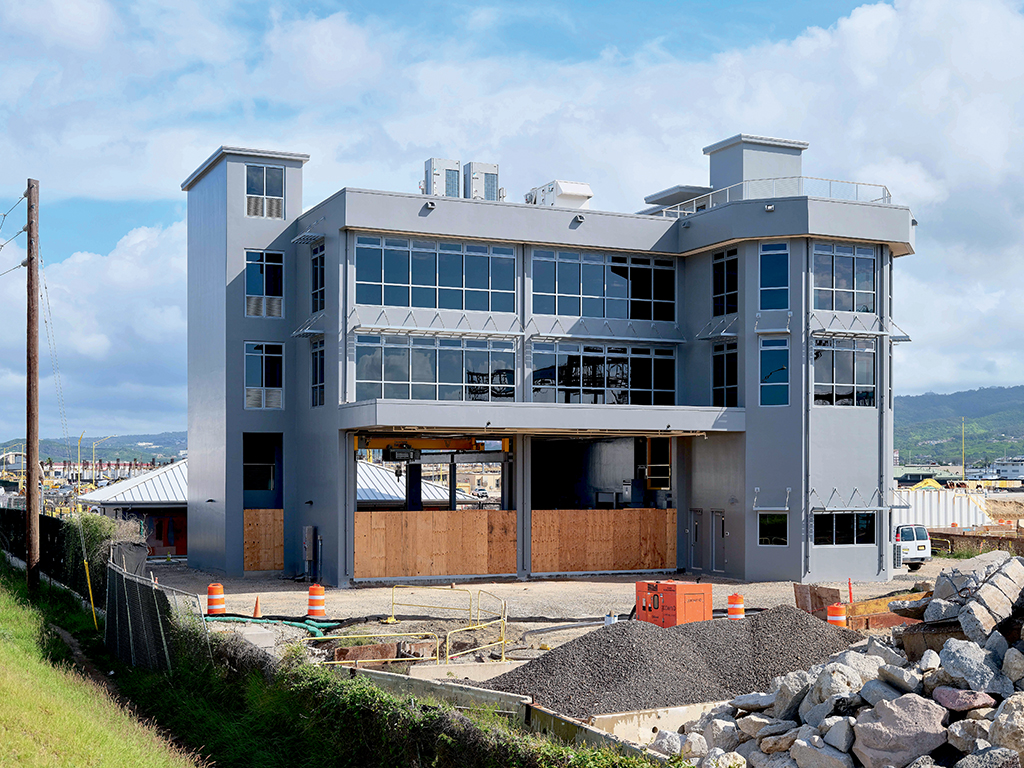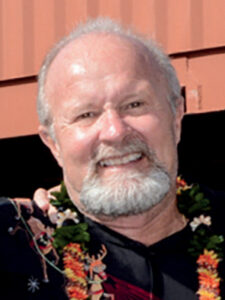 A NEW HOME FOR HAWAII STEVEDORES
The KCT project also provides a once-in-a-lifetime opportunity at the harbor for Hawaii Stevedores Inc. (HSI), a subsidiary of The Pasha Group, to create a brand new, state-of-the-art operations facility to support the company for the next 50-plus years.
"Our responsibility was primarily to build the buildings, bring in cranes and develop the container gate infrastructure," says Mike Caswell, senior vice president of Operations for The Pasha Group. "[The KCT] site is the only place left to develop near the harbor … so it's a big win for us, because it will fit our new vessels and everything will be brand new."
HSI will hold long-term leases on five structures it built at the KCT in partnership with architecture and engineering consultant RM Towill Corporation and general contractor Albert C. Kobayashi Inc.
"We worked hand in glove with Harbors so our buildings, cranes and gate were all supposed to be ready at the same time," says Caswell. "We interviewed three contractors, and ACK was the most competitive, but they were also, much to our happy surprise, they were the best. … They delivered on time at the same cost, [with] very little surprises, and they kept us apprised of everything.
"We didn't know them before we contracted. But they have done a phenomenal job."
In addition, Caswell had high praise for RM Towill Corporation — and specifically Vice President Craig Luke — which not only coordinated design and specifications work for the HSI buildings, but also helped oversee the execution of a simultaneous contract awarded for construction management services on the project.
"That was a good move for us, because we always had a third party out there ready to help, ready to watch and make sure that we got what we paid for," says Caswell.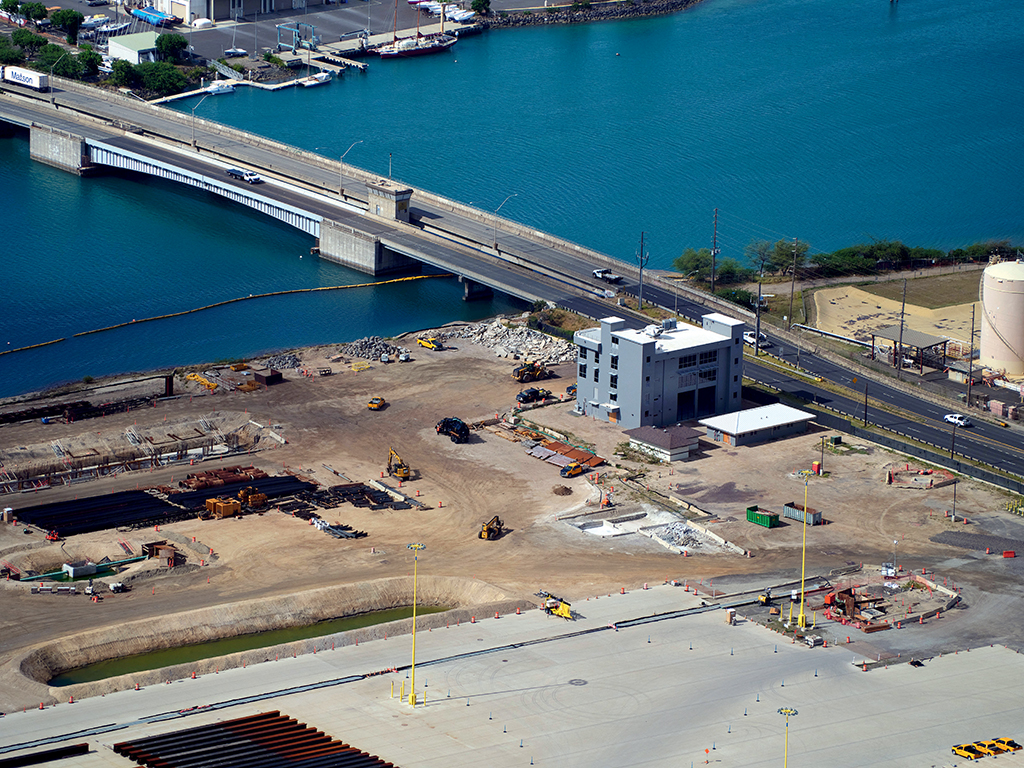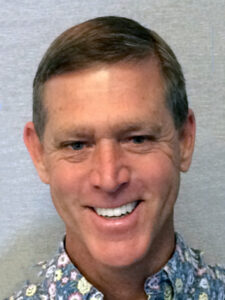 MANAGING ENVIRONMENTAL IMPACTS
According to The Pasha Group, construction costs for the new HSI facilities at the KCT will cost the company about $100 million, not including a $47.3 million grant from the U.S. Department of Transportation Maritime Administration's Port Infrastructure Development Program.
That grant was important, however, in order to accelerate a timeline to incorporate numerous sustainable systems, including electrified ship-to-shore cranes, microgrid battery storage systems, a solar power system and a micro wind turbine.
"A lot of the grant money went to improving resilience," explains HSI Managing Director Randy Grune. "It's great. It gives us more technology. We wanted to do it in the long run anyway, but now we can do it immediately.
"The battery system could allow for unloading of ships. [In case of natural disaster], we could fire up the terminal and unload ships for two days. And we should then be able to regenerate power through solar, wind and the crane re-gen and keep operating," he explains.
The new KCT will also be able to accommodate Pasha's first liquified-natural-gas-powered containerships, reinforcing the company's commitment to environmental sustainability.
And thanks to its location in proximity with interisland shippers Young Brothers LLC, containers that once had to be trucked along Nimitz Highway and Sand Island Access Road will soon be directly offloaded from barges into the KCT, which will help reduce highway congestion and associated environmental impacts from greenhouse gas emissions.
Grune says HSI expects to eliminate approximately 50,000 truckloads from Honolulu roadways per year once the KCT begins operations.
"I've been in this business 33 years, and throughout my whole career, I've worked on this in some way, shape or form," says Grune. "So this is a huge infrastructure project. Look at the importance this has to the state's economy, the state's well-being. Every person in this state depends on the goods that flow through this harbor."
Kapalama Container Terminal:
The
Subcontractors
According to Albert C. Kobayashi Inc. and RM Towill Corporation, key subcontractors on the Hawaii Stevedores Inc. buildings at Kapalama Container Terminal project include:
A-1 A-Lectrician
A-American Custom Flooring
Affiliated Construction
Aina Pest Control
Alakai Mechanical Corp.
Austin, Tsutsumi & Associates Inc.
Beachside Roofing
Choice Fence
CMC Steel Fabricators
Creative Partition Systems
Cultural Surveys Hawaii Inc.
ECS Inc.
Element Environmental LLC
Geolabs Inc.
Honolulu Fire Protection
Island Flooring Hawaii
Island Pacific Installers
KAI Hawaii Inc.
Kelikai Inc.
Kone
KWL Services
Lester H. Inouye & Associates LLC
Notkins Hawaii
Oahu Metals & Glazing
Pacific Architects Inc.
R&L Ohana
Quality General
The Zelinsky Company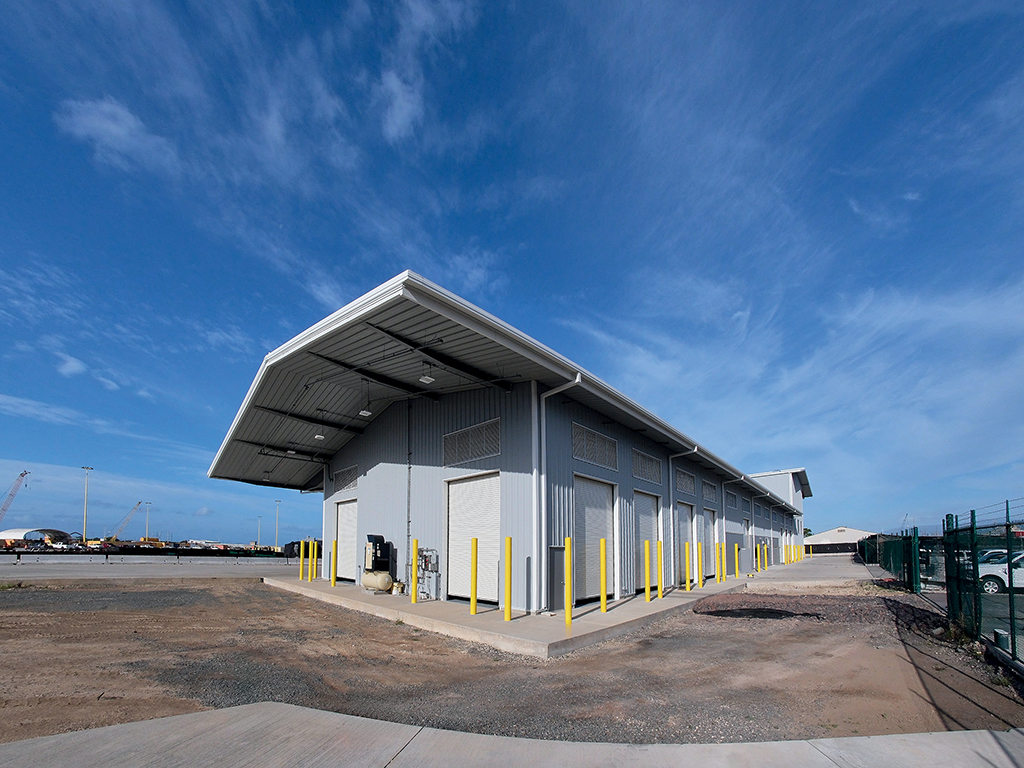 PROJECT CHALLENGES
"The biggest challenge on this project was COVID," Caswell says. "During COVID it became very problematic to get product, and to get all the construction materials we needed."
RM Towill's Luke says the biggest design hurdles were obtaining approvals from state and city agencies, along with coordinating work between Hawaiian Electric Company, Spectrum and HIDOT's Harbors Division.
He adds that ECS Inc.'s Michelle Adolpho "did an outstanding job with Hawaiian Electric," while architect Dennis Kimura "used his creative talents to create an awesome looking Marine Operations building, which is the showcase building on this state-of-the-art container yard facility."
For its work on the KCT project, RM Towill was awarded the Grand Conceptor Award at the 2023 American Council of Engineering Companies of Hawaii's Engineering Excellence Awards in February.