H
PM Building Supply believes engineered wood products (EWP), such as mass timber and cross-laminated timber (CLT), are gaining traction in Hawai'i as contractors increasingly prioritize environmental sustainability.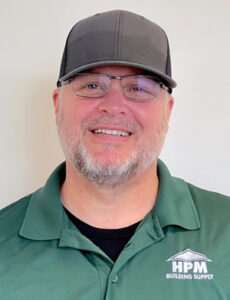 HI-TECH TIMBER IS TRENDING
"EWP technology has been around for decades, but new innovative applications have really moved this new method of building forward. It is very exciting to see," says Benjamin Nesemeir, HPM's senior lumber buyer. "Mass timber and CLT are lightweight, but with high strength ratings, and excellent for load-bearing wall, floor and roof construction. These products generate little to no waste onsite and provide an alternative to materials like concrete, masonry or steel."
Nesemeir adds that composites are in demand both statewide and on the mainland, with improvements to the technology making these products more affordable and widely available.
When it comes to supply chain issues, HPM relies on strong relationships with freight forwarders and product vendors, as well as its team's vast industry experience to get creative. Supply chains and forecasts are constantly monitored, with HPM strategically procuring products anticipated to be in demand.
TRACKING TRAVELING TIMBER
In 2022, HPM opened its first West Coast freight consolidation center in Washington state.
"This facility gives us more visibility over and direct management of our inbound supply chain. While no single facility can be a silver bullet, we are excited to be able to track more of our own inventory and shipping as we service all of our 17 locations across the state, 11 of which have lumber yards," Nesemeir says. "In fact, we have [operated] our own wood pressure treatment facility in Hilo since 1972."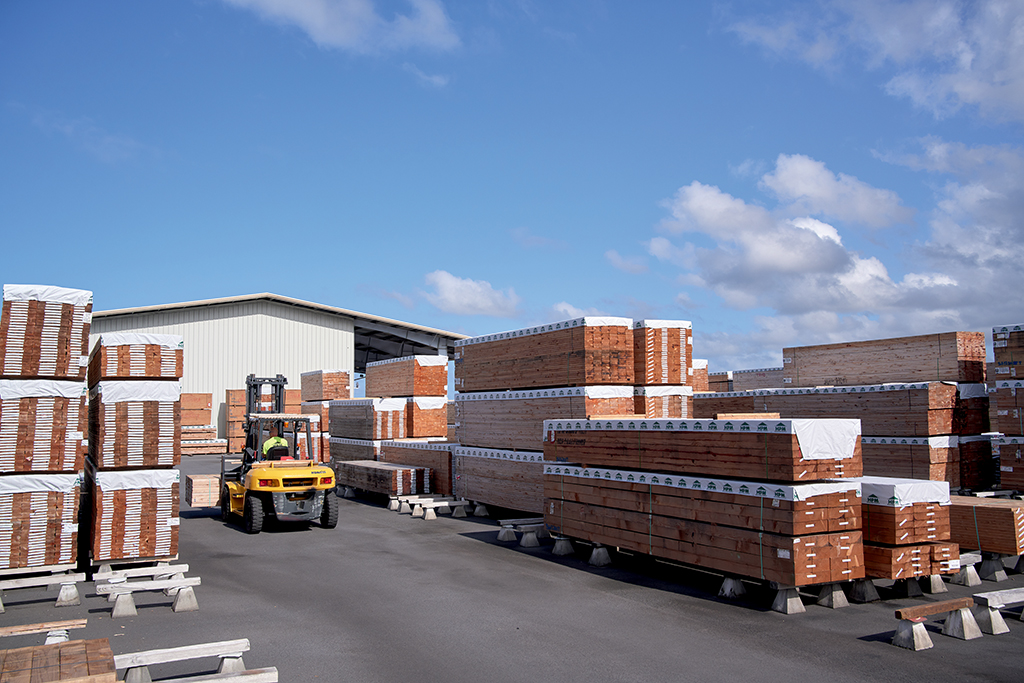 SUSTAINABLE KOA IS KEY
Among the 3,000 lumber products HPM currently has in stock is local, sustainably sourced koa wood available at its Hilo, Waimea and Kona stores on Hawai'i island for woodworking, custom furniture, decor and handcrafted art.
"All of the koa wood we carry comes either from a tree that ran the natural course of its life or from trees that are intentionally grown for responsible, periodic harvesting as part of the process to create healthy koa forests," says Nesemeir. "We have a partnership with the nonprofit Hawaii Legacy Reforestation Initiative where we plant a tree in the Hawaiian Legacy Forest on Hawaii Island for each purchase of 10-board feet or more of koa wood."
PASSPORTS FOR WOOD?
Plywood Hawaii Inc.'s supply chain issues have nearly disappeared, according to company president Connie Smales, who in 1994 founded the business with her husband, Fred.
But should it be called a "supply chain issue" if the problem is that it takes too long for non-koa 10-footers to arrive?
"They just don't come in," says Smales. "But we do a lot of special ordering anyway."
That was also the case during Hawai'i's pre-pandemic days. Inventory to Plywood Hawaii arrives from around the world, including the U.S. mainland, Asia, South America and Africa—and that means a multitude of shipping routes for lumber and wood to get to our shores.
"Some shipping situations are interesting," Smales says. "One shipper goes from South America to Korea to Hawaii. Rates on that route are competitive and that means we really have to plan ahead."
Suggestive selling has also kept Plywood Hawaii's inventory moving and customers happy, she adds.
"In the heyday of the COVID problem, we couldn't get laminated plywood. So because of that we've suggested prefinished birch or maple that have a final coating and cost less, [and] the result is happy customers.
"There are several solutions to problems. We carry a lot of things that nobody else carries. If they can't get it from us, they probably can't get it at all."
TREATMENT SOLVES HAWAI'I'S TERMITE TROUBLES
If the older, wooden structures you see still standing around Hawai'i could say "mahalo," it's because they were most likely built with lumber treated to repel fungus and insects—specifically, the Formosan subterranean termite and West Indian drywood termite, both indiscriminate munchers.
Make no mistake: these structures survive only because of pressure-treated wood.
Honsador Lumber, which spans the state with several locations, has a division in Kapolei that treats lumber with borate. Honolulu Wood Treating LLC (HWT) has served the local building industry since 1955 and treats in excess of five million board feet of lumber and plywood each month.
The borate pressure treatment process, introduced in 1992 and called Hi-bor (disodium octaborate tetrahydrate), was created by Koppers Performance Chemicals specifically for Hawai'i to protect wood products from termite damage and fungal decay. Hi-bor also serves as a broad-spectrum insecticide and controls many insects, including ants, silverfish and cockroaches.
HWT has made it possible for Honsador to provide wood treatment and building product distribution services to more than 50 dealer customers in the islands.
That's a good thing for Hawai'i, according to architect Wayne Goo, AIA vice president/president-elect, principal and founding member of WORKSHOP-HI. "Our termite problem…is [like] a Las Vegas buffet" for the insects, he says.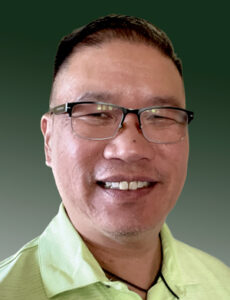 NO CURRENT HAWAI'I
CODE FOR MASS TIMBER
According to the American Wood Council, "mass timber buildings are constructed with large pre-manufactured, multilayered, solid wood panels resulting in solid timber floors and walls," and include products like nail-laminated timber, glued-laminated timber (glulam) and structural composite lumber."
"Mass timber goes way beyond not only beams and columns, but engineered wood panels and floor assemblies that are promoted as a way to use a renewable resource," says Goo. "It also addresses the issue where second- and third-generation trees don't have the same strength as the first. Engineering [makes] them strong. With perpendicular panels of 5-inch, ¾-inch sticks, strength is gained by having the fibers running in opposing directions [and] cross-laminated.
"It's a fantastic concept. However, there is nothing written in the local building code to allow for its usage. We hope the Department of Planning and Permitting (DPP) will see the light and the value of [these products]. From a design [standpoint], the usage brings a lot of opportunity."
CUTTING CONSTRUCTION COSTS WITH TREATED WOOD
Compared to the cost of steel-frame or concrete structures, lumber is a bargain these days for builders in Hawai'i. One prime example is its use in the construction of Hale Makana O Mo'ili'ili, a recently opened affordable rental project for kupuna residents.
As told by Lester Ng of Architects Hawaii Ltd. in the February 2023 issue of Building Industry Hawaii, convincing the City and County of Honolulu's DPP of the safety in using treated wood took "a number of lumber and timber experts to help us prove our case that it should be approved to build this first six-story wood-framed structure."
Using wood gave the building true affordability, Ng added.
Related Images: