At the General Contractors Association of Hawaii (GCA) Installation banquet in January, the weather was wet, windy and stormy, and it was the 32nd installation banquet that newly elected President Steve Baginski attended. "I missed one year for a daughter's graduation," Baginski says. Years ago through his employer, he became a member of GCA. Upon graduating with a civil engineering degree from the University of Vermont, he was hired by Kaikor Construction Group in 1990. Oahu was about the farthest Baginski could get from New England. As a member of the GCA, he naturally immersed himself in the organization.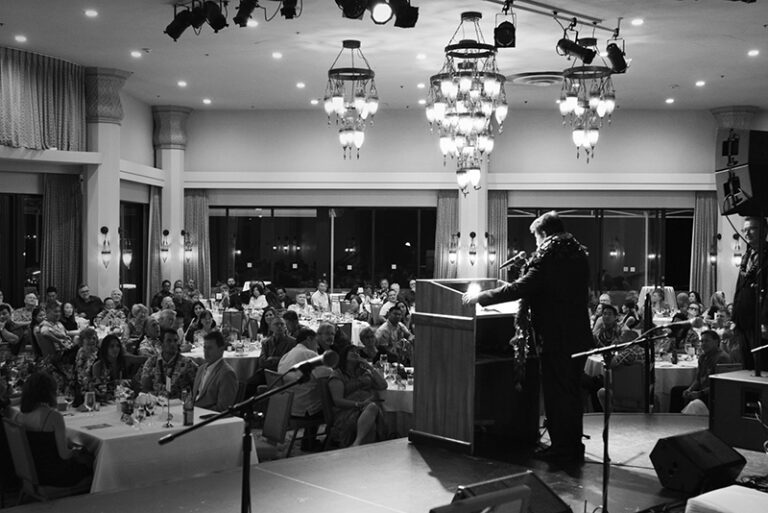 WAY BACK IN THE 90s
"I remember the wonderful days of pulling up to the drive-thru window for bids," Baginski says of the days when bids were paper and contractors showed up at the GCA for physical copies.
As his engineering career at Kaikor progressed, he was encouraged by Kaikor owner Buck Allen and Kaikor executive Garrett Sullivan to get involved by joining GCA committees. He's since become a vibrant force in GCA.
"I became personally active around 1993 to 1995, and I was on the safety committee for more than 20 years," says Baginski. It was one of several committees he would join. A self-proclaimed people-person, Baginski reflects on his GCA membership and how his participation in committees broadened his perspective when it came to discussing issues with competitors who eventually become allies and friends.
COMMITTEES AS COMMON GROUND
"I have gained so much from being a GCA member and from serving on the board and various committees over these 25-plus years. The GCA committees are the lifeblood of our organization. This is where most of the action occurs, and I'm looking forward to seeing them keep pushing forward from our industry as well as gain new faces for the committees to keep the ideas and perspectives fresh," Baginski says. "We may be competitors on a daily basis, but when we convene as GCA members, we're all on the same team."
For Baginski, people-person aside, "Joining committees was scary at first, even my first venture into the board of directors. Like, wow! I'm sitting at a table of 'Who's Who' in construction in the state of Hawaii," says Baginski. "I quickly learned how awesome all of those people are, how friendly and helpful they are, and that we are all facing the same problems. They are not Goliaths, they are just like the rest of us. At first they seem intimidating. But GCA people are great, friendly, social, do their jobs and also have fun."
RESULTS HAPPEN FACE TO FACE
Baginsky's social persona relishes the face-to-face interaction of committees and meeting with others for construction projects, with government officials at local, state and federal levels, but the feeling isn't mutual. Exceptions for meetings with those on the Neighbor Islands, the Mainland, and tight schedules. "I'm 100% against Zoom. To me it's a crutch to avoid contact, avoiding the question that never gets answered," says Baginski. "Garret and Buck taught me that with a real problem, you sit across the table from each other and talk it out. Ninety percent of the time we come to a resolution. At that point all sides are exposed to all of the truths."
According to Baginski, what's lost to Zoom are opportunities for the chatter that breaks the ice before a meeting starts.
"I'm personally looking forward to getting past the fear of COVID and to returning to in-person meetings again. Virtual meetings can be valuable and convenient, but in-person meetings allow us to interact on a much different level," says Baginski. "Another member might offer an insight or perspective that could be just the solution someone needs to face a challenge in their business, or someone might say something that sparks an idea on which to build. This year we are getting over the phobia. I'm so excited that this year all of our events are ready to go all-out and in-person."
GCA LEGISLATION WATCH
Items high on the list of Steve Baginski, 2023 president of the General Contractors Association of Hawaii, include using the momentum of its energy, knowledge and experience to address the current and upcoming challenges the construction industry faces. To name a few: getting acquainted with a new administration in state government, continuing to collaborate with the counties to streamline permitting, and recruiting and retaining qualified individuals to fill important construction industry roles.
"The Legislative Committee reviewed over 3,000 bills and narrowed our focus to a handful of bills that will have the most impact on the construction industry," says Gregg Ichimura, GCA legislative committee chair.  "This was a critical first step as we began this new legislative session."
BILLS OF PROCUREMENT
GCA's concern is members' bottom lines.
"We will be focused on supporting state construction initiatives, opposing initiatives that will raise the cost of construction, and be actively engaged in sharing our industry position on various procurement code amendments," says Ryan Sakuda, GCA government relations director.
GCA's legislative committee introduced two measures to amend the procurement code.
• HB 542 would allow bidders to clarify or correct immature or technical information required as part of a bid submission for up to 24 hours after the bid submission deadline.
• HB 1164 and SB 1135 would require cash or protest bonds to be returned to the initiating parties, minus administrative costs, except in cases where the appeal was frivolous or made in bad faith.
"We believe these measures will reduce the amount of frivolous bid protests and enhance government ethics," says Baginski.
CRITICAL LINK TO HAWAII'S FUTURE
Baginski says that to him, the GCA stands for strength and leadership, and that it has increasingly become a critical link to Hawaii's future. Success is dependent upon engaging the next generation of construction industry professionals.
"Under Dale Sakamoto Yoneda [GCA 2022 president], the GCA placed a stronger emphasis on workforce development," Baginski says. "[In 2022,] the annual scholarship golf tournament made it possible for GCA to award scholarships to nine University of Hawaii students in the College of Engineering and Construction Engineering program. The GCA's Workforce Development Committee did a terrific job revitalizing our week-long program to give high school students a taste of the construction industry through classroom learning and hands-on projects with construction leaders who volunteered as mentors."
For Baginski, the natural next step is to expand GCA's workforce development outreach to include students from Hawaii attending college and university on the Mainland, students in other Hawaii high schools, private schools and even middle-school students.
"The leadership and mentoring the GCA and its members can provide will pave the way for a brighter future for our children, our industry and our state," he says.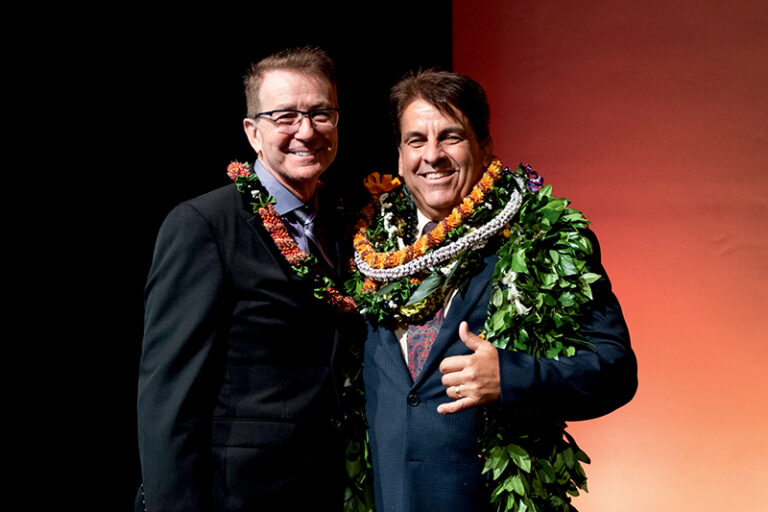 FINAL YEAR OF STRATEGIC PLAN
The GCA board of directors' assignment in 2023 is to convene and map out its plan for the next three years. "Our intention is to build on the progress we've made over the past few years and elevate our presence in the community. The stronger and more resilient we become as an industry, the more we will be able to support and give back to the people of Hawaii."