The Navy's Dry Dock 3 Replacement project at Joint Base Pearl Harbor-Hickam, valued at approximately $2 billion to $4 billion, is slated to start in three or four months now that current U.S. Department of Defense appropriations have been authorized.
"It will be huge," says Steve Baginski, incoming 2023 president of the General Contractors Association of Hawaii.
The project dovetails with enormous contracts recently awarded by Naval Facilities Engineering Systems Command (NAVFAC) to local and offshore general contractors. These include:
• $8.5 billion from NAVFAC Pacific awarded in late 2021 for work in Hawaii and Washington state to five Shipyard Infrastructure Optimization Program (SIOP) contractors. Local GCs include Hawaiian Dredging Construction Co. Inc., Nan Inc. and Kiewit, all operating as members of three separate joint ventures (JV). The contract expires in 2029.
• Approximately $3 billion in four separate MACCs (multiple award construction contracts), awarded for work in Hawaii, Washington state and the Pacific to local GCs, often operating in tandem or separately as joint ventures. Hawaii GCs include Healy Tibbitts Builders Inc., Hawaiian Dredging, Hensel Phelps, Nan Inc., Kiewit Infrastructure West and others. Contracts run from 2025 through 2027.
And this doesn't even touch on military projects currently underway. One, valued at $342 million, indicates the size and scope of current and upcoming construction.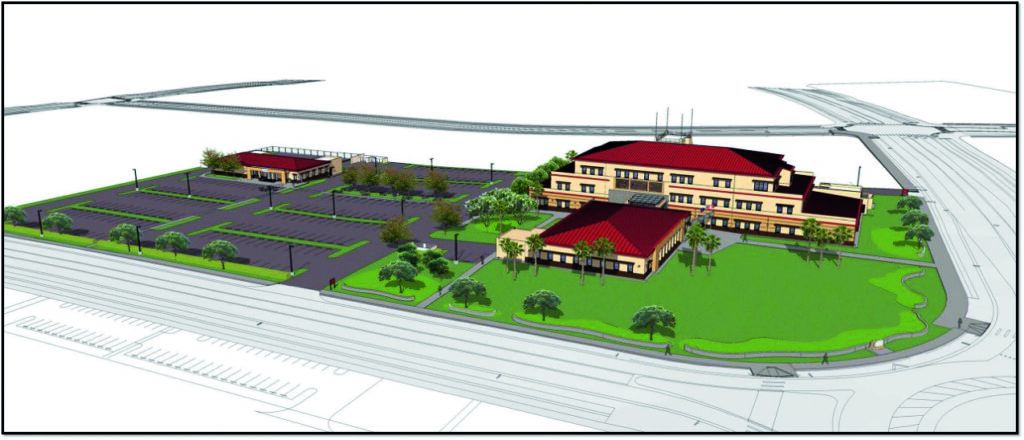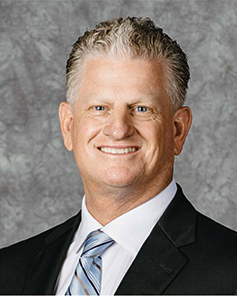 "Hensel Phelps was contracted to construct the third phase of the U.S. Army Pacific's (USARPAC) new Command and Control Facility (C2F) Complex on Fort Shafter," says Thomas J. Diersbock, Hensel Phelps vice president and Pacific District manager. C2F will be the new headquarters for USARPAC to support administrative and special-use operations in the Pacific.
The project's third phase includes new construction of three administrative facilities divided into specified security zones, all built within the constraints of the two existing buildings. The project also includes a Sensitive Compartmented Information Facility space, independent fueling station, mechanical yard, generator yard and architectural concrete flatwork.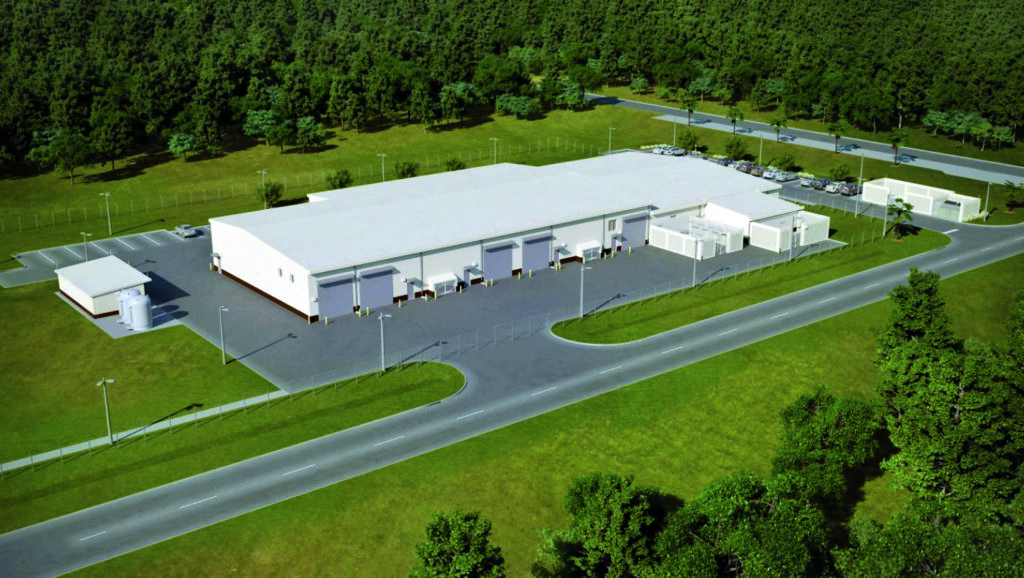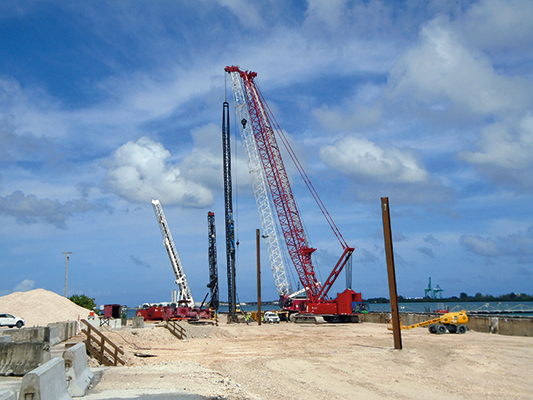 "The Command and Control Facility is not only a very complex construction project in terms of its technological design, but bringing numerous stakeholders together to complete their vision and expectations was a major feat by the entire project team," Diersbock says. "We use the term 'EXCELLENCE' on this project to describe the energy and expertise brought forward by the entire team to create this exceptional complex."
Other Hensel Phelps 2023 military projects include:
• P-463 SOF Undersea Operational Training Facility, Joint Base Pearl Harbor-Hickam: $54 million.
• Repair Building 503A, Fort Shafter: $27 million.
• PN76897 Aircraft Maintenance Hangar, Wheeler Army Airfield: $78 million.
• Five Pacific projects with a combined value of approximately $216.5 million.
Military work is also pulling other Hawaii GCs across the Pacific. On Guam's Lima Wharf project, Healy Tibbitts is the managing partner for H2O Guam JV, which includes JV partners Hawaiian Dredging and Obayashi Corp.
A main focus of the $98 million H2O project is replacing the steel sheet pile bulkhead—critical to modernizing Lima Wharf and its related structures at Naval Base Guam, Apra Harbor. H2O is also replacing and restoring the mooring system, the heavy weather mooring system, the fender system, the existing electrical substation, wharf utilities—potable water, bilge oily water (BOW), sewer, steam, drainage, electrical, telecommunications—and constructing wharf lighting, pavement and other appurtenances. Construction of a bilge oily water treatment system to process BOW offloaded by vessels berthing at Lima for repairs is also underway.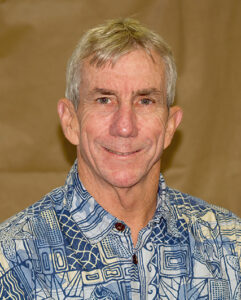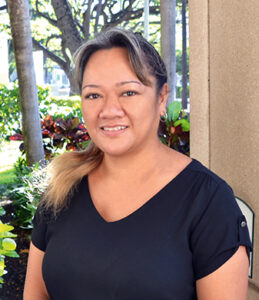 The project is going well, reports Rick A. Heltzel, Healy Tibbitts president: "Healy Tibbitts has previous experience on similar wharf projects at Naval Base Guam installing new steel sheet pile bulkhead systems, including anchor walls and tie-back systems, ground improvement using deep stone columns and dredging."
Dredging isn't part of Nordic PCL Construction Inc.'s repair of buildings 2075 and 2076 at Schofield Barracks. But other deep penetrations are.
"The project staff will employ laser scanning for clash detection in order to coordinate adequate spaces for the new work so that costly delays are avoided," says Danyelle Kahanaoi, NPCL project manager. The gross building area is 104,695 square feet.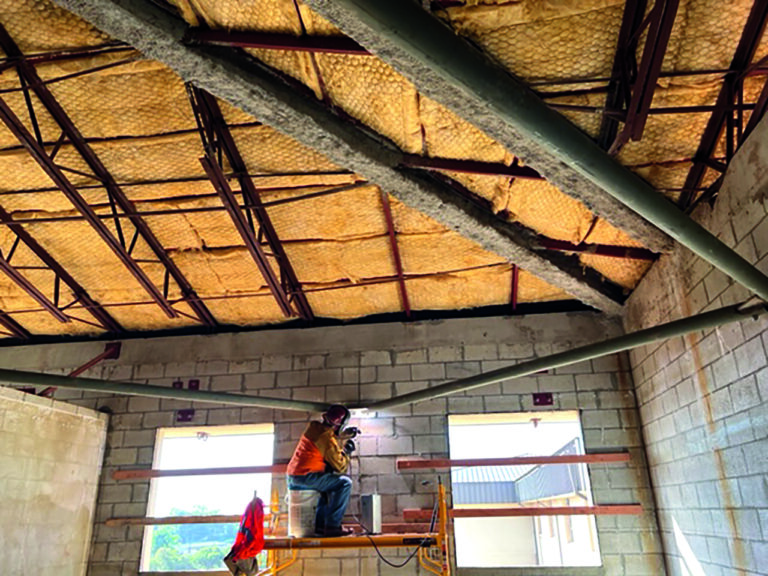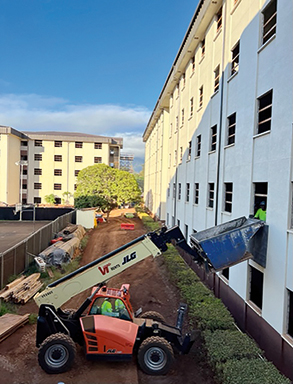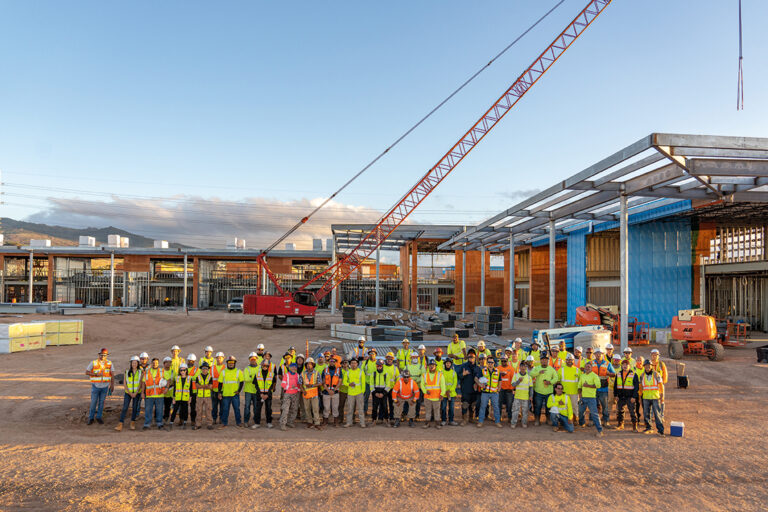 Nordic's S50,097,982 interior renovation of the five-story residential buildings includes converting single bedroom units into two-bedroom units, relocating electrical and telecommunications rooms on each floor and relocating bathrooms and kitchen spaces in each new unit. "Work includes installation of the underground utilities required for new electrical/telecommunications and central plant reconfiguration," Kahanaoi says. Other challenges include a chilled water central plant that will remain in service while being reconfigured.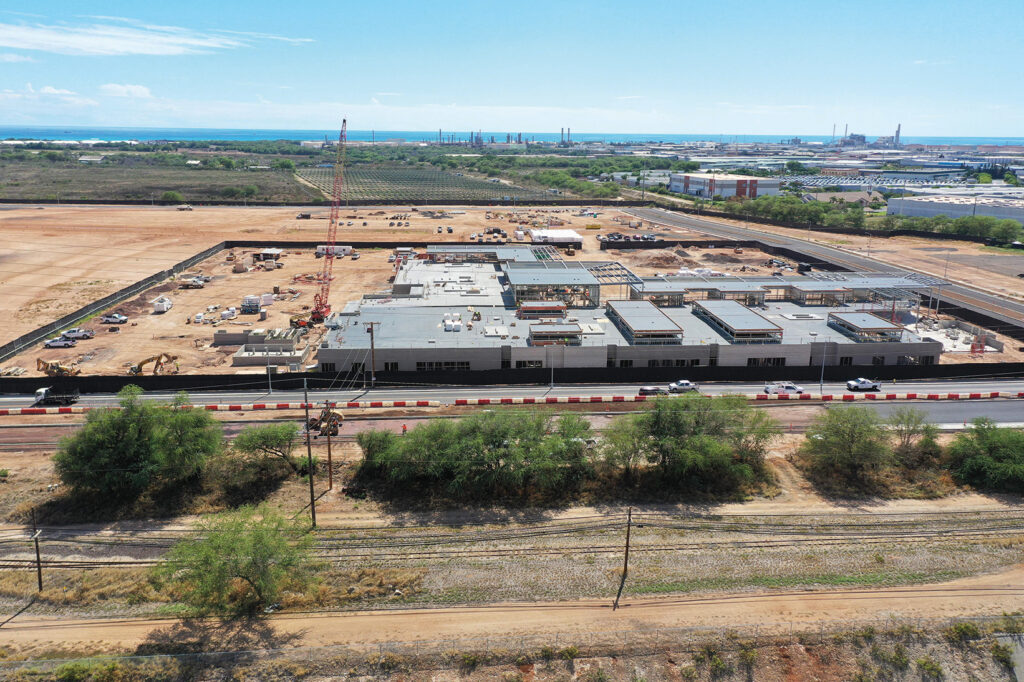 NAVFAC Update:
Dry Dock 3 Replacement
In an email to Building Industry Hawaii, NAVFAC Pacific states that pending the receipt of funds and congressional authorization, its goal is to award the Dry Dock 3 Replacement construction contract by late March 2023.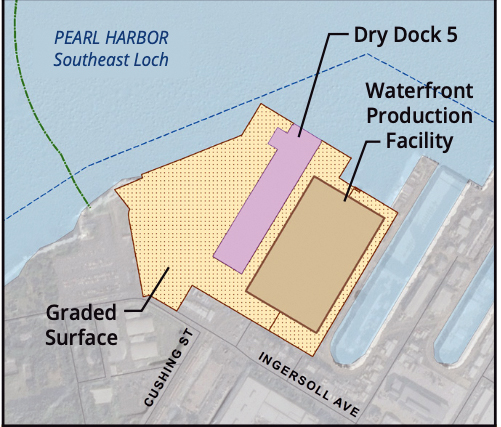 NAVFAC intends to award the construction of the Pearl Harbor Dry Dock 3 Replacement project as a single task order to one of the five following Shipyard Infrastructure Optimization Program (SIOP) contractors:
• Dragados/Hawaiian Dredging/Orion JV
• Tutor-Perini Corp.-Nan Inc. JV
• Kiewit/Alberici SIOP MACC JV
• ECC Infrastructure LLC
• Bechtel National Inc.
"Initial construction start-up activities are anticipated to commence one month after award," NAVFAC Pacific states. "NAVFAC has been partnering with all of the five SIOP contractors to optimize the engineering of the 'Dry Dock 3 Replacement.' Pre-construction consultation task orders have been awarded to the SIOP contractors, and work under most of these pre-construction task orders has been completed."
NAVFAC confirms that the upcoming project will likely include:
• Dry dock construction
• A new electrical substation
• New utilities that would tie into existing utilities at Pearl Harbor Naval Shipyard and Intermediate Maintenance Facility (PHNSY & IMF)
• A temporary dock for loading and unloading construction and dredged materials
• A temporary concrete batch plant for construction of the dry dock
• Demolition of some existing buildings
• Dredging to create turning basins, entrance channels and adequate draft at
wharves and piers
• Materials laydown area within Navy-owned lands at Joint Base Pearl Harbor-Hickam
• Materials transport by barge and vehicles
States NAVFAC: "We are most looking forward to leading construction of this monumental engineering achievement, and supporting Pearl Harbor Naval Shipyard in keeping the Pacific Fleet Fit to Fight."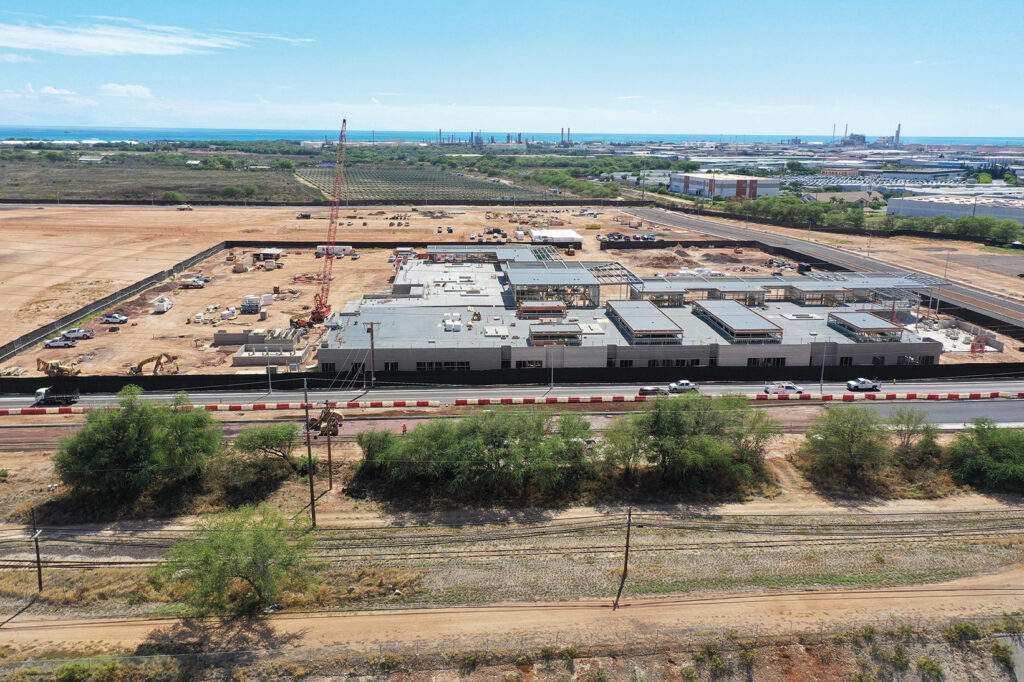 Nan Inc. also has its share of challenges on an $84.5 million project in Kapolei—the Daniel Kahikina Akaka Department of Veterans Affairs Community-Based Outpatient Clinic. "We are self-performing a large portion of the work, as we usually do for any typical project," says Kekoa Osorio, Nan Inc. project manager. "But it is especially notable in this case, since this project had a pretty aggressive schedule from the start."
Osorio's mantra as he pushes forward could be "learn while you earn"—summing up the tremendous power of Hawaii military construction to boost builders' skill sets and bottom lines.
But as the legacy project takes shape, Osorio says, other lessons hit home:
"Learning about how the late Sen. Daniel Akaka fought for this crucial and long-awaited project, and then being given the privilege to take part in it, brought a whole new meaning and purpose to this past Veterans Day for us here at Nan Inc."