At the end of fiscal year 2022, federal and state purse strings were loosened for construction and renovation projects around the state, including airports and harbors. Also in June, the Hawaii Department of Transportation (HDOT) awarded $2,671,031,708 in contracts, and the U.S. Navy awarded $1,113,924,900 in contracts. 
With a greenlight to begin, improvements to Hawaii's airports and harbors infrastructure continues. The majority of Hawaii's construction projects now have on their punch list U.S. Green Building Council's (USGBC) LEED certification. LEED is an international symbol of sustainability and excellence, signifying a building is lowering carbon emissions, conserving resources, reducing operating costs, prioritizing sustainable practices and creating a healthier environment.
When President Joe Biden signed H.R. 3684 into law on Nov. 15, 2021, he launched the Bipartisan Infrastructure Investment and Jobs Act (IIJA), aka the Bipartisan Infrastructure Law. The White House describes it as a "once-in-a-generation investment in our infrastructure that will help grow the economy, enhance U.S. competitiveness, create good jobs, and build our safe, resilient and equitable transportation future."  
For Hawaii, IIJA promises $432 million for Hawaii's roads, bridges, public transit, ports and airports. The infrastructure law provides $68 million for clean water in our state; and it also provides affordable internet access to more than 28,000 households across the Islands. The Biden-Harris Administration notes that, "Many more projects will be added in the coming months, as funding opportunities become grant awards and as formula funds become specific projects. By reaching communities all across Hawaii—including rural communities and historically underserved populations—the law makes critical investments that will improve the lives for Hawaiians and position the state for success." 
HDOT: JUST SAY NO TO TAX DOLLARS
Prior to these fresh funds going to work in Hawaii, Richard "Jai" Cunningham, public information officer at HDOT, mentions some airport projects that were recently completed. Funding came from charges related to travel instead of local tax dollars. 
Completed by Hensel Phelps in 2021, the Mauka Concourse at the Daniel K. Inouye International Airport (HNL), a 230,000-square-foot project that cost approximately $270 million, was the Honolulu airport's largest expansion since the early 1990s. It now has a capacity of six gates for wide-body planes, or 11 gates for narrow-body planes. The concourse's security checkpoint now has space for six lanes, as traveler numbers increase. On June 8, 2022, the Mauka Concourse was awarded LEED Gold certification.
"Construction of the Mauka Concourse began June 1, 2018, and was financed by bond sales and passenger facility charges," Cunningham says. "State taxpayer funds were not used for this project." 
Other Concourse improvements: 
• First major gate expansion since Terminal 1 (formerly the Interisland Terminal Complex) was dedicated on July 20, 1993.
• Will provide gate relief during the mid-day peak period.
• Adds 230,000 square feet to the existing 600,000 square feet of Terminal 1.
• Eco-shaft design provides structural framing for the building, eliminating the need for interior walls.
• Mechanical rooms were constructed on the ground level to improve efficiency of the air conditioning systems.
• High-performance building envelope reduces solar heat gain.
• Recycling and compacting area for waste management.
• Estimated reduction in potable water usage by 35% through use of low-flow fixtures and non-potable irrigation.
• Energy cost savings of 24% compared to the ASHRAE performance-based energy standard.
HNL's CONRAC Built to Earn LEED Certification
The second airport construction project Cunningham cites is a new consolidated rental car facility (CONRAC), which opened in December 2021 at HNL. The shiny new CONRAC makes it easy for Oahu visitors and others to get behind the wheel. 
"The $377 million project to construct the permanent rental car facility at Honolulu Airport was funded entirely by a daily customer facility charge of $4.50 for all rental cars," says Cunningham. "Ten rental car companies operate out of the new facility, which enables the state to utilize a single shuttle for all companies, decreasing the carbon footprint at HNL." 
"It is almost a 2-million-square-foot, five-level, cast-in-place concrete structure that now provides parking, rental agency areas, office spaces, car-wash equipment and commercial fueling stations," says Andy Snow, HNL CONRAC project executive for The Weitz Co. LLC. "In total, the CONRAC includes 2,250 parking stalls." 
All told, the structure involved the placement of 45,000 cubic yards of concrete, 16 car wash bays and 64 fueling positions. The facility incorporates the only multi-story fueling system in Hawaii and a 35,000-square-foot customer service building on the second level.
Snow says that nearly 10,000 tons of rebar, 20 escalators and more than a dozen elevators comprise the 22-acre project that was created in three phases.
The USGBC Hawaii website indicates the CONRAC at HNL is still under active review for its LEED certification. According to The Weitz Co.'s website, to achieve certification, the HNL CONRAC project included multiple sustainable construction practices that were implemented to gain points toward the certification, such as:
• On-site stormwater management
• Construction waste management focused on recycling
• Use of low-emitting materials, adhesives, sealants, etc.
• Regionally sourced construction material, including recycled content
If collaboration between HDOT, the contractor and subcontractors was a practice worthy of consideration, this project shone. "We early on determined that everything we do is in the best interest of the project. We collaborated with architects, designers, rental car companies and with the state of Hawaii, the owner," Snow says. "Using teamwork mentality, we planned and detailed all aspects from a scheduling, safety and quality standpoint."
Snow says that high-level personnel in every position ensured the project's overall success. Planning far in advance, execution in the field and having the ultimate respect for all partners involved culminated in a beautiful structure. 
"It was a very exciting, unique and incredible opportunity to be part of this project," Snow concludes. 
KOA FIS ACHIEVES LEED GOLD
The Federal Inspection Service (FIS) facility opened at the Ellison Onizuka Kona International Airport (KOA) October 2021. The 32,700-square-foot facility, turned over to the state two months before deadline, meets technical design standards necessary for certification to receive international arrivals. KOA and HNL are the only two airports in Hawaii certified to accept international visitors. "The KOA FIS was built for $58.7 million, more than a half million under the $59.4 million contract," Cunningham says. "… it was built in an agreement signed in 2016 with the Customs and Border Protection Agency to give Hawaii a second port of entry along with HNL."
"The ability to receive international flights in Kona has provided significant economic and operational benefits to the state," says Gov. David Ige in a news release. "We have made good on the agreements and collaboration that enabled us to resume international flights and will continue to work together for a resilient and vibrant economy."
The FIS was designed by KYA Design Group and awarded to Nan Inc. as general contractor. Ronald N.S. Ho & Associates Inc. (RNSHA) provided the electrical engineering design of the FIS, which received LEED Gold certification. 
In an interview with Catherine Cruz, news reporter at Hawaii Public Radio, Carol Torigoe, president and CEO of KYA Inc., explains why the LEED Gold rating for KOA is a big deal. "Airport facilities are quite different and so there aren't very many facilities that are able to earn a Gold," Torigoe says. "It will be air-conditioned, which will be part of the whole modernization and the new look for Kona. It's a divergence from the hut, but it complements it in material—but we used more modernized materials."
Torigoe told HPR's Cruz that KYA Inc. also designed the original facility as well. "And it certainly stands for Kona and it has a place in everyone's hearts. We just need some of these facilities in case of emergency or bad weather, they have a room that they can house people and protect travelers," Torigoe says.
According to Glenn Kobayashi, Nan Inc. project manager in Kona, the "FIS was a challenging job not only because of working on an active airport but also due to the supply-chain disruptions and uncertainties during the early onset of COVID. Nevertheless, with the proactive involvement of the owner (HDOT-Airports), engineer (KYA Design Group), CM Wesley R. Segawa & Associates Inc. (WRSA/WRSA Solutions) and all our subcontractors, the project team was able to negate those challenges and deliver a quality project on time and under budget."
Matson Invests for the Future with the State's Harbors Modernization Plan 
The genesis of the Harbors Modernization Plan (HMP) in 2005 was a partnership between the Hawaii State Legislature, HDOT and the Hawaii Harbors Users Group (HHUG). Prior to the Plan, there was no collaboration to ensure Port Hawaii was maintained to meet the needs of the industry and the state's economy. Over the years, Hawaii's shipping industry experienced growing pains in Honolulu Harbor, as bigger ships brought in more cargo. Everything shipped to the state is first received at Port Hawaii and then the Neighbor Islands' goods set sail on board local ships. 
As recalled by Len Isotoff, senior vice president of Matson Inc., "In 2005, the Hawaii Harbors Users Group was formed to work with the state to take a hard look at port infrastructure and the need to plan for continued growth in the market." 
Isotoff says that by 2005, Matson had already begun to outgrow its footprint on Sand Island and operated out of noncontiguous spaces around the harbor. "Our main focus was to find a way to expand our terminal so that all operations could be more efficient, located in the same place," says Isotoff. "The state began discussions with harbor users, as a precursor to development of a plan to modernize state harbors, including Honolulu. The plan developed over a period of years with input from harbor users, and eventually authorized by the state Legislature." 
There are three phases of upgrades to Matson's Sand Island waterfront space. Phase one included the replacement and upgrading of gantry cranes, and associated dock and power grid upgrades. During phase two, Matson installed more back-up generators and a new power storage system.
"Phase three will include the expansion of our terminal into the adjacent space currently used by Pasha, and a realignment of certain upgrades to our gate and container yard in 2024-2025," Isotoff says. "We have bids out for the installation of our new generators and back-up energy storage system and expect to award those projects later this year. All this is good work for construction jobs." 
Matson has four more reasons to rally for Hawaii's Harbors Modernization Plan: They are named Matsonia, Lurline, Daniel K. Inouye and Kaimana Hila. Together with Matson's $60 million in upgrades to its Sand Island digs to improve energy efficiency and increase operational resiliency against natural disasters, the four vessels make up the majority of a $1 billion investment the company has put into its Hawaii service. 
"Putting four new ships into service in a three-year span is a significant accomplishment that culminates eight years of planning, project management and coordination for teams across many departments at Matson," says Matt Cox, Matson chairman and CEO. "Together with the modernization and expansion of our Honolulu terminal, these investments position Matson to provide efficient, reliable service to Hawaii for decades to come."  
The Matsonia and Lurline are 870 feet long, with a beam of 114 feet and a draft of 38 feet. They have an enclosed garage with room for about 500 vehicles, plus space for rolling stock and break-bulk (individually counted) cargo. Lurline has been in service since January 2020.
Matson's new Panamax containerships, Daniel K. Inouye and Kaimana Hila, were delivered by the Philly Shipyard in 2018 and 2019. Each has a capacity of about 3,600 20-foot containers with MATSON emblazoned on them. All four of the new ships were built with double-hull fuel tanks, liquid-nitrogen gas (LNG)-capable engines and freshwater ballast systems. The four are also Matson's fastest vessels, with the ability to operate at or above 23 knots. That's 26.4679 mph for non-metric adapters.
CAPTION: The Daniel K. Inouye International Airport CONRAC rental car company storefronts are diamond head of HNL's regular parking lot.
PHOTO COURTESY THE WEITZ CO. LLC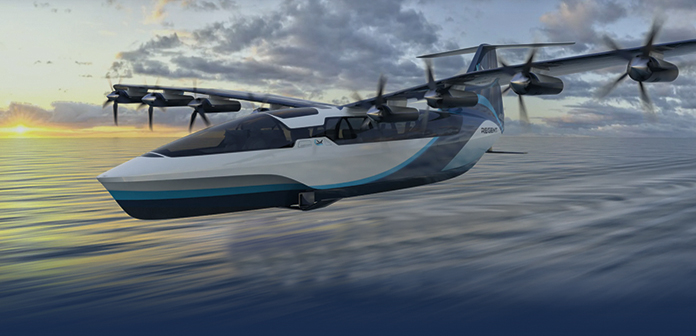 Study: Electric Seaplane Network for Hawaii Just Might Take Off
REGENT and Pacific Current will jointly fund a Hawaii seaglider feasibility study that focuses on the economic, environmental and community benefits of introducing this new category of all-electric maritime transportation, according to a June 22, 2022, online article published by Mass Transit at masstransitmag.com. REGENT is a Marc Cuban company. 
The partners will explore the build-out of a seaglider transportation network in the state of Hawaii to drive innovation in the passenger and freight sectors in support of a more resilient and sustainable transportation ecosystem for the state.
Pacific Current, a subsidiary of HEI, is named REGENT's preferred energy and infrastructure partner for Hawaii, focusing on vehicle financing and developing and providing access to renewable energy and electric charging infrastructure. Mokulele Airlines, a Southern Airways company, will be the launch partner for the seaglider transportation network, announcing its intent to bring a fleet of REGENT's 12-passenger Viceroy seagliders to the Islands.
Says Billy Thalheimer, CEO and co-founder of REGENT, "We recognize that Hawaii is a special place, with a sacred culture, sensitive environmental ecosystems and unrivaled biodiversity. The feasibility study continues our commitment to engage with local communities, civic organizations and all appropriate private and public sectors leaders to understand how seagliders can help improve the daily lives of the residents. We are excited and humbled to be a part of this team accelerating Hawaii's push toward a zero-emission future."
Chief Energy Officer for the state of Hawaii Scott Glenn says, "The development of the seaglider network and the launch of the feasibility study shows REGENT is listening and incorporating feedback."
"We appreciate that REGENT has been engaging community and environmental groups early in the process," says Kuhio Lewis, CEO for the Council for Native Hawaiian Advancement, a frequent collaborator with REGENT on community issues as the company prepares for the launch of the study. "Their commitment to building relationships with the community demonstrates that they genuinely care about Hawaii's people and want to do right for our islands."
CAPTION:Rendering of the Viceroy Seaglider 
IMAGE COURTESY REGENTCRAFT.COM
Commerce Flatlined until Sailboat was Salvaged 
Moored offshore of Honolulu Harbor, a sailboat's anchorage broke, allowing it to drift into the jetty at the harbor entrance, eventually sinking into its main channel at sunset. It was March 16, 2020. No one was aboard the 35-foot sailboat, which was leaking fuel and oil, adding an environmental emergency to the mix.
As it was at the only point of entry of Honolulu Harbor for freighters, cruise ships, fishing and rescue vessels, there was no time to ponder or to conduct a study for its removal. The Harbors Division of the Hawaii Department of Transportation (HDOT) needed the work done immediately as the state's import and export activities were motionless until it was resolved. On March 16, the assessment of the salvage details was assembled. The problem was such that it couldn't be put out to bid, but a phone call could be made.
"This was an emergency call-out job and American Marine Corp. (AMC) had the sailboat removed approximately eight hours after receiving the call from HDOT Harbors," says Michael MacDonald, vice president at AMC. "It was critical to move quickly on this job as the sailboat was blocking the only entrance to Honolulu Harbor." 
According to MacDonald, experienced divers with multiple salvage jobs to their credit were put to work. "The divers were working at night, inside the sailboat in zero visibility conditions. The dive team attached lift bags to the sailboat, filled them with air and lifted the boat to the surface." 
During the early hours of March 17, the sailboat was towed to Pier 19 by AMC. Once at the pier, the sailboat was lifted by crane from the water on March 23. Pacific Environmental Company removed all hazardous materials and "State of Hawaii DOT Harbors personnel disposed of the boat," says MacDonald. 
According to the Hawaii Revised Statutes section 200-48, a vessel is considered derelict if it has been left unattended for a continuous period of more than 24 hours and the vessel is sunk or in immediate danger of sinking, is obstructing a waterway … or has been moored or otherwise left in the waters of the state or on public property unlawfully. 
Says HDOT spokesman Richard "Jai" Cunningham, neither the names of the owners nor that of the vessel could be disclosed. However, Cunningham says that according to Hawaii statutes, "the owner of a vessel is responsible for any related costs." 
In this case, $66,844.66.