S
weeping changes by Hawaii's shipping companies and Kapalama Container Terminal, the state's lifelines during the pandemic, will promote stronger Pacific trade as soon as next year.
One change will also promote cleaner air.
The International Maritime Organization (IMO) requires shipping companies worldwide to reduce their greenhouse gas emissions by at least 40% by 2030. Those that don't meet IMO deadlines will be subject to loss of earnings and trade restrictions. This increases the cost of doing business—including the cost of shipping building materials to Hawaii.
In response, both Matson Inc. and Pasha Hawaii, the state's leading carriers, are converting their fleets to run on liquefied natural gas (LNG), which is carbon-neutral.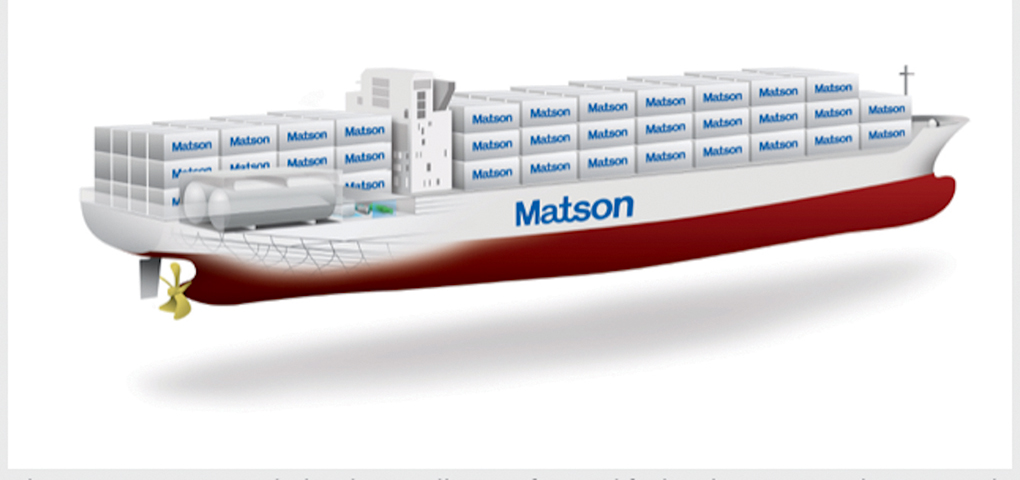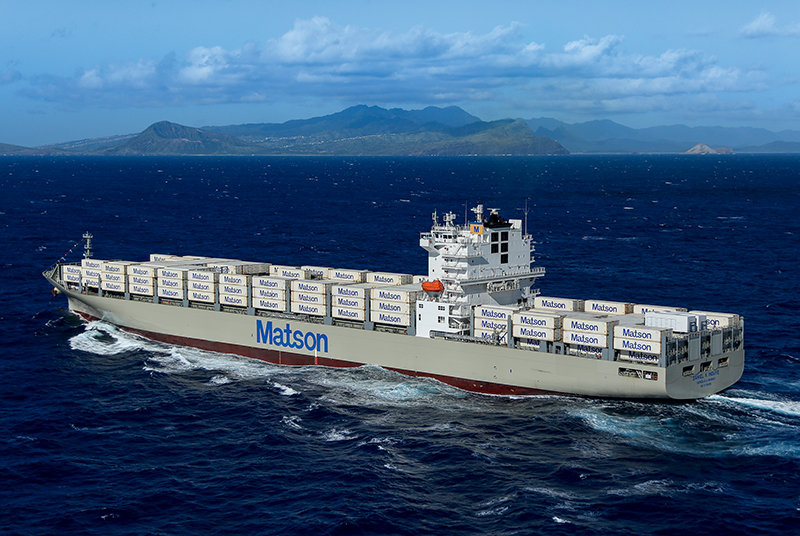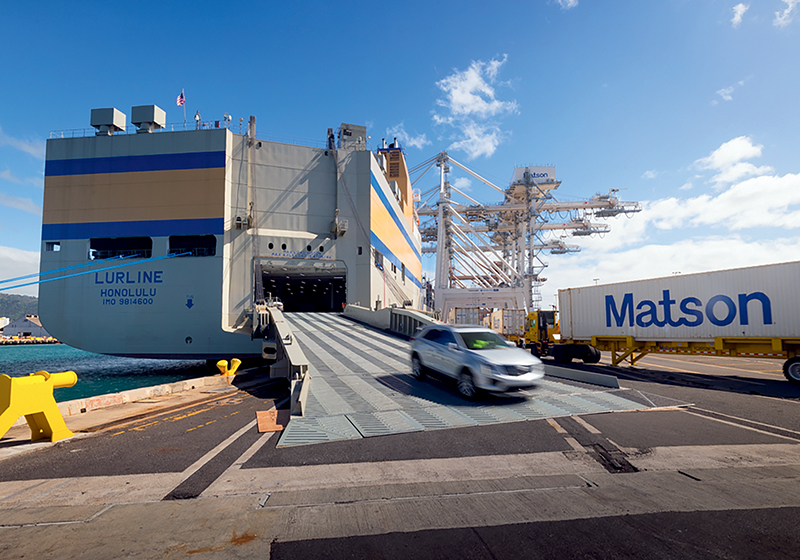 Matson Inc.
For Hawaii's largest carrier, "converting our fleet to LNG power is an important step in Matson's long-term decarbonization strategy," says Len Isotoff, Matson senior vice president, Pacific.
Matson is currently building three new Aloha Class containerships at Philly Shipyard with dual-fuel engines that will use either conventional fuel or LNG.
They are the largest containerships ever built in the U.S. Each holds 3,600 TEU (twenty-foot equivalent units, a measure of cargo capacity), and is 854 feet in length. Their combined cost is approximately $1 billion.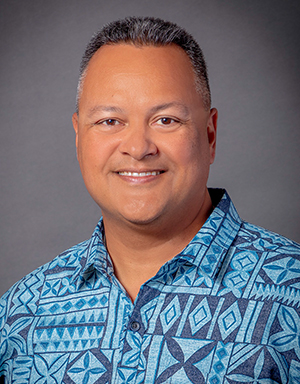 The three new containerships will travel in excess of 23 knots, and will replace three vessels currently in Matson's China – Long Beach Express (CLX) service. The first ship is scheduled for delivery in Q4 2026. The remaining two will be delivered in 2027. "These LNG-powered new ships will be instrumental in reducing fleet emissions," Isotoff says, "and will also provide greater capacity for growth in our Hawaii, China and Alaska trade lanes."
Matson is also retrofitting Daniel K. Inouye, currently its fastest Aloha Class containership, with special new LNG fuel tanks and associated piping at an Asian facility. The conversion will take five months and reduce the vessel's emissions by 24%. Meanwhile, Maunalei, another containership, will service DKI's route.
Matson is also converting Manukai, a 20-year-old containership, with a dual-fuel engine. Work will begin mid-year in Asia and will take one year to complete.
Matson's Kaimana Hila, Lurline and Matsonia—all outfitted with LNG-capable dual-fuel engines—are also in line for full LNG conversion. Kaimana Hila's conversion will begin in the second quarter of 2024 and will take approximately five months. "We are still evaluating conversion projects for Lurline and Matsonia," Isotoff says. "These conversions and the new LNG-powered ships will be instrumental in reducing fleet emissions and moving Matson closer to its long-term decarbonization goals."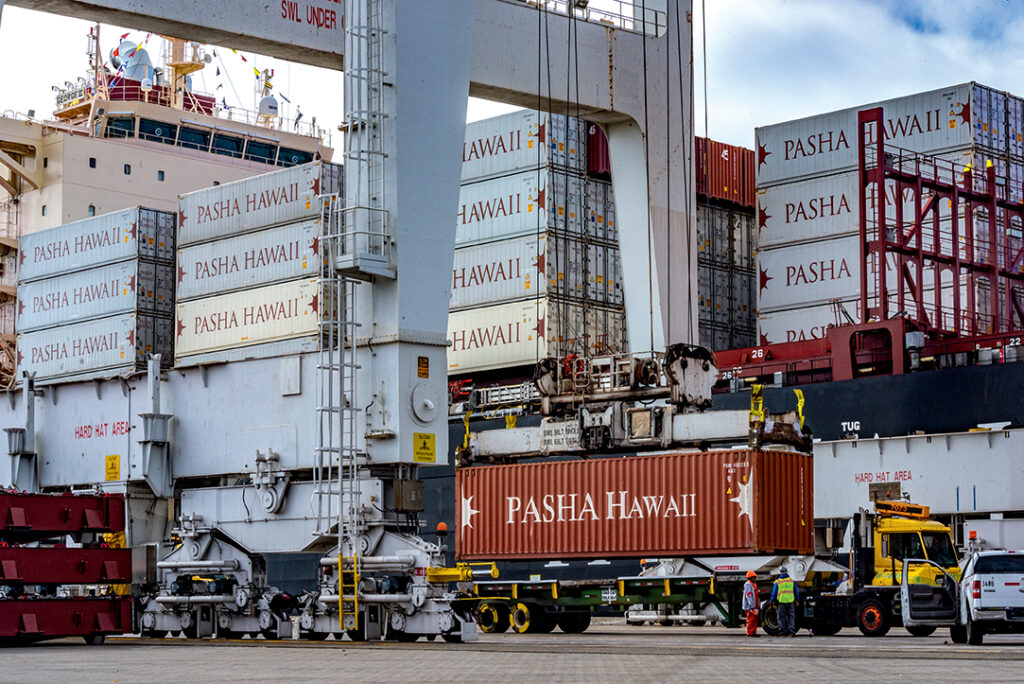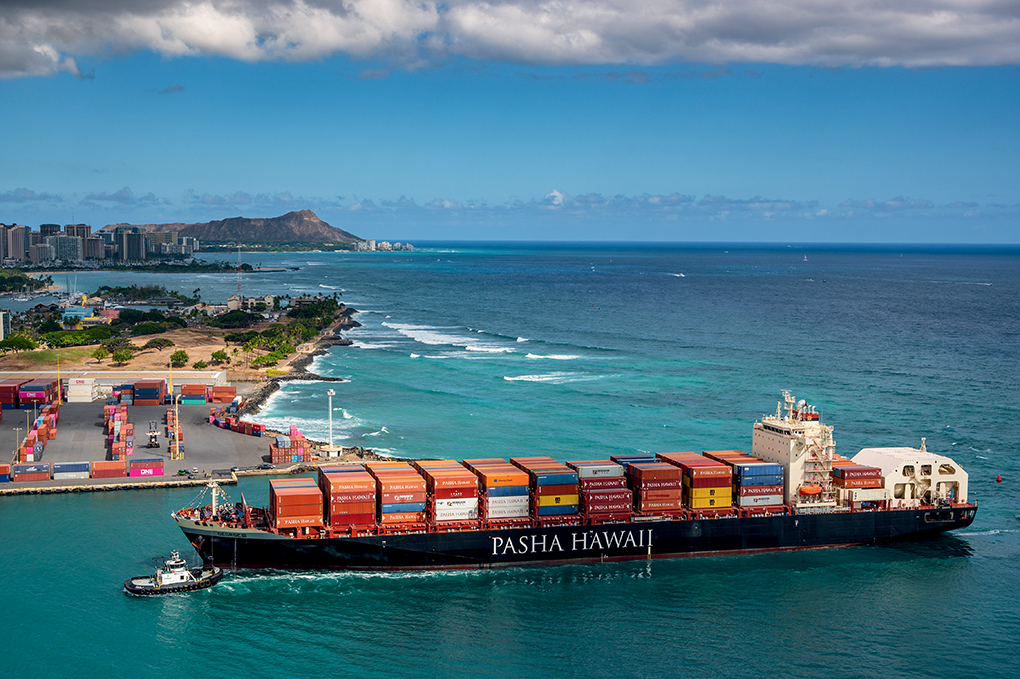 Pasha Hawaii
LNG power was on full display when M/V George III, Pasha Hawaii's new all-LNG Ohana Class containership, made its first Honolulu call last year. M/V Janet Marie, its all-LNG sister ship, is slated to enter Hawaii service in the second quarter of 2023.
Pasha Hawaii is "the first in Hawaii to introduce and operate a natural gas-powered containership within the Hawaii/ Mainland trade lane," says George W. Pasha IV, The Pasha Group's chairman, president and CEO. "By operating on natural gas from day one, George III surpasses the International Maritime Organization 2030 standards for ocean vessels with close to zero sulfur emissions, a 99.9% reduction in particulate matter, a 90% reduction in nitrogen oxide and 25% reduced carbon dioxide as compared to liquid oil fuels."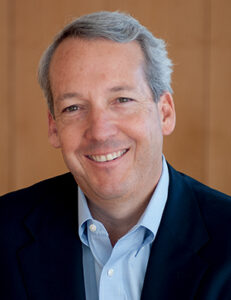 Pasha's new Ohana Class vessels were also designed to provide customers with increased capacity, resulting in more commercial flexibility for high-demand/high-margin markets such as those needing refrigerated and 45-foot dry high cube containers.
"About eight years ago, prior to my dad's passing, he challenged us to design a ship that would not only meet the needs of our customers, but would set the bar for environmental sustainability," Pasha says, noting that design took several years of planning and research.
"There's a lot of risk and responsibility that comes with being the 'first in Hawaii,'" he says. "I am extremely proud of what we were able to accomplish through teamwork and valuable partnerships, an unrelenting commitment to excellence and an incredible amount of tenacity. With George III and the upcoming launch of Janet Marie, we have set the bar in environmental sustainability within our local shipping industry, leading the way to promote future clean-fueling ships for domestic and international carriers."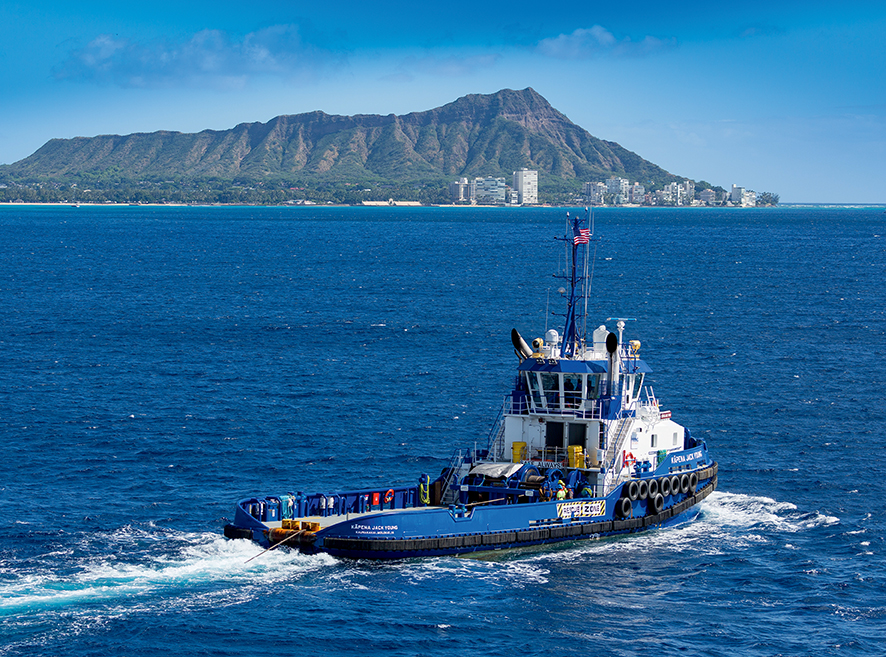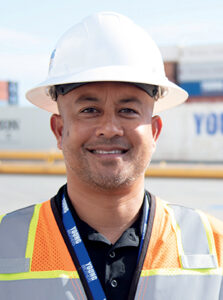 Young Brothers
Young Brothers LLC, operating out of Honolulu Harbor and delivering freight to smaller ports across Hawaii, also uses green technology in its fleet of Kapena Class tugboats. "We move what matters most to Hawaii more efficiently and sustainably," says Chris Martin, Young Brothers director of terminal operations.
With Young Brothers' new high-tech customer portal, Martin says, "Hawaii's builders can conveniently manage their interisland shipping needs online. This new tool allows you to make reservations and get tracking information for frequently-booked cargo, and obtain rate quotes."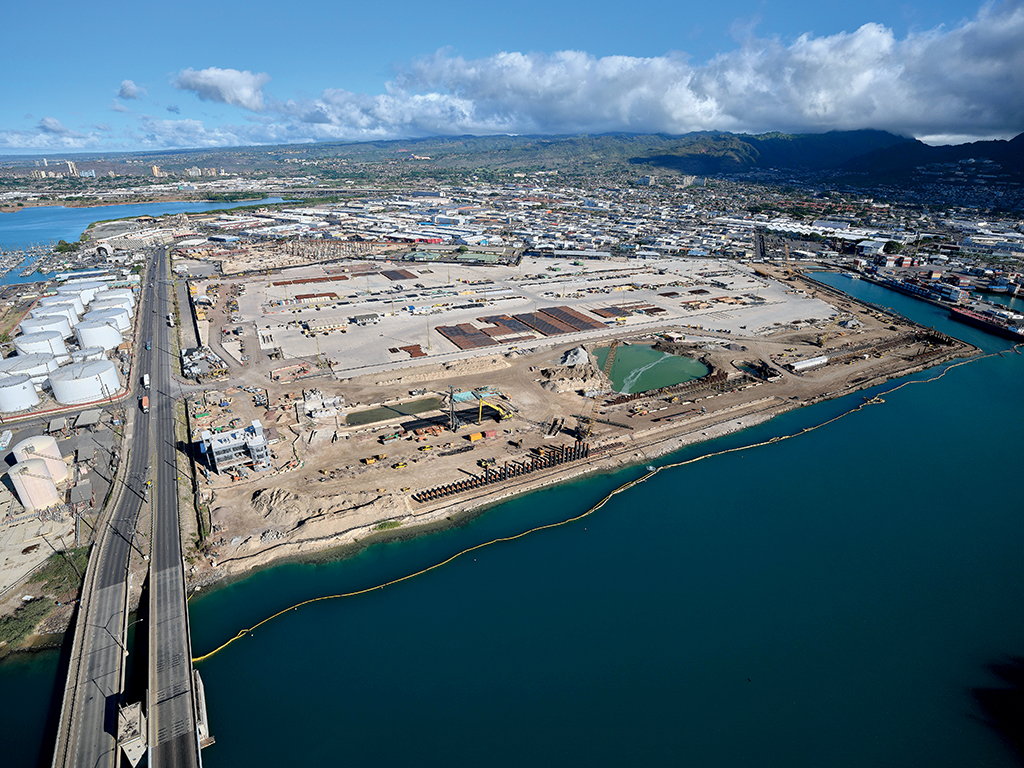 Kapalama Container Terminal

When Young Brothers and Hawaii's other carriers dock in Honolulu later next year, the Hawaii Department of Transportation's (HDOT) Phase 2 modernization of Kapalama Container Terminal (KCT)  will likely be complete.
KCT is "the centerpiece of the Harbor Modernization Program, which was developed in partnership with HDOT, the Hawaii State Legislature and the Hawaii Harbor Users Group," says  Jai Cunningham, HDOT public information officer.
"Phase 2 has achieved a number of milestones since work commenced in 2020," Cunningham says. "The landside and in-water demolition, pre-drilling columns and the combi wall installation are complete. Kiewit continues pile-driving for the wharf and waterside improvements. The main highlight of the project phase and result of this work is 1,800 feet of new berthing space and the 84-acre cargo yard built three feet higher than the existing facilities in Honolulu Harbor to address projections for sea level rise in the coming decades.
"The key milestones in 2023 for Phase 2 include completion of dredging, grading, drainage structures, the installation of water and electric utilities, the landside crane rail beams, and other work related to the wharf construction and crane rails," says Cunningham.
Another 2023 milestone is the planned construction of the Kapalama Container Terminal–Gaining Regenerative and Efficient Energy Needs (KCT-GREEN) project, a new container-handling terminal at Piers 41, 42 and 43. The project is a collaboration between HDOT, Pasha Hawaii and Hawaii Stevedores Inc. (HSI).
"The HSI KCT-GREEN project," Cunningham says, "will supplement HDOT's investment and development and will reduce the emissions and environmental impacts of port cargo handling operations, establish a truly resilient microgrid-enabled port terminal hub in Hawaii and develop a replicable strategy for transitioning the terminal to resilient zero-emission and electric technologies."
KCT-GREEN will incorporate multiple technologies and solutions to generate, capture and use renewably generated energy, says George W. Pasha IV. "Toward this end, new electric cranes feature power regeneration and will include a WindWall mounted on each crane to capture wind energy, as well as PV solar systems on all major buildings."
HSI will also incorporate new cargo handling equipment, security systems, a renewable energy microgrid, and terminal and gate infrastructure technologies to maximize operational efficiencies. KCT-GREEN construction is valued at $139.3 million and is expected to need about 300 workers.
Cunningham says KCT and KCT-GREEN are the center of a long chain of upcoming HDOT projects. "Harbors modernization continues long after KCT is complete," he says. "As KCT wraps up, we'll initiate other capital improvements at other cargo terminals in Honolulu and across the commercial harbor system."
Related Images: