Hawaii's top projects of 2022 lead on many fronts—size, scale, design, value, impact on their particular sector, to name a few. But their most important contribution to Hawaii's building industry may be their advanced level of technology. From "wallumns" at Koula to carbon offset concrete at Hale Kalele, many of these projects spearhead a more sustainable future for Hawaii.
Hawaiian Dredging Construction Co. Inc.
KOULA
SStart: October 2019
Wrap: September 2022 (first closings)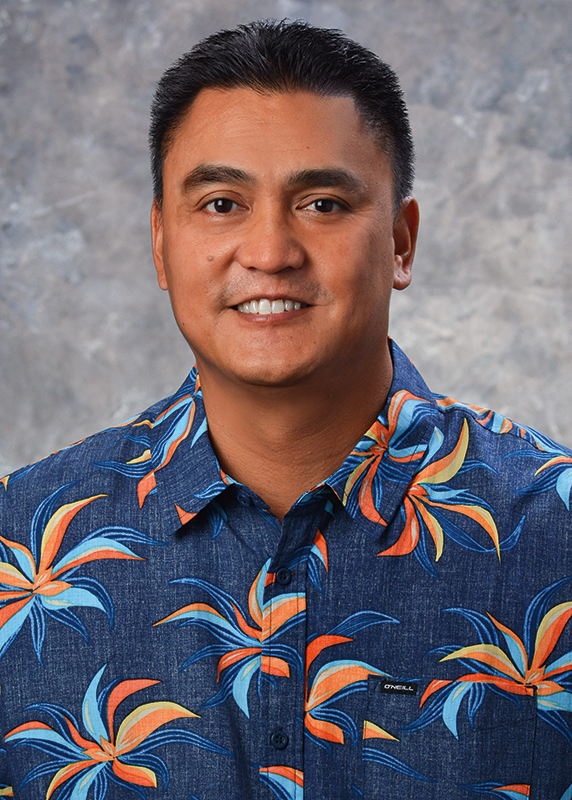 Start: October 2019  |  Wrap: September 2022 (first closings)
Koula, the sixth residential tower in Ward Village's master plan, "was one of the more complex and gratifying projects for Hawaiian Dredging," says Merrill Naira, senior project manager. The 400-foot tower is the first Ward Village project by Hawaiian Dredging and architect Studio Gang.
Koula pays homage to nature in its name ("red sugar cane" in Hawaiian). Nature also shapes Koula's façade, which uses "wallumns"—exterior walls that act as columns. "The unique, curved exterior wallumns play with light and shadow, suggesting the natural movement of red sugar cane that once grew in the area," Naira says.
Koula's wallumns, a Hawaii first, have 22 different forms. The tower floor plate and wallumn geometry are repeated every 12 floors, with window walls changing as they follow the repeating pattern.
Naira says Hawaiian Dredging was committed to—and successfully delivered—the project within the occupancy schedule, thereby securing future projects, such as Victoria Place with The Howard Hughes Corp.
"This project was important to Ward Village as it is their first project with Hawaiian Dredging," Naira says. "It was in both our best interests to work together to make Koula a success."
Nordic PCL Construction Inc.
LILIA WAIKIKI
Start: 2019
Wrap: April 2022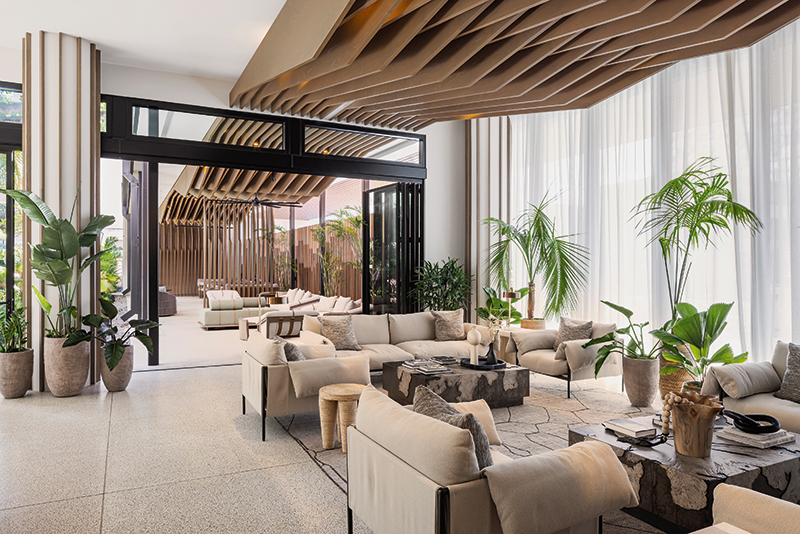 Start: October 2019  |  Start: 2019 | Wrap: April 2022
Lilia Waikiki, the tourist mecca's newest resort-style tower, is for renters only—not tourists. Built by Nordic PCL, Waikiki's first new, for-rent residential project in decades is "a vibrant mixed-use development featuring 454 market-rate and affordable rental units," says Corey Miyasato, NPCL senior project manager.
Lilia Waikiki's 28-story tower contains 401 rental units. Fifty-three additional affordable rental units are located nearby. Studios through large penthouses offer "refined elegance, comfort and high-quality finishes," Miyasato says. "Luxury appliances and smart home features are incorporated throughout well-designed floor plans, complete with a private lanai to maximize views."
Lilia Waikiki honors Queen Emma and her passion for wellness, which are celebrated in a Banyan tree garden, fitness center, ninth-floor amenity level with a pool as well as the building's many other life-enhancing features.
The project is the first in Hawaii to achieve Fitwel Certification, which supports green and health-centric building practices.
"At Nordic PCL, we strive to be as sustainable as possible in our construction practices with all our projects," Miyasato says. "This also encourages the use of innovative construction technologies to ensure that processes can be streamlined and improved, while greater efficiencies can also be utilized throughout the project."
Albert C. Kobayashi Inc.
HALE KALELE
Start: September 2020
Wrap: May 2022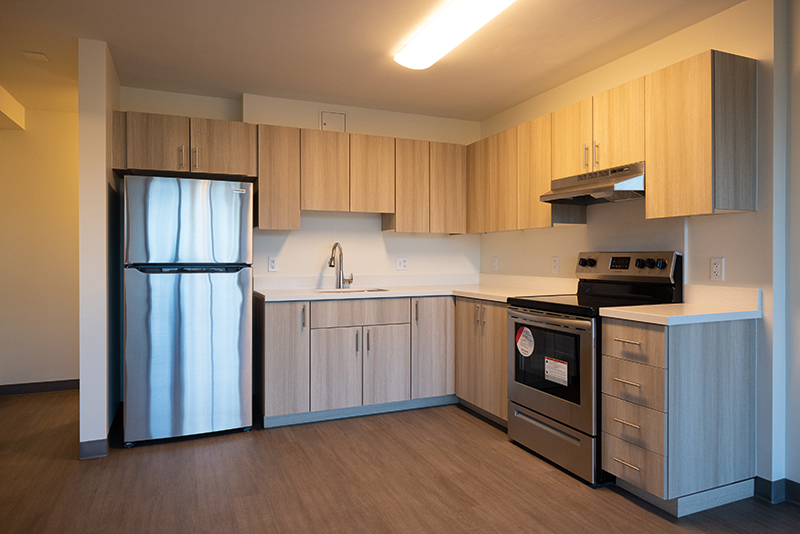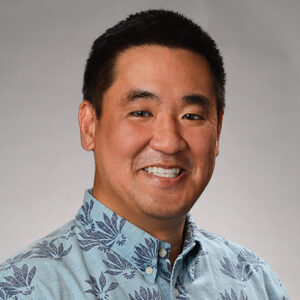 When Hale Kalele broke ground two years ago, it opened new possibilities for Hawaii development and construction.
Built by Albert C. Kobayashi Inc. (ACK), the new 20-story tower offers 200 affordable rental units on a site used as a juvenile detention center since 1949. "The Hawaii Housing Finance and Development Corp. worked with the Judiciary to include much-needed affordable housing in the redevelopment of the underutilized property," says Michael Young, ACK president and CEO.
The result: Hale Kalele, with rents at up to 60% of area median income, and the two-story but completely separate Hale Hilinai Juvenile Services Center and Shelter.
The project is also "the largest vertical structure in the United States to date utilizing Carbon Cure concrete," Young says. "This reduces the cement used in the concrete and helps the overall carbon footprint."
The local people on the project, he emphasizes, made its many achievements possible. He credits ACK's team: MK Alder Street Partners LLLP and MK Alder Street LLC, owners; Design Partners Inc., architect; and Rider Levett Bucknall, construction manager.
Hale Kalele, Young says, "shows what can be accomplished when local government agencies and the private sector work together to realize a goal for a better tomorrow."
Moss & Associates LLC
CLEARWAY MILILANI 1 SOLAR PLANT
Start: Start: April 2021
Wrap: August 2022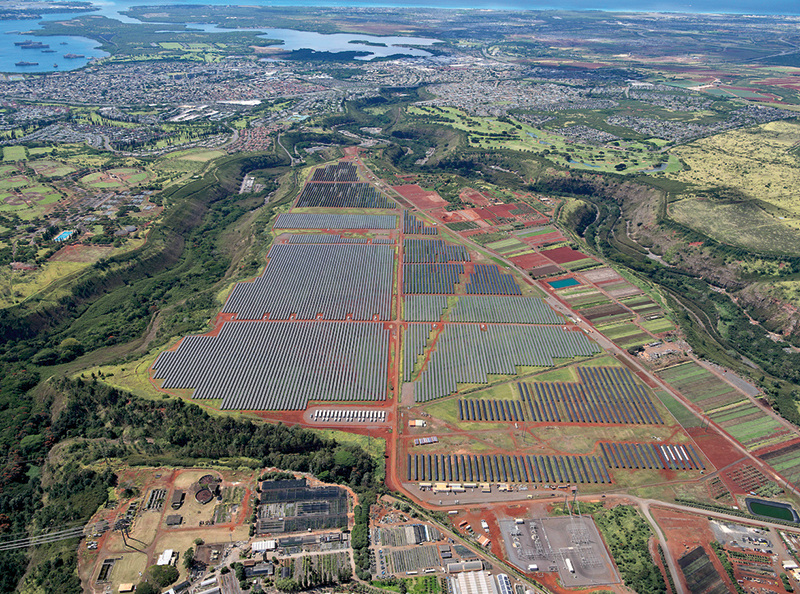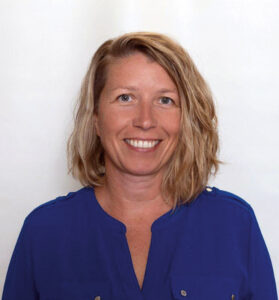 Moss delivered Oahu's new solar power plant at a critical moment—in time to beat the closing of Oahu's last coal-fired power plant on Sept. 1.
"The Clearway Mililani 1 solar plant is [Oahu's] first utility-scale solar and battery storage plant, designed to provide clean energy to the grid even after the sun sets," says Elsa Jackson, Moss project manager. Located on 131 acres in Mililani Agricultural Park, the plant will enhance grid reliability and provide grid services for one-third the cost of oil and further advance the state's goal of 100% renewable energy by 2045.
"The 39-megawatt plant is paired with a 156-MWh battery storage system and includes over 123,000 photovoltaic panels, each measuring 6.5 feet tall and slightly more than 3 feet wide," Jackson says. "The panels have the capacity to shift angles throughout the day to maximize generation. A unique aspect is the battery storage, which allows for energy after the sun goes down—when people need it most.
"Upwards of 200 local union jobs were created during the plant's construction," Jackson says, "and a permanent workforce will support ongoing operations and maintenance. We are dedicated to achieving a clean energy future."
Layton Construction Co. LLC
WAI KAI
Start: October 2020
Wrap: December 2022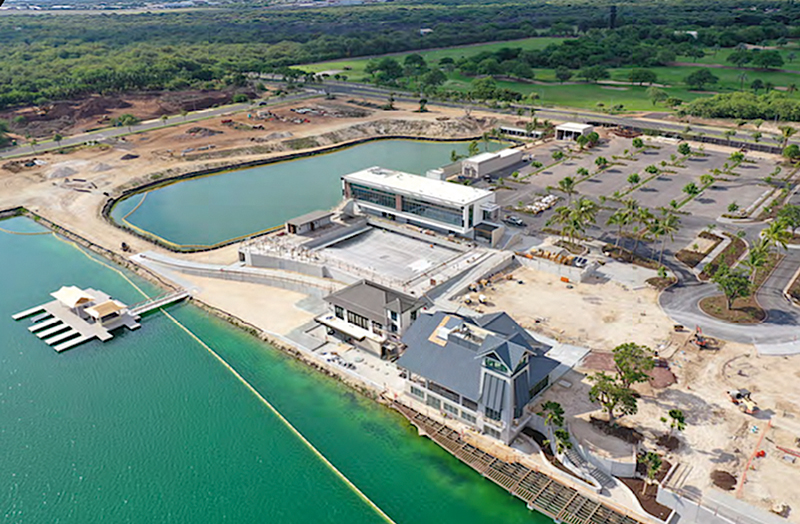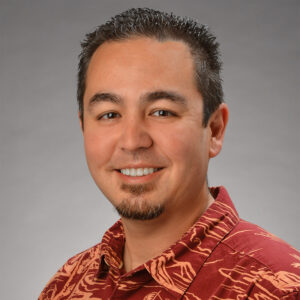 Billed as the home of the world's largest standing wave and built by Layton Construction, the Wai Kai entertainment complex in Ewa Beach will celebrate its grand opening in spring 2023.
"Wai Kai will provide consistent waves tourists and locals alike can enjoy," says Mike Parker, Layton senior preconstruction manager.
Wai Kai will provide more amenities (such as a poolside restaurant run by a Michelin-starred chef), but "its most outstanding feature is the wave pool," Parker says. At 100 feet wide, Wai Kai's standing wave can be split into three sections. The mechanical system consists of 22 170-horsepower pumps circulating over one million gallons of water a minute. Waves can range from 2 feet to 6 feet in height.
"We know there can often be a disconnect between the hospitality [industry] and the local community," Parker says. "We want Wai Kai to give locals options"—to surf consistent waves, to take some tourists out of the ocean, to free up overcrowded surf spots so locals can have some breathing room.
"Layton's vision is for Wai Kai to benefit the local community," Parker says. "This project was our first wave pool and has allowed us to further our experience in the hospitality and entertainment industry in Hawaii."
Maryl Group Construction Inc.
KAIAULU O KUPUOHI
Start: Dec. 15, 2020
Wrap: October 2022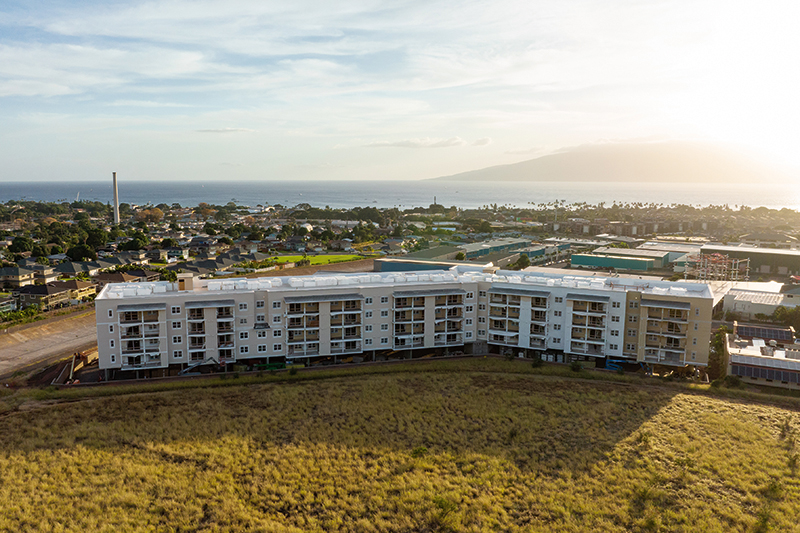 Maryl Group Construction's Kaiaulu O Kupuohi project may have just wrapped, but it's the start of something big—it's "one of three affordable housing projects the developer will be building on Maui," says Timothy Choi, Maryl Group strategic planning manager.
"The 89-unit residential project is 100% affordable rentals for moderate- to low-income families," says Krystle Beauchamp, Maryl Group project manager. "There are not many five-story affordable housing projects on Maui. The structure is a four-story building over a concrete podium with parking underneath."
With Maui affordable housing in such short supply, says Choi, Kaiaulu O Kupuohi "provides much-needed affordable housing to the Lahaina community." And it offers a special feature many Lahaina residents cherish: "Many units come with an ocean view," Choi says.
Nan Inc.
EAST KAPOLEI MIDDLE SCHOOL PHASE 2
Start: February 2021
Wrap: December 2022 (expected)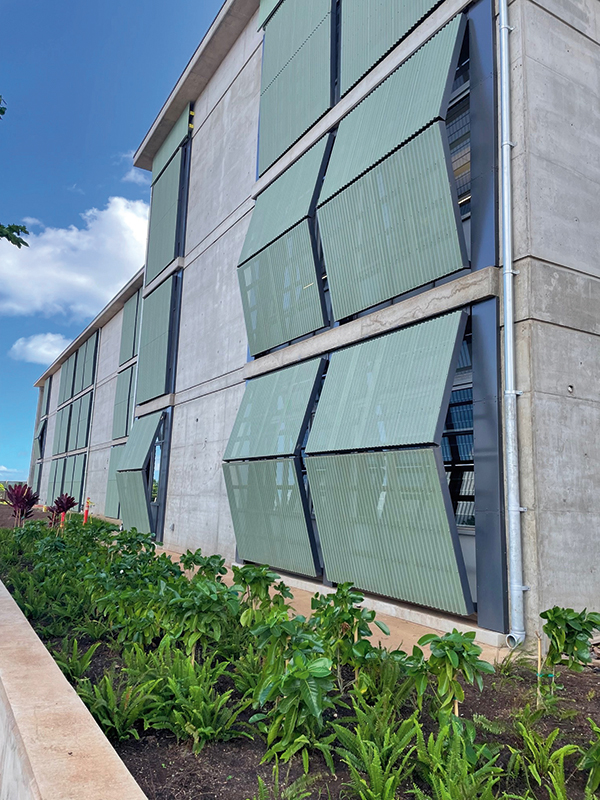 Honouliuli Middle School's student population is expanding—and so are its classrooms, courtesy of Nan Inc.
Ryan Renfro, Nan Inc. project manager, says the East Kapolei Middle School Phase 2 project is providing "the necessary learning spaces for current and incoming students" while boosting energy efficiency at the campus.
The school's proprietary shutter design provides natural shade when open or closed. "Jalousie windows were installed in Phase 2 to promote the use of a mixed-mode and natural ventilation system," says Renfro, "which can be converted to an air-conditioned-only system when needed."
Honouliuli Middle School was designed to meet the Hawaii Collaborative for High Performance Schools Criteria (HI-CHPS), a high-performance building benchmark. "Achieving this was part of a three-phase approach," Renfro says. "However, East Kapolei Middle School Phase 2 was able to achieve this in the second phase, bringing the overall project near the finish line for HI-CHPS designation."
The successful collaboration between designers, the Hawaii Department of Education, the construction management team and Nan Inc., says Renfro, highlights "our company's objective to be a great partner to the state of Hawaii and the needs of its growing population."
Goodfellow Bros.
KONA VILLAGE, A ROSEWOOD RESORT (Grading and Infrastructure)
Start: May 2020 |
Wrap: March 2023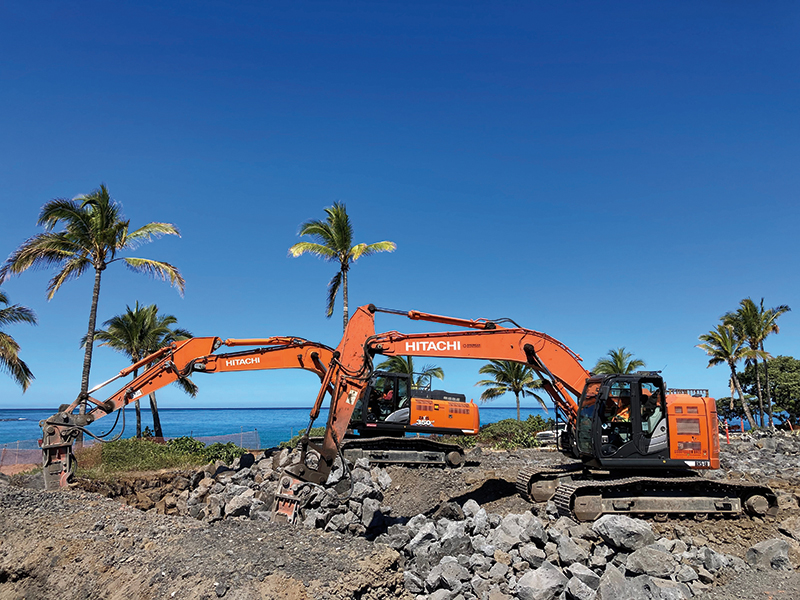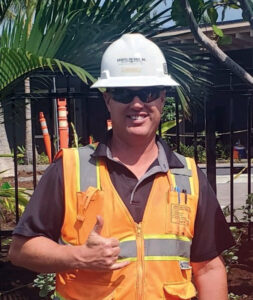 Goodfellow Bros., subcontracted to Nordic PCL, is completing grading and infrastructure work in a culturally rich area, says Jon Steen, Goodfellow project manager.
"Kona Village Resort has a long history," Steen explains. "It was an ancient Hawaiian fishing village, and the resort was originally opened in 1965. In 2011, a tsunami caused considerable damage to the resort and caused it to close."
Goodfellow's project team, he says, is covering a lot of ground—"150 stand-alone guest hales along with multiple dining venues, spas, pools and event spaces all located along 81 acres of the beautiful Kona coastline.
"Goodfellow Brothers' mission is to be the contractor of choice by our clients, employees and the communities in which we live and work," Steen says. "We are proud to have been a part of this amazing project that brings life back into a renowned resort that has and will continue to provide many job opportunities for the people on the island of Hawaii."
With Maui affordable housing in such short supply, says Choi, Kaiaulu O Kupuohi "provides much-needed affordable housing to the Lahaina community." And it offers a special feature many Lahaina residents cherish: "Many units come with an ocean view," Choi says.
Wasa Electrical Services Inc.
INTEGRATED THERMAL SCANNER, FACIAL RECOGNITION TRACKING SYSTEM, STATEWIDE
Start: July 20, 2020
Wrap: January 2022 (electrical work completed)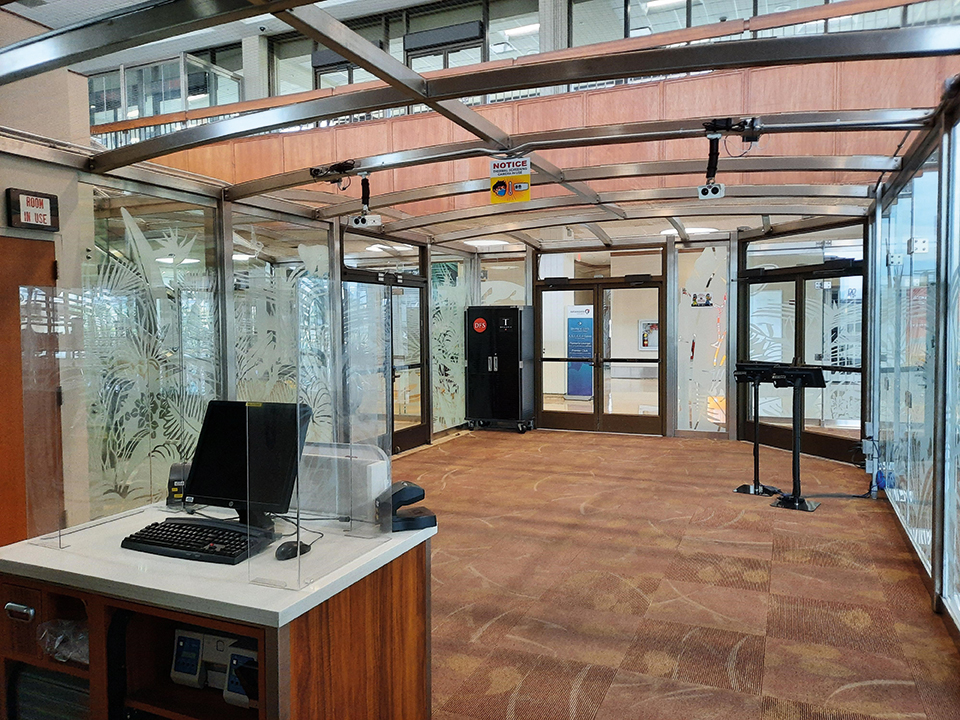 As COVID-19 spread in July 2020, the Hawaii Department of Transportation moved to stop it from arriving in every planeload of passengers. Wasa Electrical Services was commissioned to install a complete, non-contact, thermal screening system to detect elevated body temperatures at the state's five major airports.
"The project included cameras, tablets, remote monitoring stations, and all other hardware and software to complete the system," says Michael Nagata, Wasa Electrical project manager. "The system design and integration were by NEC Corp."
Due to pandemic-related airport re-opening schedules, the project was completed in phases. The first three phases installed 29, 87 and 98 cameras, respectively. During each phase, Wasa also installed all related equipment and workstations.
"NEC/Wasa was able to provide immediate support to install the system at each airport," Nagata says. "It gave the Hawaii Safe Travels [program] a good tool to re-open our state."