A groundbreaking ceremony was held Sept. 19 for Parkway Village at Kapolei, a $199 million mixed-use development featuring 405 affordable rental units and two on-site preschools.
The concerted effort to address both housing and early education needs in Kapolei is the result of a partnership between the Kobayashi Group and the Āhē Group, with support from the City & County of Honolulu, Hawai'i Housing Finance and Development Corp., CREA LLC and Bank of Hawai'i.
The development, which sits on land owned by the city, was funded with a $36 million HHFDC loan, $112 million in low-income housing tax credits and $98 million in tax-exempt bonds.
Rent will start at $597 per month for studio apartments and rise to $2,123 per month for four-bedroom units, and will only be available to those earning 30 to 60 percent of the area median income.
The project also includes 641 parking spaces, 10 laundry rooms and three recreation rooms for residents. Six preschool classrooms will be operated jointly by Kamehameha Schools and the Partners in Development Foundation.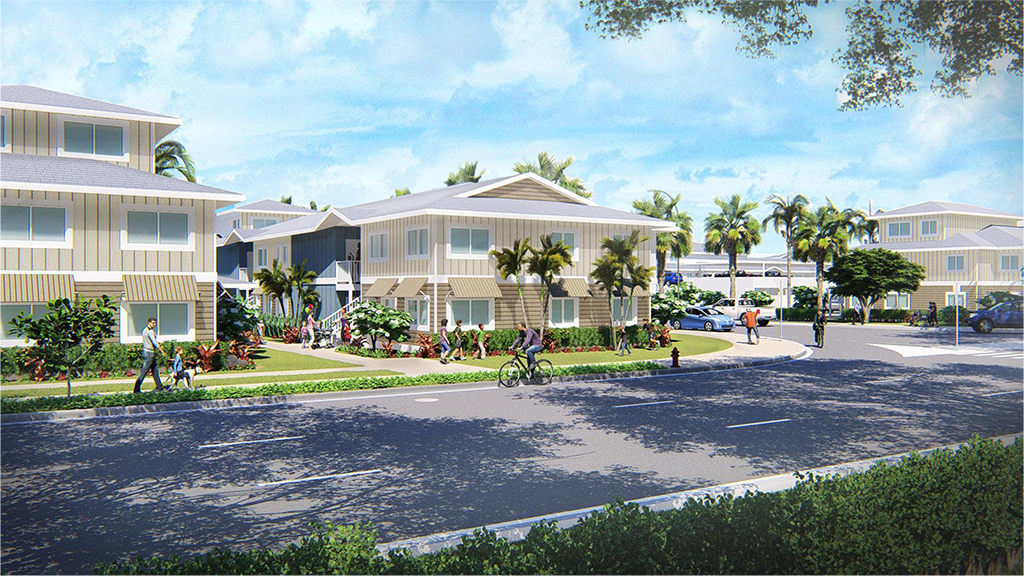 "Parkway Village serves as an example of the government and the private sector collaborating to benefit O'ahu families," Honolulu Mayor Rick Blangiardi said during the groundbreaking ceremony in July. "We are creating opportunities for our keiki to thrive in school and in life in this community."
HHFDC Interim Executive Director Dean Minakami highlighted the successful collaboration between state, city and private developers to make the project a reality.
"This project shows us once again that the key to developing badly needed affordable housing in Hawai'i lies in partnerships such as this one," he said.
"Parkway Village at Kapolei represents so many things in which the Āhē Group believes: safe, decent and affordable housing sustainably built for a changing environment," added Makani Maeva, Āhē Group CEO and president. "In an era where people define themselves by what they are against, we are proud to showcase so much of what we are unwaveringly for in this project."
Parkway Village's development team includes Design Partners Inc., Coastal Construction Co. Inc., Jayar Construction Inc., Sato & Associates, Structural Analysis Group, Mechanical Enterprises Inc., Ronald N.S. Ho & Associates, Coffman Engineering, Walters Kimura Motoda and Technology Group.
Parkway Village is expected to complete construction in 2025.
Related Images: