Senior residents of Pauahi Kupuna Hale were among the invited guests to the re-dedication of their apartment building today, and they turned out to listen to guest speakers talk about a subject we don't hear much about — the virtue of renovating a building, which makes sense because the process helps save resources.
Originally built in 1986, there is an 8- to 10-year waiting list to move into one of the 48 studio or one-bedroom apartments at PKH.
The average resident in the complex is 80 years old, according to management, with an income of about $700 a month, mainly from Social Security. 
Rent is subsidized by the federal Department of Housing and Urban Development, so most residents pay just $200 a month — or about 30% of their monthly income.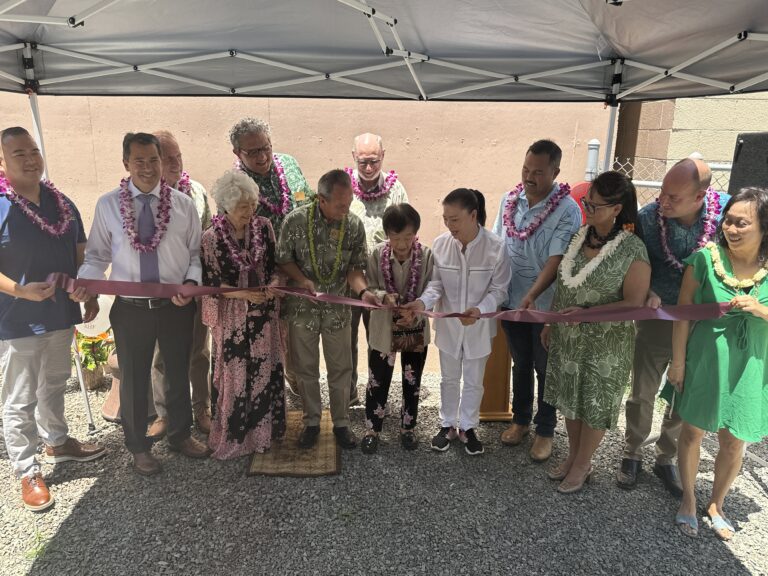 The Chinatown affordable housing building recently completed $8.6 million in renovations made possible by the Retirement Housing Federation, a nonprofit provider of affordable housing for seniors, low income families and those with disabilities.
Upgrades at PKH included new lighting, ceiling fans, renovated kitchens, energy-efficient appliances, step-in shower stalls to replace bathtubs, modernized windows and upgraded vinyl plank and tile flooring. A second elevator was added a welcome amenity for residents —and the original doesn't run on car batteries anymore, as it had previously done.
Work was also completed on infrastructure, landscaping and outdoor lighting, according to RHF.
Stuart Hartman, RHF president and CEO, said his organization's mission hasn't changed in the 37 years the nonprofit has been in business.
"Affordable housing is important, but preserving what we have today can keep people housed," Hartman said.
Kalani Redmayne, CEO of UnitedHealthcare Community Plan of Hawaii, provided perspective to those at the gathering.
"With a safe place to live, there are fewer ER visits, and lives are more stable," said Redmayne. 
Related Images: